A whopping 84% of folks trust online reviews as much as a chat with their neighbor. Your digital street cred is kind of a big deal. Patients are yelping, googling, and reviewing their experiences from the waiting room to the exam room, influencing where new patients decide to book their next appointment.
So, let's talk about how sprucing up your online profiles on the top patient review sites isn't just smart - it's absolutely crucial. Dive in with us, and let's explore how your online rep can bring in more smiling faces to your healthcare practice and keep 'em coming back!
10 Most Popular Websites Where Patient Posts Their Reviews
1. Google: The Giant of Online Reviews and Visibility
When it comes to online searches and reviews, Google undoubtedly reigns supreme, holding a staggering 92% of the global search engine market share. Also, 77% of people use Google to start their patient journey.
With its colossal user base, Google provides a huge platform for patients to share their experiences and for prospective patients to gauge the quality of healthcare services.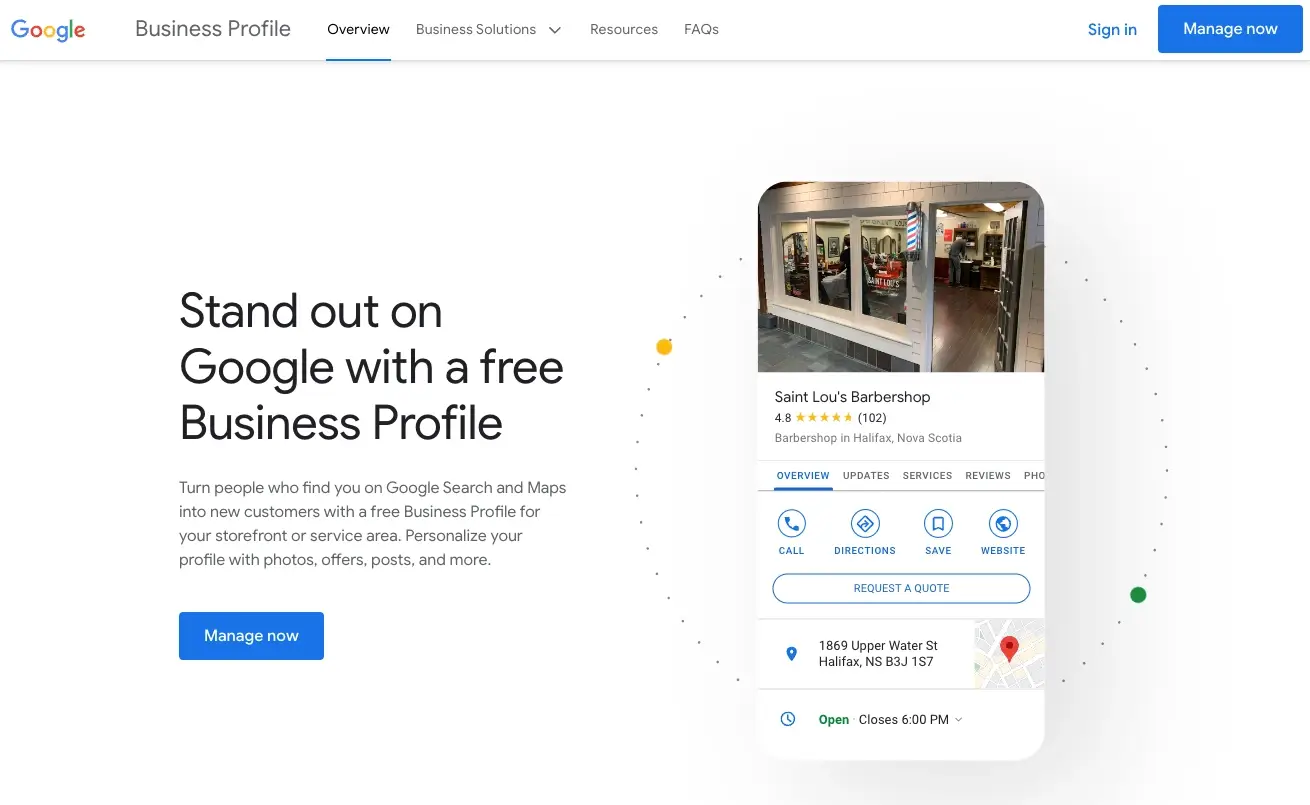 Your profile on Google Business Profile (previously known as Google My Business or GMB) is a dynamic billboard that appears on Google Search and Maps, enabling you to engage with current and potential patients actively.
You can respond to reviews, post engaging photos, and update business details, all from your profile. Considering that over 3.5 billion Google searches happen daily, according to Internet Live Stats, your GBP is a major player in managing and enhancing your online reputation.
Even if your practice already has a well-designed website, listing your practice on Google is a must. Your profile boosts visibility on Google Local Pack. It acts as a bridge, linking back to your practice's website driving traffic and potential patients directly to your digital doorstep.
Ensuring your GBP is accurate, engaging, and actively managed is key to solidifying your digital footprint and reputation in the healthcare sector. So, roll up those sleeves, and let's get your practice shining on the world's most-visited platform.
Check out: Google My Business for Dentists - The Step by Step Guide
2. Vitals
Vitals is a powerhouse of information with a staggering 7.8 million reviews and ratings. It covers a wide spectrum of healthcare providers - from doctors and specialists to hospitals and urgent care clinics.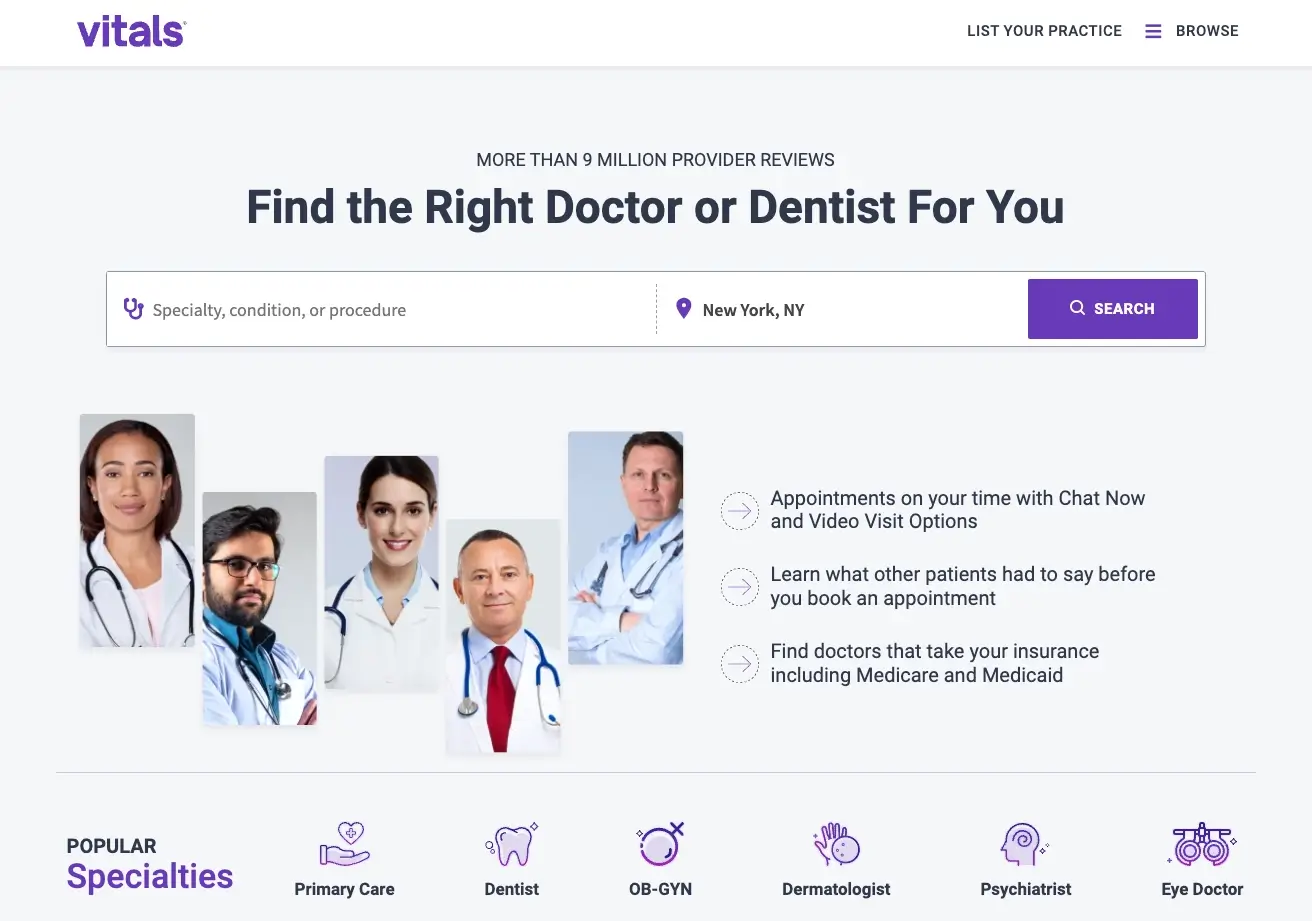 The platform not only provides a space for patients to share their experiences but also recognizes top-rated medical professionals with a unique badging system, spotlighting those who consistently receive stellar reviews with accolades like Top 10 and People's Choice doctors.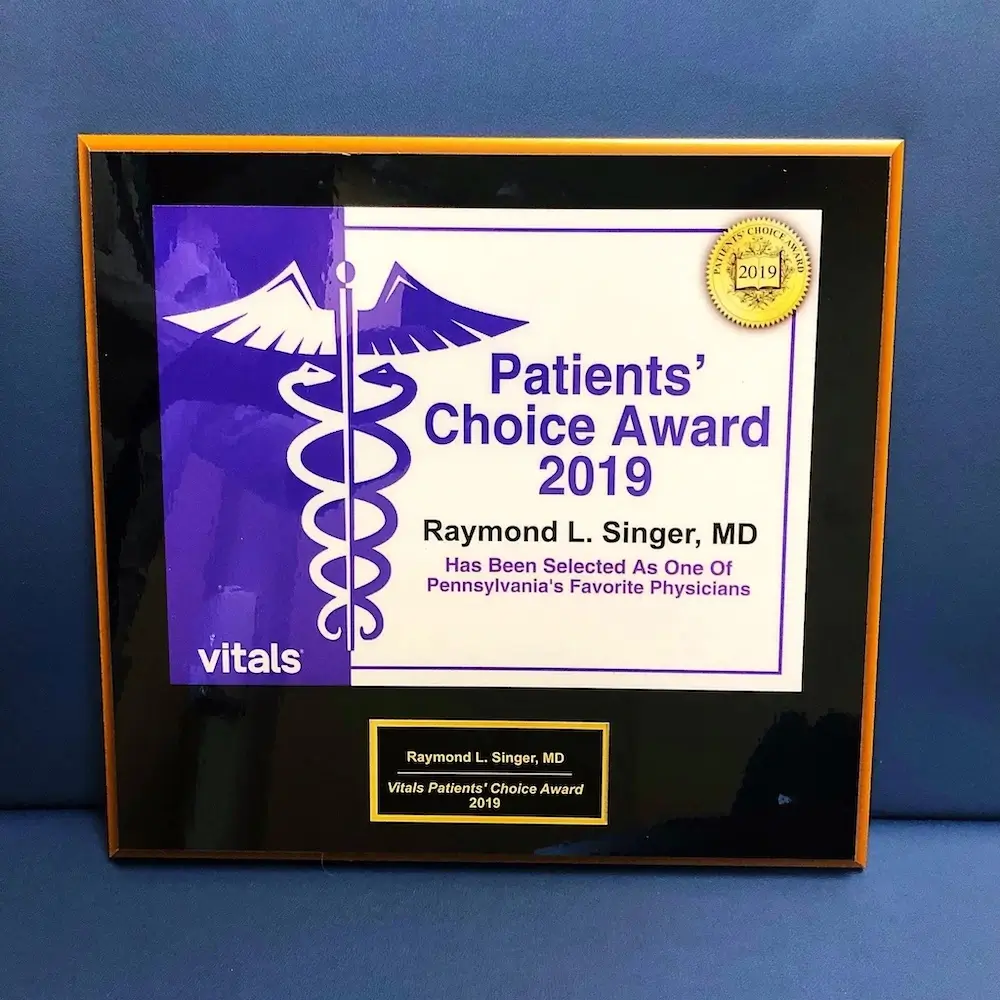 Image source: heartlungdoc.com
The platform goes beyond mere reviews, offering a deep dive into a healthcare provider's career with details about their tenure in practice, credentials, specialization, and even their educational journey. It provides a comprehensive view by including specifics about their locations, hospital affiliations, and whether they are currently welcoming new patients.
For healthcare providers, it's a platform that offers a space to be seen, recognized, and chosen by potential patients, making it a crucial part of your online presence in the healthcare community.
3. Yelp
Since its inception in 2004, Yelp has evolved into a prominent review site. It bridges consumers with local businesses, including a significant portion of the healthcare sector.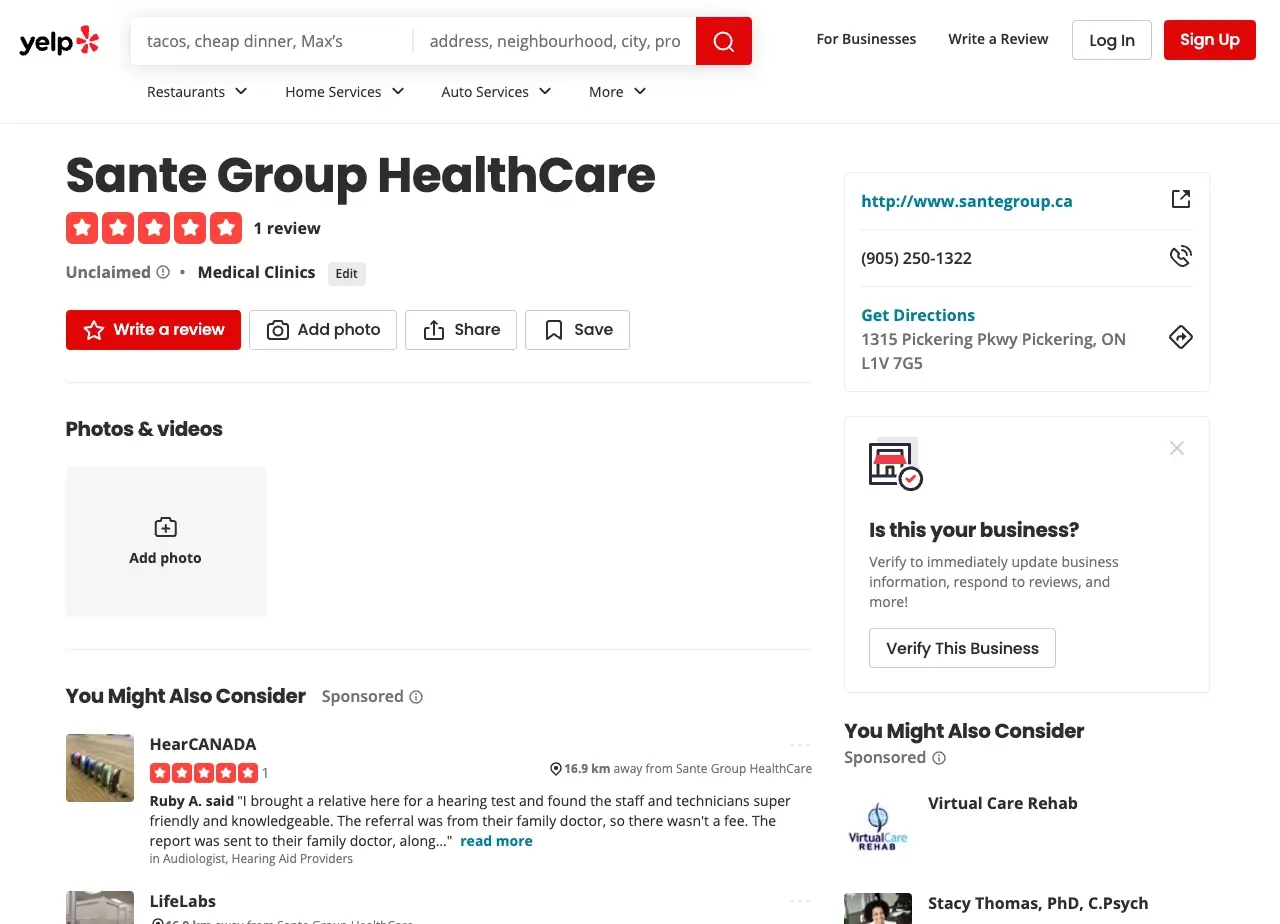 With a robust repository of over 244 million reviews, of which 9% are dedicated to health-related businesses and a commendable 71% of them being recommendations, Yelp stands tall in the domain of online reviews, according to the platform's data.
You can create a free account to share essential business information and post photos to showcase and promote your practice. It's not merely a review site; it's a platform where practices can actively engage with both positive and critical reviews, demonstrating a proactive approach and commitment to patient satisfaction.
Did you know that a one-star increase in a Yelp rating leads to a 5-9% increase in revenue? That's how yelp reviews are important.
So, ensure your practice is accurately represented and actively managed on Yelp to attract more patients and boost your online reputation.
4. WebMD: A Hub of Medical Information and Physician Directories
WebMD is a comprehensive source of medical news and information. It has 75 million unique monthly visitors per the platform's data. But it's not just a singular entity; it's a network encompassing several other key sites catering to patients and healthcare professionals alike, including MedicineNet.com, RxList.com, eMedicineHealth.com, and Medscape.com.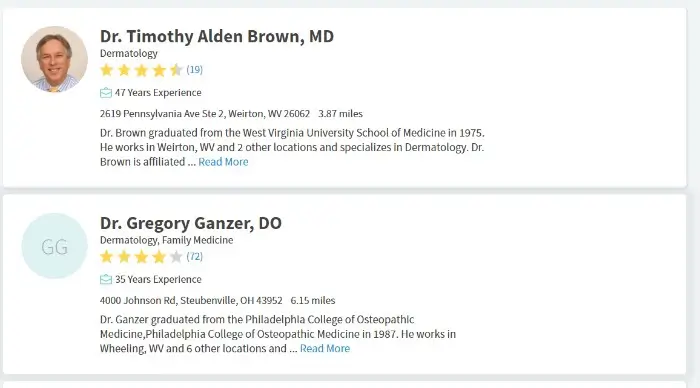 Claiming your WebMD profile extends your reach across the platform's extensive physician directory network, which spans over 40 directories. This means your profile is broadcast across a network that potential patients frequent for trusted medical information and provider reviews.
Most of the patients turn to WebMD for provider reviews. The platform undeniably holds a significant sway in patient decision-making. Claiming your profile, meticulously managing it, and updating it is a cornerstone of your online reputation management strategy.
Check out: 7 Physician Marketing Strategies to Grow your Medical Practice
5. RateMDs
RateMDs is more than just a patient review platform. It's a visibility booster for healthcare providers. With a clear five-point scoring system, it displays recent and average reviews swiftly.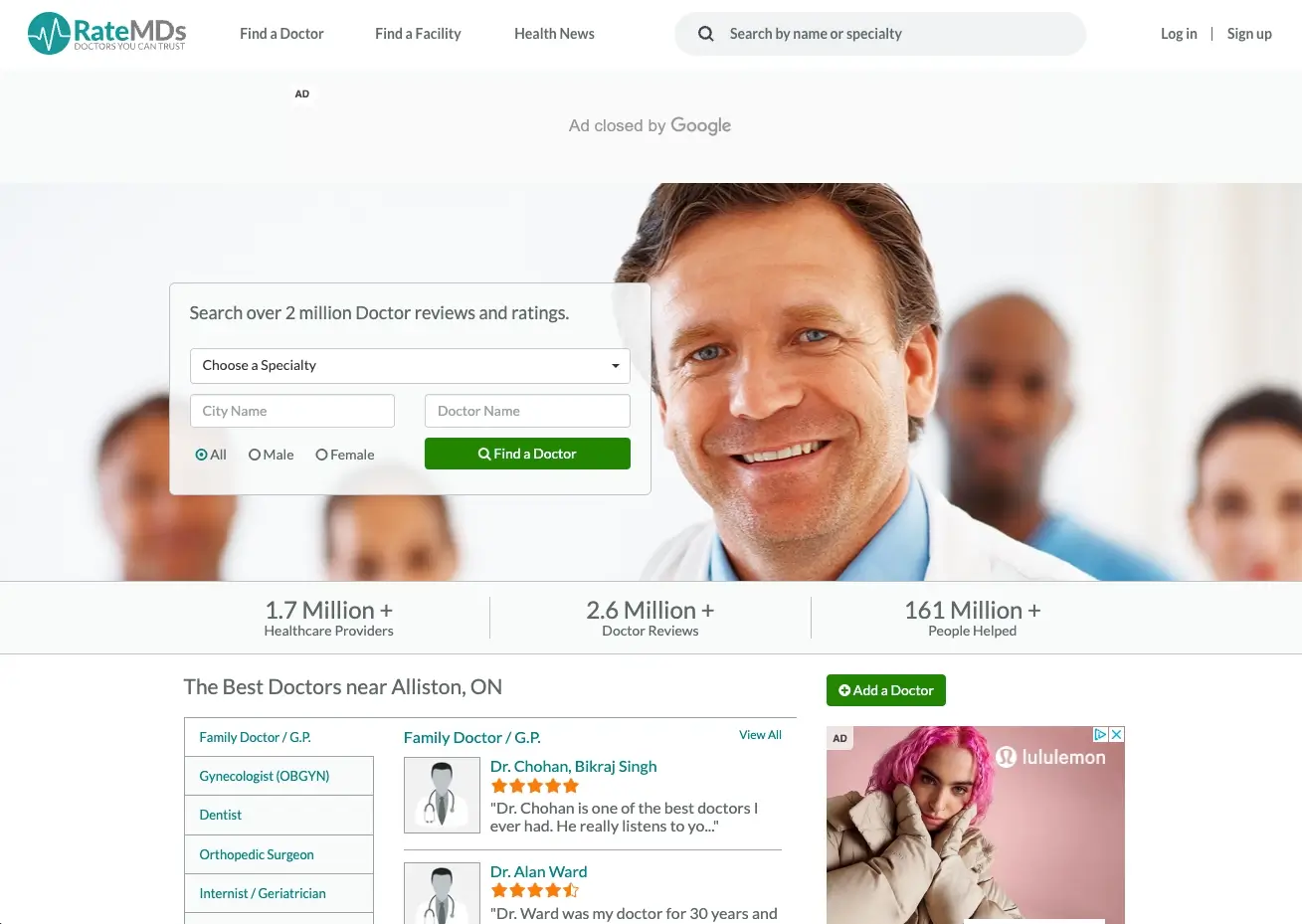 Patients can refine searches by gender, location, and specialty, ensuring they find their ideal provider. The platform also shares vital details about a doctor's affiliations, education, and languages spoken.
For healthcare providers, listing your practice on RateMDs isn't merely about collecting reviews; it's a strategic move to enhance your online presence, connect with patients, and manage your digital reputation effectively and efficiently.
6. Healthgrades
Healthgrades is the third-largest health information site. With a daily influx of approximately one million visitors, it's an important platform where patients seek, explore, and decide on their healthcare providers.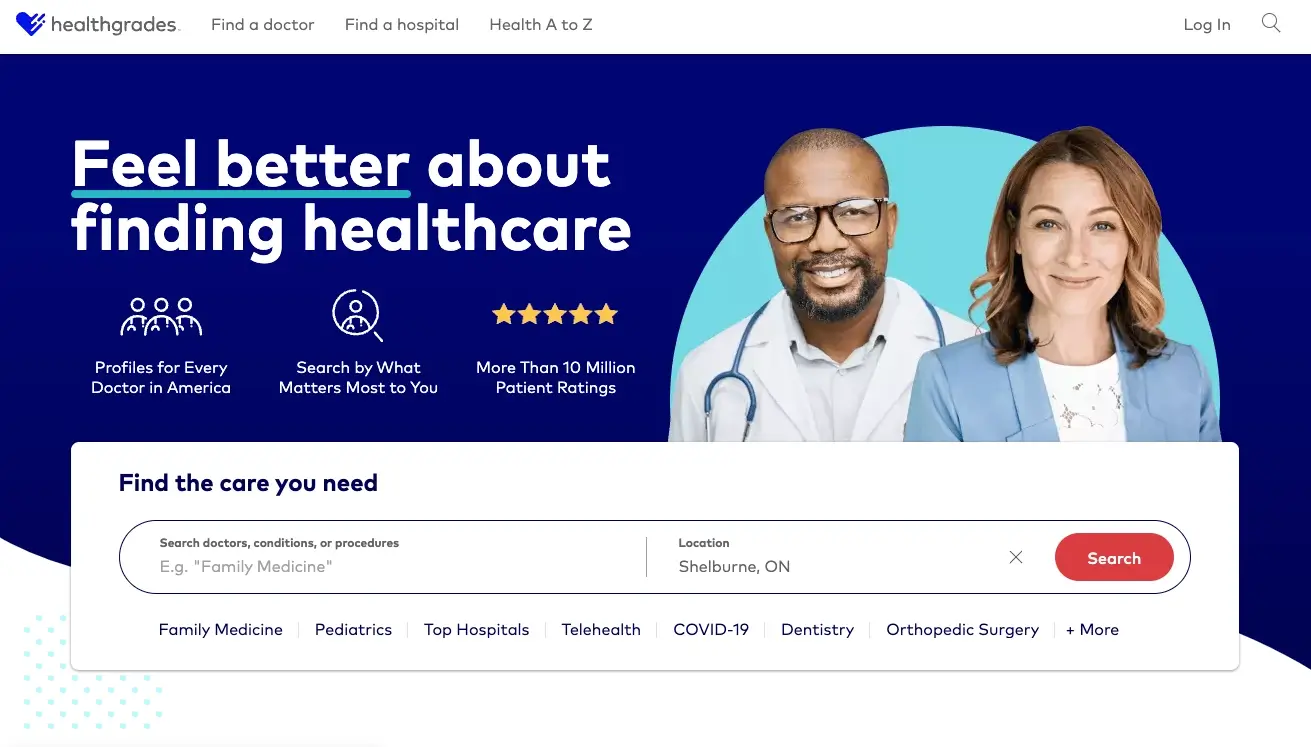 Every U.S. doctor maintaining an active profile with the National Provider Identifier Registry finds a spot on Healthgrades, offering a comprehensive directory to patients.
Listing your practice on Healthgrades showcases your services to millions of its users. Also, it significantly boosts your online presence and aids in managing your digital reputation. It connects your practice with potential patients, enhancing their ability to make well-informed care decisions.
7. Facebook
Facebook, a social media giant, plays a significant role in the healthcare provider selection process for many patients. With its expansive user base, Facebook is a platform where practices can create business pages, share informative content, and, importantly, where patients can leave reviews and share experiences.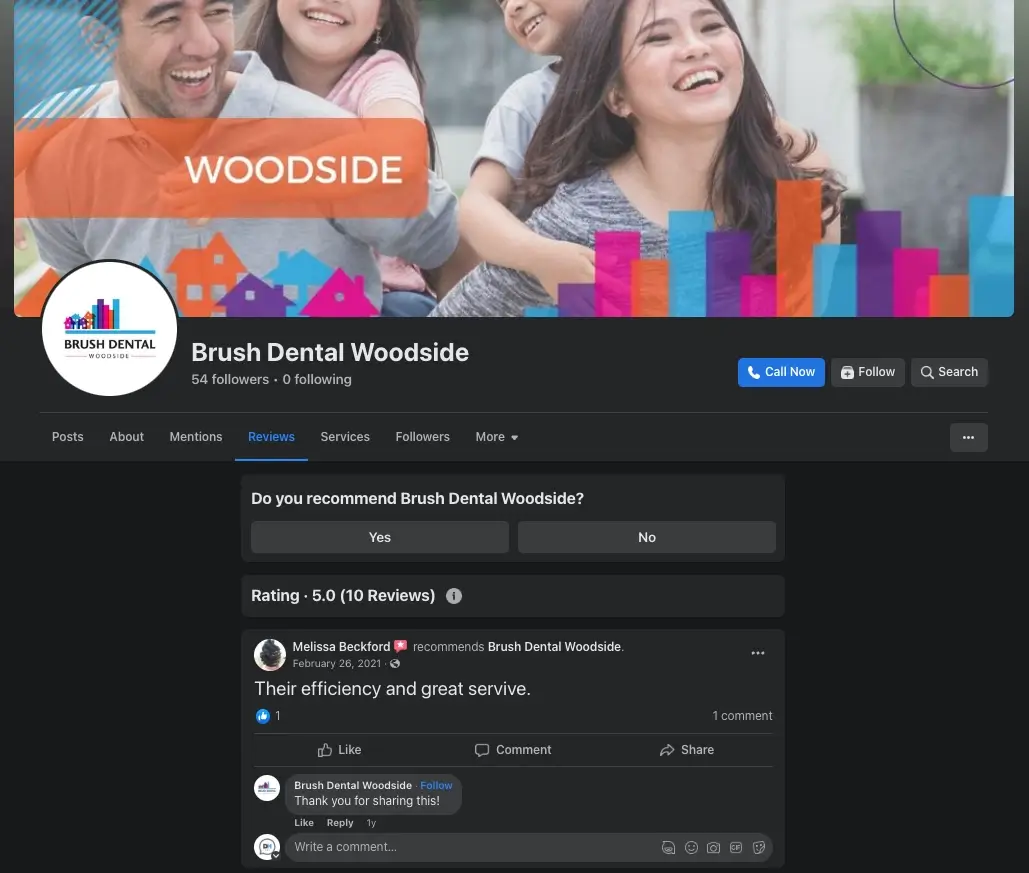 By enabling the reviews on your practice's Facebook page, potential patients can gauge the credibility and quality of your services through the experiences of others. Engaging with reviews, both positive and negative, showcases your commitment to patient satisfaction and improves your online reputation.
Moreover, with the ability to share updates, events, and health tips, your Facebook page becomes a hub of valuable information and interaction for your existing and potential patients.
Check out: Removing Negative Facebook Reviews For Your Business
8. Zocdoc
Zocdoc connects healthcare providers with potential patients by allowing them to schedule appointments directly with them. Zocdoc hosts 1.9 million reviews, influencing patient choices and practice reputations.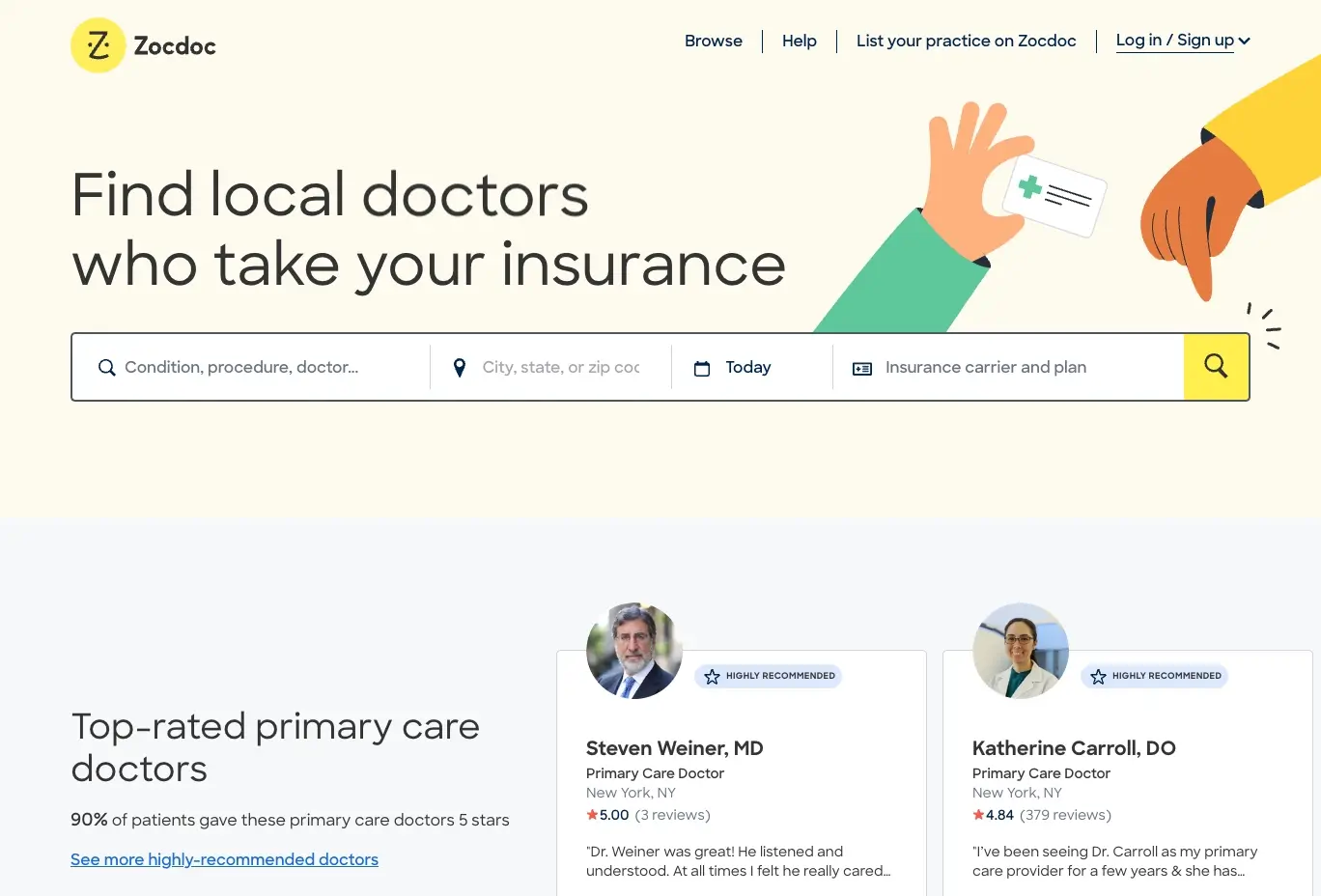 For providers, a Zocdoc listing means more than just appointment bookings. It's a tool for enhancing digital visibility and managing online reputations. Keeping an accurate profile and engaging with reviews on Zocdoc is important for practices aiming to be seen and chosen by a substantial patient base.
9. CareDash
CareDash stands out by offering a secure and transparent platform for patient reviews, promoting itself as one of the most transparent physician review sites available. Patients come to CareDash to share their experiences and to explore what others have to say about various healthcare providers.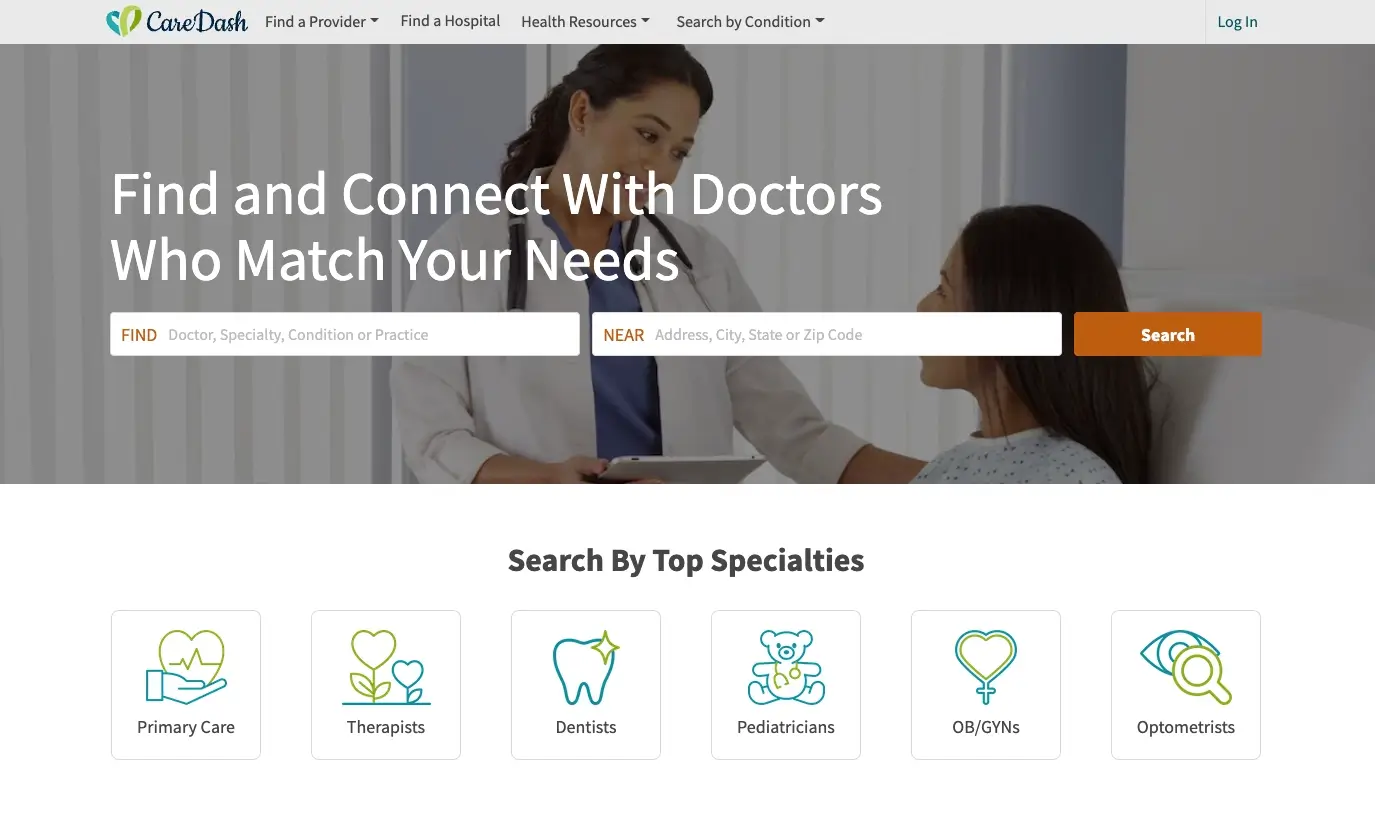 Potential patients can easily access healthcare ratings and communicate directly with doctors using the CareDash website or app.
Maintaining an active and responsive presence on CareDash is vital for healthcare providers to ensure transparent communication and a positive online reputation.
10. Yahoo Local
Yahoo Local is a great platform for healthcare providers to get patient feedback. It enables doctors to create their own listings on the site and add details about their services and contact information.
Also, it allows potential patients to easily search for local doctors based on the reviews left by current and previous clients. This will help them make an informed decision regarding which doctor to choose for their medical care.
Conclusion
Getting more positive patient reviews is one of the most important things you can do to boost your practice.
Although focusing only on getting reviews from one site may be simple, you must cast a wider net and get feedback from various patient review sites. It will increase your visibility and build trust and credibility with potential patients.
Investing time and energy into developing a strong online presence on hospital feedback platforms has many benefits. It increases your visibility on search engine result pages (SERPs) and enables you to get more positive patient reviews. These factors boost your online reputation and help you build patient loyalty.
All of the patient review sites mentioned above will improve any healthcare practice and clinic's reputation. However, you can expand your patient base by growing your online reviews ten times with DemandHub.
By leveraging DemandHub, you can manage your online reputation and get more 5-star reviews while responding quickly to patient feedback. So take advantage of the tools available to build trust with your patients and grow your practice tenfold!
What should you do next?
Book a free DemandHub demo
Measure how your business ranks against your competitors using our free personalized business report.
Check out the free guide: 10 ways to get more online reviews and boost your Google ranking