For local businesses, getting found in search results is a great way to grow your business. Since most searches are done on Google, having a Google Business Profile (GBP) can help you stand out and allows customers to learn more about your business.

Best of all, it's a free service that only requires you to periodically update it if your business goes through any changes.

In this guide, we'll go over how Google Business Profile works and how it helps you grow.
What is Google Business Profile?
GBP is a tool that lets you customize how your business appears on Google. Information such as your business name, physical address, phone number, social media info, and business hours to make it simple for customers to find your business.

According to BrightLocal, 90% of consumers search the internet to find a local business, with GBP listings being one of the first things they see. As a business owner, it's crucial to manage what consumers read about you online.

With the rise of online reviews, you may feel like it's impossible to control what consumers read about you, but there are simple steps you can take to manage your online reputation.

As the number one search engine, it's important to remember customers trust Google.

From trying to find a new plumber to figuring out where to eat lunch, people are constantly turning to Google for recommendations, directions to storefronts, phone numbers, ratings and reviews.

Consumers often don't look past the first few Google results, so getting to the top of that list is essential to any local business.

Your GBP can be seen by virtually anyone which includes people on the go looking at their search results from their mobile android or iOS devices to individuals looking for GBP accounts from their desktop trying to plan their weekend.

Whether you're a product based or service-area business, it's important to get your GBP set up so your customers can find you.
Why Google Business Profile?
A Google Business Profile listing can have a great impact on small businesses and help you get even more new customers without having to spend money on advertisements. Here are some of the benefits to using GBP:
Get Found Faster
Claiming your GBP listing makes it easier for customers to show up in local search results. A quick Google search will bring up local listings which includes business information such as directions, hours of operation, and customer reviews to encourage them to visit your location or make a reservation.

The more accurate information provided in your listing and responding to reviews, the more a customer will see you as an actively engaged business that cares about their craft.

With your contact information being included, customers can even email or make phone calls to your business directly from your GBP listing.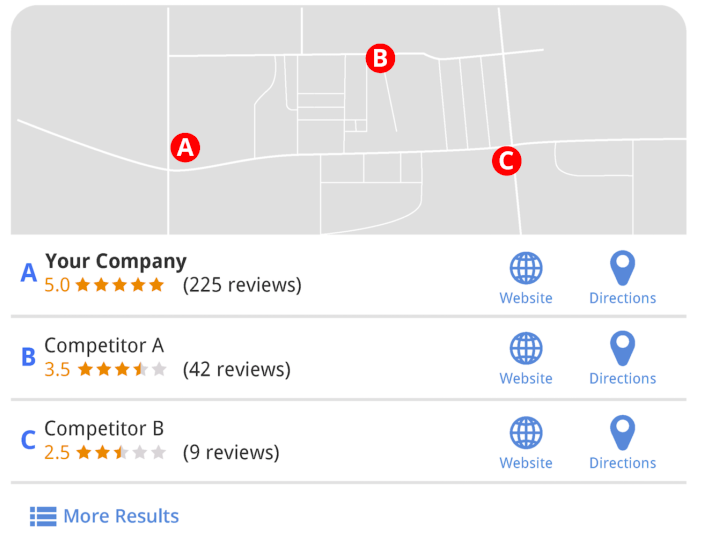 Get Reviews for your Business
Positive reviews go a long way in helping you get customers. With a GBP listing, customers can read about your business and gain insight to how your service/products are rated.

Business owners can even respond to reviews to clear up any misconceptions about their business. Unfortunately, people will leave negative reviews to "troll" your business, so being able to reply back to reviews can help you deal with unwanted internet trolls.
Search Engine Optimization (SEO)
With a Google Business Profile, customers can leave reviews, which can drastically increase your search visibility. It's not uncommon for business owners who have missing information or no reviews to claim their Google listing but not come up in search results.

When Google sees that people are actively engaging with an online listing, they reward the business by showing them up in searches more often.

A local SEO strategy can drive big results for your local business. For example, if a potential customer searches for "hair salons near me" in Google Maps, your business can show up as an option if your business address is located near the individual.
How Do I Get Started with Google Business Profile?
You want to be the top recommendation when consumers search for businesses in your field.

The first step is to claim your listing so you can manage what information Google provides, respond to reviews, and get customer analytics.

To claim your listing, follow these steps:
Step 1: Visit the Google Business Profile login page
Once you're on the Google Business Profile login page, sign in to your Google Account.
Step 2: Enter your business' or chain's address
Google will also provide you with the option to select your location or service area on a map. Once you've found your location, click Next.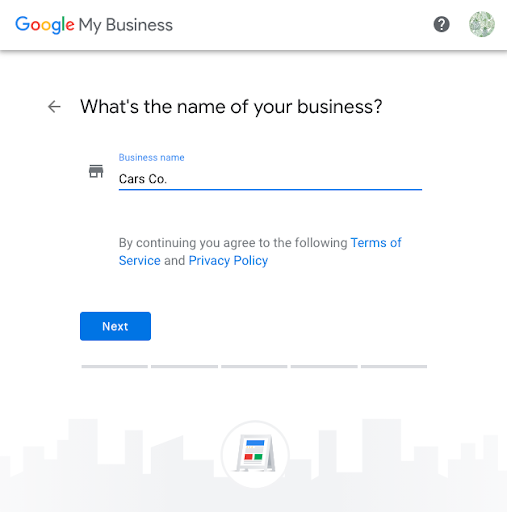 Step 3: Choose your business category
It's important when customers are searching for your business to be able to find exactly what they're looking for.

As a general category, you could put "Car Dealer", "Lawyer" or "Clinic", but we recommend being more specific. Try "(Your Brand) Dealer", "Immigration Lawyer" or "Orthopedic Clinic".

This also shortens the list of competitors your business has to beat out to be on top. Once you've picked an appropriate category, click Next.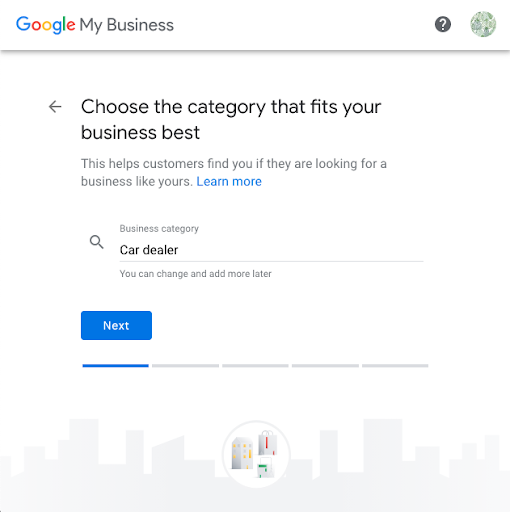 Step 4: Choose if you want your business location to show up on Google Maps
If you deliver items or provide services to a specific area, you may select "I deliver goods and services to my customers" and then click Next.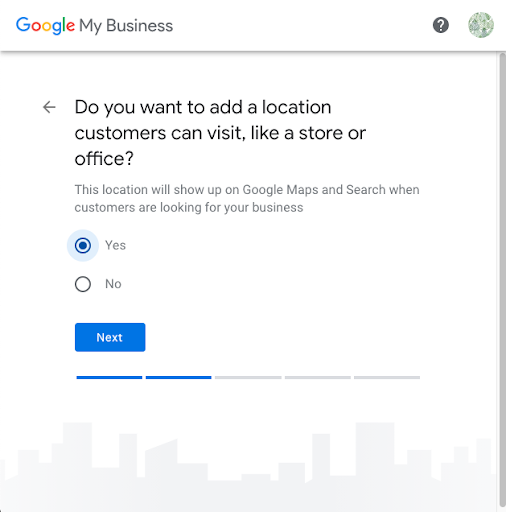 Step 5: Enter your mobile or landline number and website URL and click on Finish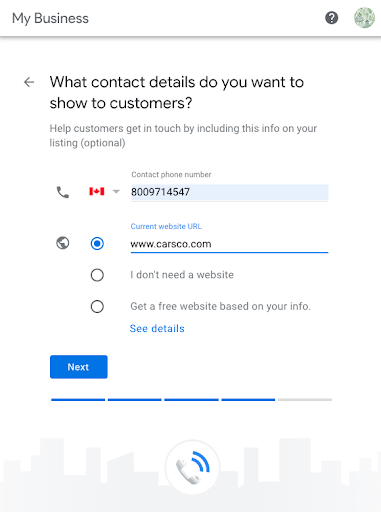 Step 6: Verify your business
Finally, Google has a verification process to confirm you have the authority to claim the business. To verify, Google will send you a verification code to enter into your account. Often, business owners choose to get their PIN in the mail.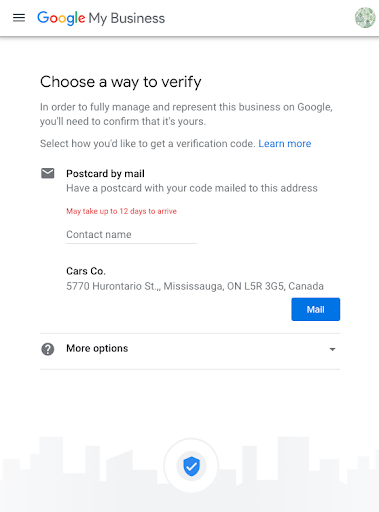 4 Ways to Boost Your Online Reputation with Google Business Profiles
After you have claimed your Google Business Profile account and page, you'll want to make sure potential customers choose you above your competition in the search results.

Here are some tips to get your listing to come up on top!
1. Post high-quality photos of your business, products and services.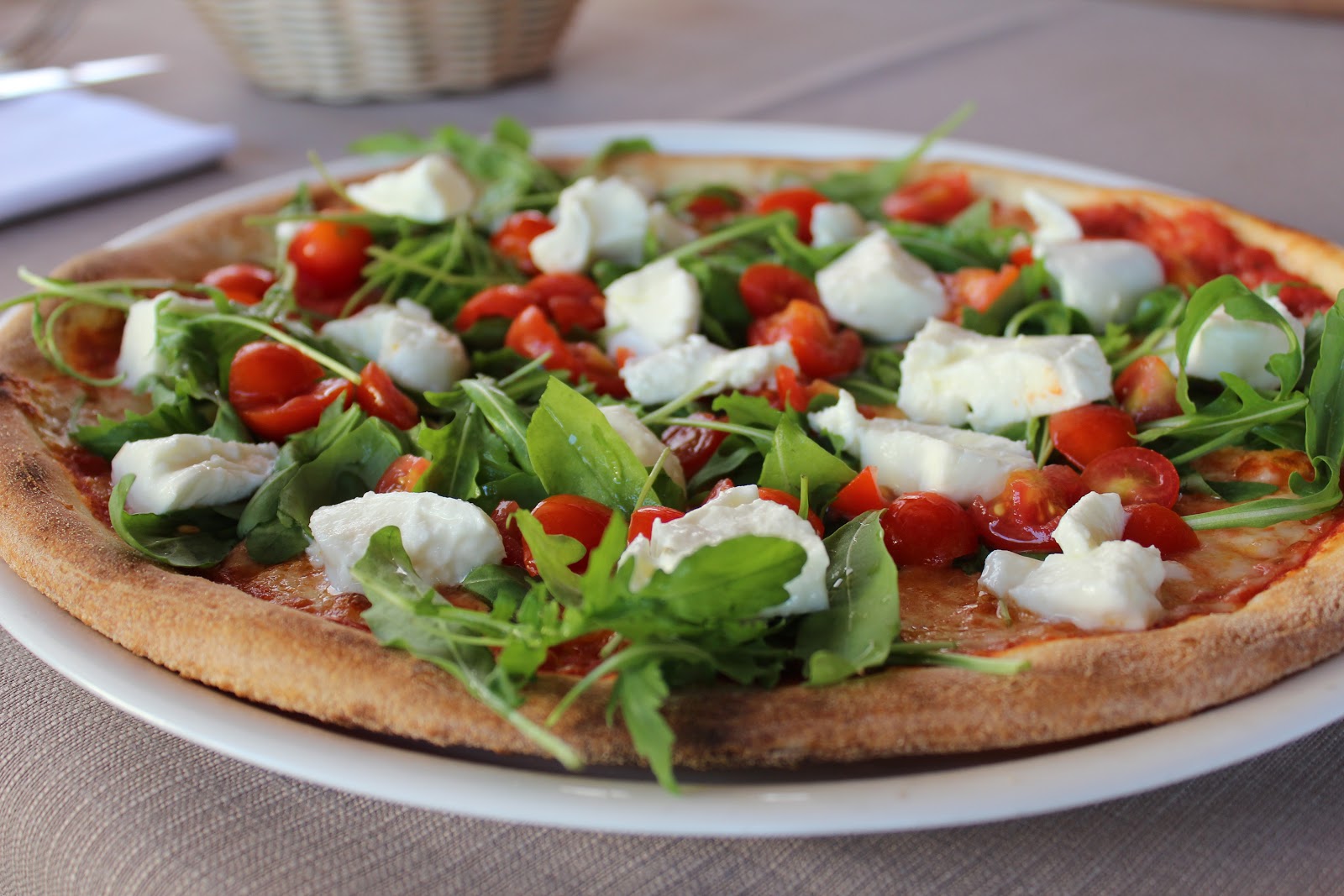 Consider this your first impression with your customers - you want to show them why they should choose you!

Make sure to post high quality and attractive pictures of menu items or of your storefront to help appeal to customers.

You're also able to post videos, although this isn't as important as long as you have a variety of great photos that accurately represent your business.
2. Make sure your hours of operation are correct and list your holiday hours.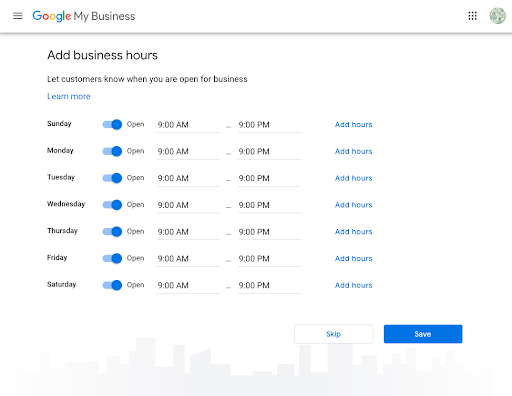 By making sure your Google Business profile is updated, you ensure that it's as helpful as possible to your customers.

It'll help them understand the best times to visit your location!
3. Business Descriptions
Adding a description to your listing helps humanize your business and persuade consumers to visit your location.

There is a 750 character limit and only 250 characters show up in the initial display. With this limit in mind, it's important to get creative and use keywords that describe your business to put your page on top.
4. Google Business Profile Posts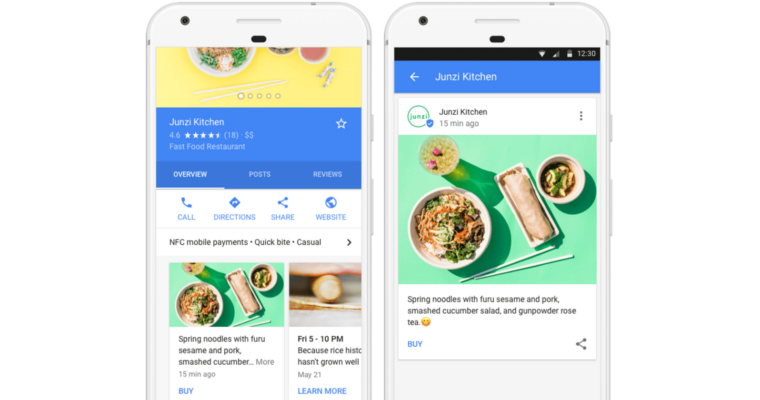 Many business owners are unaware of this key feature. On your account, you have the ability to create posts that appear on your listing for 7 days.

This is a great and free way to advertise events, deals or post any announcement you want to make. Google posts are a great way to get an edge over competitors and engage consumers who visit your Google Business profile.
Understanding Google Reviews and Why They're Important
A 2019 study by BrightLocal found that 82% of customers read online reviews for local businesses. Most consumers make their decision based on what your previous customers have said about you.

Around 76% of consumers trust online reviews as much as recommendations from family and friends.

Since Google is the most used, and most trusted, search engine by the vast majority of consumers, it is incredibly important to make sure you get positive reviews.

Consistent good reviews will help you boost your reputation on Google and will show potential customers your unbeatable service.
3 Important Tips to Get More Google Business Profile Reviews
Customers who have a positive interaction with your business are willing to leave a positive review, but we've seen that many businesses often don't ask customers to leave reviews.

Here are a few ways to increase the number of reviews you get for your business.
1. Create a seamless process for the customer!
Use tools that make it easier for your team to request Google reviews. These days, most customers don't respond to email requests, so it's significantly more effective to send a text message with a simple ask and a link for them to click and post a review.

By removing all barriers to post reviews, you can create a seamless experience where customers can post a review in 30 seconds.

After all, customers trust Google reviews posted by other real customers more than Google Ads.
2. Timing is everything!
Be sure to make it a part of your day-to-day process to ask for a review directly after your customer interacts with your business. You want to catch them while their experience with you is top of mind.

This way, customers are most likely to provide a complete account of their experience as it will be easy to remember.

Plus, if you wait a day or even a week to ask for a review, your customers may find your request disruptive to their routine and are much more likely not to respond.
3. Keep It Consistent!
One of the biggest mistakes businesses make is that they stop asking for reviews once they have some online. Acquiring reviews should be an ongoing practice for a business, not something you do for a few weeks and then stop. Think of it this way: asking for reviews is not like going on a crash diet, it's part of a healthy lifestyle. Why? Because when a review was posted matters.

According to BrightLocal, 84% believe that reviews older than 3 months aren't relevant and 48% of consumers only read reviews posted in the previous 2 weeks . This means that the reviews your business received last year are not going to be as impactful for prospective customers.
According to BrightLocal, 84% believe that reviews older than 3 months aren't relevant and 48% of consumers only read reviews posted in the previous 2 weeks . This means that the reviews your business received last year are not going to be as impactful for prospective customers.
Ready to Grow with Google Business Profile?
By properly making use of Google Business Profile, you can grow your local business. And there are tools that make GBP even easier to use.

At DemandHub, our mission is to help local businesses grow by making it easier to communicate with customers. With modern messaging technology, your local business can text review invitations to your customers, enabling them to post a review with just a few clicks in under 30 seconds. If you're looking to boost your Google ranking, the best place to start is with online reviews of your business. Build trust with your future customers through the power of word of mouth — online.

Request a demo of DemandHub to see how we can help grow your local business with our messaging tools to help you attract, engage, and retain more customers.

Learn More