The first thing people do when looking for a doctor or specialist is Google them. Almost 69% look for a local business online at least once a month. And 94% of patients use online reviews to evaluate healthcare providers.
If doctors are not proactive about their online reputation and don't know how to manage it effectively, they will lose patients left and right.
The stats are clear: online reviews and reputation management are key for doctors and healthcare providers.
But how can you take control of your online reputation and manage it effectively?
The answer is simple: through a strategic reputation management plan.
What is reputation management for doctors?
Reputation management for doctors is the process of monitoring, managing, and improving the online reputation of a doctor or a medical practice.
This can include monitoring and responding to patient reviews, managing the doctor's online profiles, and addressing any negative information that appears online.
As discussed earlier, patients research doctors online before making an appointment. Therefore, having a positive online reputation can greatly impact a doctor's ability to attract new patients.
On the other hand, a negative reputation can lead to fewer patients and loss of income.
Doctors must manage their online profiles on review platforms like Yelp, Google, and Healthgrades. They must encourage patients to leave reviews and address any negative reviews that may appear.
Reputation management for doctors also includes handling any negative press or news that may appear about the doctor or practice and implementing a crisis management plan in case of any negative events.
Why should every doctor care about their online reputation?
Reputation management is important for doctors because it ensures that the online information about a doctor or medical practice is accurate, up-to-date, and positive.
This can greatly impact a doctor's ability to attract new patients and retain current patients.
Establish trust and credibility with potential patients
Patients increasingly turn to the internet to search for doctors before making an appointment. They look at online reviews, ratings, and other information to decide which doctor to choose.
A positive online reputation can significantly influence a patient's decision-making process.
Positive reviews and high ratings can help establish trust and credibility with potential patients, leading to increased patient inflow.
Protects and Enhances a Doctor's Online Reputation
Reputation management helps doctors identify and address any negative information that appears online. This can include addressing negative reviews proactively, managing negative press, or addressing inaccurate online information.
Negative information can damage a doctor's reputation and negatively impact their ability to attract new patients.
Reputation management can help minimize the impact of negative information and prevent it from damaging a doctor's reputation.
Ensures Accuracy and Transparency
Doctors also have a professional and ethical responsibility to be transparent and responsible about their practice's information. By managing your online reputation, you also ensure that the information is accurate and up-to-date. It's incredibly frustrating when outdated information is posted on a practice website, that can cause patients to waste their time.
Overall, a good online reputation is key to building trust and credibility for any business, and doctors are no exception. A good reputation can attract new patients, retain current ones, and help ensure the sustainability and growth of their practice.
11 Online Reputation Management Tips and Techniques for Doctors
You can do a few things to help improve your online presence without taking too much time away from the important work you do in the office. It also benefits your practice overall to train some team members on how to proactively manage your online reputation.
Here are the top 11 tips and strategies for doctors to improve their reputations online:
Provide excellent patient care
Analyze and audit your existing reputation
Claim and manage your GBM listing
Create education content — Start Doctor Blogging
Monitor your reviews proactively
Respond to all reviews
Use social media for practice growth
Get listed on doctor review sites
Focus more on patient retention
Advertise your practice: Pay-per-click (PPC) and Social Media Marketing (SMM)
Adopt a Reputation Management Platform for Doctors
1. Get more reviews
Reviews are everything!
There are two types of reviews: positive and negative.
If people are unhappy with their experience at your clinic, they will post negative reviews.
So, the first step is to do everything possible to ensure patients have a great experience visiting your practice.
You need to provide excellent patient care, offer a convenient location and make sure that people feel like they are being heard when they visit your clinic.
When patients have a great experience at your practice, they will leave positive feedback on medical review sites like Google, Yelp, and Facebook.
2. Analyze and Audit your existing reputation
The first thing that you need to do before starting any reputation management is to analyze where your business stands today.
What is out there already? Is there anything negative? What are positive things out there?
Evaluating your current situation will give you a clearer picture of where to start and what needs to be done.
Make sure you are not missing anything. You can do this by taking a look at the following tools:
Search engines (Google, Bing),
Social media sites (Facebook, LinkedIn, Twitter),
Doctor Review sites (Yelp, Google, Healthgrades, RateMDs)
Conduct a total health checkup on your online presence. Perform an audit of your practice's online presence.
What does the search engine say about you? Are there any negative reviews that need addressing? If so, how can they be fixed?
Create a Google Alert for your practice name. If there is anything negative, it's important to know about it as soon as possible.
By creating a Google Alert, you can be notified whenever something new comes up in the search results related to your practice. This will enable you to respond quickly and fix problems before they get out of hand.
3. Claim & Manage the GBP listing
The Google Business Profile (formally Google My Business (GMB) listing) is a powerful tool for your stellar online presence. It allows patients to find you on Google Maps and Google Search, which can increase foot traffic and lead generation.
When patients search for local doctors, your GBP profile will appear in the search results. That's why ensuring that your GBP listing is complete and accurate is important.
Here are some tips for optimizing your GBP profile:
Choose the right category for your practice. For example, if you are a dental practice, this would be "Dentist" or "Orthodontist."
Add your business name, address, and phone number (NAP). Use the same NAP information on your website and other online listings to maintain brand consistency.
Create a description of your business that includes relevant medical keywords.
Add high-quality photos of your office, staff members, and equipment.
Encourage patients to leave reviews on your GMB listing.
4. Create Educational Content-Doctor Blogging
Blogging is a great way to generate leads. It gives people an opportunity to learn about your practice and connect with you on a personal level.
Create and share educational content on your blog and social media. You can share tips and advice on health issues that your patients face, such as oral hygiene, nutrition, and sleep.
For example, you can write about the latest oral care products and services or share tips on sleeping better. This content will attract people outside your local area and bring in new patients.
It's also a great place to promote the new services and procedures that you are offering at your clinic.
Another way to drive traffic to your practice's website is by writing about trending topics in your industry.
For example, if you're a dentist and there are stories in the news about tooth decay or cavities, you can write a blog post about how to avoid these issues. This type of content is easier for readers to digest because they can relate to it, and an expert wrote it.
Consider creating an educational video series that you can post on YouTube, TikTok, or Instagram Reels.
5. Monitor Your Reviews Proactively
Monitoring online reviews in a proactive manner helps doctors to identify areas of improvement in their practice or patient care. Reviews can also help doctors to build their reputation and attract new patients.
Check the review section of your google map listing and other directories like yelp and HealthGrades. You can also create a specific webpage that monitors your ratings and feedback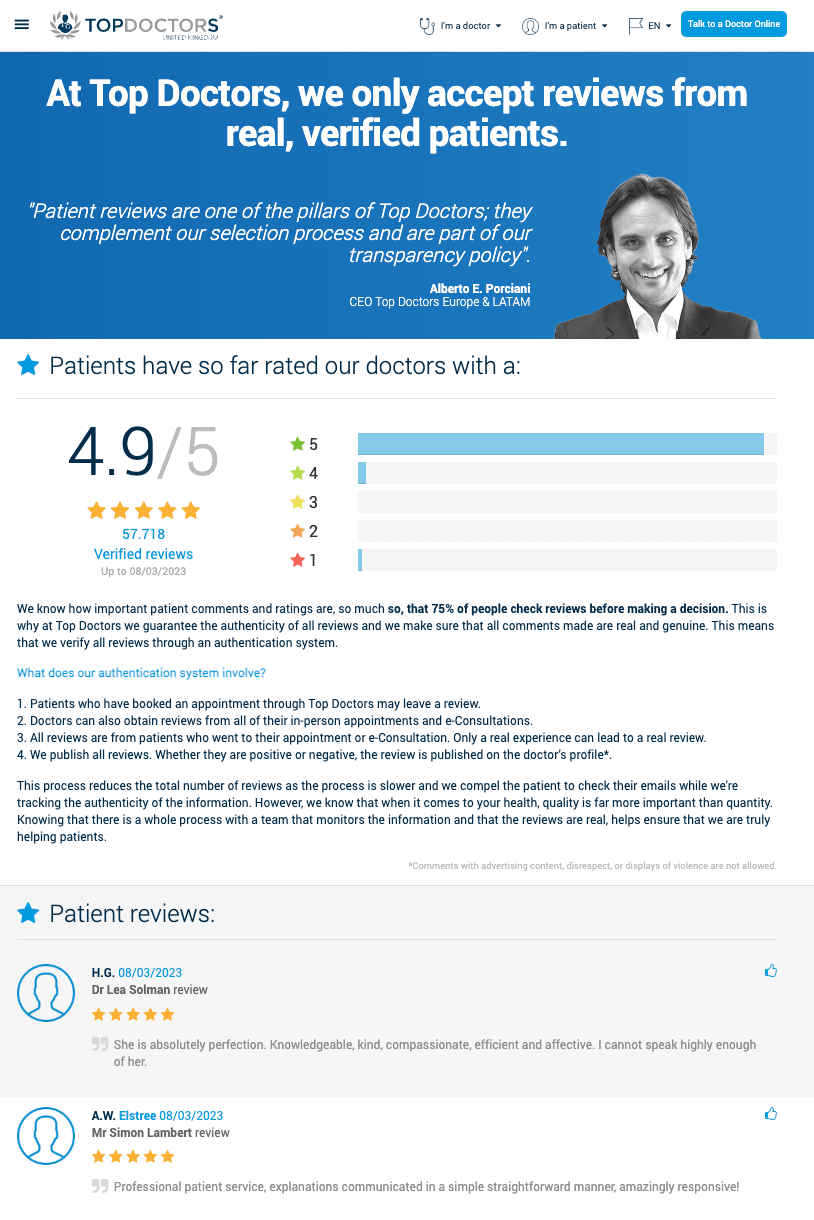 Additionally, you can also ask patients for feedback and reviews directly. You can do this by including a link to an online review platform in an email or text message follow-up. Some practice management software also have features that allow doctors to gather patient feedback through text, such as DemandHub.
6. Respond to all Reviews
Both positive and negative reviews play a key role in doctor reputation management. A timely and personal response shows that you care about your patients and value their feedback.
If you see a negative review, express your regret that the patient had a negative experience. Invite them to reach out to you directly so that you can address their issues.
Responding to the patient on time is important. Try to resolve the issue. Apologize for their bad experience, address the concern, and offer a solution.
45% of consumers say they're likelier to visit a business that responds to their negative reviews.
Even if you can't change the situation that led to the negative review, you can build a rapport and turn them into satisfied patients.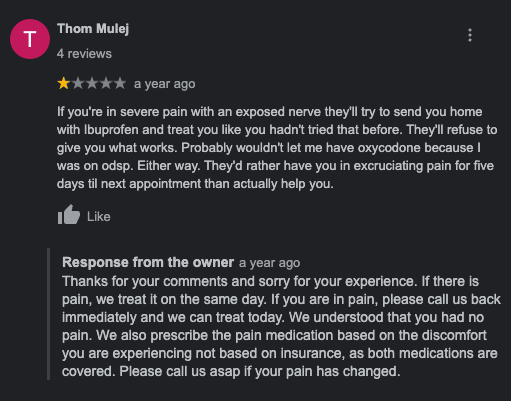 For a positive review, thank the patient for their good words and let them know you appreciate their input.
7 out of 10 customers changed their opinion about a business after they responded to the review.
While crafting a response, it is always important to be professional, courteous, and respectful. These qualities will go a long way in maintaining a positive online reputation for your healthcare practice.
Here are some examples of doctor review response templates:
Negative Review Response Template
"Hi [First Name], I'm sorry that you had a negative experience at our office. We would love the opportunity to make it right. Don't hesitate to contact me directly so we can resolve the issues you experienced."
Positive Review Response Template
"Hi [First Name], Thank you so much for your kind words! We're happy that you had a great experience at our clinic. Looking forward to serving you again."
Some reviews can be fake or malicious. If you suspect this is the case, contact the review platform directly and ask them to investigate.
Social media is a powerful tool to engage with current and potential patients. The stats below show how important it is to add social media to your medical reputation management plan:
40% of patients say they use the information they find on social media to make health decisions.
71% of patients would recommend the practice to others if a business quickly responds to complaints through social media.
Make sure you are active on major social media platforms such as Instagram, Facebook, Twitter, LinkedIn, and YouTube.
Share content regularly that is engaging and useful. Depending on the platform, this could be in the form of videos, infographics, social media captions, before and after images, blogs about health tips, or industry news.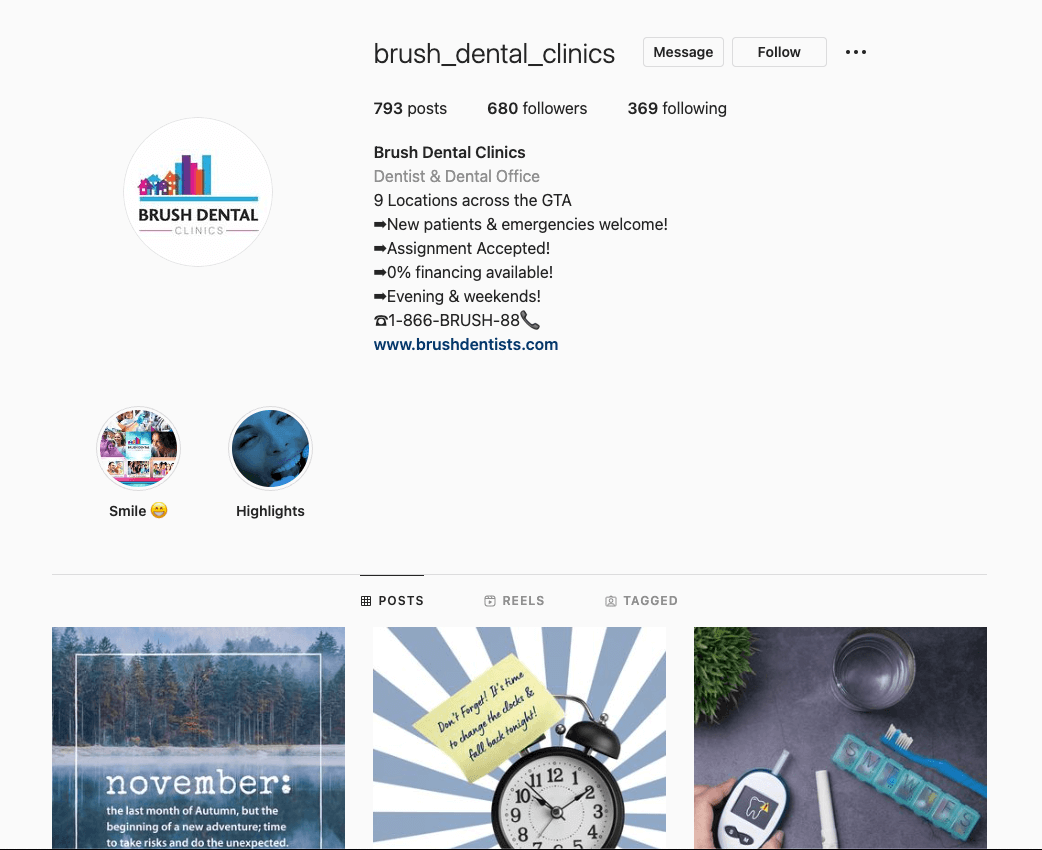 Social media allows you to build relationships with your patients by promptly responding to their comments and messages. A personalized response goes a long way and shows you care about patients.
8. Get Listed on Doctor Review Sites
List your practice on all popular healthcare review sites. Ensure your information is accurate and up-to-date there. Popular review sites are Doctor.com, Yelp, Healthgrades, etc. Monitor these sites for reviews and respond to them accordingly. Get more reviews by encouraging your patients to leave feedback on these sites.
A comprehensive study by Harvard Business School found that a 1-star increase in Yelp rating can lead to a 5% to 9% increase in revenue. That's the power of listing your practice on medical review sites.
9. Focus on Patient Retention
Even if you're great at gaining new patients per month, it won't do any good to your practice if they only visit once and never return.
New patients are always best, but it's critical to ensure you're not losing more patients than you're gaining.
It costs 5 times more to attract a new patient than to retain an existing one. The odds of selling to an existing patient are significantly higher (60% to 70%) than to new patients (5% to 20%).
Make sure to have a patient retention plan to reduce attrition rates. Offer incentives like loyalty programs, discounts, free follow-up visits, or free services for returning patients.
You can retain patients by making them feel exclusive by staying in touch with them and resolving their issues promptly via web chat, text messages, or social media.
As a result, you will develop a great rapport with your patients and keep them happy, leading to higher patient retention rates.
Pay-per-click or PPC marketing is the most popular way for doctors to advertise online. Google Ads is the biggest PPC platform. When you use Google, your ads appear above organic search results—making it easier for patients to see.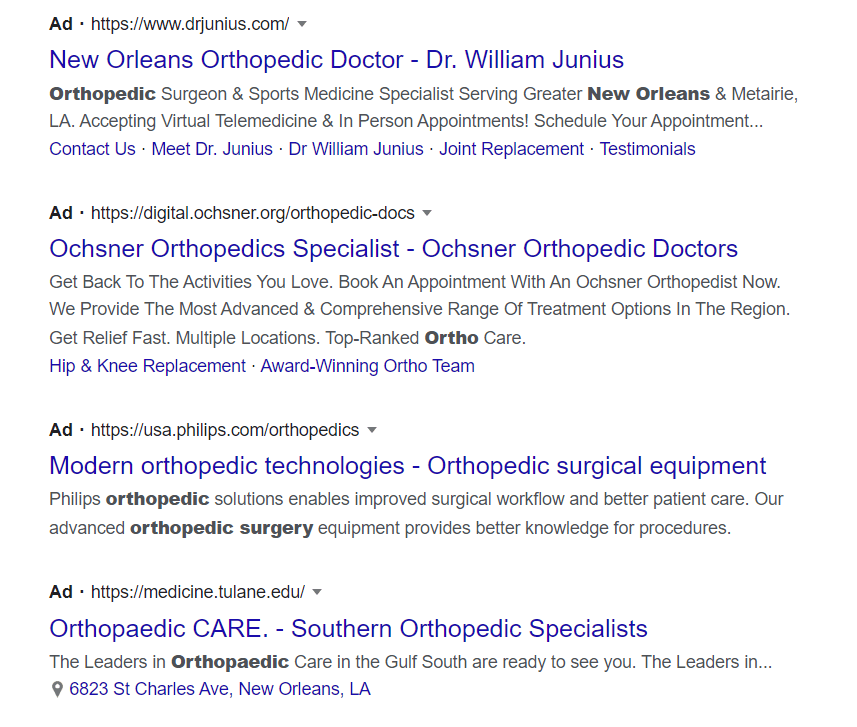 What is PPC or Pay-Per-Click?
PPC, or pay-per-click, is a type of online advertisement. It allows businesses to bid on keywords to have their ads appear when someone searches for them.
The good thing about PPC is that you don't have to pay to show the ads. You only pay Google when someone clicks on the ad.
To make your ads more applicable to searchers, bid on your industry-specific keywords. It is a great way to reach more people who are interested in your services.
Social media is a very powerful tool for online marketing. However, many doctors are not promoting their practice accurately on social media.
Setting automatic posts without engaging the followers is a big no-no. Engaging with your readers and followers is the key to getting more likes and follows. So, create and share content that motivates people to interact with you and respond quickly to comments or messages.
You can also run paid campaigns on social media like Facebook Ads and Instagram Ads. They enable you to target potential patients based on their interests, location, age group, etc. They are very effective in reaching out to the right audience.
Bonus: If you want to join bigger conversations related to your niche and industry, start using hashtags related to healthcare and doctors. Some of the most popular medical or doctor-related hashtags are:
#medical #medicine #doctor #health #healthcare #hospital #doctors #nurse #covid #medicalstudent #neet #surgery #mbbs #medstudent #medschool #medico #science #medicalschool #pharmacy #surgeon #anatomy #bhfyp #nursing #biology #coronavirus #education #love #medlife #nurses #aiims
#medical #medicalmarijuana #medicalstudent #medicalcannabis #medicalschool #medicalspa #medicalaesthetics #medicalmedium #medicalassistant #medicaltourism #medicallife #medicalstudents #medicaldoctor #medicaleducation #medicalcenter #medicalmemes #medicalcard #medicalcare #medicalalertdog #medicalfield #medicalgrade
#dental #doctorsofinstagram #nursing #salud #pharmacy #aiims #fitness #medicos #biology #dentistry #healthy #instagram #beauty #nurses #doctorlife #med #sivakarthikeyan #dr #instagood #plasticsurgery #india #a #nurselife #pathology #doctorwho #clinic #memes #follow #pharmacist #motivation
11. Adopt a Reputation Management Platform for Doctors
A reputation management platform can automate your practice's marketing, patient communication, online payments, and scheduling.
In short, it can streamline all aspects of running a successful clinic in one single system.
DemandHub helps you manage your online reputation, get more positive reviews, and streamline your patient journey.
We bring new patients to you by integrating DemandHub's CX tools into your healthcare websites, such as text messages, Web Chat, Online Scheduling, contactless payments processing, and much more.
With DemandHub's modern messaging capabilities, you can start a two-way conversation with your patients. Send messages with review links directly to patients and enable them to post a review in 30 seconds or less — all with just a few clicks.
Book a free demo today if you're looking for an easy and effective way to improve your online reputation tenfold.
Frequently Asked Questions (FAQs) about Reputation Management for Doctors
Why is reputation management important for doctors?
Reputation management is important for doctors because it directly affects their credibility, patient trust, and practice. Patients often search for and select doctors based on online reviews and ratings. Therefore, a well-managed online reputation increases patient count and loyalty.
What is the best practice for reputation management?
The best practice for reputation management is to monitor your online presence proactively, promptly address negative feedback, and consistently promote positive content about your brand or organization.
What does reputation management do?
Reputation management involves strategies and efforts to shape public perception of an organization or individual by influencing online information about them.
What are the two types of reputation management?
The two types of reputation management are:
Proactive, which involves efforts to prevent a crisis and maintain a positive image.
Reactive, which is a response to a crisis or negative event to mitigate its impact.
What are the types of reputation management?
Reputation management can be categorized into various types based on the strategies used. Examples include search engine reputation management, social media reputation management, review, and feedback management, and third-party website monitoring.
What steps can doctors take to manage their online reputation?
Doctors must follow the following steps to manage their online reputation:
actively monitor online reviews,
respond promptly and professionally to positive and negative feedback,
regularly update their online profiles,
encourage satisfied patients to leave positive reviews.
ensuring that the information available online is accurate and up-to-date.
Using professional reputation management software
What are the best strategies to manage online reputation?
The best strategies to manage online reputation include:
proactive monitoring of online platforms,
promptly addressing negative feedback,
creating and promoting positive content,
maintaining transparency,
engaging actively with the online community.
Having a crisis management plan in place for potential negative events.
How do I set up online reputation management?
To set up online reputation management, start by auditing your current online presence. Then, set up alerts for your brand name to monitor mentions. Create a response plan for negative feedback and regularly publish positive, high-quality content.
Engage with your audience on social media and other platforms. Encourage satisfied patients to leave positive reviews. Consider using reputation management software or hiring a professional service if needed.