Facebook reviews can significantly impact your company's online reputation and image, for better or worse.

Statistics reveal that as much as 90% of consumers consult reviews before visiting a business, and 84% of people consider online reviews to be as reliable as a personal recommendation.

Positive reviews can go a long way in winning potential customers over to your brand and growing your social media presence.

Unfortunately, there comes a time when every business owner also has to deal with a bad Facebook review or two. Sometimes, these are fake reviews that aim to taint your company's name.

However, if a negative Facebook review is legitimate, then the situation must be handled tactfully.

In this article, we'll take a look at how to handle different types of bad reviews - both real and fake.
There are times when business owners have to remove Facebook reviews to protect the company's image. This may be necessary when your business' Facebook page receives spam posts, unfair reviews, hate speech, or false reviews that aren't from real customers.
Can you delete a bad review on Facebook?
The short answer: yes.

But, in order to get a false negative review deleted off your business page, you will have to take the following steps to let Facebook know to take down the review.

Only Facebook's team can remove the reviews, and you can alert them by flagging the reviews.
How can I delete a review on Facebook?
Step 1: Comment on the review
On Facebook, page owners cannot remove individual reviews themselves. However, users can flag a review to notify Facebook's team to remove the reviews. But, users can only flag a review if it has at least one comment on it.

Commenting on negative reviews is tricky - the situation needs to be handled with great care. Even if a review is fake, the comment should express an attempt to resolve the problem.

When your legitimate customers read the review, they will know that your company made an effort to fix the issue.
Step 2: Flag the review
To flag a review, navigate to the top-right of the post and select the arrow pointing downward.

Press 'Report post', and proceed to explain why you are flagging the review.
Step 3: Wait for Facebook's team to remove the review
This may take a while, as their team has to manually assess the report.

If the team finds that the review is in violation of Facebook's Community Standards, they will remove it and no record of the review will remain.
Can a review be removed?
While users can't delete individual Facebook reviews, there is an extreme option available; removing all of the reviews entirely.

This won't permanently delete the reviews, but visitors can no longer view them. Deleting your business page's reviews also means that customers can no longer leave feedback, good or bad unless the reviews are restored.

Here's how to collectively delete your Facebook reviews:
Visit your business page and make sure that you're logged in as a page admin.
At the page's top-right corner, select the 'Settings' button.
The page's left-hand corner has a menu, from which you need to select 'Templates and Tabs'.
Scroll to the 'Reviews' tab, and select 'Settings'.
Finally, navigate to 'Show Reviews' towards the right, and a slider will be visible. Click to disable the reviews, and proceed to 'Save' the changes. Now, customer reviews and negative feedback will no longer be visible on your Facebook page.
Should you respond to or delete negative reviews?
If managed properly, negative reviews can present your business in a positive light and build confidence in your brand.

Potential customers may be cautious about purchasing from stores that showcase only positive business reviews on their Facebook page, as this makes a brand seem less authentic. Thus, sometimes it's in your company's favor to keep negative reviews around if the matter has been resolved.

However, if your business is facing unfair negative comments, then removing them might be necessary. If your legitimate customers have left a couple of bad reviews, then it's important to respond positively as part of customer service.

A good response to negative feedback should address the problem at hand and offer a solution moving forward. This can change your customer's experience from a negative one to a positive one.

Moreover, it shows potential clients that your company cares about its customers and is serious about resolving problems.

There are many instances where deleting a review might be wise, and even necessary. Sometimes, users abuse the reviews feature to leave fake negative reviews on your Facebook business page. You can determine if a review is fake by checking for the user's transaction history, and seeing if the complaint is from a legitimate customer or not.

Businesses may also choose to flag reviews because they are in direct violation of Facebook's Community Standards - e.g the post may contain hate speech.

Some reviews fall under the 'spam' category - they may have nothing to do with your products or services, and may be advertisements for other brands and businesses. In this case, you should report the review to have it deleted.
Examples of Responding to Facebook Reviews
Here are some good examples of businesses responding to Facebook reviews:
Intrepid Travel
Intrepid Travel is the world's largest adventure travel organization for small groups. In this particular situation, the company has responded to a negative review concerning their cancellation policy.

Intrepid Travel responded with an informative, empathetic reply in which they detailed a breakdown of the expenses and gently pointed out how the policy helps support communities that are suffering from COVID-19's economic repercussions.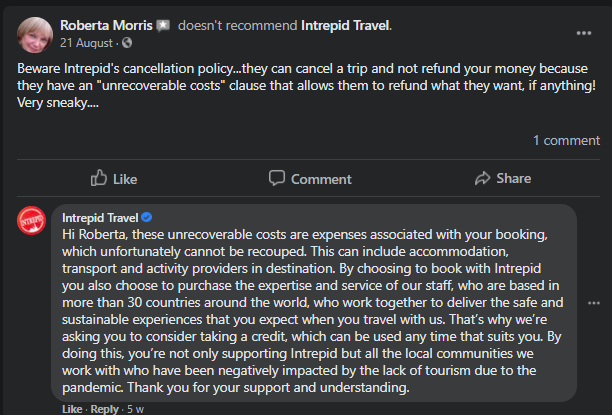 Wendy's
Wendy's is a popular American fast-food chain that has expanded globally. In this case, a customer has complained about the efficiency of Wendy's drive-thru service.

The company has responded by first empathizing with the customer's concern, and then proceeded to offer to make it up to them.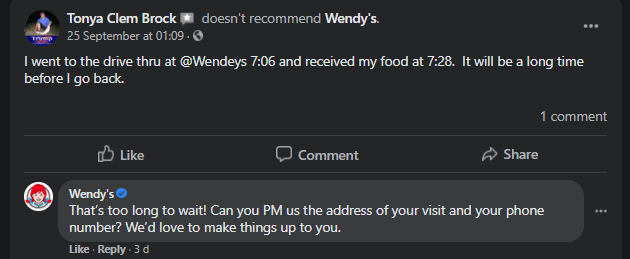 Stella & Dot
Stella & Dot is an accessories company that sells jewelry and lets customers host trunk shows. This particular review is an excellent example of how a positive response and proper care can turn a negative review around in your brand's favor.

Initially, the customer expressed dissatisfaction concerning Stella & Dot's product.

The company responded with an apology and proceeded to address the problem and offered a solution.

After the matter was resolved, the client edited their review, changing it from a negative one to positive feedback.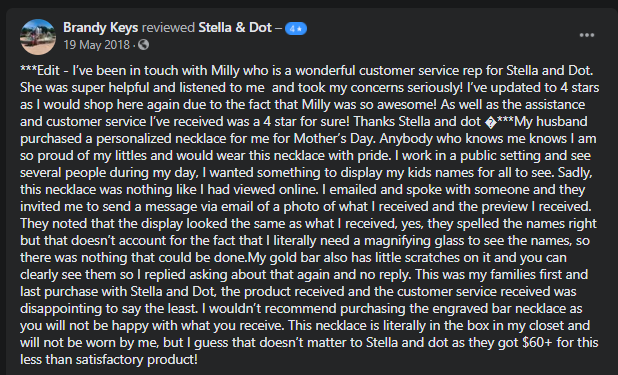 Manage Facebook Reviews with DemandHub
If you're looking to boost your Facebook page, the best place to start is with online reviews of your business. Build trust with your future customers through the power of word of mouth — online.

At DemandHub, our mission is to help local businesses grow by making it easier to communicate with customers. With modern messaging technology, your local business can text review invitations to your customers, enabling them to post a review with just a few clicks in under 30 seconds.

Request a demo of DemandHub to see how we can help grow your local business with our messaging tools to help you attract, engage, and retain more customers.

Learn More