Navigating the new healthcare softwares can be complex, and can get pretty pricey. It can be overwhelming to research all the alternatives to the well known platforms, and trying to pick what's right for you can be even tougher.
While PatientPop has become a popular solution for healthcare practices, how do you know if it's right for you? Today we're exploring 17 PatientPop alternatives to help you get a better understanding of what options are available to you.
By the end of this article you'll have a number of options, each with unique features, benefits, and potential downsides. Whether you're running a small practice or a large hospital, this guide will help you explore the world of practice management software beyond PatientPop.
So, let's dive in and discover the perfect fit for your practice.
Table of Contents
Why Consider PatientPop Alternatives?
While PatientPop is a well-known name in the world of practice management software, some practices may consider alternatives for various reasons.
Disclaimer: The pros and cons listed for each software are based on user feedback and experiences, which can vary greatly. These differences can be due to individual use cases or practice needs. It's recommended to thoroughly evaluate these factors and conduct a comprehensive assessment of the software in the context of your specific needs before making a decision.
Based on PatientPop reviews, here are some of the critical issues that have led practices to seek other options:
1. Limited Customization and Functionality
Some users have found the platform's calendar and website design features lacking functionality and flexibility. The templated design approach leaves little room for personalization, making it difficult for practices to create a unique online presence that truly represents their brand.
2. Conc Customer Service
A common complaint among users is the perceived lack of customer service. Physicians have reported feeling like just another number, with their concerns and requests for assistance going unaddressed for extended periods. This lack of support can be particularly frustrating when trying to resolve issues with the platform or make necessary changes to their website.
3. Lack of Control Over Data
Some practices have expressed concerns about PatientPop's control over their data. This control can limit the ability of healthcare practices to effectively run their advertising campaigns on platforms like Facebook or Google. In some cases, providers have even reported that PatientPop deleted their work on their Google Business Page without their consent.
4. Inconsistent Communication and Misleading Sales Practices
Practices have reported experiencing disorganization among the PatientPop staff, with unreliable communication and a lack of responsibility being common issues. Some users have also accused the sales team of being deceptive, particularly regarding the control physicians would have over their websites.
5. Ineffective SEO and Client Engagement
Dr. Ahrens reported that his practice saw little growth in new clients or inquiries after engaging with PatientPop. Despite the promise of boosting SEO presence, his clinic received no review from their current clients over nine months, which was a key reason for choosing PatientPop. This lack of engagement can significantly impact a practice's online visibility and reputation.
6. Contractual Issues
Some providers have found the contractual obligations with PatientPop restrictive. Practices have found that the actual experience contradicts the promised flexibility in cases of dissatisfaction or significant business changes.
The lack of a free trial or money-back guarantee has also been a point of contention for some users.
These issues highlight the importance of considering PatientPop alternatives that offer better customization, improved customer service, greater control over data, transparent communication, and flexible contracts.
Beyond the Ordinary: 17 PatientPop Alternatives Shaping the Future of Practice Management
The right practice management software can make all the difference in the ever-evolving healthcare landscape. As we move beyond the familiar territory of PatientPop, we have curated a list of innovative alternatives shaping the future of practice management.
These 17 PatientPop competitors are keeping pace with the industry's demands and pushing the boundaries with their unique features and capabilities.
Whether you're looking for better customer service, more customization options, or greater control over your data, these alternatives offer a wide range of solutions to help your practice grow.
Let's dive in and explore these PatientPop alternatives and their pros and cons:
Disclaimer: The pros and cons listed for each software are based on user feedback and experiences, which can vary greatly. These differences can be due to individual use cases or practice needs. It's recommended to thoroughly evaluate these factors and conduct a comprehensive assessment of the software in the context of your specific needs before making a decision.
DemandHub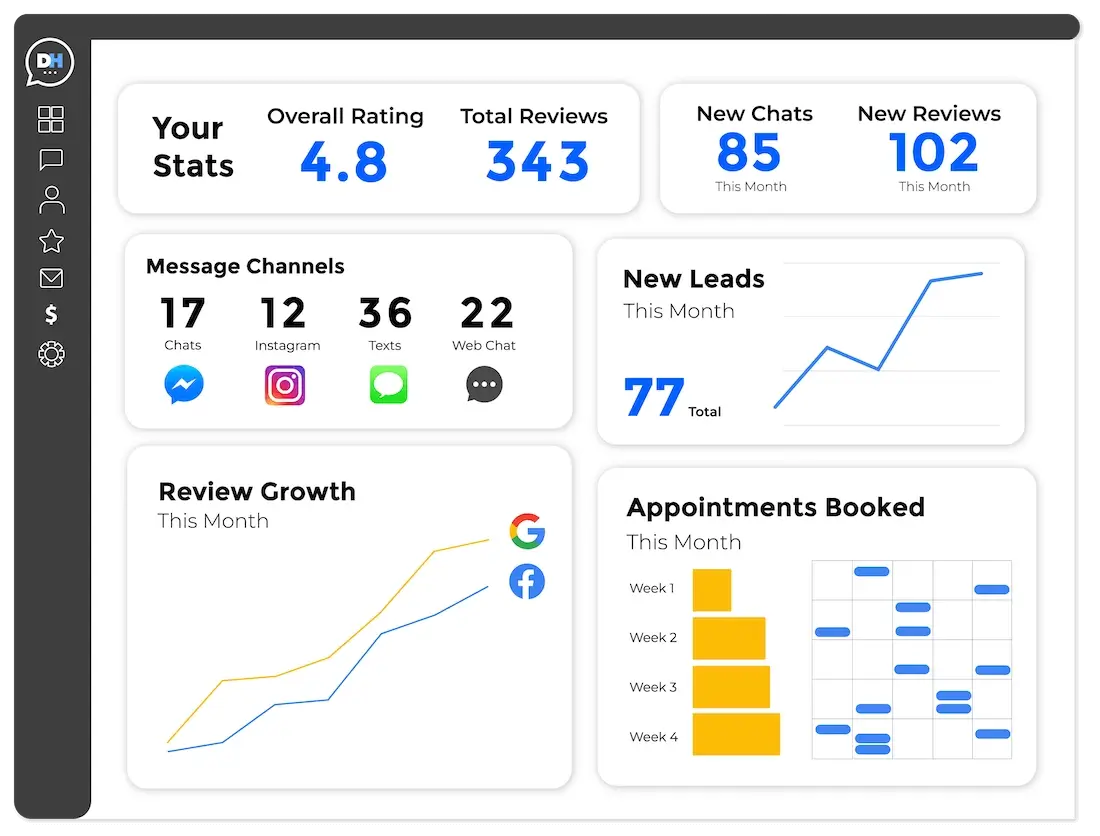 DemandHub is an all-in-one practice management platform designed to help businesses grow automatically. It offers a suite of tools to enhance customer interaction, boost online reputation, and ultimately drive business growth.
Its unique features include
Patient appointment reminders
Surveys and automated reminders
Web chat
Text marketing
Online payments
Unified inbox
Multiple integrations
5-Star Reviews
DemandHub helps businesses build their online reputation by making it easy to collect 5-star reviews. It automates the process of asking customers for reviews via text, assisting practices to become the first choice for new patients.
Web Chat
The platform offers a text-based Web Chat feature that provides a seamless customer experience. It allows businesses to connect with website visitors conveniently, even after they leave the website.
Unified Inbox
DemandHub's messenger feature allows practices to manage all communication channels in one inbox. It organizes Google, Facebook, Instagram, Web Chat, email, and texts into one place, ensuring every lead is addressed instantly.
Online Scheduling
The platform offers hassle-free scheduling for patients and clients, making it easy for them to book appointments.
Payments
DemandHub also includes a feature for managing payments directly from your phone. It adds another layer of convenience for practices and patients.
Seamless Multiple Integrations
DemandHub's HIPAA-compliant platform integrates with existing systems to streamline processes and reduce manual work. It integrates with several other platforms, including Clinko, PtEverywhere, Dentrix, Dr. Chrono, Juvonno, Open Dental, Live DDM, Therapy Notes, and more.
Pros
Business Growth: DemandHub is designed to help businesses grow. It has helped practices increase reviews, web traffic, and revenue significantly.
Efficiency: By consolidating multiple communication channels into one inbox, DemandHub helps healthcare practices manage their leads more efficiently by consolidating multiple communication channels into one inbox.
Improved Patient Experience: From the first text to a 5-star review, DemandHub creates an exceptional experience that can increase patient satisfaction and retention.
Team Collaboration: The platform also includes a Team Chat feature, helping practices stay connected with their team members.
Excellent Customer Support: DemandHub is recognized for its exceptional customer support. Its support team addresses the issues promptly. Their support channels are easily accessible, allowing users to reach out via various methods such as email, phone, or live chat.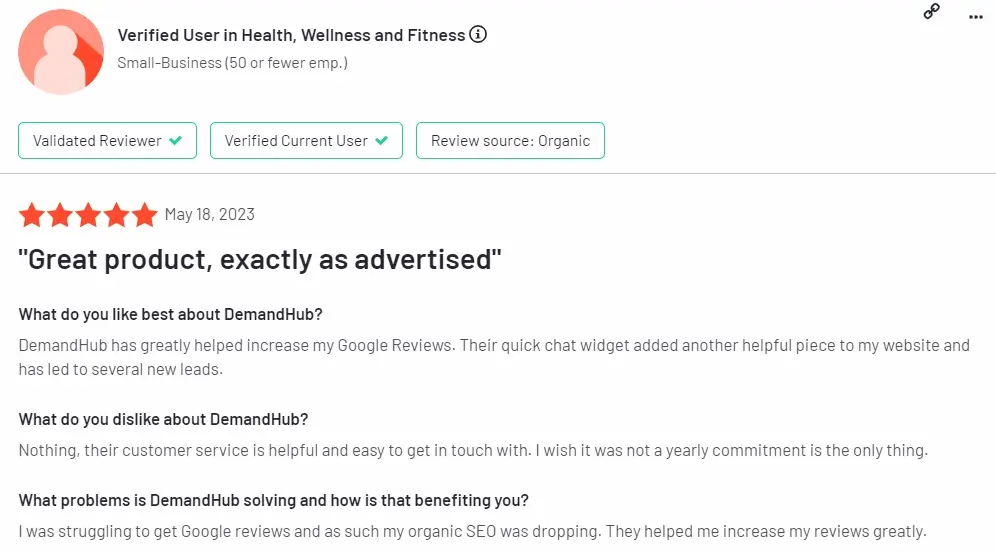 Cons
DemandHub is a comprehensive, top-tier solution for practices with no known downsides. Naturally, users may need some time to get acquainted with the platform's various features. But fear not!
With 24/7, top-notch support, you and your staff can quickly become proficient, mastering the platform in just a day. This commitment to user empowerment highlights DemandHub's dedication to providing an unrivaled user experience.
IntakeQ
IntakeQ is a web-based practice management platform designed to streamline the daily operations of healthcare practices. It offers several features to optimize day-to-day operations and connect with patients anytime and anywhere.
Pros
Online Intake Forms: IntakeQ allows providers to create branded custom forms, including client and provider e-signatures, form reminders, and treatment notes.
Appointment Management: The platform offers complete appointment management, including appointment reminders and a booking widget.
Secure Client Portal: IntakeQ provides a secure, online patient portal for seamless and convenient communication.
Payments/Invoices: The platform includes features for managing payments and invoices, including recurring payments, claims, and superbills.

Cons
Limited Customization: The system is reportedly hardcoded to use the first name and email address for identification. There is no obvious way to customize this feature to use the full name and birth date instead.
Complex Form Creation Process: Some users have found the process of creating forms on IntakeQ to be quite challenging and time-consuming. This complexity could slow down the workflow.
Recurring Payments Structure: Some users have expressed dissatisfaction with the structure of recurring payments on IntakeQ. They felt that it could have been more user-friendly.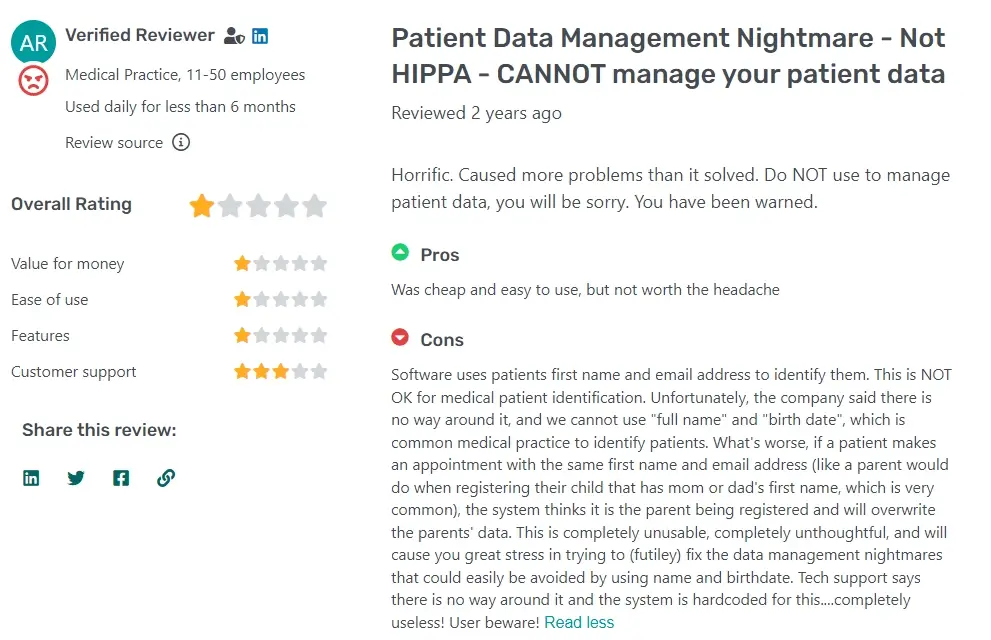 Power Diary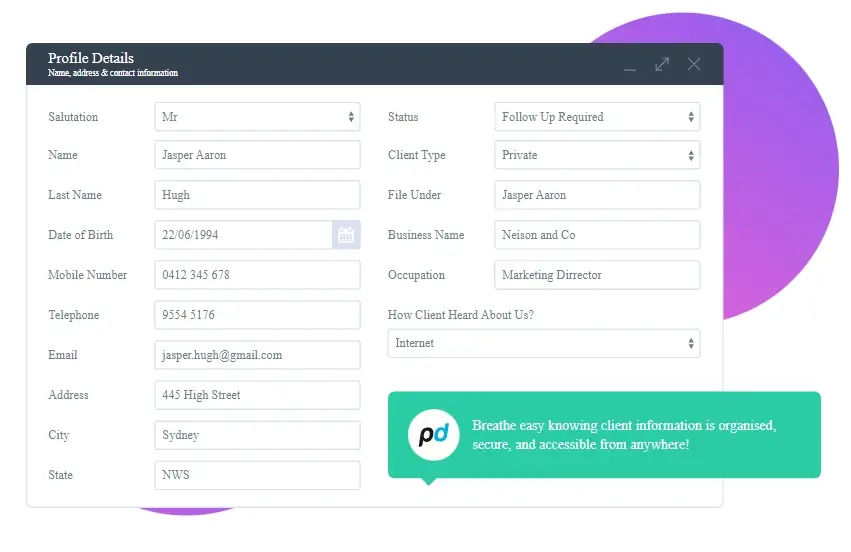 Power Diary is a robust practice management software. It aims to simplify the operations of clinics and practices, making them more efficient and effective.
Pros
Calendar Management: Power Diary offers appointment management with alerts, reminders, waitlisting, and more. It provides tools for managing multiple locations and custom diary intervals.
SMS & Email Communication: Automated and customizable text messages and email reminders help reduce no-shows and inform clients about their appointments.
Telehealth Video Calls: Power Diary offers secure, HIPAA-compliant video calls that are simple for the practitioner and the client.
Online Forms: Customizable online forms allow for the efficient collection of client information.
Clinical Notes: Customizable treatment note templates and the ability to upload and attach files to individual session notes help organize client information.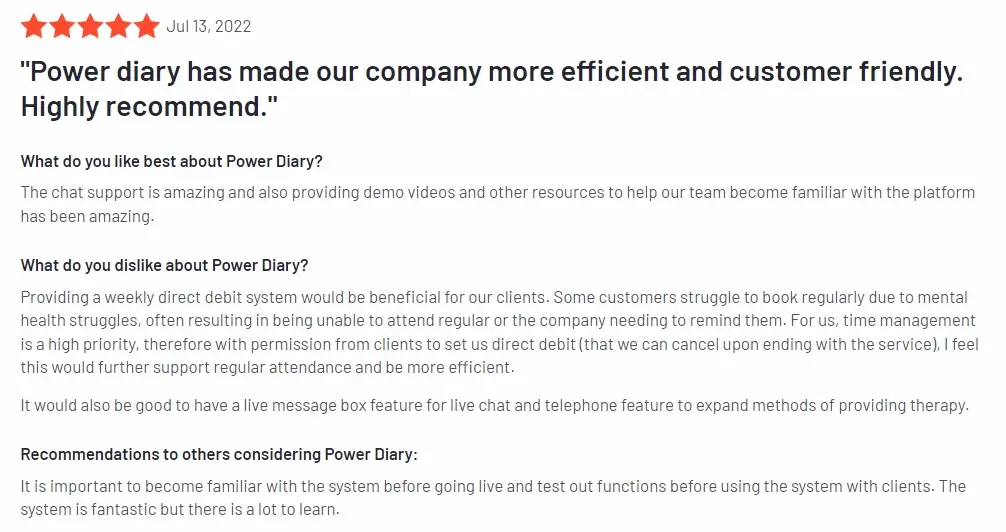 Cons
Cost of SMS Services: The cost of SMS services provided by Power Diary is higher than expected. This could increase operational costs for practices that rely heavily on SMS for communication.
Outdated User Interface: Despite recent updates, the user interface of Power Diary still appears dated compared to competitors. The platform also has limitations in terms of customization and flexibility.
Lack of Initial Support: The platform might not offer enough initial training or direct phone assistance, leading to a time-consuming self-learning process for users.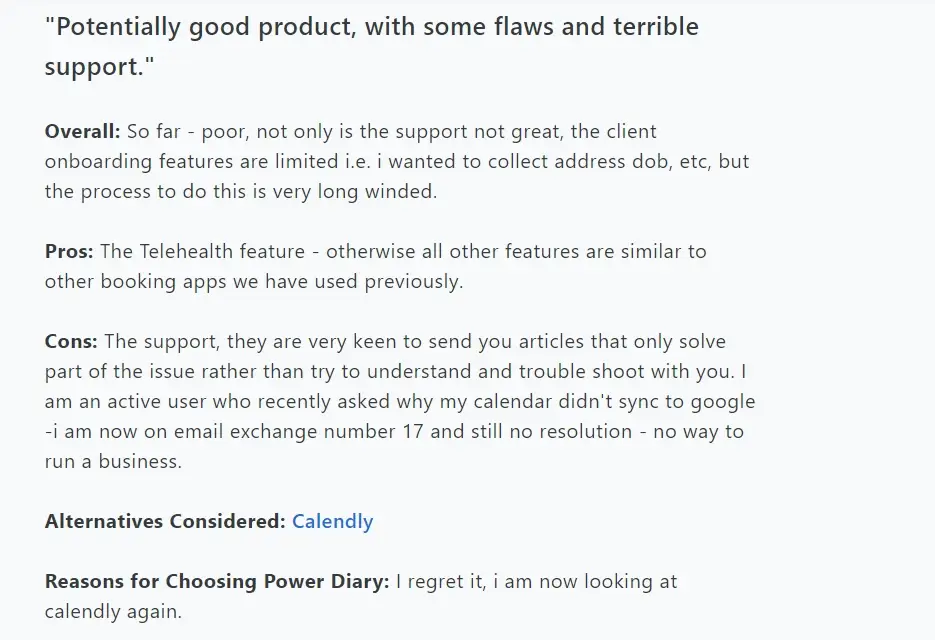 CollaborateMD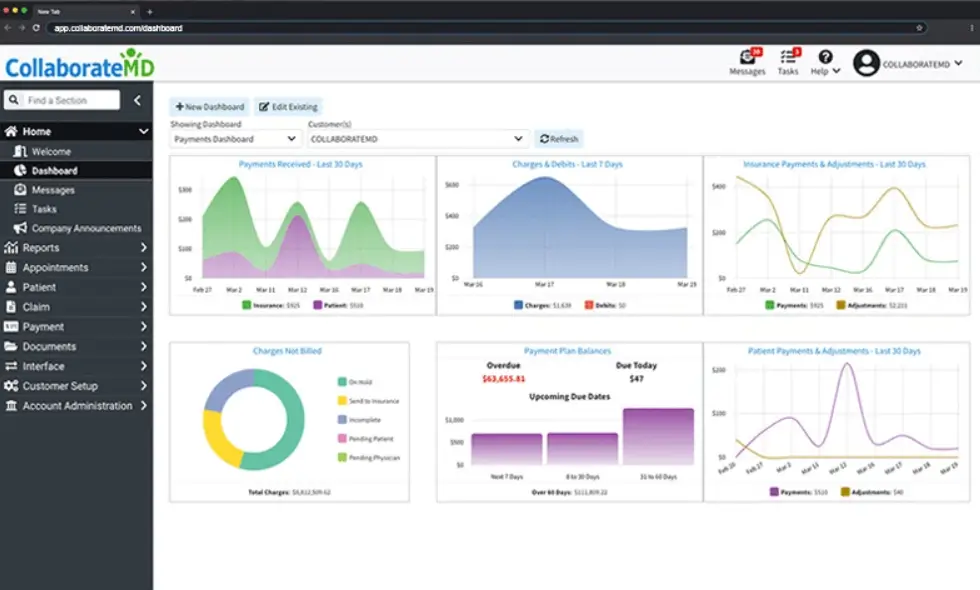 CollaborateMD is a cloud-based practice management and medical billing software to simplify workflows for healthcare practices. It provides a seamless experience from the front office to the back, enhancing the efficiency of your practice and strengthening your financials.
Pros
Claim Management: CollaborateMD offers efficient claim management features, ensuring the billing process is smooth and error-free.
Eligibility Verification: The software provides quick verification features, helping practices confirm patient insurance eligibility in real-time.
Integrated EHRs: CollaborateMD integrates with EHR/EMR software, ensuring seamless data transfer and enhancing overall practice efficiency.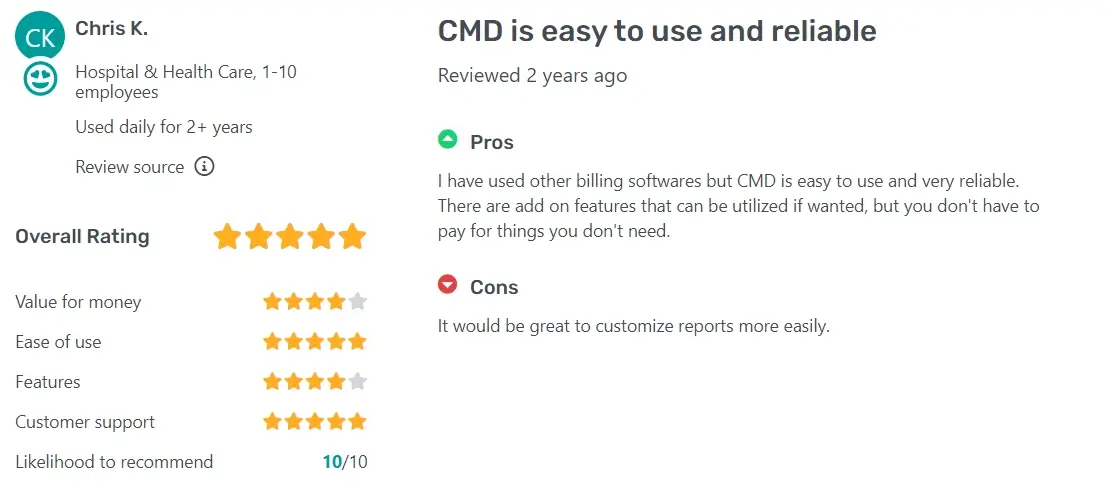 Cons
Setup Quality and Integration: The quality of setup and integration with insurance companies do not meet expectations, causing difficulties in managing insurance claims and payments.
Customer Service Concerns: The customer service provided by CollaborateMD is not reported to be satisfactory. Limited operating hours, perceived lack of staff training, and communication difficulties create a frustrating user experience.
Billing Issues: There may be billing-related concerns, including instances of double billing. This could lead to financial discrepancies and additional administrative work.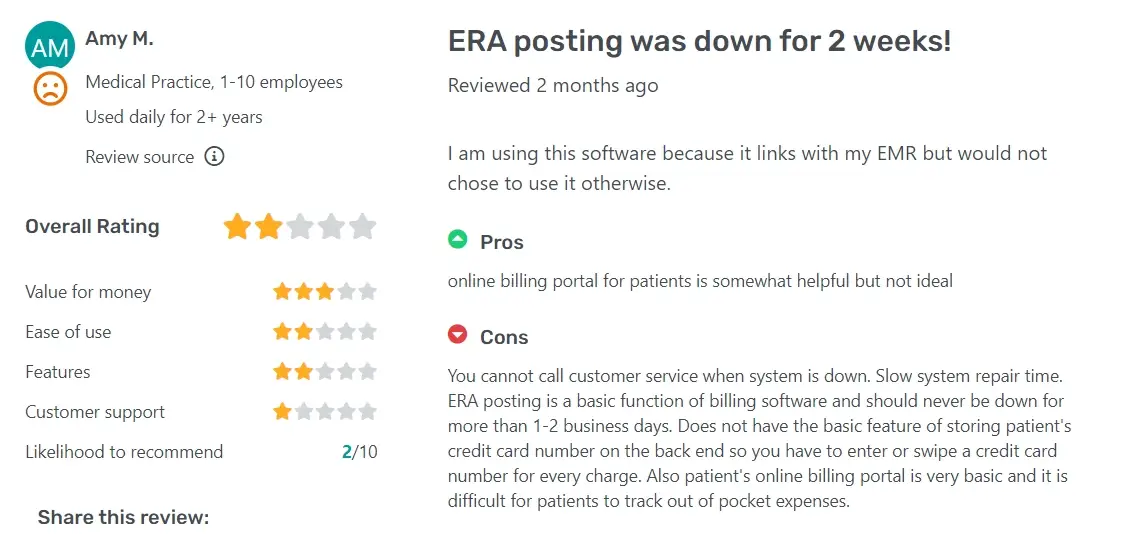 SimplePractice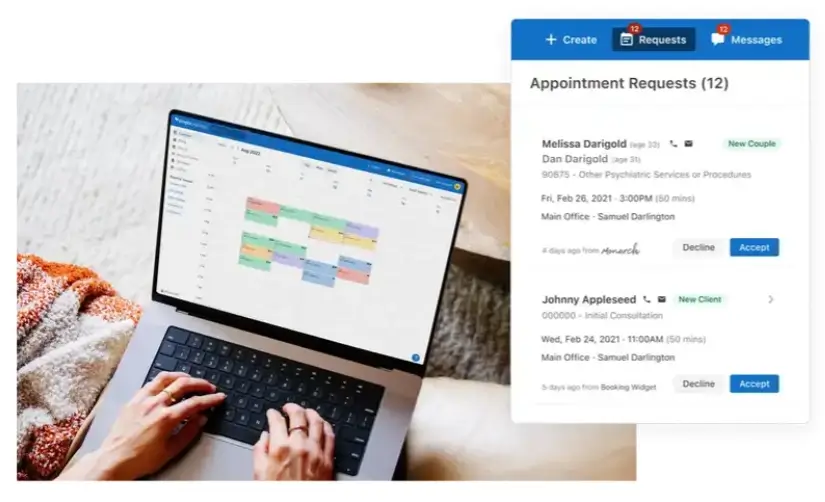 SimplePractice is an all-in-one practice management software for health and wellness professionals. It offers many features to help practitioners run their practices more efficiently and deliver an excellent patient experience.
Pros
Telehealth: SimplePractice offers HIPAA-compliant video appointments, including screen-sharing. This feature allows practitioners to provide virtual care to their patients, expanding their reach and offering more flexibility in care delivery.
Insurance Claims: With SimplePractice, providers can effortlessly submit primary and secondary insurance claims electronically, streamlining the billing procedure.
Mobile app: SimplePractice offers a top-rated mobile app that allows healthcare providers to manage everything from scheduling to billing on the go.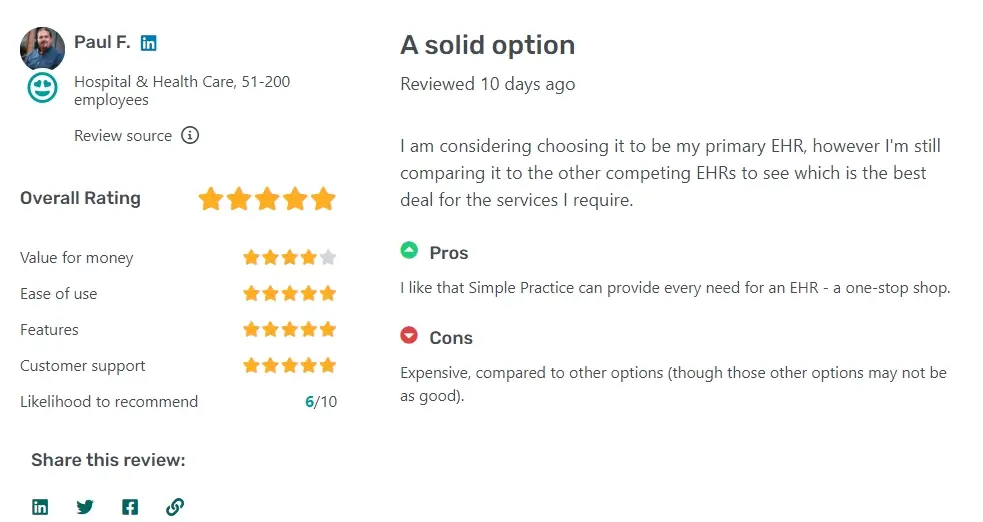 Cons
Significant Price Increase: SimplePractice has significantly increased their prices, nearly up to 200% in some cases, which has caused dissatisfaction among users. This sudden increase and the perception of a lack of transparency could potentially erode trust in the company.
Unwanted Features: Users have reported that SimplePractice has introduced new features they did not request or need. They used these additions to justify price increases. This could lead to users paying for features they do not use.
Incomplete Billing Reports: SimplePractice's billing reports may include only some necessary data points for tracking payments and insurance reimbursements, complicating HIPAA-keeping.
Lack of Patient Medical Record Numbers: SimplePractice reportedly does not allow for the assignment of patient medical record numbers, a feature that some users find essential for efficient record-keeping and compliance with HIPAA guidelines.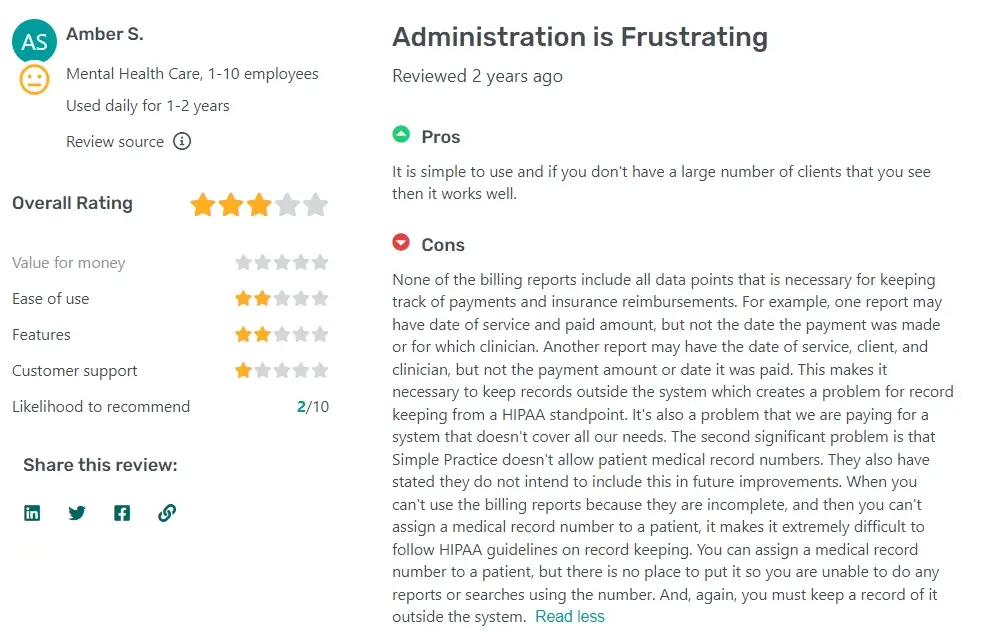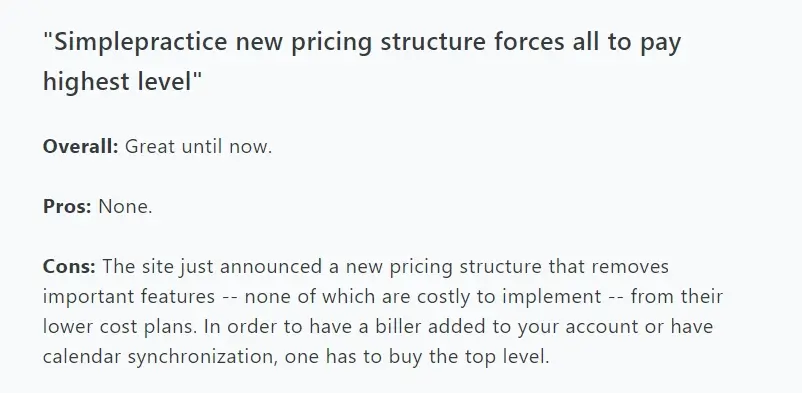 NextGen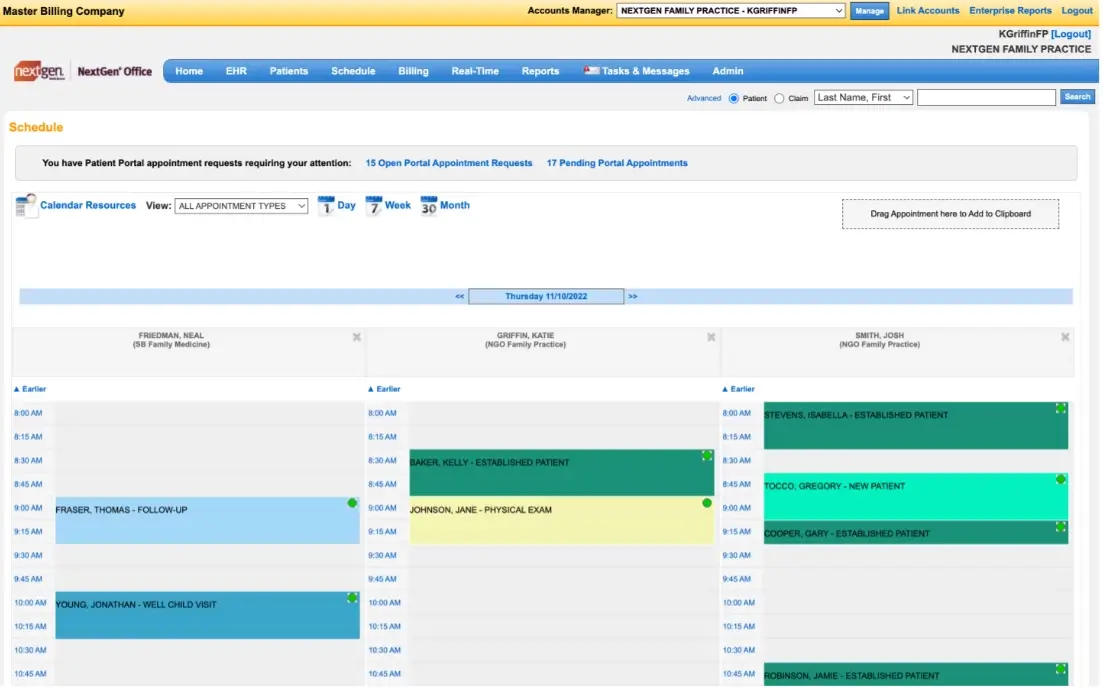 NextGen is a leading provider of ambulatory-focused technology solutions. Their mission is to empower the transformation of ambulatory care. They partner with over 155,000 providers and over 2,500 organizations across the U.S., aiming to improve clinical care, patient outcomes, and business operations with their integrated solutions.
Pros
NextGen Enterprise EHR: This solution offers a powerful, robust electronic health record (EHR) system that's easy to use and navigate. It helps mid-size to large practices improve patient care and clinical outcomes.
Managed Cloud Hosting: NextGen offers managed cloud hosting services to help practices reduce IT costs and improve system performance and security.
NextGen API Marketplace: This platform is for third-party vendors to offer applications that integrate with NextGen's solutions, providing additional functionality and flexibility for practices.

Cons
Performance Issues: NextGen has been reported to experience slow performance and downtime, which can disrupt workflow. Additionally, there have been issues with electronic prescriptions not reaching pharmacies.
Complex Navigation: The system requires multiple clicks to perform tasks, which can be time-consuming. The inability to toggle between different windows or tabs can also hinder efficiency.
Messaging System: The messaging system in NextGen is reportedly not intuitive and does not organize messages in threads. This can make tracking and responding to messages challenging.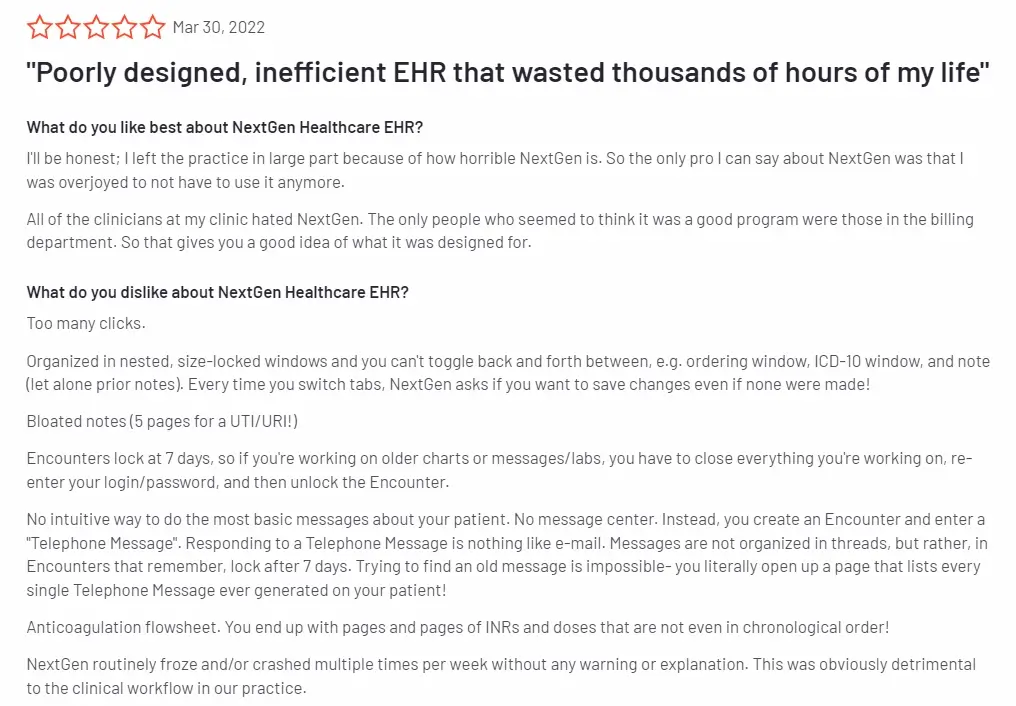 AdvancedMD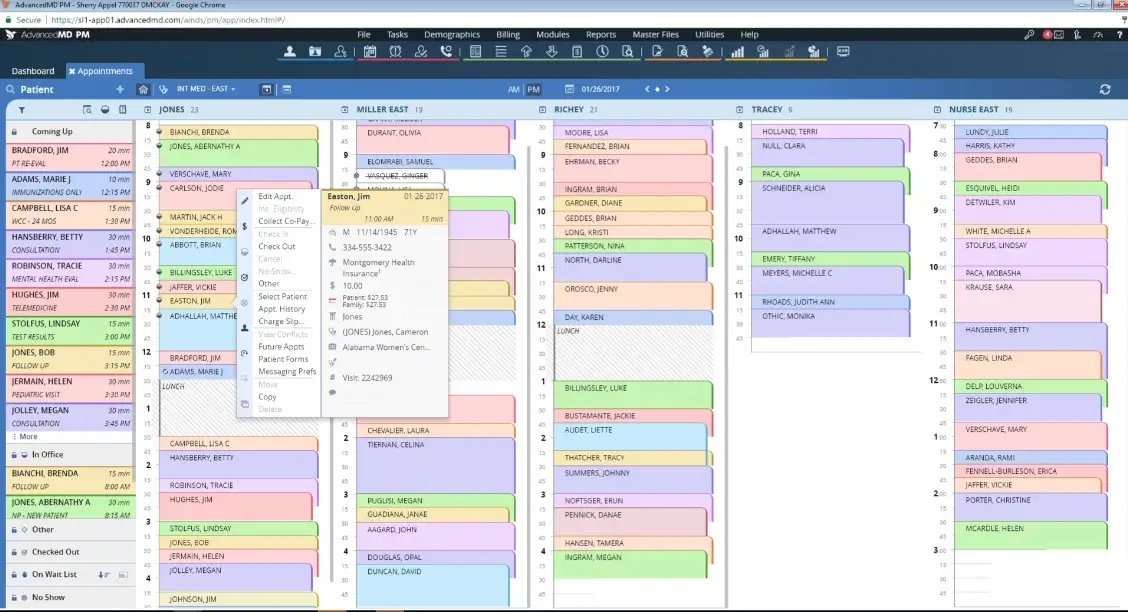 AdvancedMD is a cloud-based medical office software. It offers integrated solutions that cover electronic health records (EHR), practice management, patient engagement, and telemedicine, among others.
Pros
Custom-Tailored Workflow Solutions: AdvancedMD offers custom-tailored workflow solutions, including billing codes, clinical templates, and sub-notes for single and multi-specialties.
Claims Management: The software offers end-to-end claims management within a single platform for verification, scrubbing, review, submission, and collections.
Reporting & Analytics: AdvancedMD provides insightful and accurate data that optimize financial performance and transforms key metrics into informed business decisions.
Patient Engagement: The software offers a robust suite of patient engagement tools, including a patient portal, appointment reminders, and telemedicine capabilities.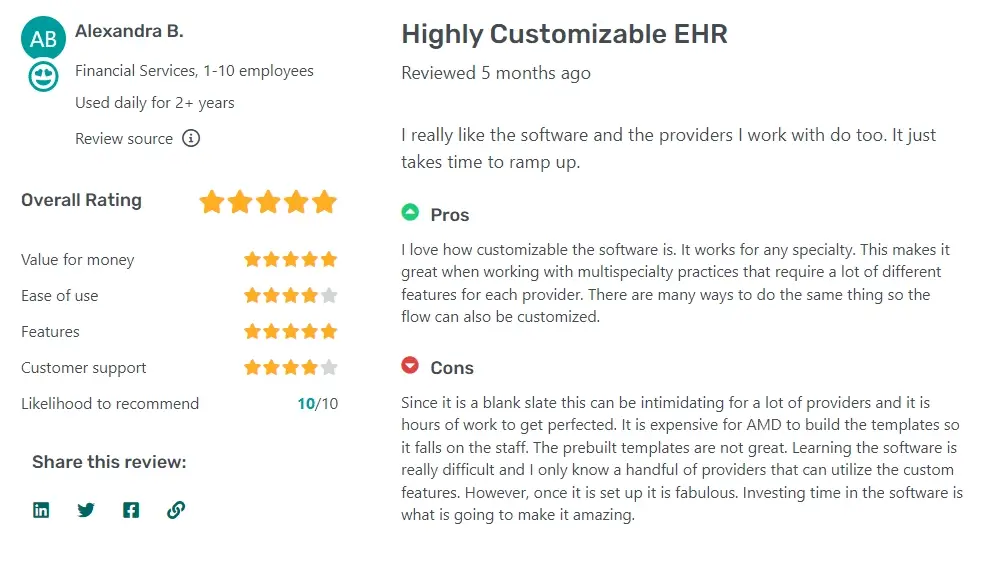 Cons
Complex Setup and Usage: AdvancedMD might present challenges in setup and usage, potentially requiring a significant amount of time for proper configuration.
Delayed Claim Status Information: The clearinghouse may take an extended period to provide information about claim status, which could delay financial processes.
Limited Support: Users have reported that the help desk may not provide the necessary assistance, further complicating the user experience.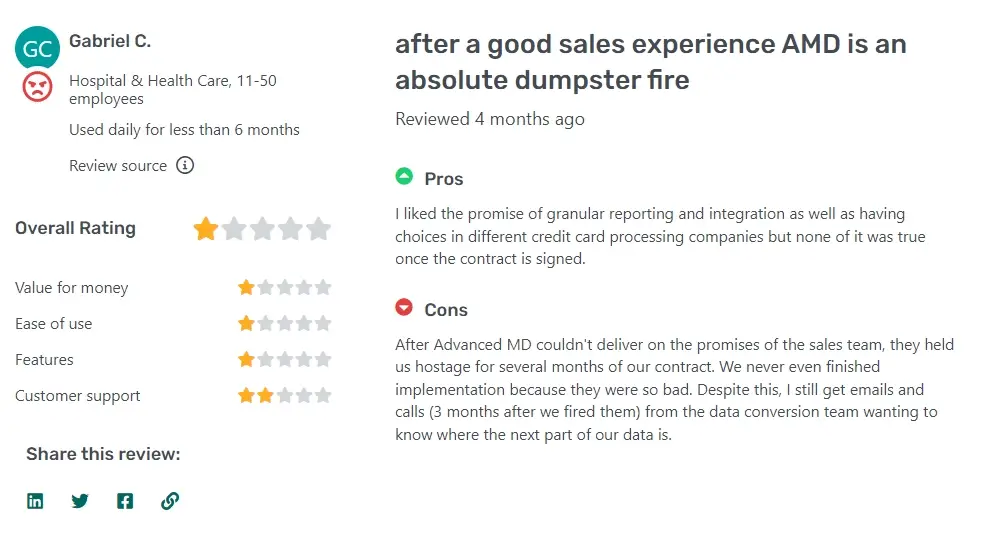 Solutionreach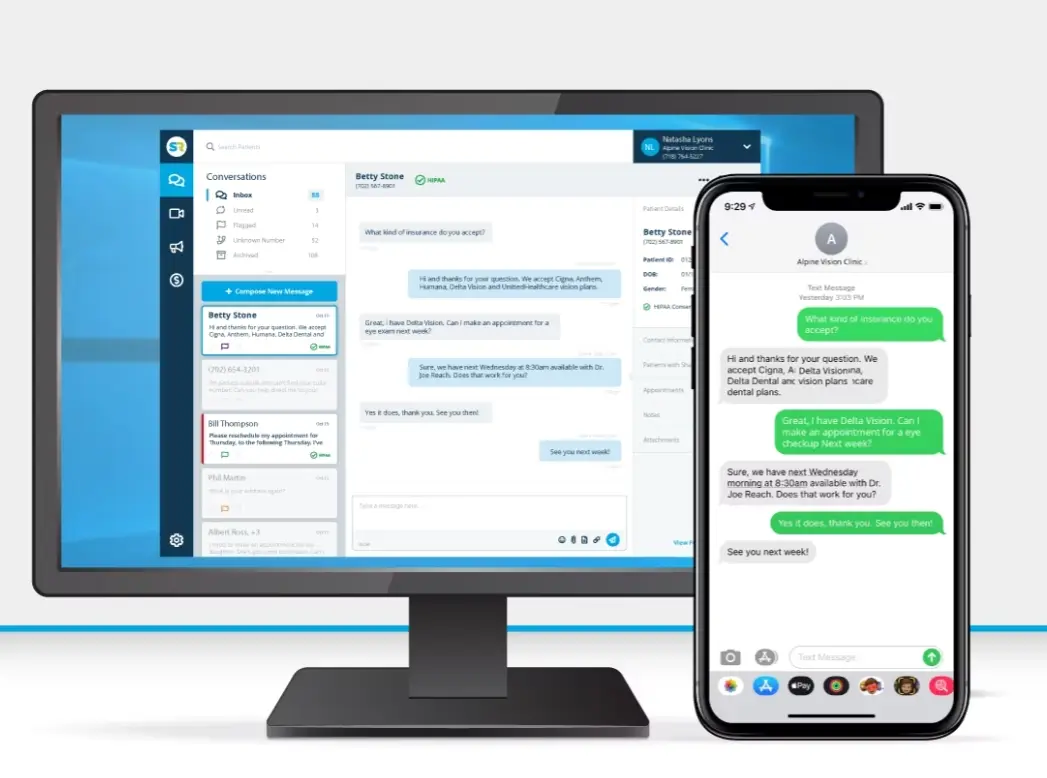 Solutionreach is a patient communication and retention platform. The platform helps save staff from time-consuming tasks, reduces admin burnout, and focuses on high-value tasks. It also enables practices to grow their revenue by increasing recall revenue and attracting more patients online.
Pros
Digital Intake: This feature streamlines the patient intake process by digitizing forms and making them available online.
Two-Way Texting: This feature enables real-time patient and practice communication, enhancing patient engagement and satisfaction.
Patient Surveys: Solutionreach allows practices to gather patient feedback through surveys, helping them understand patient needs and improve their services.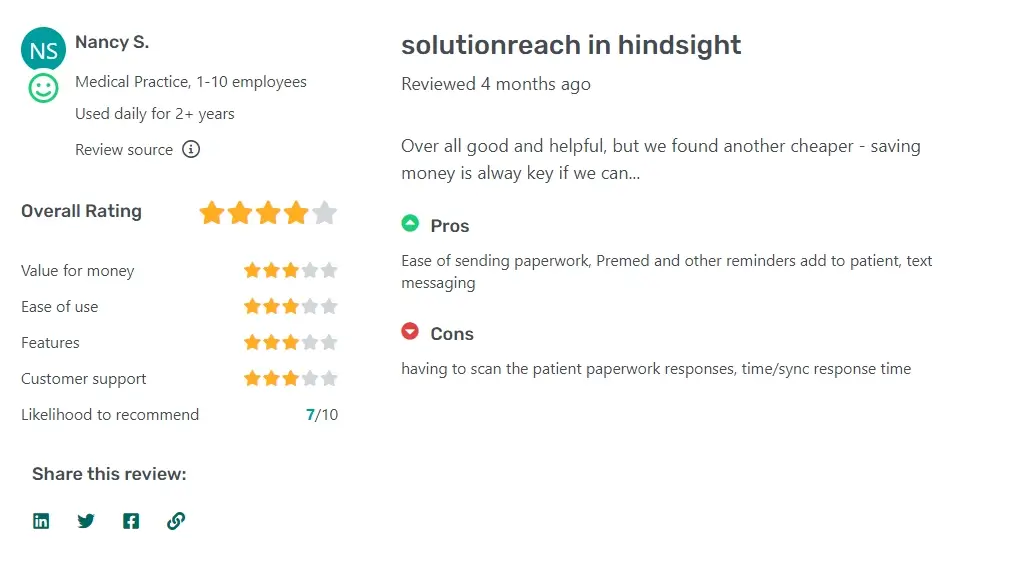 Cons
Syncing Issues: Solutionreach claims to auto-sync, but users have reported manually syncing the schedule almost daily. Furthermore, the system only updates twice daily, which may not reflect changes on time.
Inadequate Customization: The platform may not provide sufficient customization possibilities to meet the specific needs of some practices.
Loss of Reviews: Upon discontinuing the service, users have reported that Solutionreach deleted reviews of their practice, leading to the loss of valuable feedback.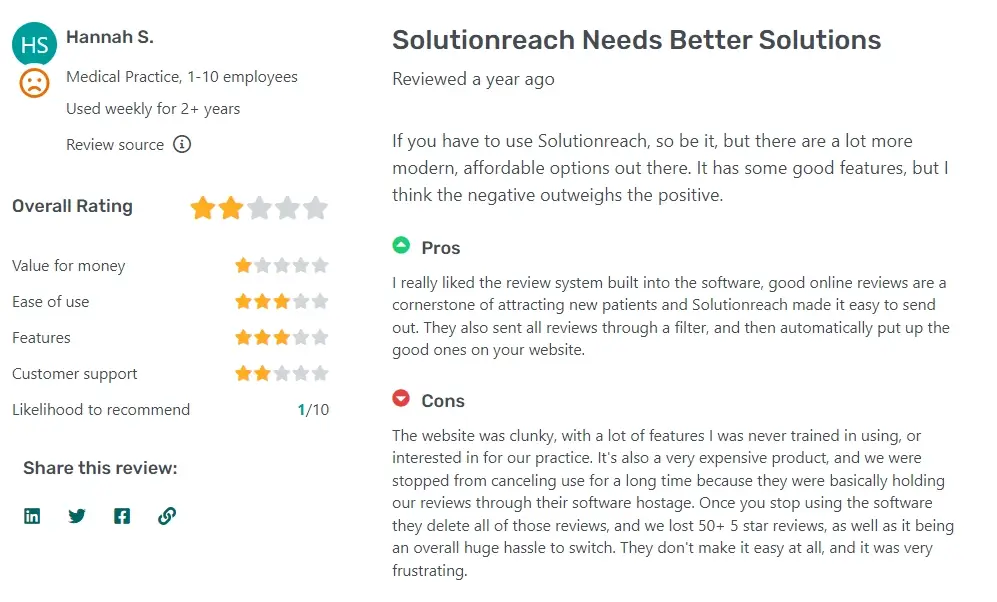 Spruce Health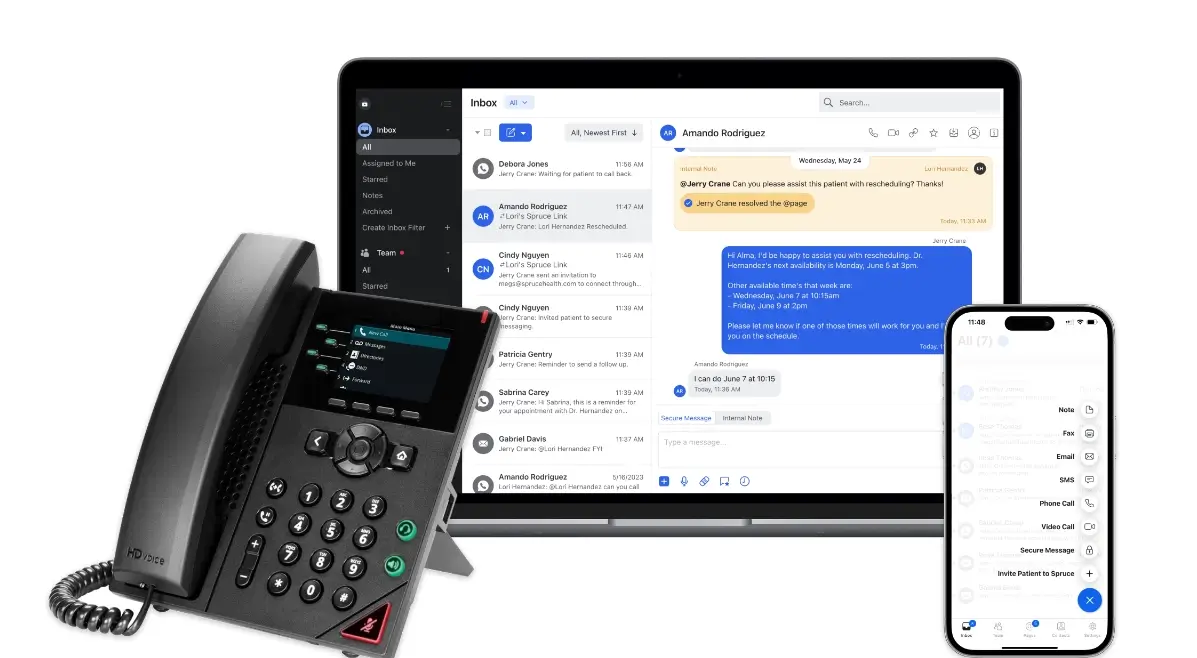 Spruce Health is a HIPAA-compliant healthcare platform that consolidates various communication methods. It offers VoIP phones, phone trees, after-hours phone solutions, bulk messaging, workflow automation, and EHR integrations to streamline healthcare practices.
Pros
Secure Messaging: This feature allows healthcare providers to securely communicate with patients, sharing important files, images, and videos as needed.
Pre-Built Screening Assessments: Spruce Health provides pre-built screening assessments, enabling providers to capture patient data and review responses for further diagnosis.
Voicemail Transcription: This feature allows healthcare providers to view audio messages in text form, making it easier to keep track of patient communications.
Team Collaboration: Managers can create and organize teams, inviting members via email to share information and collaborate on patient care.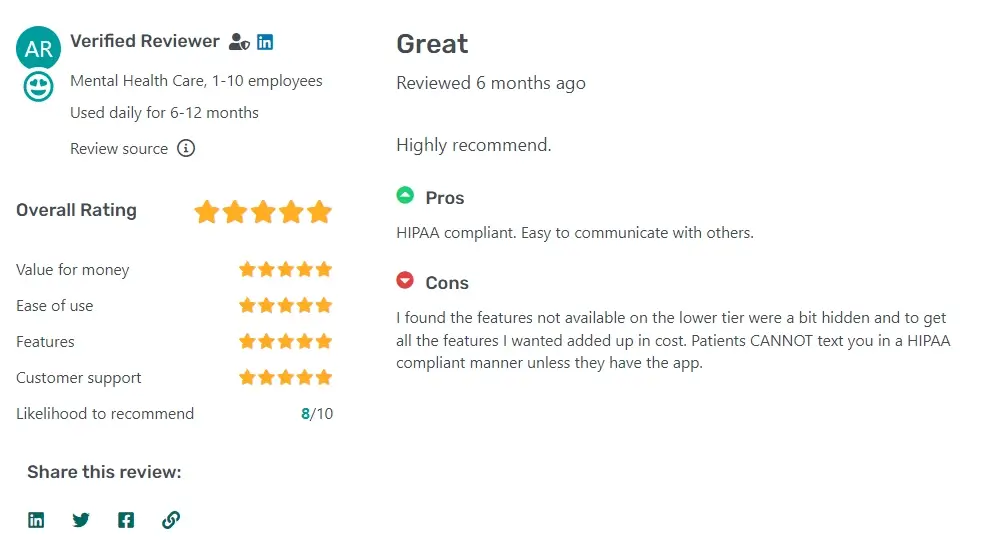 Cons
Limited Customer Support: Users have reported that customer support is minimal or non-existent when issues arise. This includes difficulties getting help setting up phone trees for teams and changing outgoing messages.
Dependence on Mobile Devices: The phone feature of Spruce Health requires a cellphone. It does not offer a softphone for laptop/desktop for direct calls, limiting users who prefer a desktop interface.
Higher Costs for Individual Phone Numbers: Some users have mentioned that Spruce Health is more expensive if it needs to function like a private phone number for each team member.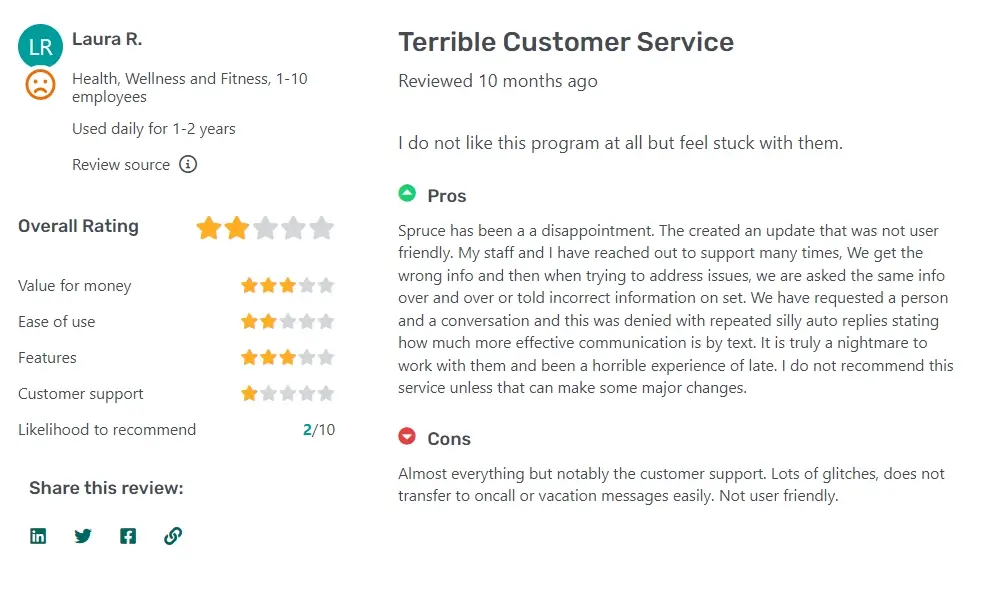 Weave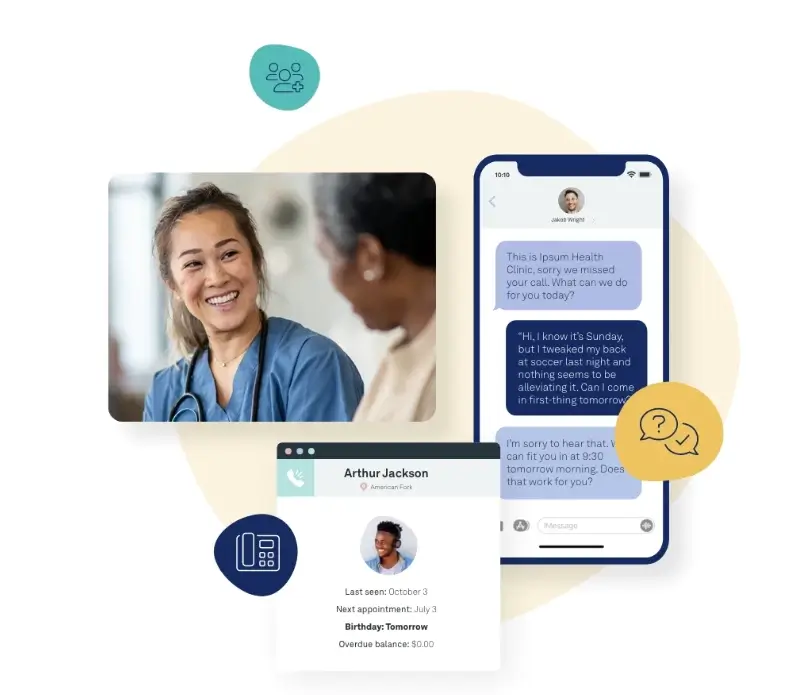 Weave is a streamlined communication tool ideal for healthcare providers. It consolidates various communication methods like calls, texts, and videos into one platform. Additionally, it offers an online scheduling feature for hassle-free appointment bookings.
Pros
Digital Forms: It enables businesses to send digital forms to their customers that they can fill out before their appointment.
Advanced Call Management: Weave also offers features like call recording, tracking, and forwarding and allows users to manage voicemail greetings and phone tree menus even from remote locations.
Unified Patient Data: Weave provides a unified view of patient information, including name, phone number, upcoming appointments, past due balances, and family members, as soon as they call in.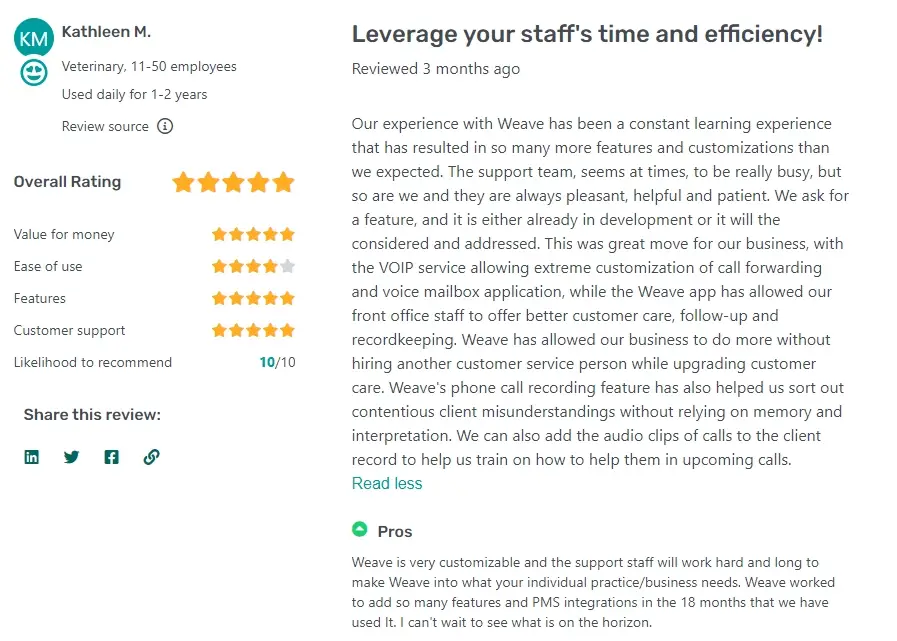 Cons
Integration Issues: Weave has full-integration issues with specific EPM software, despite its assurances of seamless integration.
Server Downtime: Users have experienced server downtimes, which resulted in the unavailability of phones, a critical issue in a medical office setting.
Unreliable Service: Some users have found Weave's service unreliable, with instances of their texting capability being hacked. The resolution process for such issues has been reported as burdensome and time-consuming for the users.
Delayed Customer Service: Users have reported that customer service responses can take days or weeks, prolonging issues' resolution.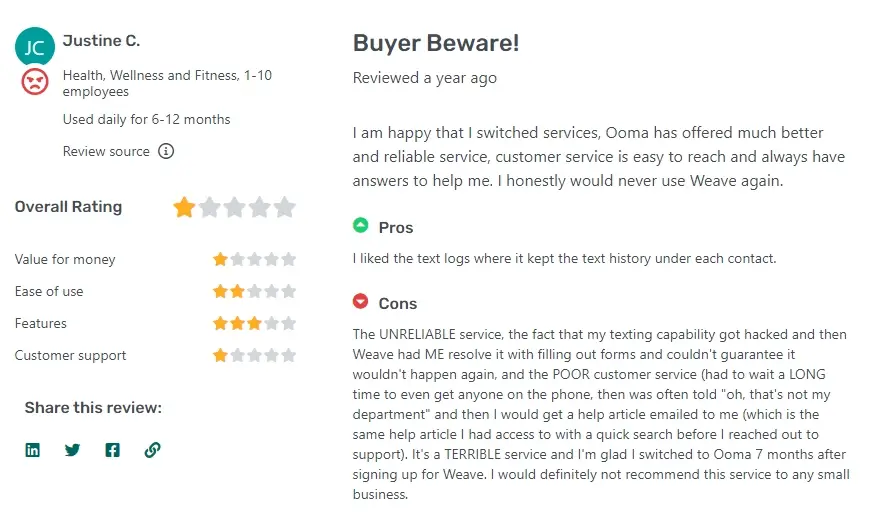 Cerner PowerChart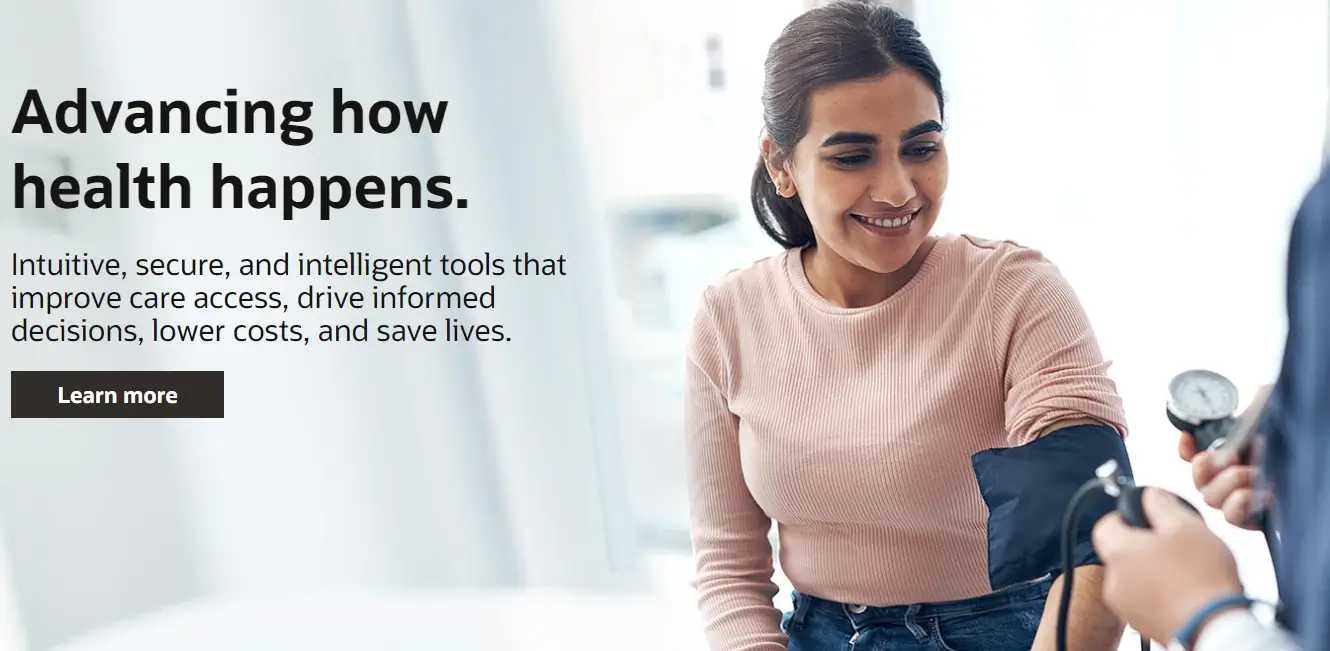 Cerner PowerChart is a versatile electronic medical record (EMR) and practice management software. It's designed for various healthcare settings, including clinics, home care facilities, and community health centers. Practices can use this software on-premises or access it online and via mobile.
Pros
Real-Time Access to Patient Information: Cerner PowerChart provides real-time access to patient's results and clinical information, enhancing decision-making and patient care.
Integrated Data Repository: It integrates existing laboratory, radiology, and pharmacy data into a single repository, providing a comprehensive view of patient health.
Secure Access Anytime, Anywhere: Users can securely access information from anywhere and anytime, improving flexibility and responsiveness.
Wireless Offerings: Cerner provides wireless offerings through Citrix, which is encrypted, ensuring data security.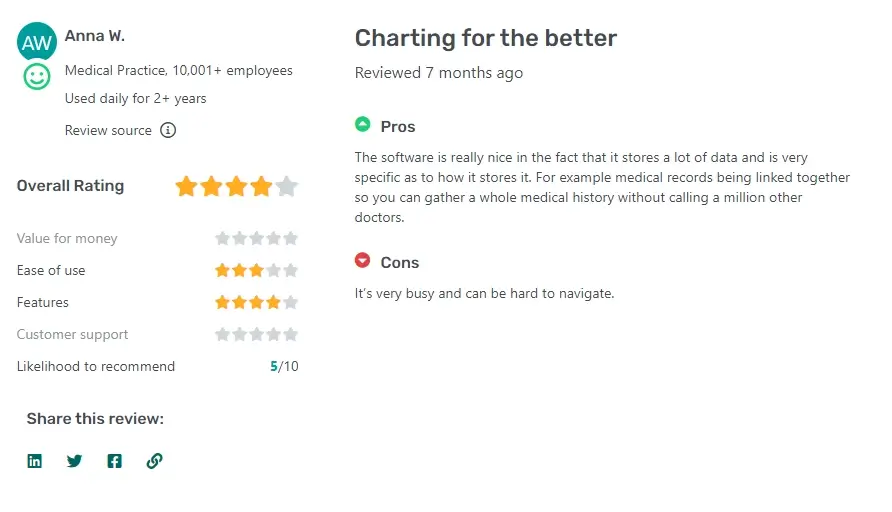 Cons
Complex User Interface: Some users have reported that the user interface is difficult to navigate, leading to underutilizing the software's full capacity.
Poor Customer Service: Some users describe Customer service as unreliable, with issues not resolved promptly.
Expensive: Cerner PowerChart can be costly, especially for small to medium-sized organizations.
Limited Customization: The software may need to offer more customization options to match the specific needs of different healthcare practices.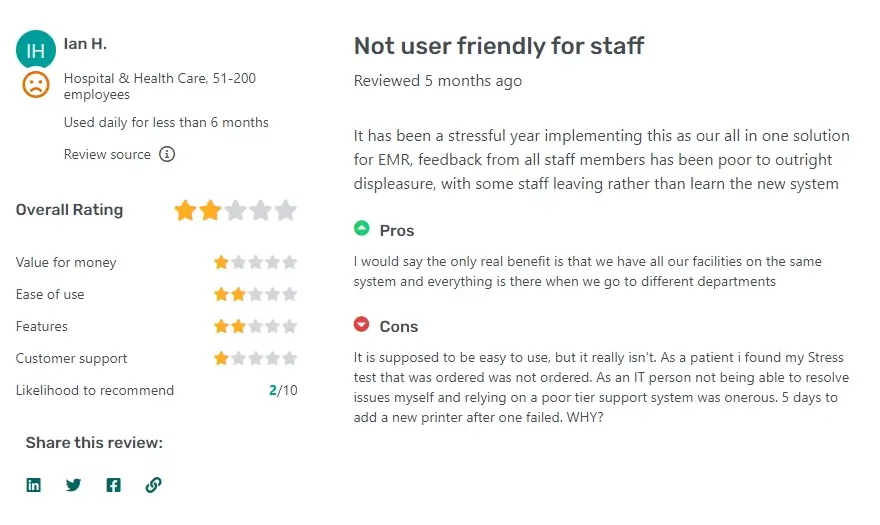 Virtru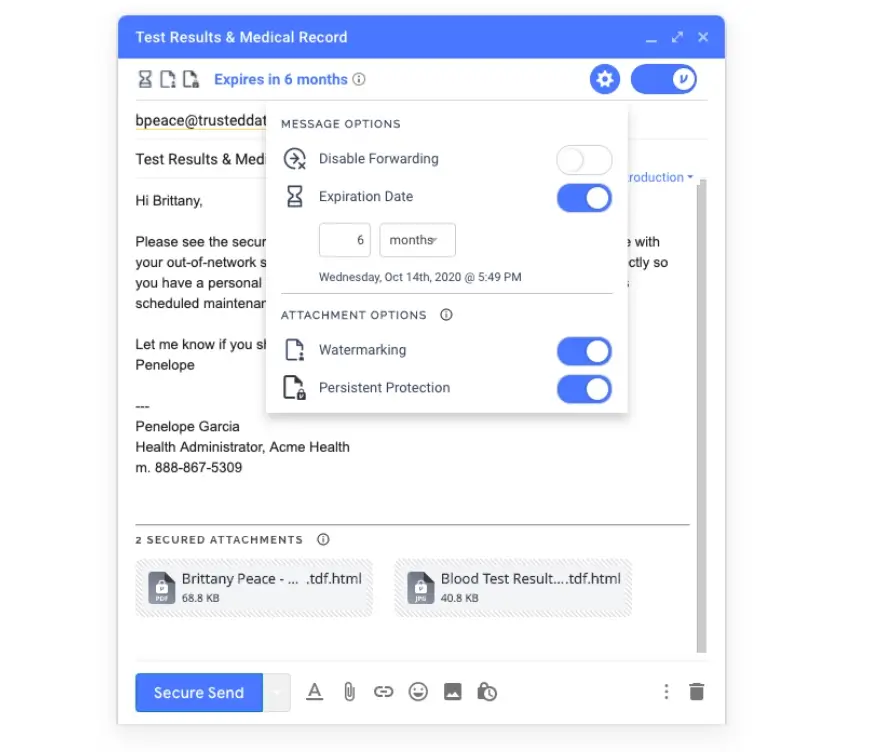 Virtru is a data protection tool tailored for healthcare services. It ensures secure and HIPAA-compliant sharing of Protected Health Information (PHI). It provides end-to-end encryption and precise access controls, maintaining PHI security across various cloud environments. This tool is essential in healthcare, where swift access to PHI is often needed.
Pros
HIPAA-Compliant Healthcare Information Security: Virtru provides end-to-end encryption to prevent unauthorized access to email and files containing sensitive data, meeting HIPAA compliance requirements and maintaining patient confidentiality.
Secure Sharing: As PHI and other sensitive data are shared across cloud environments, Virtru keeps it secure with continuous protection and allows you to govern access throughout care.
Integration: Virtru integrates with applications like Microsoft Outlook, Gmail, and Google Drive, making it easier for healthcare professionals to use within their existing workflows.
Ease of Use: Virtru provides a user-friendly experience that promotes broad adoption. It seamlessly integrates end-to-end encryption and access controls into the environments where users, administrators, providers, and patients collaborate.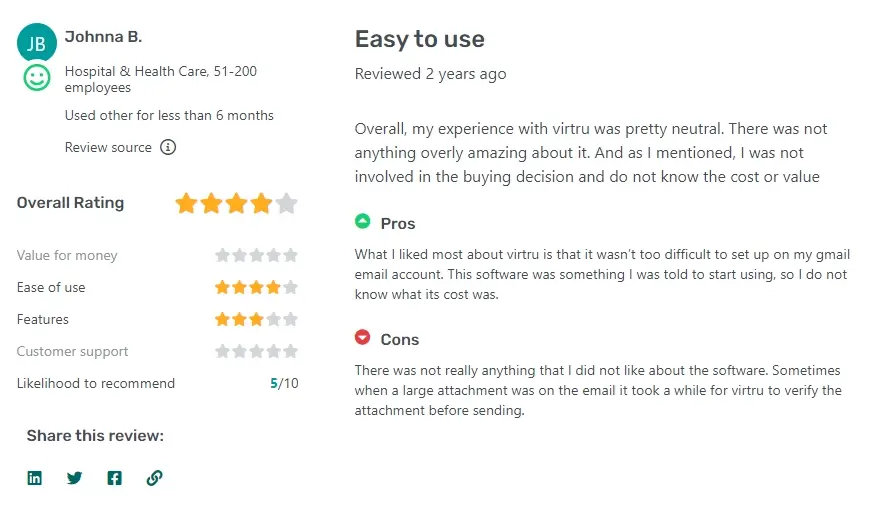 Cons
Limited Dashboard Functionality: There may not be options to export or easily filter messages in the dashboard.
Emails Landing in Spam Folder: Virtru-encrypted messages may end up in the recipient's spam or junk folder, which could lead to missed communications.
Limited Compatibility: Virtru may not be user-friendly unless clients use Gmail and Chrome. Other platforms or browsers may encounter difficulties.
Attachment Issues: There can be issues with attachments, with recipients sometimes struggling to access them.
Webpt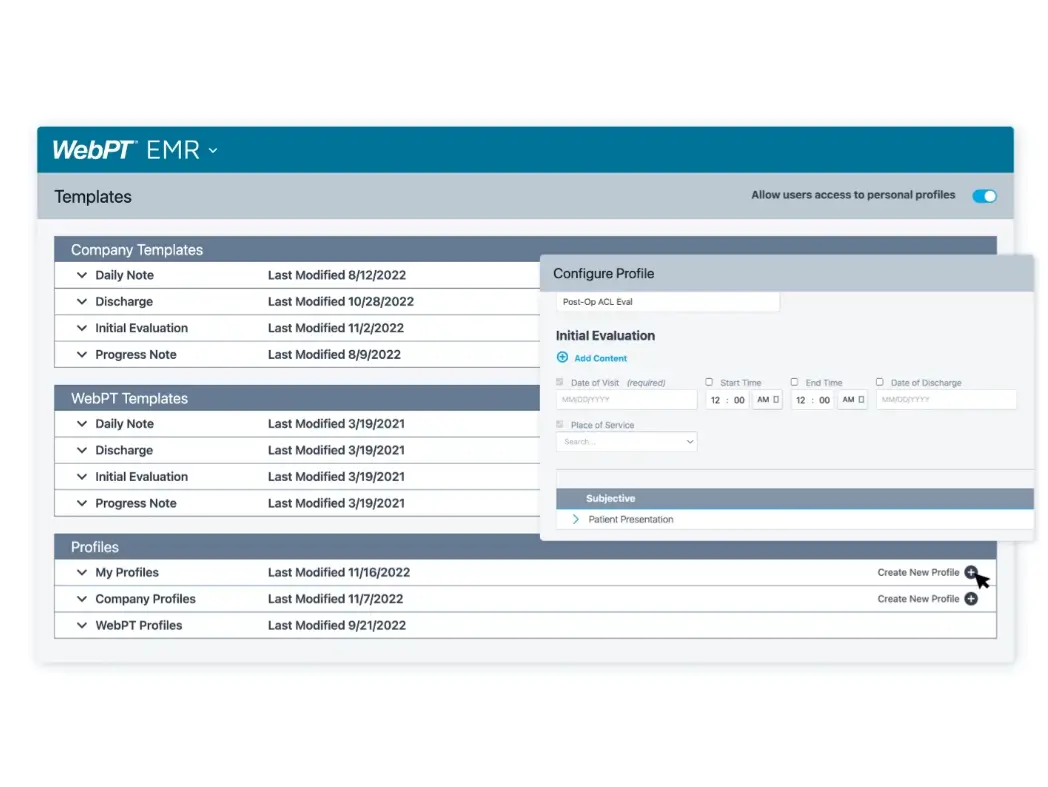 WebPT is a versatile outpatient rehab therapy software accessible via the web and mobile. It serves many healthcare professionals, such as physical therapists, occupational therapists, general practitioners, and speech-language pathologists. It provides an integrated platform for streamlined practice management and enhanced patient care.
Pros
Unified Medical Record Management: WebPT allows healthcare professionals to store all medical record information in one place, eliminating the need for paper records.
Efficient Documentation: With customizable SOAP notes and therapy-centric templates, WebPT enables efficient and defensible documentation.
Integrated Billing Solutions: WebPT provides integrated billing solutions for faster and better billing.
Patient Engagement Tools: It includes a patient portal, home exercise platform, in-app messaging, virtual visits, and remote therapeutic monitoring to keep patients engaged in their care plans.
Real-Time Business Reporting: WebPT provides real-time data for making intelligent business decisions.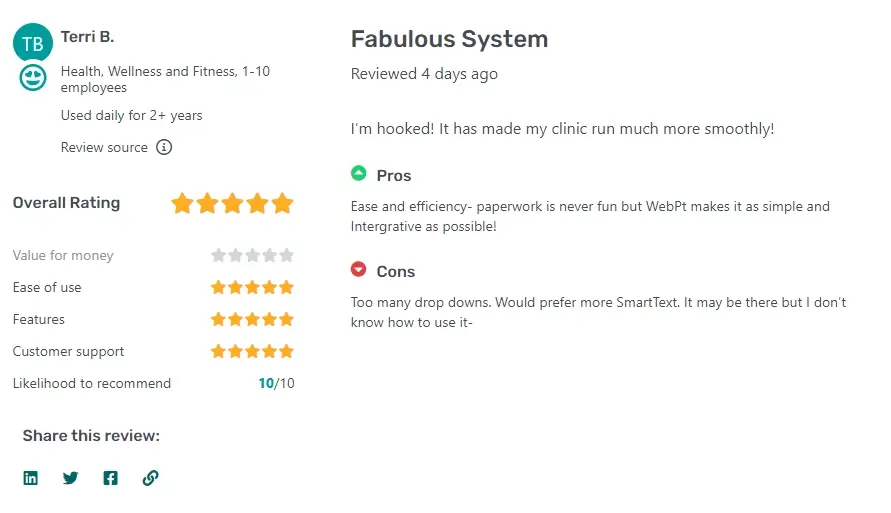 Cons
Scheduling Issues: Users have reported frequent scheduling issues, with changes not being saved, leading to potential confusion and missed appointments.
Frequent Downtime: WebPT often experiences downtime for updates and fixes, disrupting the workflow and making it challenging to keep up with charting throughout the day.
Customer Service Challenges: Getting assistance from customer service can be a hassle. Users have reported being transferred from one department to another, and it can be challenging to reach a representative who can help with specific module issues.
Limited Support for HEP Component: Users have reported difficulty getting help with the Home Exercise Program (HEP) component. The email support response time could be faster, and there needs to be an option to call for immediate assistance.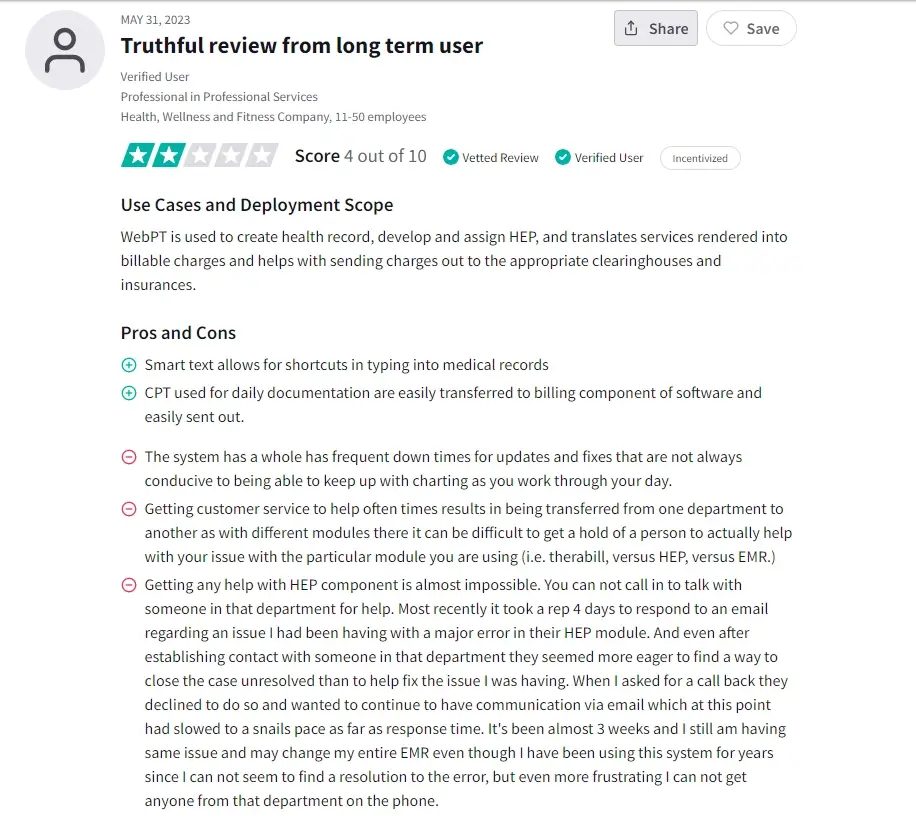 DoctorConnect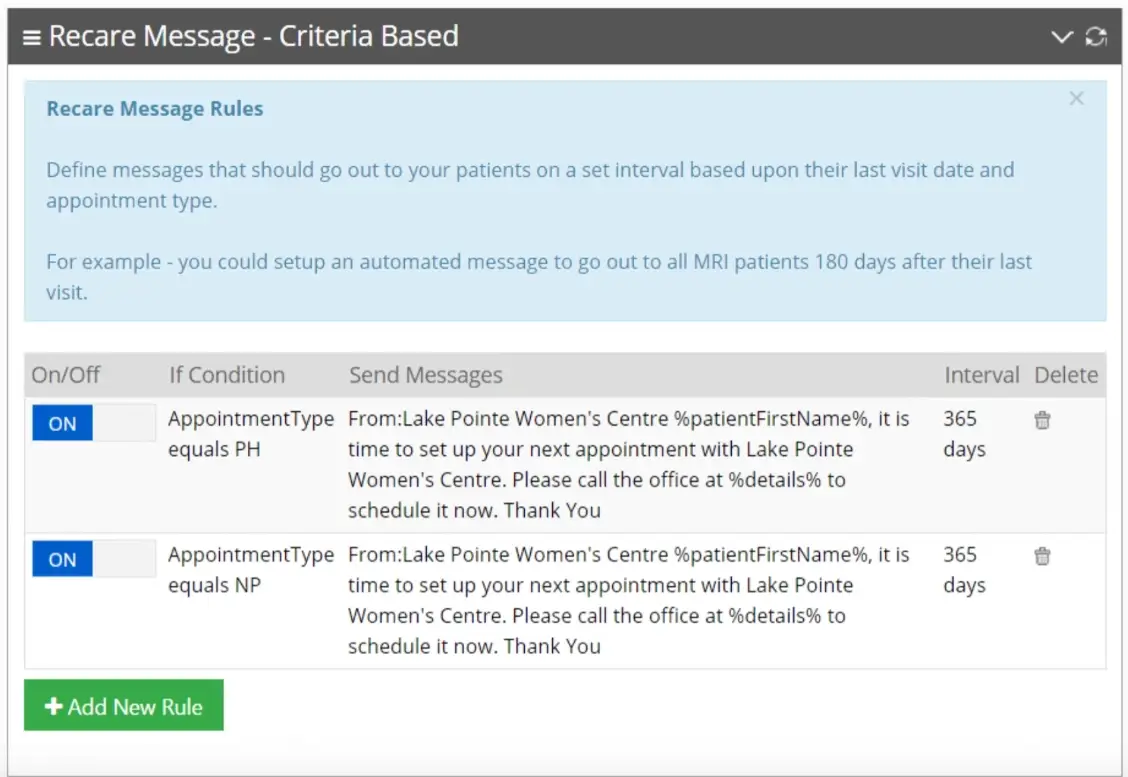 DoctorConnect is a patient engagement software. It improves communication between healthcare providers and their patients. It offers features such as appointment reminders, patient surveys, waitlist management, and more, aiming to reduce no-shows, improve patient satisfaction, and streamline office operations.
Pros
Comprehensive Dashboard: The dashboard provides a comprehensive view of scheduling, appointment confirmations, and patient feedback/surveys, serving as a valuable adjunct to EMR software.
Visual Calendar: The calendar tool visually represents all appointments, making it easier to manage and track schedules.
Streamlined Workflow: Users have reported that DoctorConnect has positively impacted their daily workflows and processes, making them more streamlined and efficient.
User-Friendly: The software is relatively easy to use, making it accessible to various users.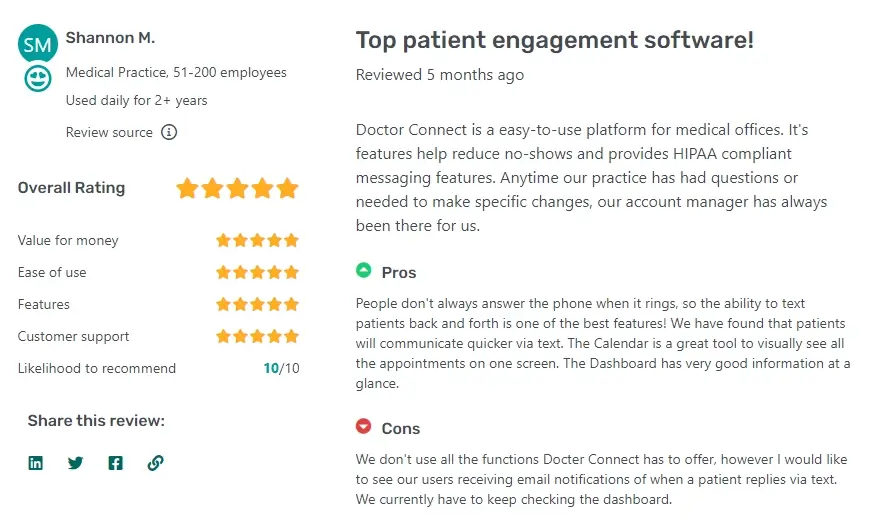 Cons
Issues with Text Messaging: Some users have reported that the text messaging feature sometimes sends messages to the wrong patients, even though the family file information was correct.
Cancellation Policy: One customer expressed dissatisfaction with the cancellation process, stating that despite providing a 90-day notification as per the contract, they were still billed until the end of the contract.
Caller Identification: There is a limitation with the caller identification feature when appointment reminders are sent out. Patients may sometimes need clarification about the source of the call, as the system does not display the practice's phone number.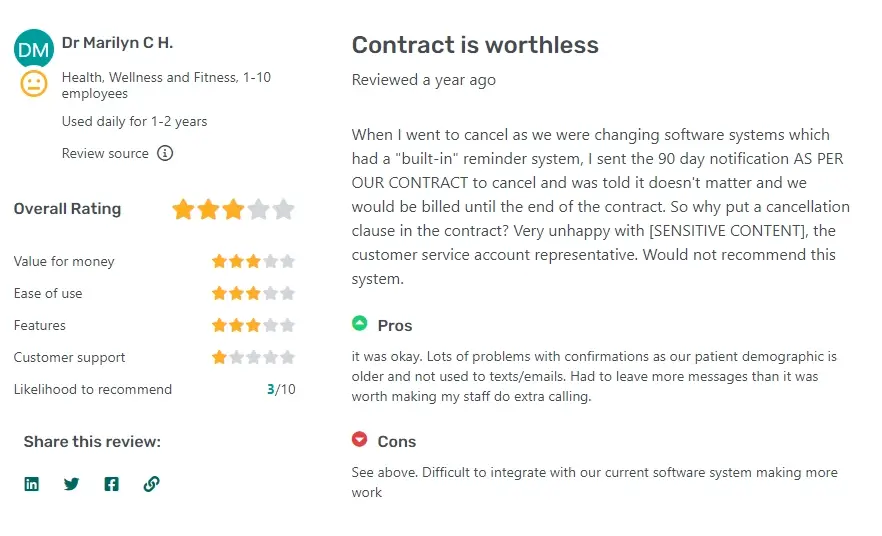 eClinicalWorks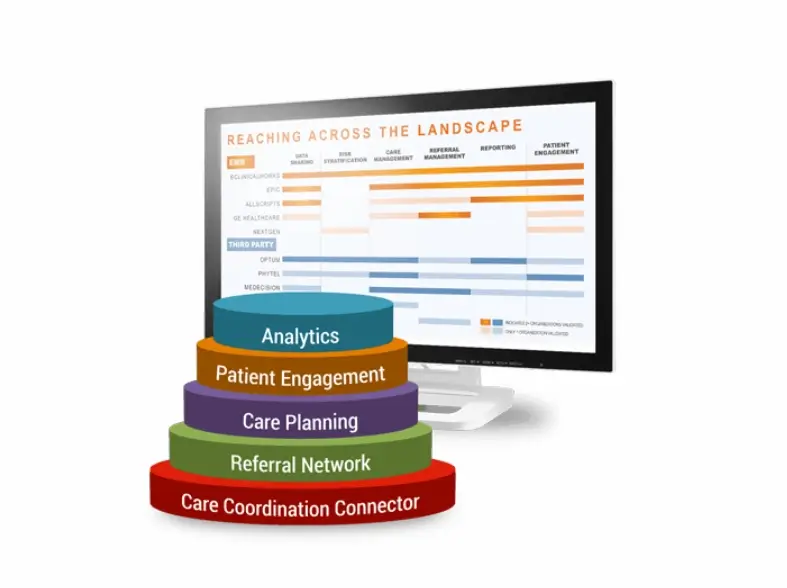 eClinicalWorks is a robust electronic health record (EHR) and practice management software. It offers several features and capabilities to streamline workflows, enhance patient care, and improve practice efficiency.
Pros
Comprehensive Solution: eClinicalWorks provides an all-in-one solution that combines EHR and practice management functionalities. This integrated approach allows for seamless data sharing and improved workflow efficiency.
Customizable Templates: Its templates allow providers to tailor the system to their needs. This flexibility enables doctors to create personalized documentation and streamline their workflows.
Interoperability: The software supports interoperability with other systems, allowing for the exchange of patient data with laboratories, pharmacies, and other healthcare providers. This promotes better coordination of care and improves communication between different stakeholders.
Patient Portal: eClinicalWorks offers a patient portal that enhances engagement and convenience. It allows patients to view medical records, schedule appointments, and communicate with providers, promoting active involvement and seamless communication.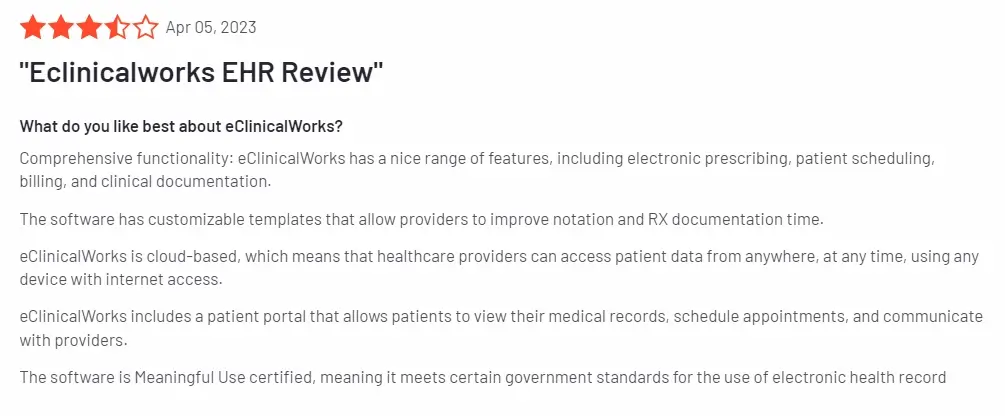 Cons
Cost: Some users have mentioned that eClinicalWorks can be costly, especially for smaller practices or individual providers. The pricing structure and ongoing fees may not be suitable for all budgets.
Software Updates: Users have reported occasional issues with software updates, including unexpected changes in functionality or the introduction of new bugs. This can disrupt workflows and require additional training or adjustments.
Limited Reporting Capabilities: Some users have mentioned that eClinicalWorks has limited reporting capabilities compared to other EHR systems. This may make it challenging to generate custom reports or access in-depth analytics for practice management and decision-making.
Complex Data Migration: Users have reported migrating data from other EHR systems to eClinicalWorks can be tricky and time-consuming. Some integrations have taken many months to complete, which can cause workflow disruptions and delay the full software utilization.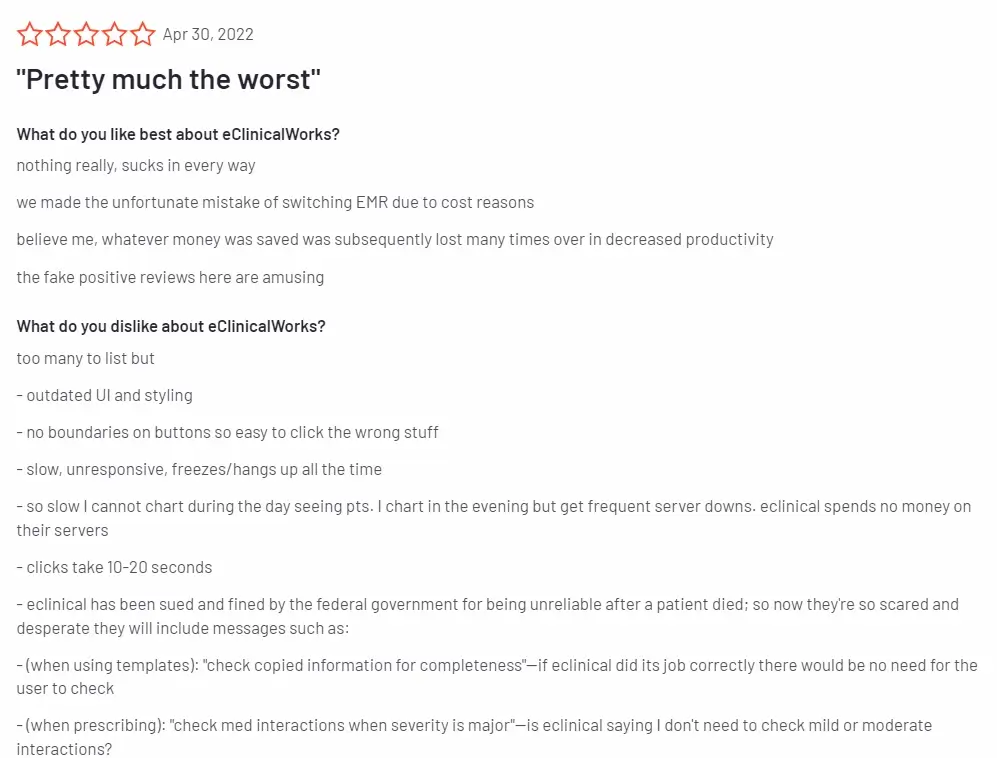 Epic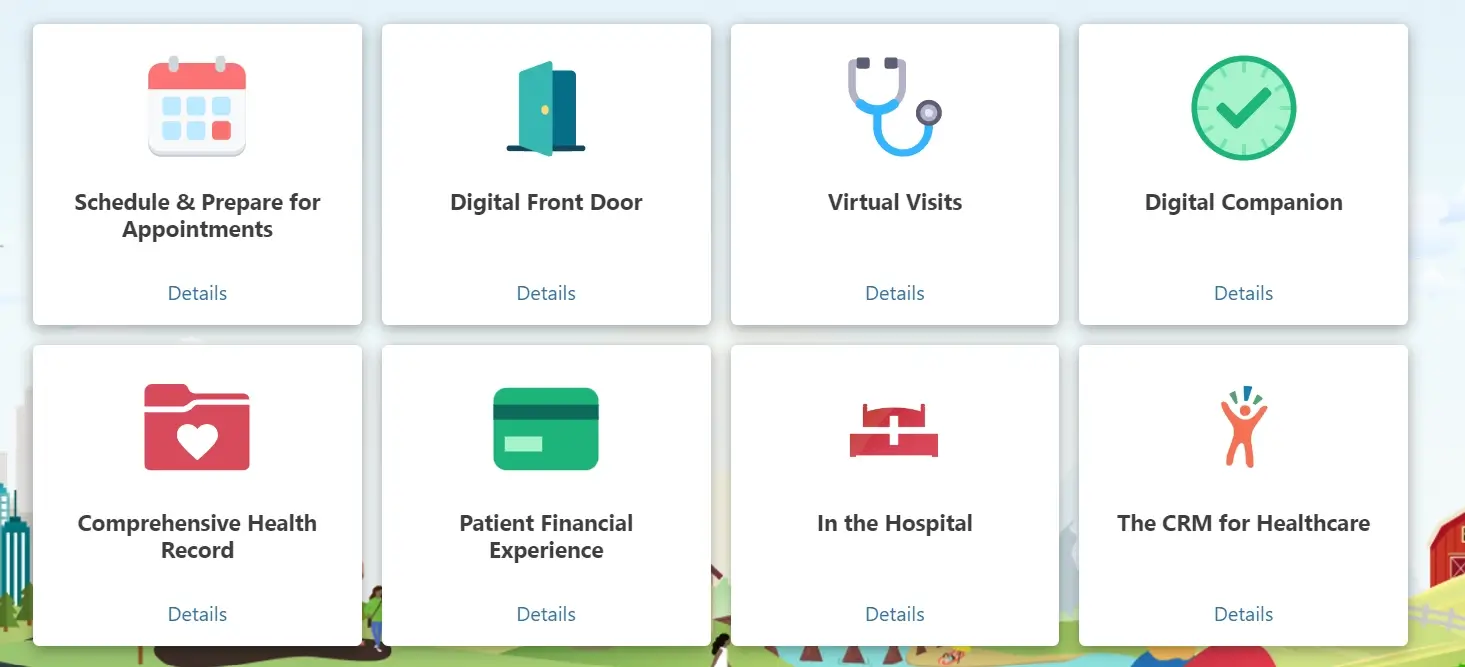 EpicCare is an Electronic Medical Records (EMR) solution primarily for large healthcare organizations and academic medical centers. It stores extensive and complex medical records and data.
Pros
Smart Workflow Design: EpicCare optimizes workflows with tools for chart review, order management, and documentation.
Integrated Clinical and Revenue Cycle Management: It combines clinical and revenue cycle management to enhance patient healthcare delivery and simplify administrative tasks for bills, invoices, and payments.
Online Bill-Pay: It manages estimates and speeds up payments with online bill-pay through Epic's scalable payment system.
Patient-Centric: It provides patients access to self-service capabilities, critical health data, and reminders.
Predictive Analytics: It has embedded decision support tools and predictive analytics to help users better manage resources and provide a deeper understanding of overall costs to yield better outcomes.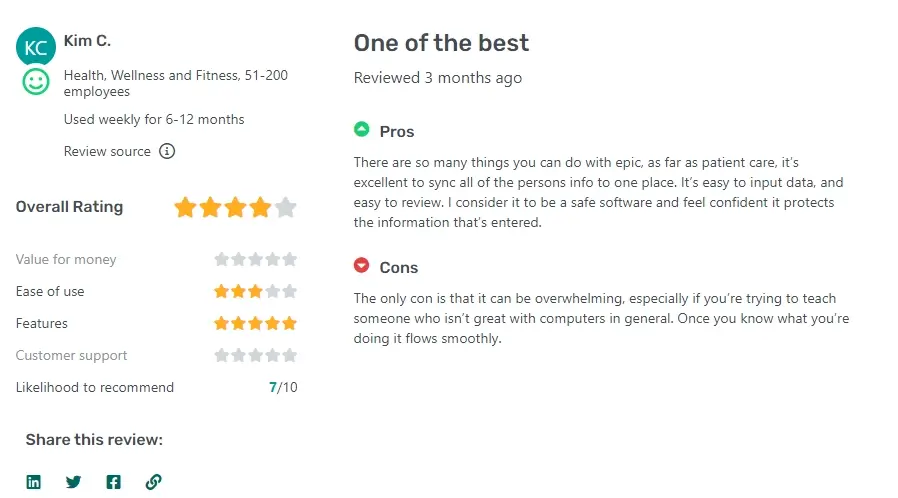 Cons
Steep Learning Curve: Epic is a complex software with a steep learning curve. It requires extensive training and dedicated resources for implementation and ongoing maintenance.
Cost: Epic's implementation and maintenance costs can be substantial, especially for smaller healthcare organizations. Significant factors include licensing fees, hardware requirements, and ongoing support expenses.
Complex Interface: The interface has too many tabs and drop-down boxes, making navigation and documentation challenging and potentially overwhelming for users.
Unique Vocabulary: EpicCare uses its own unique vocabulary, which can confuse users unfamiliar with the system, adding to the learning curve.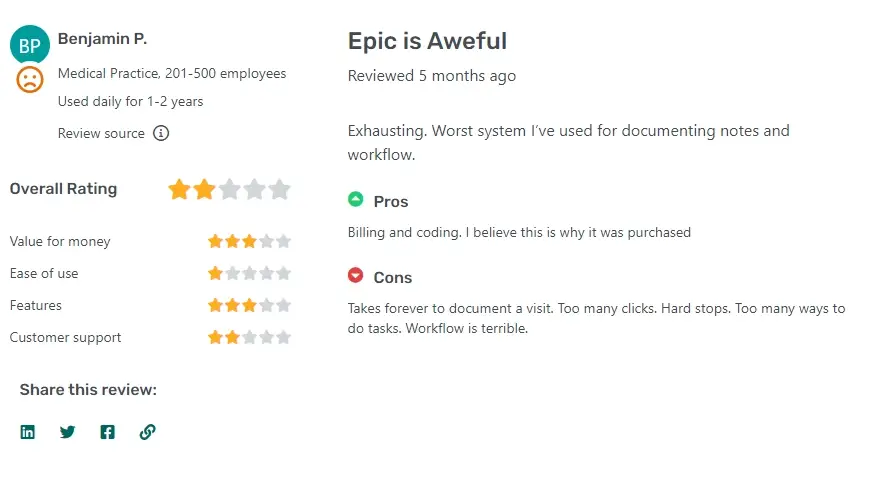 athenaOne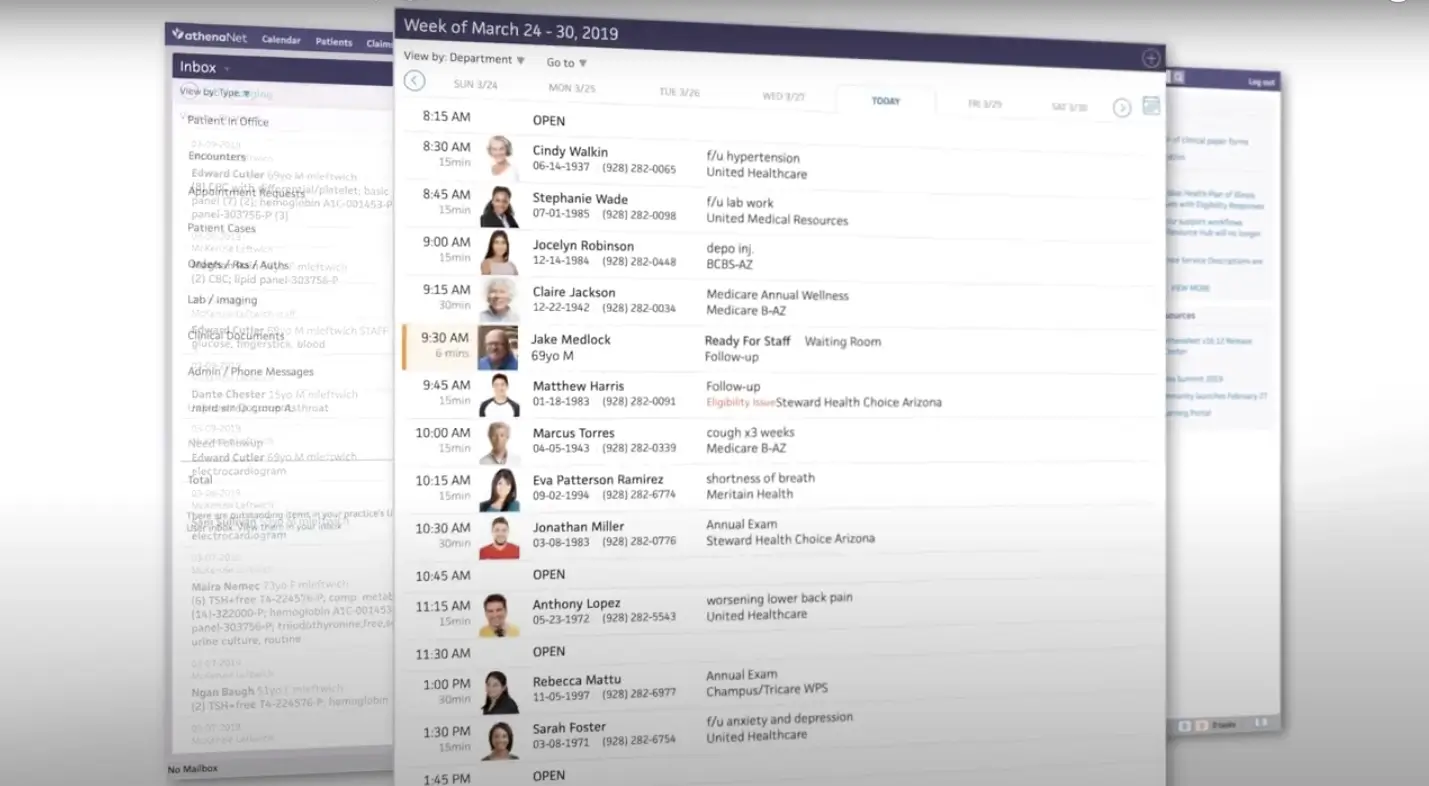 athenaOne is an Electronic Health Records (EHR) software that aids doctors in providing quality care. It streamlines clinical productivity, handles administrative tasks, ensures full payment, and tracks all physician orders for comprehensive patient care.
Pros
Integrated Suite of Tools: athenaOne provides an integrated suite of tools and services that help providers manage their practice and ensure quality care.
Comprehensive Medical Record: The medical record feature is comprehensive and easy to use, efficiently managing patient data.
Streamlined Payment Capabilities: The software offers streamlined payment capabilities, simplifying the billing and invoicing process.
Clinical Network Integration: athenaOne integrates with a clinical network, providing access to additional resources and enhancing collaborative care.
Family Member Switching: The software allows easy switching between family members to view appointments, notes, and prescription history, adding convenience.
Cons
High Monthly Cost: Some users have found the monthly cost high, especially considering the errors they experience and the quality of customer support.
Complex Implementation: Users have reported that the implementation process is disorganized and requires significant time viewing training videos.
Challenging Onboarding Process: Some users have found the onboarding process difficult, with inadequate support from Athena.
Limited Self Check-in Portal: The self-check-in portal could improve, particularly for patients without third-party payers.
Poor Customer Service: Some users have reported poor customer service, including issues with services not being delivered as per the contract agreement and difficulties navigating the support system.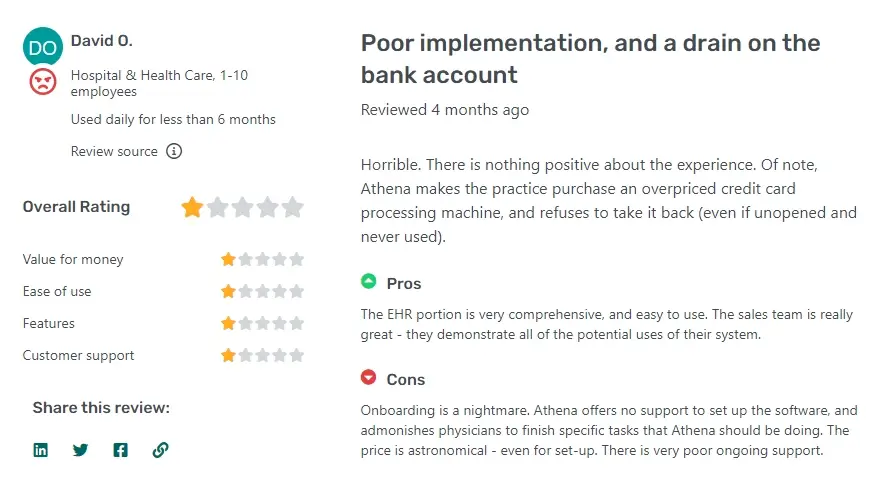 So What's the Best Alternative to PatientPop Overall?
If you're looking for the best overall PatientPop alternative, DemandHub stands out as a compelling option. It's an all-in-one solution that offers a wide range of practice management and patient engagement tools.
What sets DemandHub apart is its user-friendly design. With its intuitive interface, navigating and using its features is a breeze. Whether you're scheduling appointments, managing online reviews, or running SMS campaigns, DemandHub makes the process straightforward and hassle-free.
Another standout feature of DemandHub is its excellent customer support. Available 24/7, their team is always ready to provide timely help and guidance.
DemandHub combines a unique mix of features, user-friendliness, and top-notch customer support. It's a strong contender for healthcare providers seeking a comprehensive practice management and patient engagement platform.
Book your Free Demo now to find how DemandHub can grow your practice 10X.
Frequently Asked Questions About PatientPop
Why are users looking at PatientPop software competitors?
Folks are considering PatientPop alternatives for various reasons. Customer reviews highlight vital issues that have led practices to seek other options. These issues include limited customization and functionality, poor customer service, lack of control over data, inconsistent communication, and ineffective SEO and client engagement.
What are the drawbacks of using PatientPop?
The disadvantages of using PatientPop include the following:
Inconsistent Communication and Misleading Sales Practices: Users have experienced unreliable communication and disorganization among PatientPop staff. Some have also accused the sales team of being deceptive regarding the control practices they would have over their websites.
Contractual Issues: Practices have found the contractual obligations with PatientPop to be restrictive, with limited flexibility in case of dissatisfaction or significant business changes. The lack of a free trial or money-back guarantee has also concerned some users.
It's important to note that these drawbacks are based on user feedback and experiences, and individual experiences may vary.
How to cancel the PatientPop subscription?
To cancel your PatientPop subscription, follow the cancellation procedure outlined in their Terms of Service.