As a dental practice, it's essential to have a strong marketing strategy in place to attract new patients and grow your business.
As there are so many options available, it can be difficult to determine which dental marketing software is the best fit for your practice.
To help you, we've compiled a list of the 21 best dental marketing software to get more patients.
From appointment reminders and patient engagement tools to patient reviews and social media management, these software options offer a range of features to grow your practice and attract new patients.
In this blog post, we'll take a closer look at each software option, so that you can choose the one that's right for you.
So, let's get started!
What is dental marketing software?
Dental Marketing Software is specifically designed for dental practices to attract and retain patients, grow their business, and improve their online presence.
It provides a range of features that help dentists to promote their services, engage with patients, and manage their online reputation.
Dental Marketing Software allows practices to easily manage their online appointments, send out automated appointment reminders, and create targeted marketing campaigns to attract new patients.
It also enables practices to manage patient reviews, track patient engagement, and analyze their marketing performance.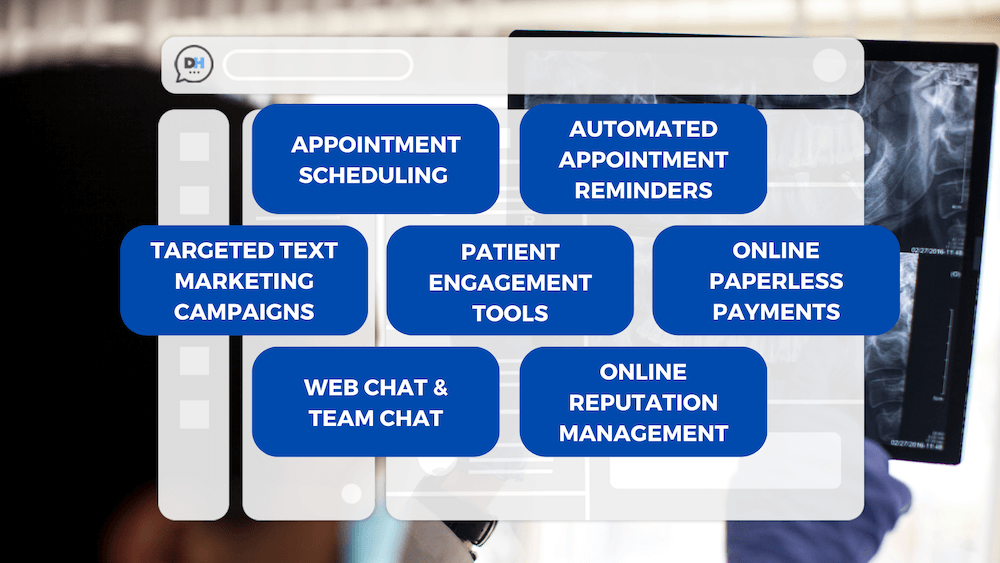 Dental marketing software typically includes features such as:
Appointment scheduling
Automated appointment reminders
Targeted text marketing campaigns
Patient engagement tools
Online paperless payments
Web chat and team chat
Online reputation management
It can also include analytics and reporting tools to help practices track the performance of their marketing efforts. So they can make data-driven decisions about future campaigns.
Some dental marketing software also offers patient relationship management (CRM) features to manage patient data and create targeted marketing campaigns.
Why should you use dental marketing software for your dental practice?
Dental marketing software helps practices boost patient acquisition and retention by automating and optimizing marketing tasks such as:
Streamline Tedious Dental Office Operations
Dental marketing software is like having an extra set of hands in the practice, streamlining the daily grind of office operations. Automated appointment reminders and confirmations greatly reduce the need for manual phone calls and emails.
Online scheduling is a feature that allows patients to book appointments without even calling your office. It can reduce no-shows and keep your schedule full.
You can access your patient's information and medical history and communicate with your dental staff—all in one place.
Dental marketing solutions can also assist in managing patient records and tracking patient interactions and treatment history. It can improve the overall patient experience and make it easier for dental staff to provide efficient and effective care.
Run Targeted Marketing Campaigns
Dental marketing software is essential for any practice looking to take its patient acquisition and retention efforts to the next level.
It allows practices to launch highly-focused dental marketing campaigns tailored to specific groups of patients based on demographics, interests, and behaviors.
With the ability to target specific groups, practices can ensure that their marketing efforts are directed towards the right audience who are most likely to convert.
Better Reputation Management
Dental marketing software can help practices to enhance their online reputation and build trust with potential patients. With a comprehensive marketing platform to manage and respond to patient reviews, dental practices can ensure that their patients' feedback is heard, acknowledged, and addressed promptly.
This helps to build a positive image of the practice and improve patient satisfaction.
Additionally, it can monitor social media mentions, providing an easy way to track what's being said about the practice on different platforms. This allows you to respond quickly to negative comments or reviews and address patients' concerns.
Enhanced Patient Communication
Effortless patient communication is key to delivering a modern, seamless patient experience. By providing multiple communication channels, dental practices can ensure that their patients have the flexibility and convenience to connect most comfortably.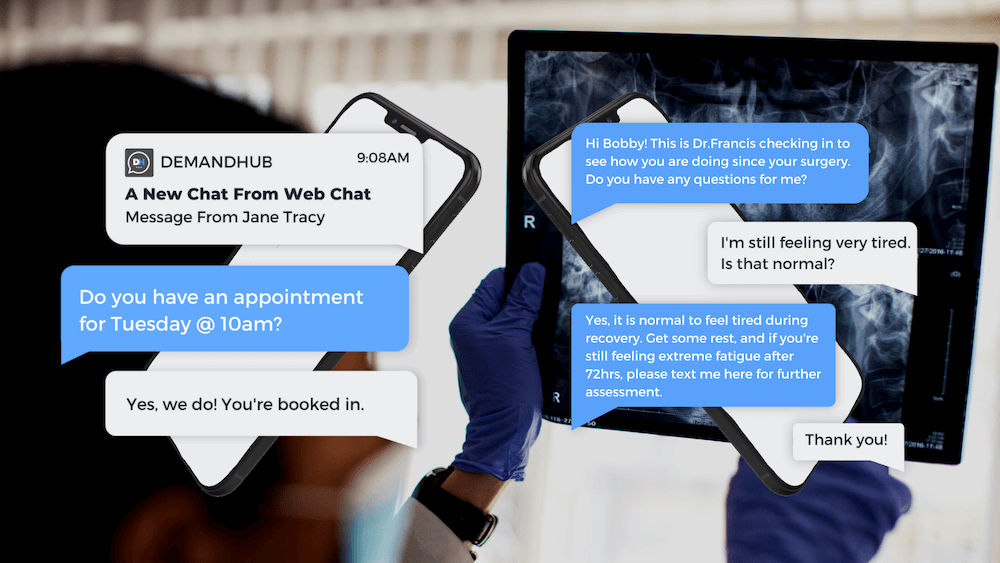 This improves patient satisfaction and helps practices keep track of patient engagement, measure satisfaction levels, and monitor no-show rates.
Analytics and Reporting to Grow your ROI
Advanced dental marketing solutions typically include analytics and reporting tools that help practices track the performance of their marketing efforts. You can gain access to valuable data helping you make informed decisions and fine-tune your growth strategy.
You can use data metrics to track performance and measure the effectiveness of your marketing efforts, leaving behind the guesswork and uncertainty of shooting in the dark.
21 Best Dental Marketing Software for Patient Management
DemandHub
ADSTRA Dental Software
Easy Dental
Curve Hero Dental
Dental Intelligence
ACE Dental
Simples Dental
Dentrix
Dentrix Ascend
Open Dental Software
Modento, by Dental Intelligence
Dentrix Enterprise
Denticon
CareStack
CS SoftDent Software
axiUm Ascend
Cloud 9 Ortho
MacPractice DDS
ABS Evolution
Asprodental
Bridge-IT
1. DemandHub: Best Dental Marketing Software to Convert More Patients
DemandHub is the most affordable cloud-based dental marketing solution. With DemandHub, your dental practice can manage appointment scheduling, targeted marketing, and patient communication - all in one place.
Features
Online scheduling to convert more patients online
Send automatic reminders to reduce no-shows
Collect payments quickly with a 3-step checkout system
Send online forms and surveys via SMS
Web chat allows site visitors to text your business on the go
Get reviews by sending automated review links via SMS
Dental text messaging to improve patient communication
Seamless integration with other apps
Central appointment management to keep track of all bookings
Benchmarking to monitor your practice growth through NPS insights
Increase online patient conversions
DemandHub integrates with your website easily. So you can turn visitors into paying patients and never lose an appointment opportunity!
Send automatic reminders to keep your schedule full and reduce no-shows.
DemandHub's notification system alerts you of cancellations or no-shows, allowing you to fill those openings quickly. Additionally, its messaging feature allows you to send appointment reminders and follow-ups to your patients via text, resulting in increased patient inflow and satisfaction.
Get Paid with a Simple 3-Step checkout system
Say goodbye to long lines and missed payments with DemandHub's contactless checkout! No more chasing patients for payments and no more missed invoices. Now you can receive payments as easily as sending a text message.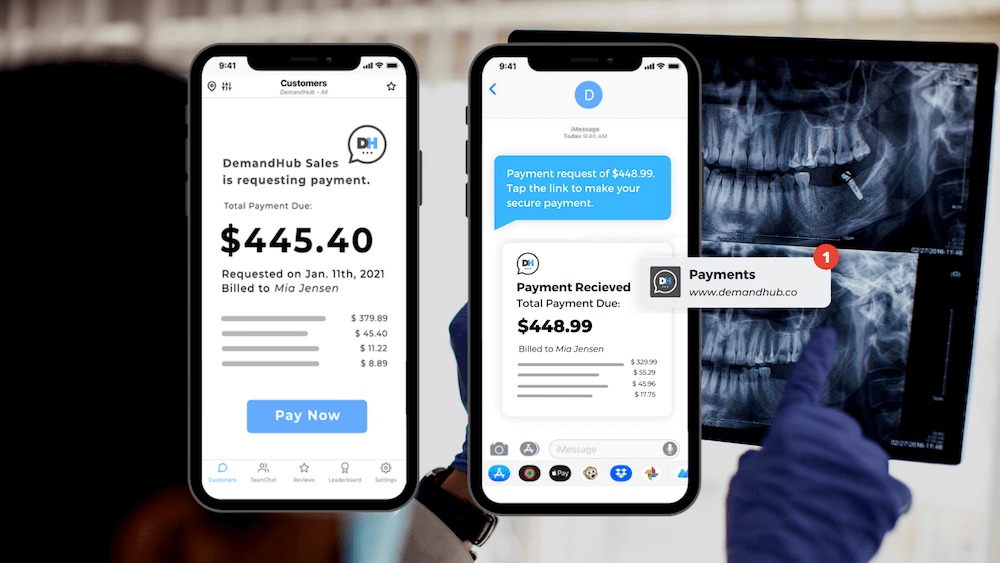 Send online forms and surveys via SMS
Want to know what your patients really think about your practice? DemandHub allows you to send forms and surveys directly to your patients' devices via SMS. This approach is efficient and easy for both you and your patients. It will give you valuable real-time insights, making it a no-brainer for any practice looking to boost patient satisfaction!
Web chat allows visitors to text your practice on the go
DemandHub's web chat feature lets you turn each conversation into a text message. So, you can answer questions and close sales no matter where your website visitors are.
Get more reviews by sending automated review links via SMS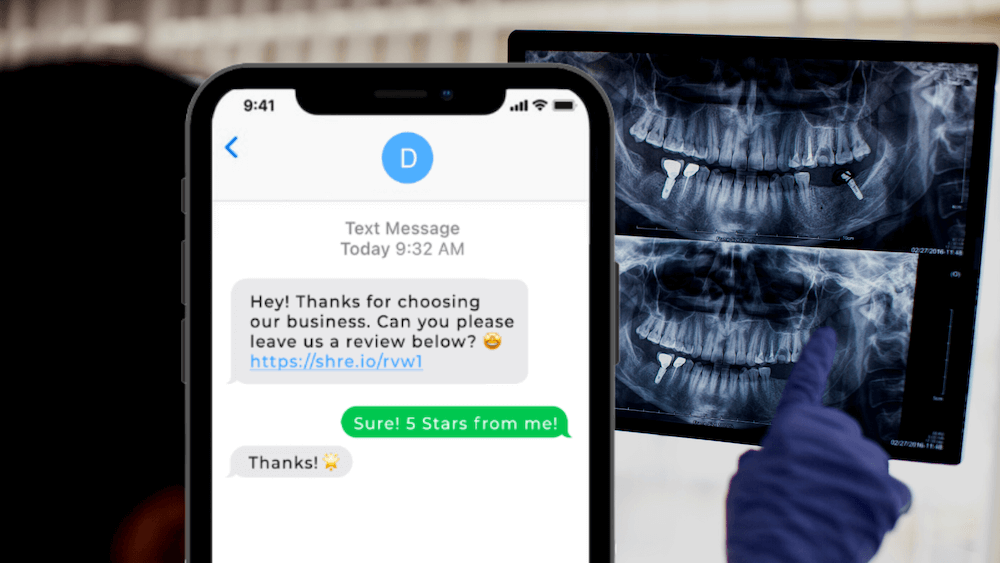 With DemandHub, you can send automated review links via SMS. This allows your patients to provide feedback and share their experiences instantly. So practices can get more positive reviews and build trust with potential patients.
Dental texting to improve patient communication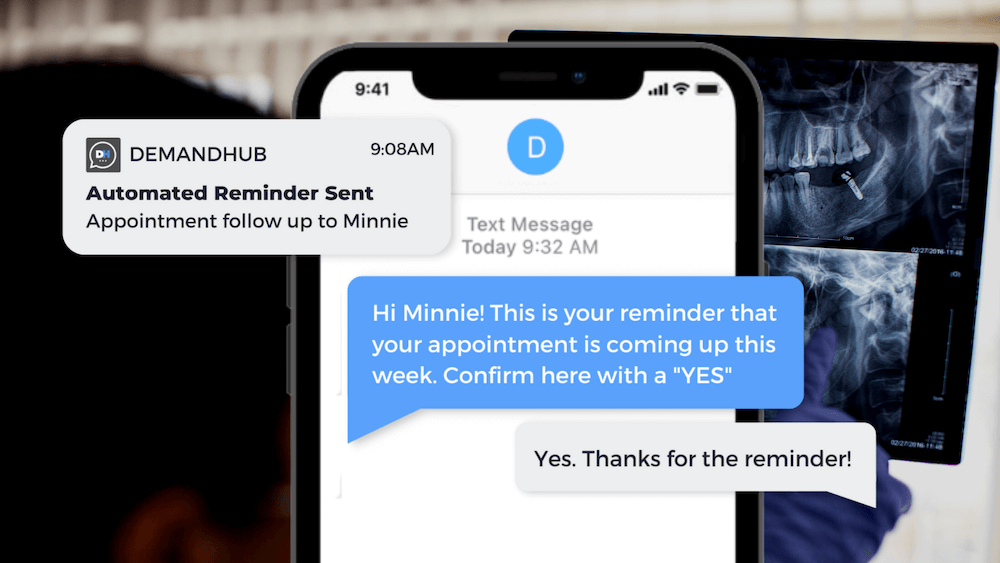 DemandHub makes communication with patients a breeze for dentists. With its dental texting capabilities, you can send out appointment reminders, special offers, discounts, and check-in alerts quickly and easily.
This feature guarantees that your patients receive timely notifications of their appointments and other important updates, making it effortless for you to stay connected with them.
Seamless integration with other apps
DemandHub seamlessly integrates with various practice management systems like Abeldent, Tracker, Dentrix, and more to streamline your dental office operations. This allows you to send automated appointment reminders and post-appointment review invites.
Central appointment management to keep track of all bookings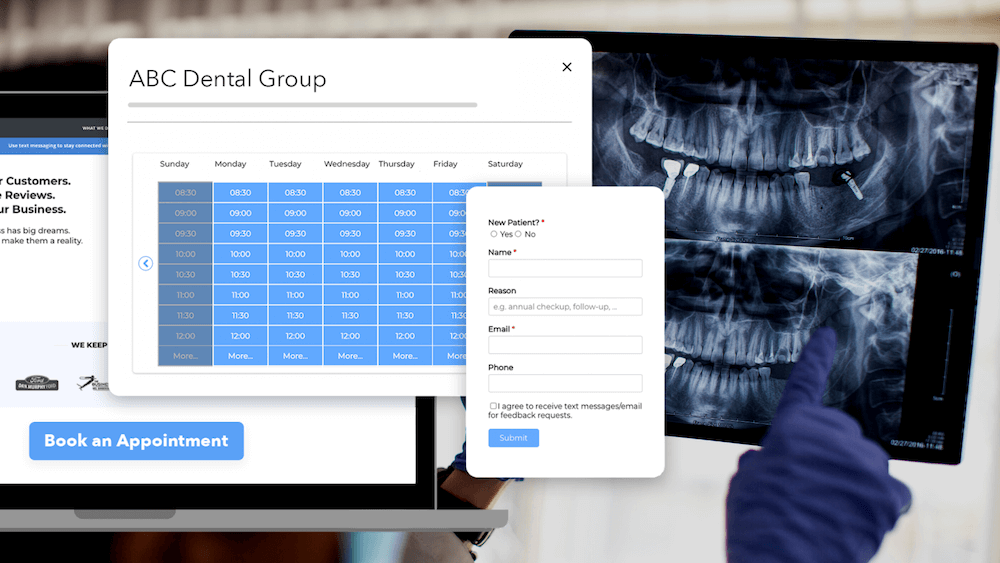 DemandHub makes managing appointments effortless! You can easily accept booking requests directly from your website, giving you complete control over your schedule.
Say goodbye to missed calls or messages from patients trying to schedule appointments. Simplify the entire process with a central appointment management solution that takes care of everything in one convenient location!
Benchmarking to monitor and enhance your practice growth
DemandHub provides detailed NPS insights that give you a comprehensive understanding of your practice through patient feedback. This allows you to identify areas for improvement.
What's more interesting is that you get access to reviews of your local competitors too. By learning what patients have to say about you and your competition, you can take steps to make your dental practice even better.
2. ADSTRA Dental Software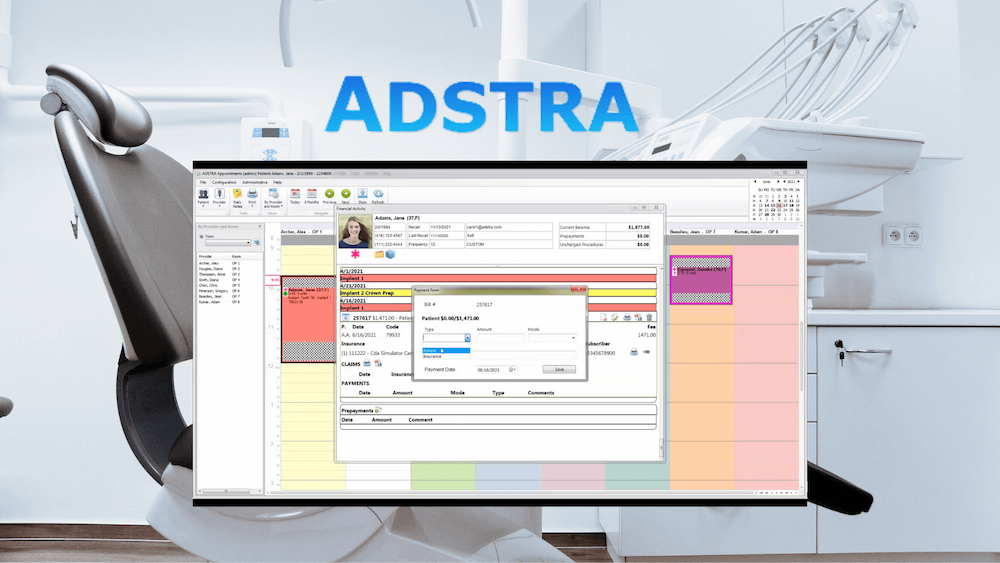 ADSTRA is a cloud-based, on-premise paperless dental software solution. It helps dental practices become more efficient. It offers a comprehensive solution that allows you to manage all aspects of patient information through computerization, resulting in improved efficiency, increased case acceptance, and an influx of new patients.
3. Easy Dental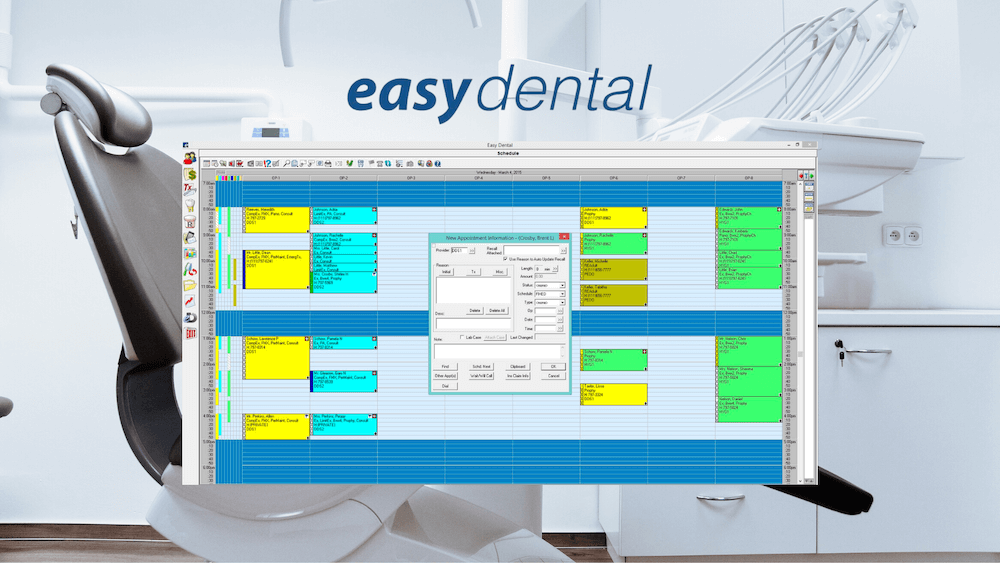 Easy Dental is a dental practice management software designed for affordability and simplicity. It offers a range of cost-effective tools to help dental practices succeed. The software is user-friendly and provides powerful features without complexity.
It provides easy management, clinical tools, and the ability to add new functionality as the practice grows. It also provides quality customer service and support.
4. Curve Hero Dental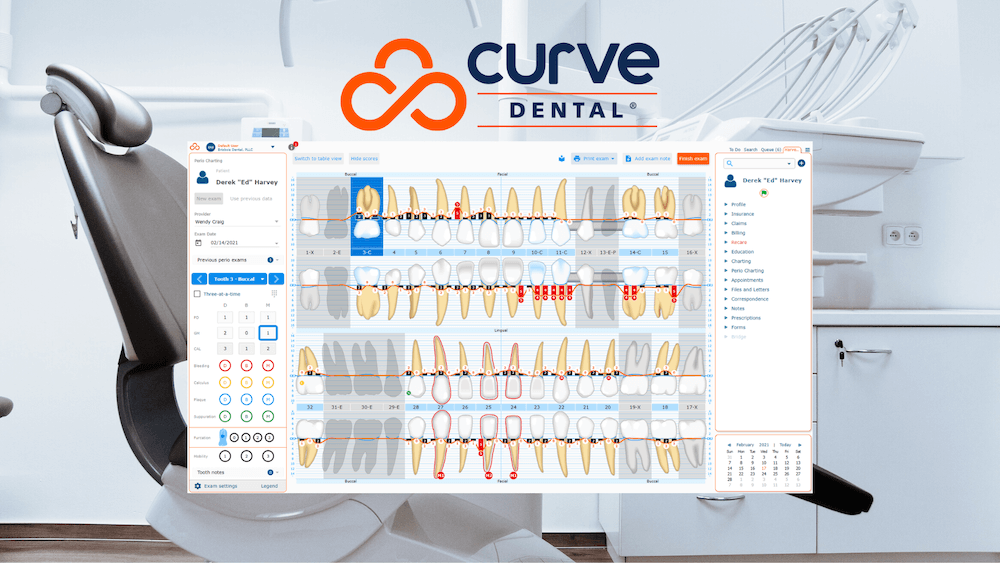 Curve SuperHero simplifies practice management tasks, allowing dental practitioners to focus on enhancing the patient experience and retaining and acquiring new patients.
The software offers a range of features such as scheduling, billing, patient engagement, imaging, charting, reporting, implementation, support, training, data conversion, and more.
5. Dental Intelligence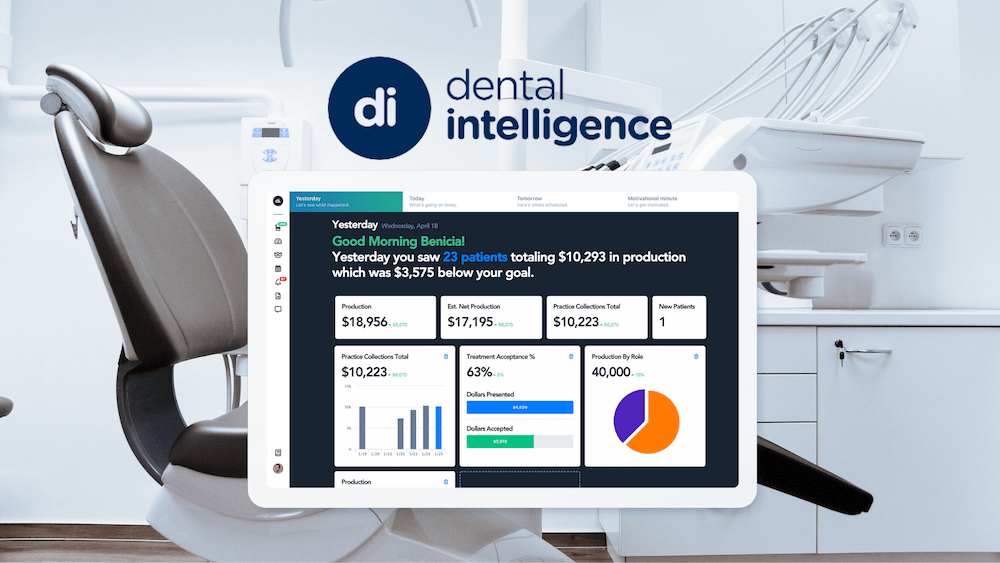 Dental Intelligence is an online solution that streamlines appointment scheduling, medical billing, and patient tracking for dental practices. It centralizes patient records, allows data analysis, and generates custom reports through a unified portal.
It also offers features like client management, communication management, and data visualization. Dental Intelligence can integrate with third-party applications like Pen Dental, Microsoft Dynamics, OpenDental, QuickBooks, Demandforce, and more.
6. ACE Dental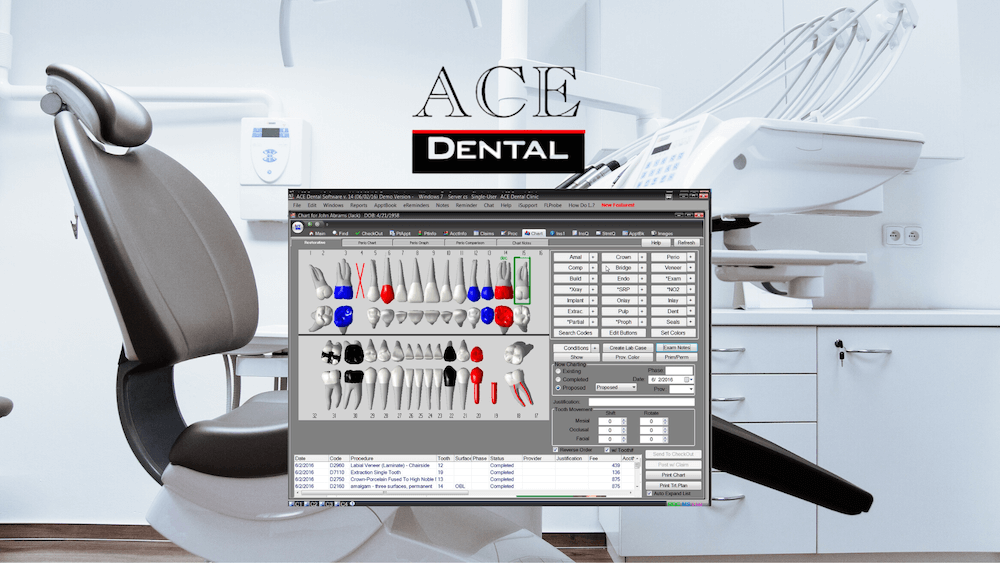 ACE Dental is an on-premise, scalable practice management solution that offers various features for managing a dental office efficiently. It includes appointment scheduling with automated reminders, pre-blocking, and billing features such as paper and electronic insurance claims management and patient and family ledgers. It offers monthly payment plan options.
7. Simples Dental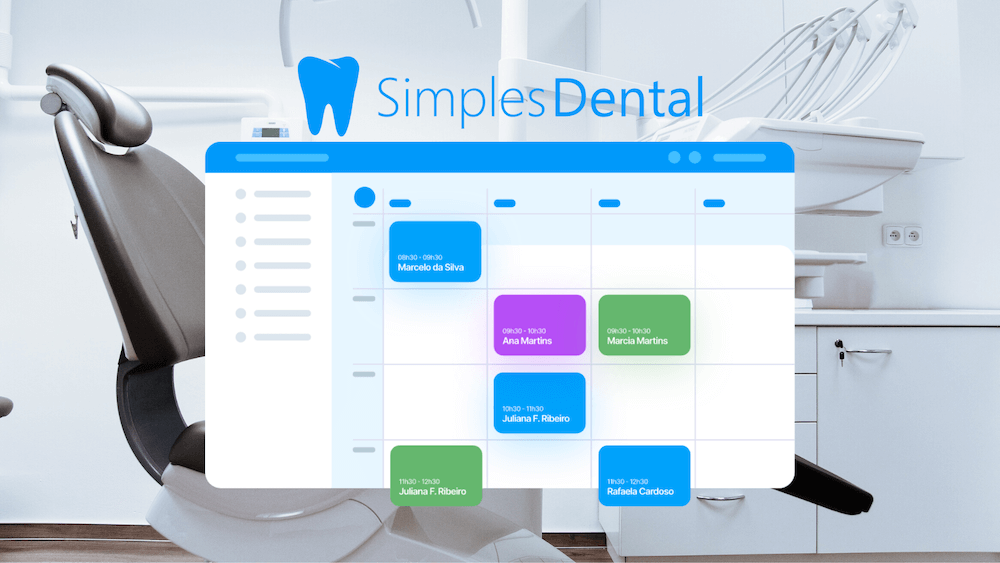 Simples Dental is a comprehensive software management platform for dental clinics and practices. It is a full-featured dental management software that can also be operated through gestures and movements, reducing the risk of contamination for healthcare professionals during treatment.
8. Dentrix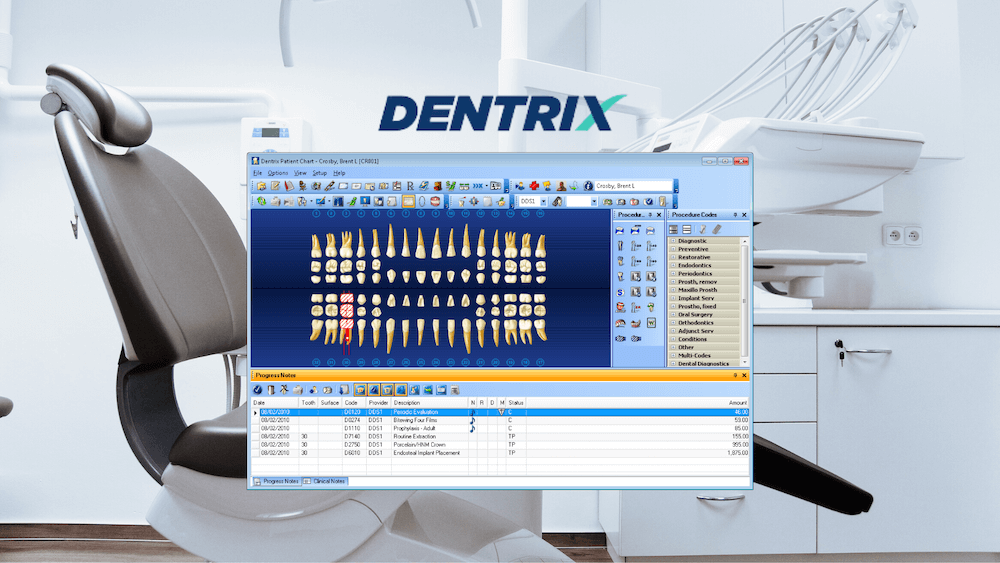 Dentrix is a dental practice management software that is used to manage patient information, schedule appointments, bill insurance, and patients, and generate reports for a dental practice. It also includes features for clinical charting, digital imaging, and claims management. It is a widely used software in dental clinics and practices.
9. Dentrix Ascend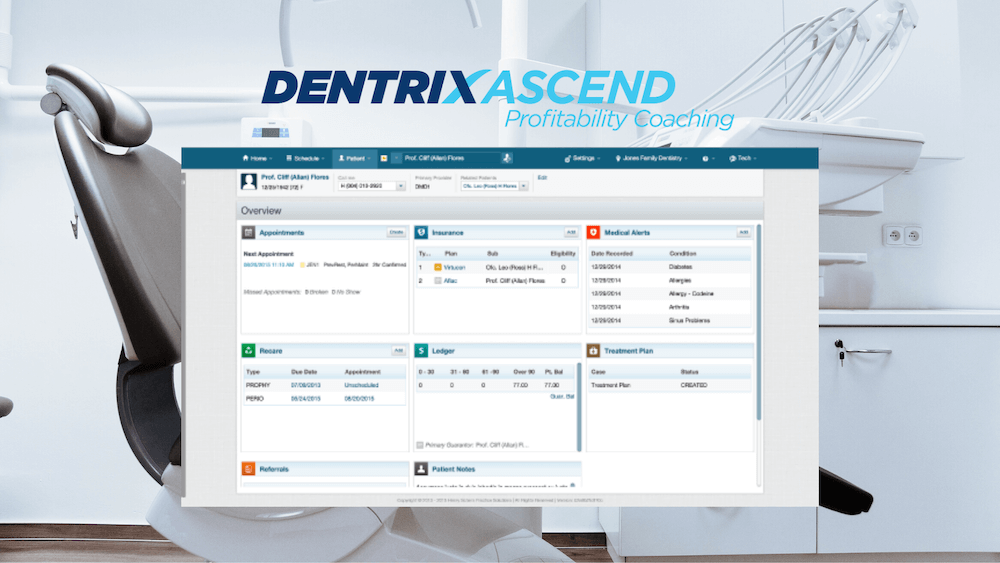 Dentrix Ascend offers flexibility and freedom with its cloud-based architecture. It allows you to access patient information and management tools from any device with internet access. It helps your practice run smoother with its natural user interface design and easy access to patient information. Dentrix Ascend keeps patient information safe and secure with encryption technology and high-quality data protection 24/7.
10. Open Dental Software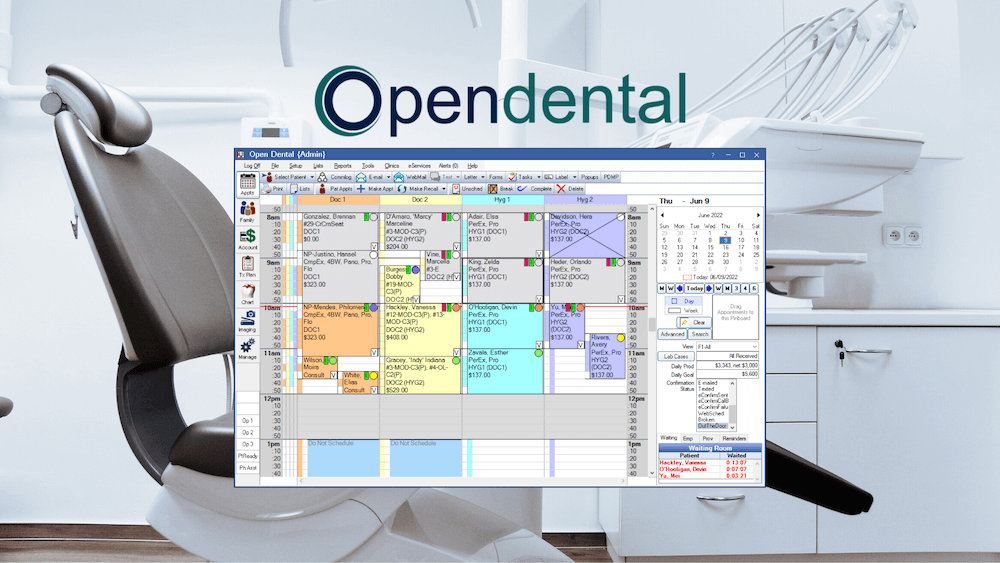 It is a dental practice management software program. It is designed to help dentists and their staff manage patient information, scheduling, billing, and other aspects of running a dental practice. It also can be integrated with electronic health records (EHRs) and digital imaging systems.
11. Modento, by Dental Intelligence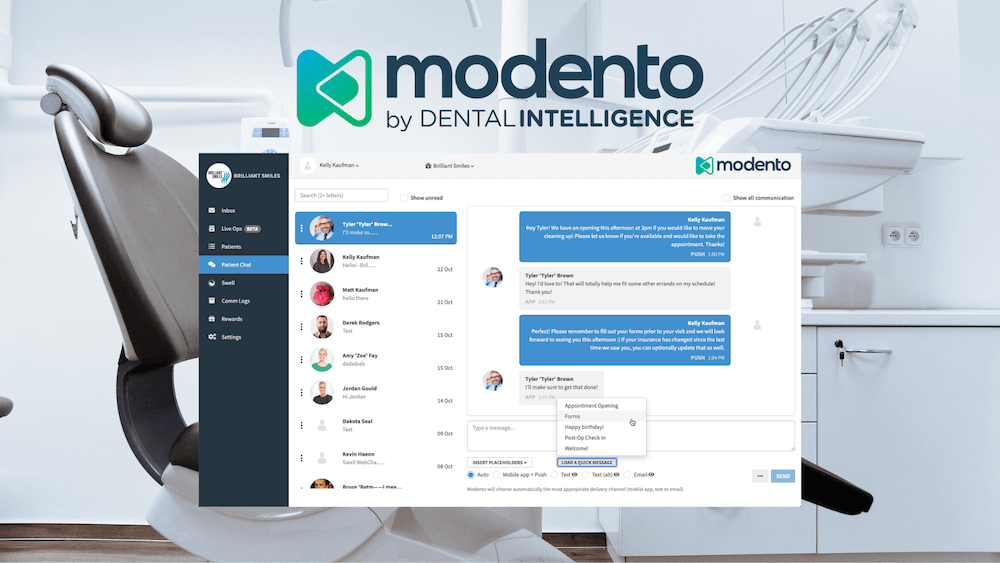 Modento, now known as Dental Intel, provides technology solutions for dental practices. It is a cloud-based dental marketing software that helps dentists and their teams streamline their workflow and manage their practice more efficiently. It includes appointment scheduling, patient information management, billing and insurance, and treatment planning.
12. Dentrix Enterprise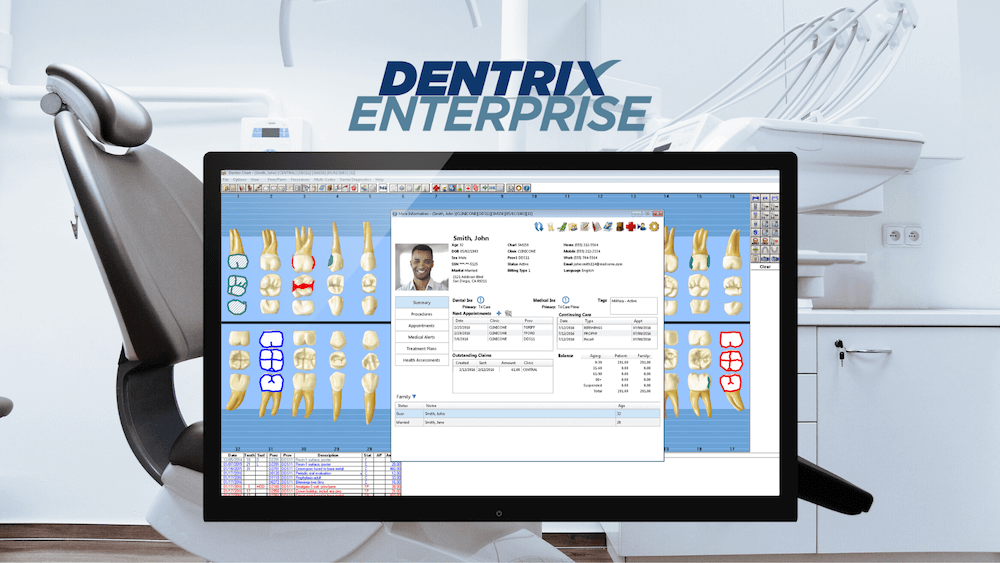 Dentrix Enterprise simplifies managing multi location practices or health centers, improving efficiency and productivity as your organization grows. It is an interoperable solution with a proven dental workflow that simplifies daily tasks and centralizes patient records and clinical procedures. It also offers a comprehensive view of patient health via HL7 data integration with various medical software platforms.
13. Denticon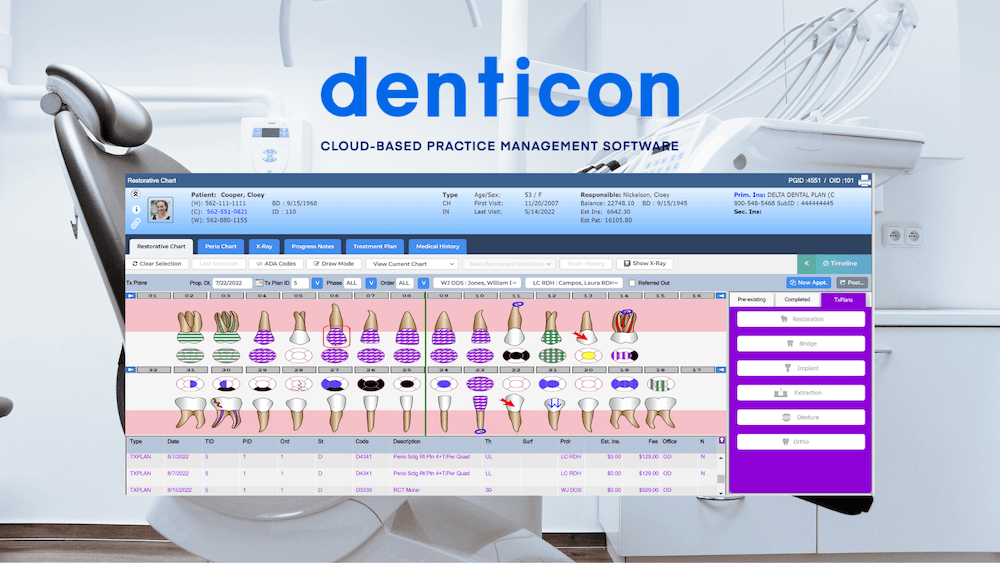 Denticon is a cloud-based practice management software that allows dental practices to access patient data from any location securely. It centralizes data and clinical operations, so you focus on providing excellent patient care. With Denticon, dental practices can work from anywhere, anytime, while ensuring patient data is always up-to-date and easily accessible.
14. CareStack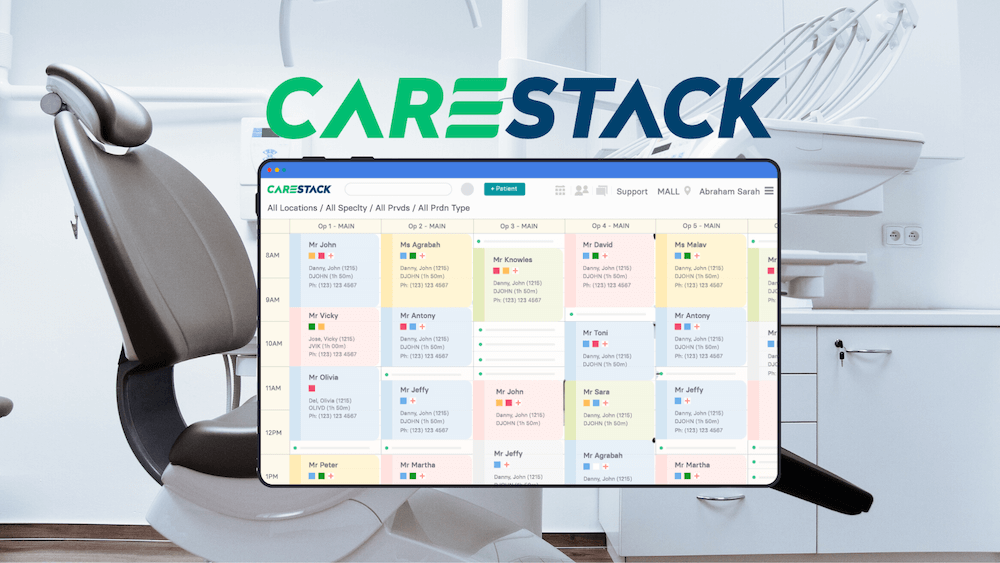 CareStack is a dental marketing software for dental practices. It aims to help dental practices streamline their operations and improve patient care. It offers practice management, electronic health records, and patient engagement solutions.
15. CS SoftDent Software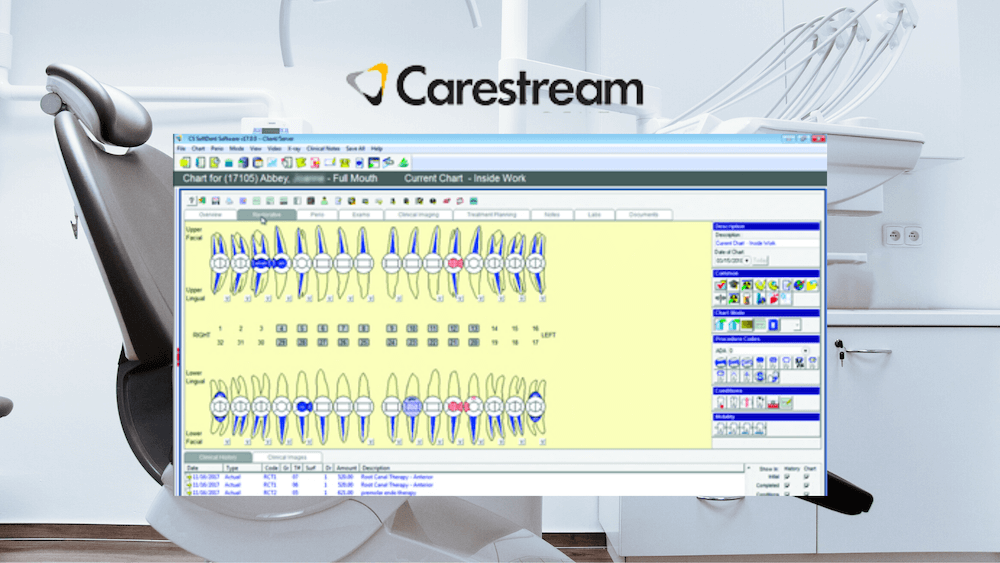 SoftDent is an advanced practice management software that streamlines routine tasks and enhances office communication. It increases accessibility to information with its fully automated and customizable tools, ultimately making your dental office more efficient, productive, and successful.
16. AxiUm Ascend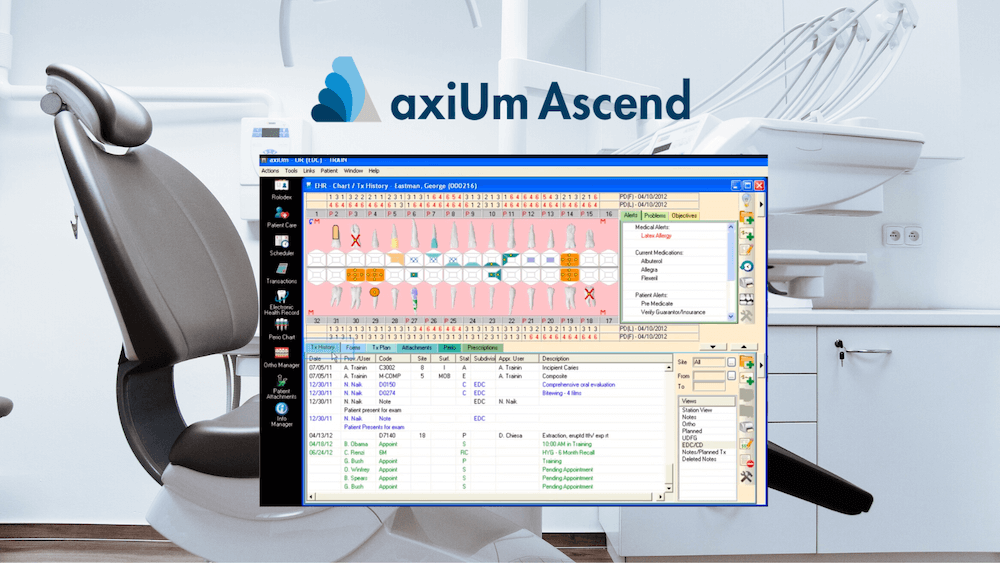 AxiUm Ascend is a modular dental management software that seamlessly integrates electronic health records, appointment scheduling, and chart tracking capabilities. It is designed to help dental and orthodontic practices streamline operations, improve patient care and enhance practice productivity.
17. Cloud 9 Ortho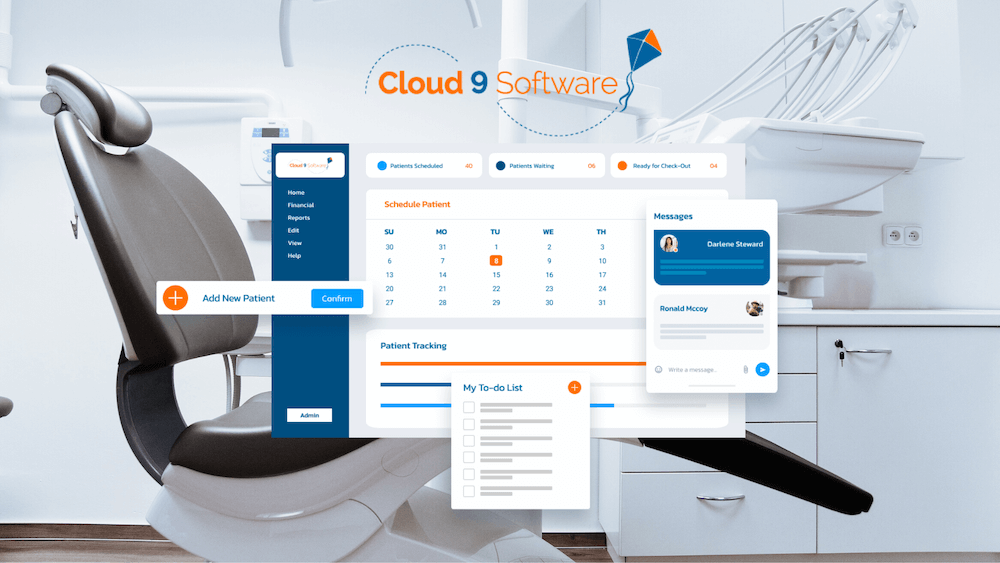 Cloud 9 Software is a browser-based practice management system for orthodontics, pediatric dentistry, and group practices. It improves staff productivity, increases user efficiency, and minimizes workflow stages.
18. MacPractice DDS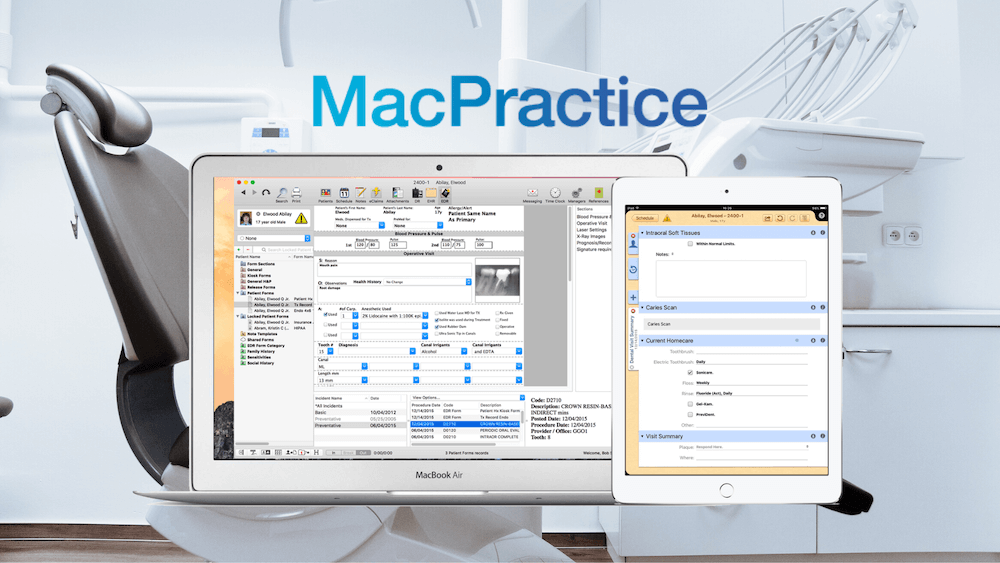 MacPractice DDS is a dental software solution for practices that runs on Apple's macOS operating system. It offers a variety of features that streamline the management of patient records, digital radiography, electronic prescriptions, attachments, scheduling, inventory management, and more.
19. ABS Evolution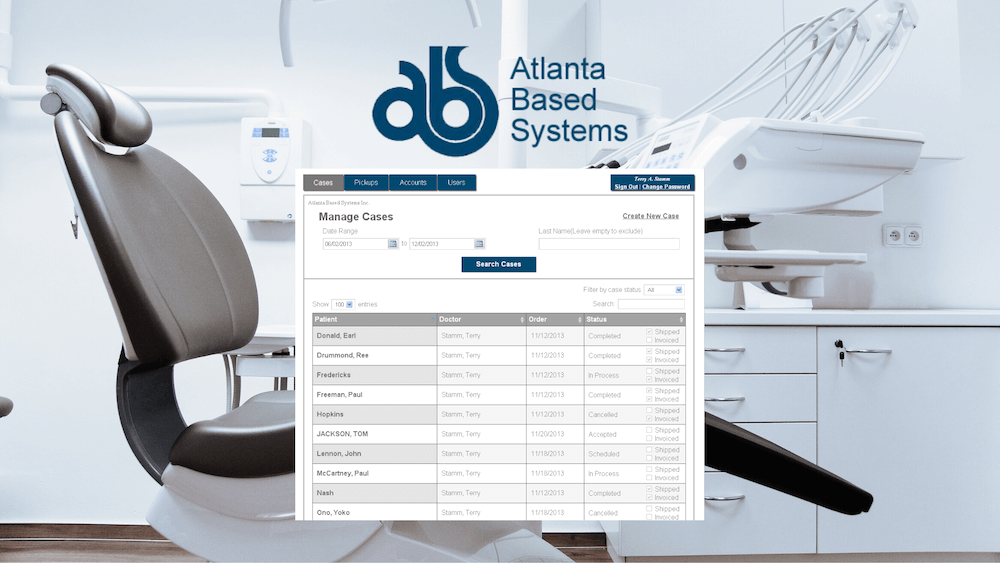 A powerful management tool and real-time information make Evolution the perfect tool for managing time and finances efficiently. With ABS Evolution, you can easily manage case scheduling, track case progress, and access the information you need to make informed decisions.
20. Asprodental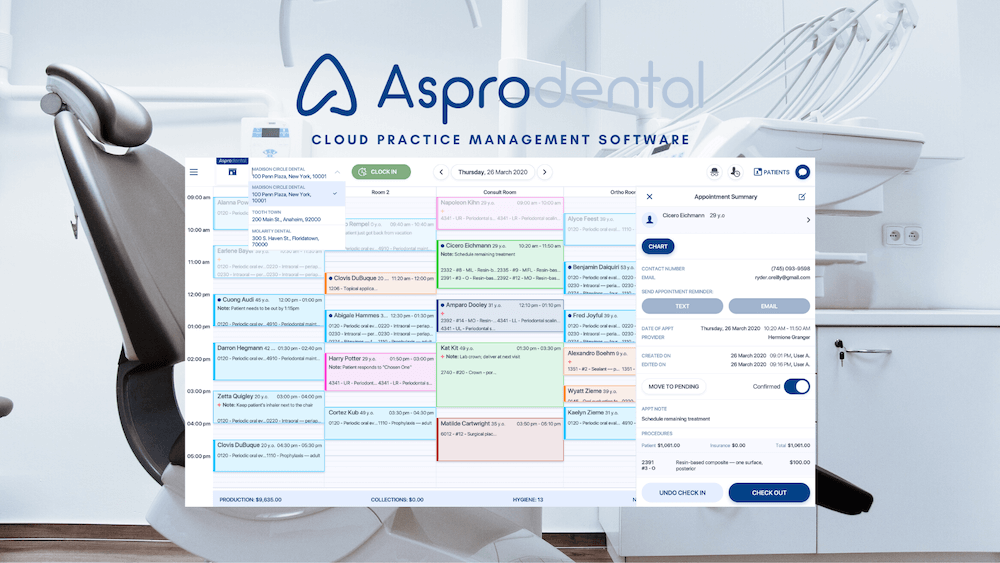 Asprodental is a dental software solution created by professionals with over 25 years of experience in the industry. It addresses private practices' challenges by providing a single screen for clinical data, including periodontal charts, odontograms, treatment plans, and notes. The software also supports administrative tasks by automating appointment reminders, recalling reactivations, and giving real-time feedback on goals.
21. Bridge-IT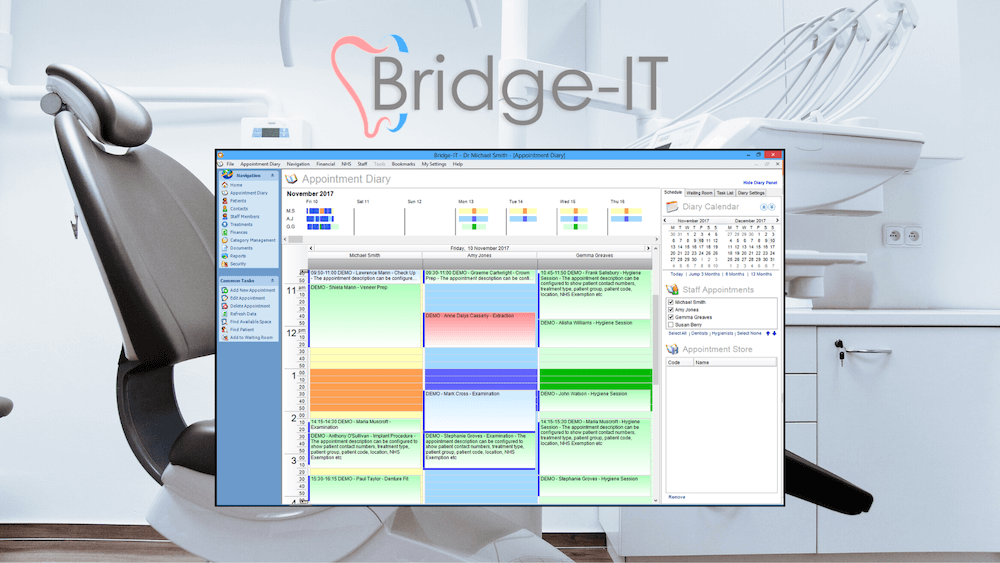 Bridge-IT is a dental software designed to streamline the management of your practice. It offers a variety of features such as appointment scheduling, patient record management, financial tracking, staff management, reporting, charting, treatment notes, and more.
Need help deciding?
A solid marketing strategy is crucial for dental practices to attract new patients and grow their business. With so many available options, deciding which dental marketing software is the most appropriate for your practice can be challenging.
This article has provided a comprehensive list of the 21 best dental marketing software options that offer a range of features, such as appointment reminders, patient engagement tools, patient reviews, and social media management to help you promote your practice and attract new patients.
By reading this post, you'll be able to make an informed decision and choose the software that best meets your needs. If you have more questions reach out to us: Let's start growing your practice!
Frequently Asked Questions (FAQs) about Dental Marketing Software
What is dental marketing software?
Dental marketing software is a tool that automates and streamlines marketing efforts for a dental practice. It can handle email marketing, social media management, patient reviews, SEO, and other digital marketing strategies.
How can dental marketing software benefit my practice?
Dental marketing software can increase your online visibility, attract new patients, improve patient engagement, and automate routine tasks. It also provides insightful analytics to refine your marketing strategy.
What features should I look for in dental marketing software?
Essential features in dental marketing software include email marketing, social media management, SEO tools, reputation management, and appointment reminders. It must also offer comprehensive reporting and analytics.
Is dental marketing software cost-effective?
While there's an upfront investment, dental marketing software is cost-effective. In the long run, it can automate tasks, attract new patients, and retain existing ones.
You can promote your dental products through various channels, such as your dental website, emails, social media platforms, dental blogs, and online advertisements. Engage with your audience and share helpful content, special promotions, and testimonials. Dental marketing software can assist in managing and automating these promotional activities.
What is the best digital marketing agency for dentists?
The best digital marketing agency for dentists would depend on your specific needs, goals, and budget. Some well-regarded agencies include ProSites, Practice Cafe, and Doctor Multimedia. These agencies specialize in dental marketing, offering services from website design and SEO to social media marketing and online reputation management.
What is dental SEO marketing?
Dental SEO marketing is a way for dental practices to boost their online presence on search engines like Google. It involves optimizing your practice's website with relevant keywords, publishing high-quality content, and local details to attract potential patients searching for dental services in their area. The goal is to appear in top search results when people look for dental services, leading to more website visits and potential patient bookings.
How to market a dental clinic online?
You should have a professional and user-friendly website, an active social media presence, and a strong SEO strategy to market a dental clinic online. Other effective methods include managing online patient reviews, using pay-per-click advertising, and email marketing. Leveraging dental marketing software can help you effectively manage these online marketing efforts.