As a physical therapist, you know that the more patient visits you can get from each care plan, the better.
But how to get more physical therapy visits to your clinic?
Here are 5 steps to help you boost Physical therapy visits in 2023.
1. Get Your Practice Listed on the Top Review Websites
As a therapist, you want to be where your patients are. And in today's world, that means being visible on popular review websites.
Online review websites can attract new patients to your clinic without spending a dime on marketing efforts.
90% of patients use online reviews to evaluate physicians. 71% of patients use online reviews when looking for a new doctor. So, your online reputation is often the 1st impression you make on potential patients.
Many physicians are hesitant to ask patients for online feedback as patient satisfaction is difficult to measure and can be inconsistent. But 7 out of 10 patients will provide an online review if asked.
The good news is that 72% of patients leave "very" or "somewhat positive" reviews for healthcare providers. And the even better news is that most patients will pay no attention to a review they see as unreasonably negative.
Negative reviews have the potential to damage your reputation and lower your rating, but responding to them can help mitigate the effects.
Most patients usually ignore negative reviews if they look unreasonable or exaggerated. Also, 36% of people will overlook a provider's bad reviews if the provider responds to them in a considerate and thoughtful way.
Therefore, to stay ahead of the competition, you must respond to all reviews, whether good or bad. 89% of patients will likely choose your practice if you respond to all your online reviews. Doing so also shows that you care about your patients' experience and are always looking to improve.
In addition, Google will rank your practice higher on search results if you have more reviews on review websites. In fact, positive reviews can attract out-of-network patients to healthcare review websites.
A positive online review history could persuade patients to visit your practice, even if you're not in their insurance network. About 43% of potential patients are willing to go out of their insurance provider network for a provider with positive reviews.
Make sure your physiotherapy clinic's information is accurate and up-to-date on patient review sites like Google, Yelp, Zocdoc, Healthgrades and your Social Media channels. So, patients can easily find you when looking for a new physical therapist.
2. Improve your Patient Retention Rate
Even if you're great at attracting new patients, it won't do your clinic any good if they only visit once and never return.
Rather than new patient acquisition, you need to focus on patient retention to get more physical therapy visits.
It costs 5 times more to attract a new patient than it does to retain an existing one. Moreover, the odds of selling to an existing customer are significantly higher (60%-70%) than to new customers (5%-20%).
So, if your clinic is only focused on new patient acquisition, you're missing out on a huge opportunity to grow physical therapy visits and revenue.
Allocate a portion of your healthcare marketing budget for customer retention. You can use the following successful methods to increase patient retention:
Give existing patients an incentive to visit your clinic more often. It could be in the form of a loyalty program where patients earn points for every visit. They can redeem them for prizes like free massages or gift cards.
You can use email marketing, text marketing or social media to announce your loyalty program and encourage patients to participate.
Send Personalized Text Messages
The number of people using smartphones is increasing every day. According to statista,there will be 311 million smartphone users in the United States by 2023.
70% of patients say SMS is the best way for businesses to get their attention.
Therefore, healthcare text marketing is a quick and easy way to stay in touch with your patients. You can use it to send appointment reminders, follow up after their visits, or check in to see how they're doing.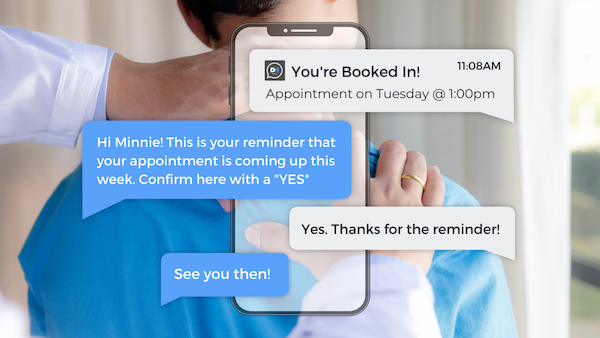 Text messages have a 98% open rate, so you're almost guaranteed that your patients will see them. Sending personalized SMS to existing patients is a great way to show them that you care about their experience at your clinic.
How to personalize your text messages?
Address your patient with their name.
Keep it short and to the point.
Add a personal touch by talking about the specific problem.
3. Make it Easy To Book Appointments Online
If your patients have to call your office or wait for a call back to schedule an appointment, they will likely get frustrated and visit another physical therapist.
Make sure your website has an online booking system that patients can use to schedule appointments 24/7. You can also use online scheduling software like DemandHub, which integrates with your website and allows patients to book appointments without having to call your office.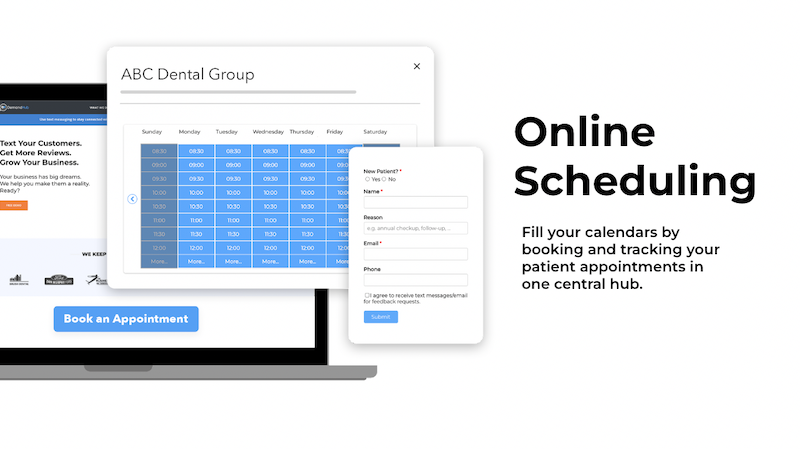 With DemandHub, you can also send automatic appointment reminders via text message, so you don't have to worry about patients forgetting their PT appointments.
4. Offer Referral Bonuses for Both Patient & Doctor Referrals
Encourage your patients to refer their friends and family to your PT clinic by offering them a referral bonus. This could be a discount on their next visit, a free massage, or a gift card.
You can also offer doctor referrals, as they're one of the most trusted sources of information regarding healthcare. Motivating doctors to refer their patients to your PT clinic is a great way to get more patients.
You can offer doctors a percentage of the patient's first visit, a free lunch, or even a gift card. Whatever you decide, make sure it's something that will encourage them to refer their patients to your PT clinic.
Make it easy and quick for patients and doctors to refer patients to your clinic by creating a simple online referral form. You can also include a link to the form in your appointment reminders and follow-up emails or text messages.
5. Get Reviews & Testimonials from Past Patients
Patients are more likely to book an appointment with a physiotherapy clinic with positive reviews and testimonials.
Encourage your past patients to leave reviews on Google, Yelp, and other online directories. You can also ask them if they can film a testimonial you can use on your practice website and social media channels.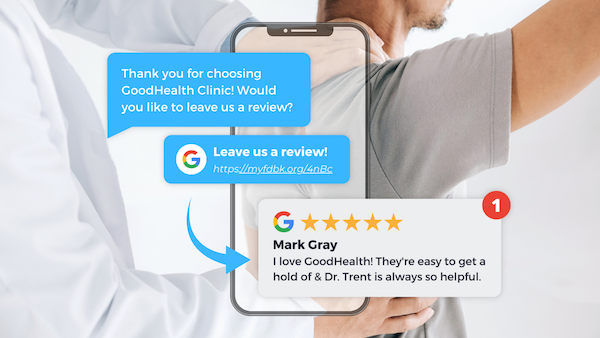 Using these methods can increase patient retention and get more physical therapy visits out of every care plan.
Ensure you're actively managing your online reputation to stay updated on your marketing efforts and attract more patients to your physical therapy practice.
To maintain your online reputation, you need to keep track, manage and respond to all online reviews, which can be overwhelming. Also, juggling between multiple review platforms and apps can be time-consuming.
So, how to manage all and get more physical therapy visits to your clinic?
That's where an online reputation management software like DemandHub can help. DemandHub is an all-in-one platform that helps you manage your online reviews, interact with patients, and get review insights in one unified dashboard.
DemandHub is the perfect software to complement your patient retention and acquisition strategy.
Patients frequently have to wait long for appointments, which can be frustrating. However, with DemandHub, you can schedule more appointments, reduce wait times and ultimately grow positive reviews and the practice's revenue.
Additionally, you can provide patients with health information and tips to better inform them about their condition. In short, DemandHub allows you to build a caring relationship with your patients without making a single phone call!
We focus on making it easy for PT clinics to get more genuine reviews from their happy patients to continue growing and expanding.
Book your Free Demo today to learn more about how to get more physical therapy visits.
Frequently Asked Questions (FAQs) about How to Get More Physical Therapy Visits
What are some strategies that can increase patient visits for physical therapy?
Several strategies can help increase patient visits for physical therapy. These strategies include:
Improving patient experience,
Using effective marketing techniques,
Educating patients about the benefits of physical therapy,
Offering flexible scheduling, and
Conducting consistent follow-ups.
How does digital marketing help increase physical therapy appointments?
Digital marketing can enhance the visibility of a physical therapy practice online, reaching a broader audience. Techniques such as search engine optimization (SEO), social media marketing, and email marketing can help engage potential patients and facilitate easy scheduling of appointments.
Why is flexible scheduling crucial in increasing physical therapy visits?
Flexible scheduling allows patients to fit physical therapy into their busy lives, making them more likely to commit to regular sessions. By offering appointments at varying times and days, practices can accommodate more patients.
How does patient follow-up contribute to an increase in physical therapy visits?
Regular follow-ups help to build a relationship with patients. They provide an opportunity to address patients' concerns, provide motivation, and remind patients about the importance of regular therapy sessions in their recovery process.
What role does patient education play in encouraging more physical therapy visits?
Patient education is essential. When patients understand the benefits of physical therapy and its role in their recovery or managing their conditions, they're more likely to commit and attend their sessions consistently.
What is the average number of visits for physical therapy?
The average number of visits for physical therapy can vary widely based on the patient's condition and recovery goals, but typically it might range from 6 to 12 sessions.
How many sessions do you need for physical therapy?
The number of sessions required for physical therapy majorly depends on the individual's specific condition, their goals for recovery, and how they respond to the treatment. Some might require only a few sessions, while others need ongoing therapy for months.
What is the demand for physical therapy?
The demand for physical therapy is growing. Factors like an aging population, longer life expectancy, and a more active lifestyle among all age groups contribute to the increasing need for physical therapy services.
How do I get the most out of physical therapy?
To get the most out of physical therapy, you must attend all scheduled sessions, communicate openly with your therapist, and do prescribed exercises at home. Also, maintain a positive mindset towards recovery, and adopt a healthy lifestyle to support your treatment.