Your patients are more than just a name on a chart. They're individuals with unique needs, preferences, and concerns. As a healthcare provider, you've seen firsthand how a personalized approach to care can make a world of difference in a patient's experience.
But with a growing patient base and increasing demands on your time, providing personalized attention to every patient can be challenging.
That's where Patient Experience Software comes in.
These tools help you and your team create meaningful connections with your patients, offering personal and genuine care. With the right software, you can streamline communication, gather valuable feedback, and tailor your approach to each patient's unique needs.
In a recent study by Accenture, 81% of patients are unsatisfied with their healthcare experience. As a healthcare provider, you have the power to shape that experience.
Moreover, healthcare facilities offering a superior patient experience have 50% higher profit margins than their competitors.
This guide will explain the critical parts of patient experience strategies that can help you reach your revenue goals. We'll also explore the top 15 Patient Experience Management Software for 2023, giving you the insights you need to elevate your patient experience and set your practice apart.
Let's dive in and work together to ensure every patient walks out of your office with a big, happy smile.
Table of Contents
What Is Patient Experience Software?
Patient Experience Software, often referred to as Patient Experience Management Software, is a powerful tool to help healthcare providers enhance the overall experience of their patients. It helps build stronger relationships with your patients and create a more personalized and meaningful healthcare experience.
At its core, patient experience software streamlines communication, feedback, and engagement between healthcare providers and their patients. It offers a range of features and functionalities that make it easier for you to connect with your patients, understand their needs, and provide the best possible care.
Key Features and Functionalities
Patient experience software typically includes features such as
1. Patient Feedback Collection
Gather valuable feedback from your patients through surveys, questionnaires, and other feedback tools. Understand their needs, concerns, and preferences, and use this information to improve your services.
Streamline patient communication through secure messaging, appointment reminders, and other communication tools. Keep your patients informed and engaged at every step of their healthcare journey.
Encourage active participation in their care by providing educational resources, personalized care plans, online self-scheduling, and other engagement tools. Empower your patients to take an active role in their health and wellness.
4. Data Analytics
Analyze patient feedback and other data to identify trends, improvement areas, and growth opportunities. Use data-driven insights to make informed decisions and enhance the patient experience.
Why Is Patient Experience Software Important?
Patient Experience Software is essential because it is crucial in enhancing patients' overall experience, which can directly impact patient satisfaction, loyalty, and retention. Here's why it's so important:
Improve Patient Satisfaction: Patient experience software allows healthcare providers to create a more positive and meaningful healthcare experience by addressing patient needs effectively. Higher patient satisfaction can lead to increased patient loyalty and retention.
Enhance Patient Engagement: Patient experience software encourages active participation in treatment plans. It increases patient involvement in their care and fosters a sense of partnership between patients and providers. Engaged patients are more likely to adhere to treatment plans, leading to better health outcomes.
Increase Patient Loyalty and Retention: A 5% increase in patient loyalty can lead to a 25% increase in profit. Patient experience software helps build long-term relationships with patients, encourages repeat visits and referrals, and reduces patient churn and attrition. Loyal patients are more likely to continue using your services and recommend your practice to others, leading to higher profitability.
Streamline Communication: Patient experience software offers tools that streamline communication between healthcare providers and patients. Effective communication can improve patient understanding, adherence to treatment plans, and overall satisfaction.
Gather Valuable Feedback: Patient Experience Software allows healthcare providers to collect valuable patient feedback. This feedback can identify improvement areas, address patient concerns, and enhance patient experience.
The Top 15 Patient Experience Management Software in 2023
The following list will review the top 15 patient experience management software in 2023.
1. DemandHub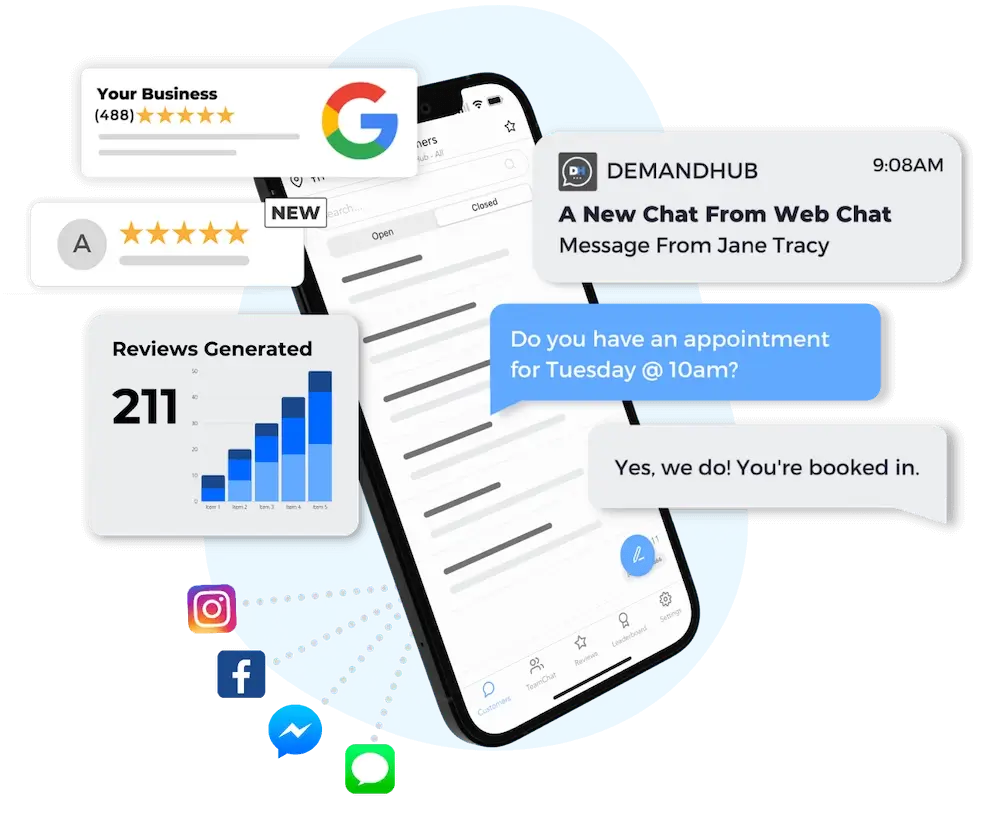 DemandHub is an all-in-one patient experience management software designed to help local practices grow.
With DemandHub, healthcare providers can attract and retain more patients and streamline communication. The platform offers a range of features to enhance patient engagement and improve online reputation.
Key Features
Its unique features include
Patient appointment reminders
Surveys and automated reminders
Web chat,
Text marketing,
Online payments,
Unified inbox,
Multiple integrations
Benefits
User-Friendly Interface: DemandHub's intuitive interface makes it easy for healthcare providers to navigate and use the software.
Powerful Analytics: The software's analytics tools offer valuable insights to drive continuous improvement and achieve long-term success.
Secure Messaging: DemandHub offers a secure messaging feature allowing patients to communicate with their healthcare providers, ask questions, and get advice without having to make an office visit.
Automation: DemandHub automates many routine tasks associated with patient experience management, allowing providers to focus on delivering quality care. It also enables practices to create targeted marketing campaigns, track their performance, and generate more leads.
Unified Inbox: DemandHub's messenger feature allows practices to manage all communication channels in one inbox. It organizes Google, Facebook, Instagram, Web Chat, email, and texts into one place, ensuring you get all the leads.
Seamless Multiple Integrations: DemandHub's HIPAA-compliant platform integrates with existing systems to streamline processes and reduce manual work. It integrates with several other platforms, including Clinko, Jane App, PtEverywhere, Dentrix, Dr. Chrono, Juvonno, Open Dental, Live DDM, Therapy Notes, and more.
Excellent Customer Support: DemandHub is recognized for its exceptional customer support. Its support team addresses the issues promptly. Their support channels are easily accessible, allowing users to reach out via various methods such as email, phone, or live chat.
Online Appointment Scheduling: The platform offers hassle-free scheduling for patients, making it easy for them to book appointments.
1-Click Payments: DemandHub also includes a feature for managing payments directly from your phone. It adds another layer of convenience for practices and patients.
Pricing
DemandHub offers a range of pricing options to suit the needs of healthcare providers of all sizes. For more pricing information, please contact DemandHub.
2. MOGO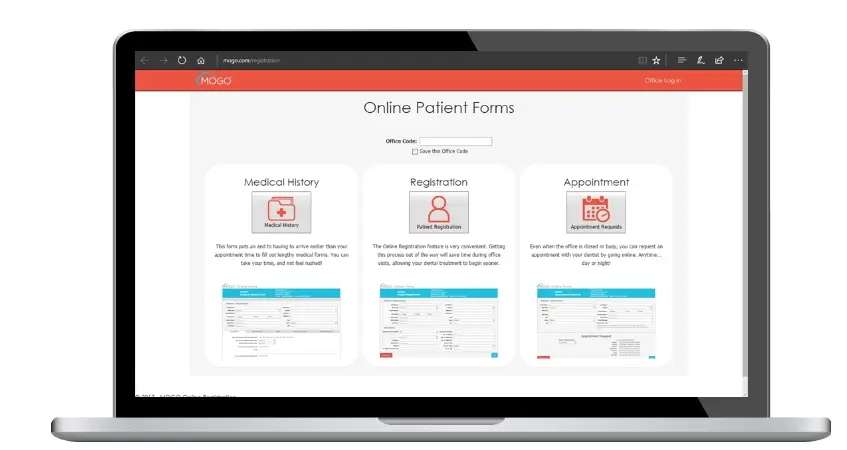 Image credits: Mogo
MOGO is a cloud-based dental software designed to help dental practices enhance their patient experience. It provides a range of features to streamline administrative tasks, improve patient interactions, and provide exceptional patient care.
Key Features and Benefits
Patient Information Management: MOGO allows dental practices to easily capture patient pictures with a webcam and record the pronunciation of their names to ensure correct pronunciation during interactions. The software also enables staff to set silent pop-ups that include key information or topics that must be addressed or avoided during patient interactions.
Appointment Scheduling: MOGO includes an appointment scheduling feature that allows dental practices to manage appointments, reduce no-shows, and optimize schedules efficiently.
eStatements and Insurance Payments: MOGO provides tools for creating and tracking eStatements and insurance payments. It makes it easier for dental practices to manage their finances and ensure timely payments.
Treatment Planning: The software offers treatment planning tools to help dental practices create comprehensive treatment plans, track progress, and ensure patients receive the necessary care.
Pricing
$250 per month
3. MyChart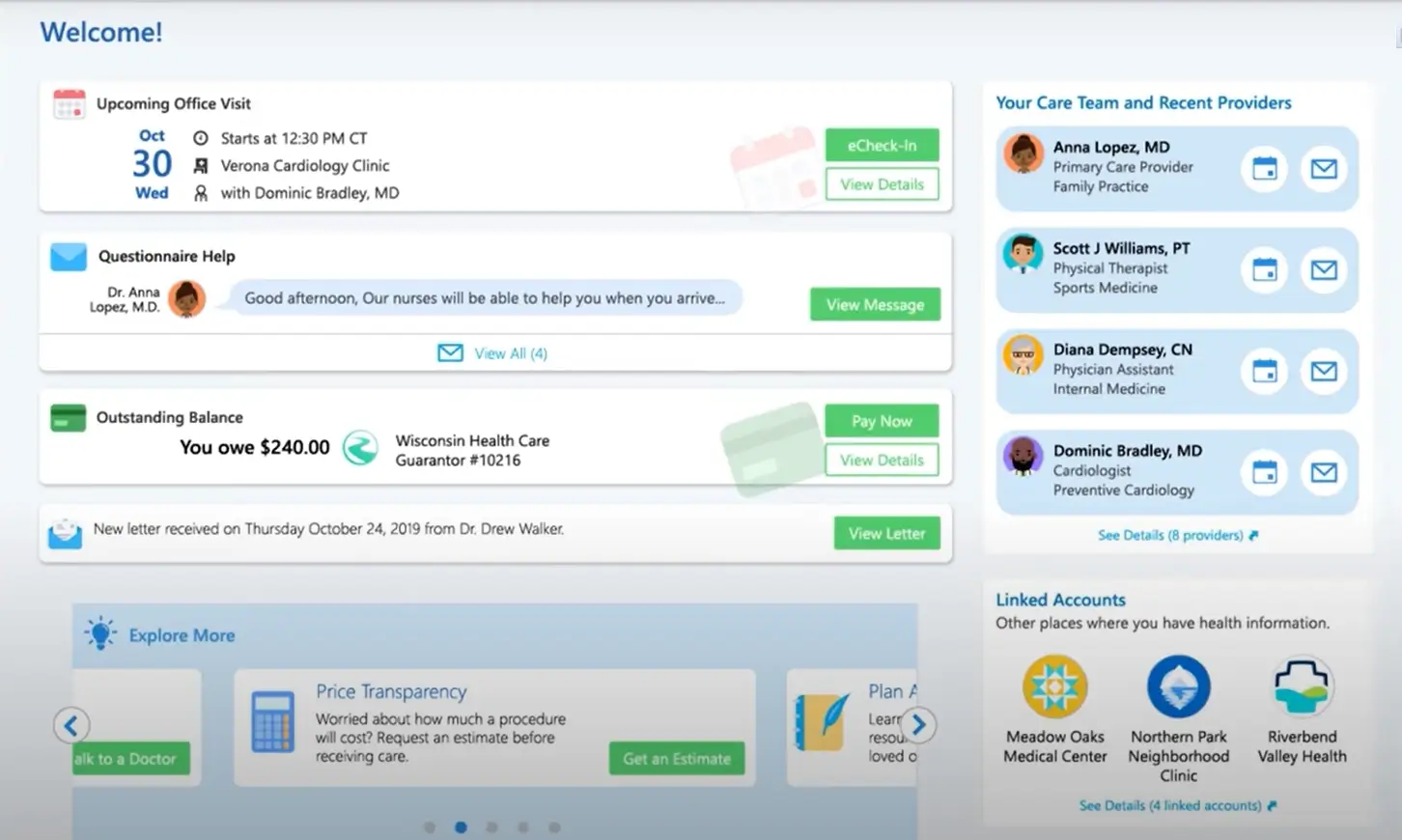 Image credits: mychart
MyChart is a patient portal software that provides personalized and secure online access to medical records. It allows patients to manage their health information and communicate with their healthcare providers securely and conveniently.
Key Features and Benefits
Access to Medical Records: MyChart allows patients to view their medical records, including test results, medications, and immunizations, all in one place.
Appointment Scheduling: Patients can use MyChart to schedule and manage their appointments, making it easier for them to access the care they need.
Prescription Refills: Patients can use MyChart to request prescription refills, eliminating the need to call or visit the pharmacy.
Bill Payment: MyChart lets patients view and pay their medical bills online.
Pricing
Contact for quote
4. Legwork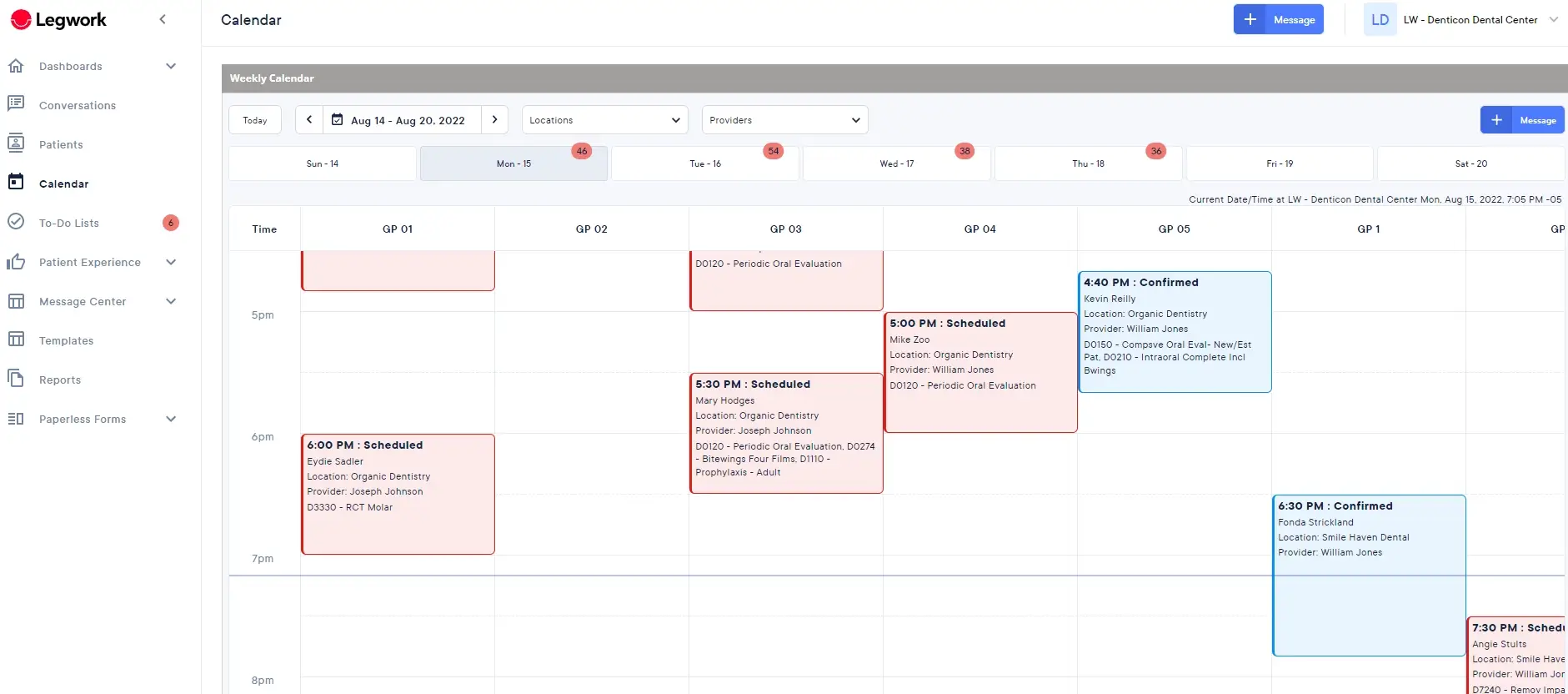 Image Credit: Legwork
Legwork is a marketing growth platform for the healthcare industry. It provides practices with digital tools that integrate with practice management software to enhance the patient experience.
Legwork aims to streamline workflow processes. It improves patient retention by enabling practices to stay in touch with their patients more efficiently and effectively.
Key Features and Benefits
Automated Communication: Legwork offers automated communication tools that allow practices to send appointment reminders, follow-up messages, and other communications to patients without manual intervention.
Patient Surveys: The platform includes features for creating and distributing patient surveys, allowing practices to collect reviews and improve their services.
Integration with Practice Management Software: Legwork integrates with popular practice management software, allowing practices to streamline workflow processes and improve efficiency.
Pricing
Contact for quote
5. Tab32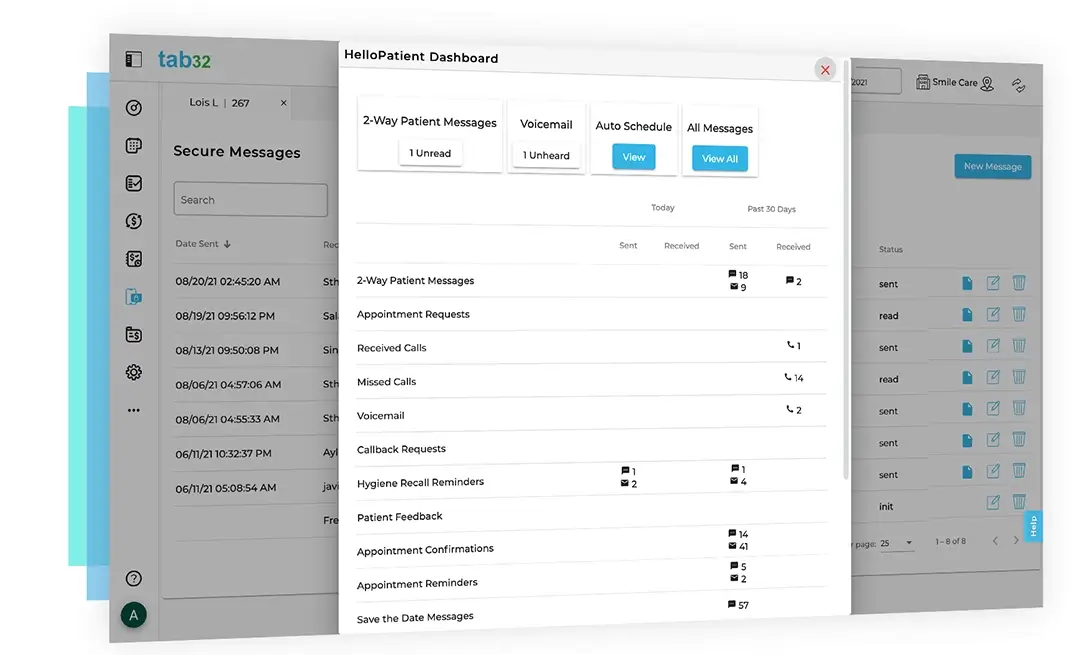 Image Credit: tab32
tab32 is a practice management software designed to help dental practitioners streamline operations and enhance the patient experience. With a patient-first approach, tab32 enables practitioners to fully digitize the patient journey, from appointment scheduling to treatment planning and billing.
Key Features and Benefits
Real-Time Reporting: Tab32 offers real-time reporting capabilities, allowing practitioners to monitor their practice's performance and make data-driven decisions.
Integration with Google's Multi-Tenant Technology Platform: Tab32 is built on Google's multi-tenant technology platform, providing a robust and scalable solution for dental practice management.
Pricing
Contact for quote
6. IntakeIQ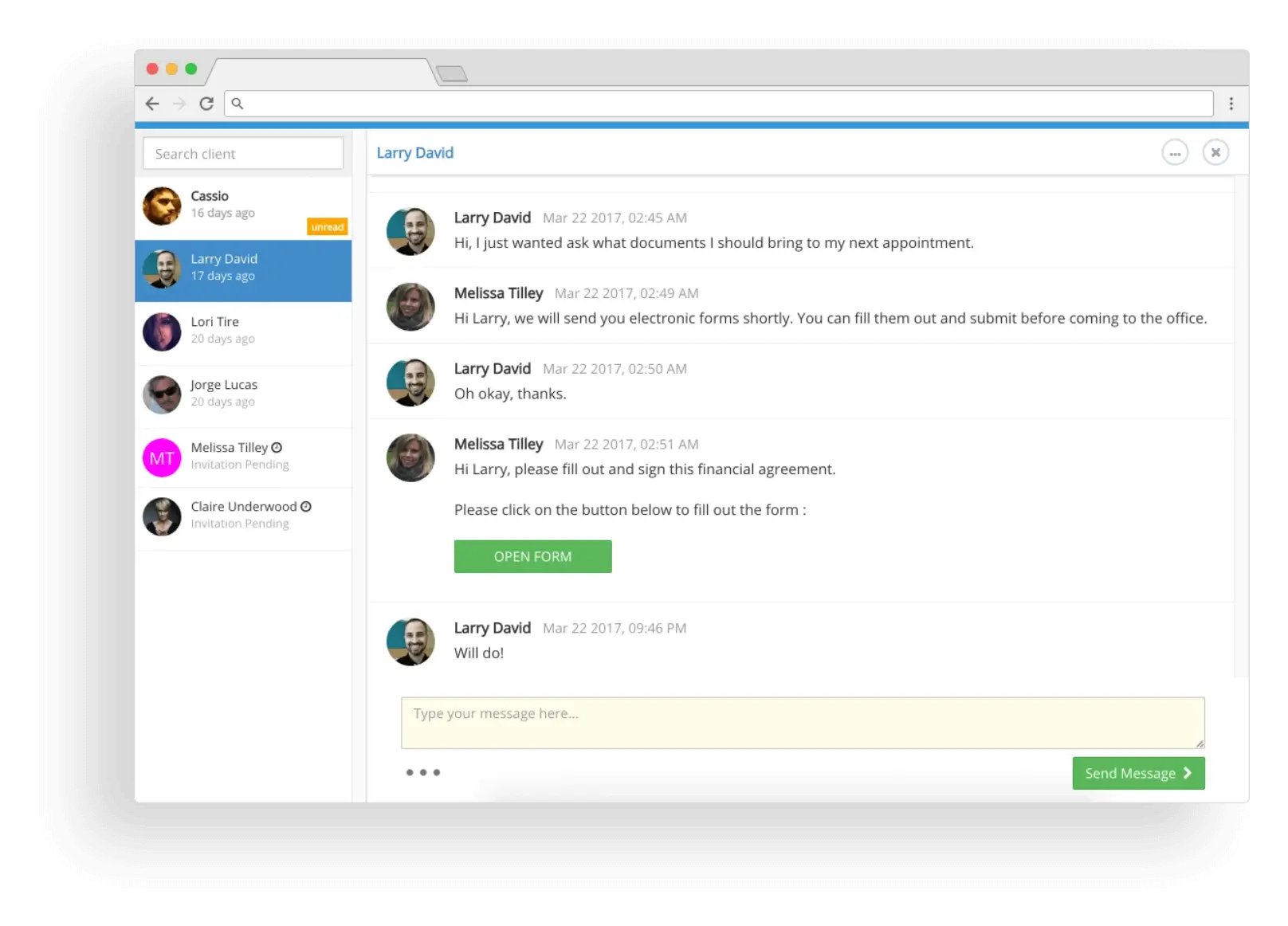 Image Credit: IntakeIQ
IntakeQ is a web-based practice management platform designed to streamline the daily operations of healthcare practices. It offers several features to optimize routine operations and connect with patients anytime and anywhere.
Key Features and Benefits
Online Intake Forms: IntakeQ allows healthcare providers to create branded custom forms, including client and provider e-signatures, form reminders, and treatment notes.
Appointment Management: The platform offers complete appointment management, including appointment reminders and a booking widget.
Secure Client Portal: IntakeQ provides a secure, online patient portal for seamless and convenient communication.
Payments/Invoices: The platform includes features for managing payments and invoices, including recurring payments, claims, and superbills.
Pricing
$74.90 / month with $25 Per Additional Practitioner
7. SimplePractice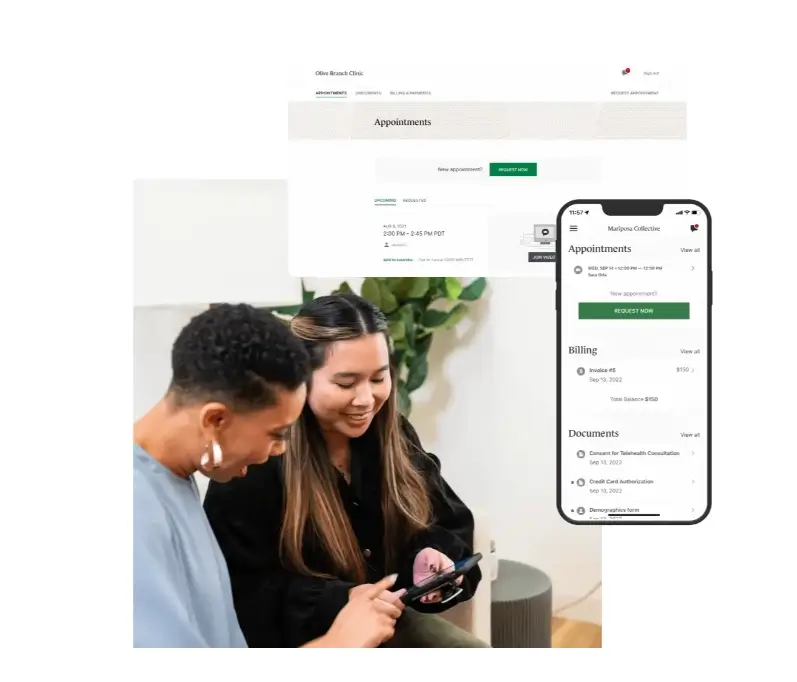 Image Credit: SimplePractice
SimplePractice helps healthcare providers manage their practice from booking to billing, all from a mobile device. The software is particularly well-suited for practices looking to go paperless with their intake forms.
Key Features and Benefits
Telehealth Integration: The software integrates with Telehealth, enabling providers to offer HIPAA-compliant video appointments, including screen-sharing capabilities.
Secure Online Portal: SimplePractice provides a secure online portal where providers can manage all their data, including patient records, billing information, and appointment schedules.
Paperless Intake Forms: The software allows practices to go paperless with their intake forms, streamlining the intake process and reducing the need for physical paperwork.
Pricing
$39 - $59/month
8. Phreesia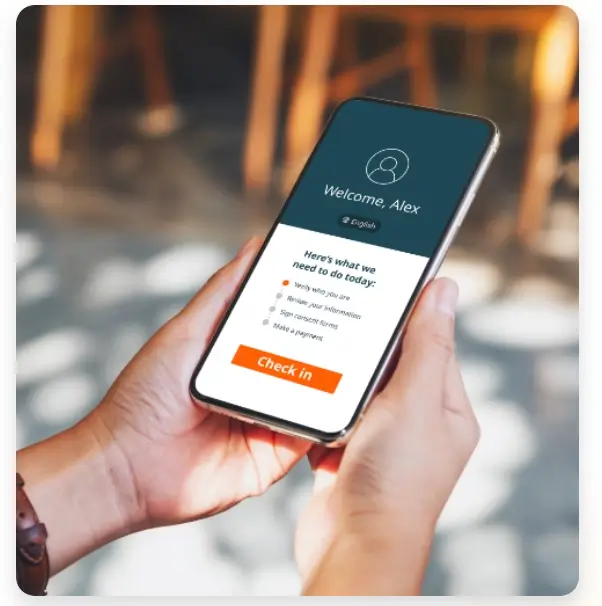 Image Credit: Phreesia
Phreesia is a patient intake platform that helps healthcare providers deliver a modern and efficient patient experience. The platform provides tools for patient onboarding, payment collection, and other services that enhance the patient experience.
Key Features and Benefits
Patient Onboarding: Phreesia offers mobile, in-office, and virtual-visit registration to streamline the onboarding process, making it easier for patients to get started with a healthcare provider.
Self-Service Kiosks: Phreesia offers self-service kiosks allowing patients to check in and complete intake forms independently, reducing wait times and improving the patient experience.
PhreesiaPads: The platform provides PhreesiaPads, tablet devices that give patients a private and secure check-in and intake experience.
Pricing
Contact for quote
9. Luma Health

Image Credit: Luma Health
Luma Health is a patient engagement platform that enhances patient access and communication throughout their healthcare journey. The platform helps providers improve patient communication, streamline workflows, and collect valuable feedback.
Key Features and Benefits
Automated Post-Visit Outreach: Luma Health offers automated post-visit outreach tools that allow healthcare providers to collect patient feedback post appointments. This helps providers understand patient satisfaction and identify areas for improvement.
EHR Integration: Luma Health integrates with all major EHR platforms, allowing healthcare providers to access and manage patient information easily.
Patient Access: It helps care providers improve patient access by offering tools for appointment scheduling, reminders, and waitlist management.
Pricing
Contact for quote
10. DoctorConnect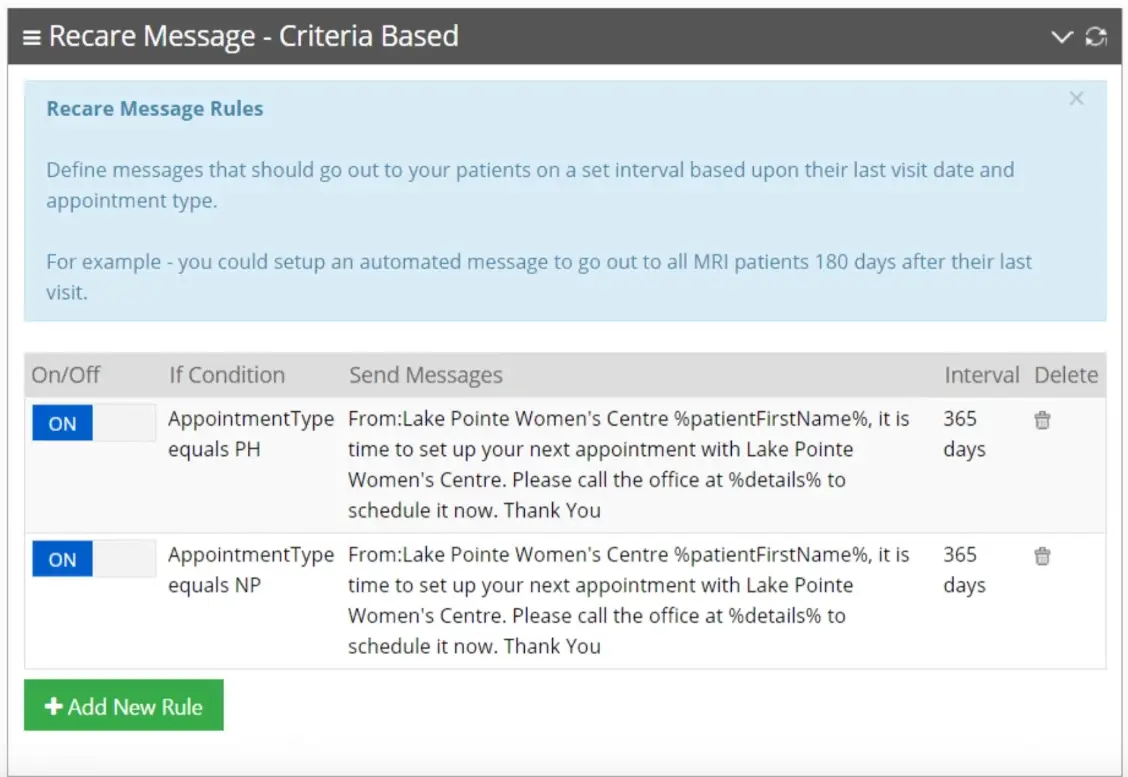 Image Credits: DoctorConnect
DoctorConnect is a patient engagement software. It improves communication between healthcare providers and their patients. It offers features such as appointment reminders, patient surveys, waitlist management, and more, aiming to reduce no-shows, improve patient satisfaction, and streamline office operations.
Key Features and Benefits
Comprehensive Dashboard: The dashboard provides a comprehensive view of scheduling, appointment confirmations, and patient feedback/surveys, serving as a valuable adjunct to EMR software.
After-Care Surveys: DoctorConnect automatically contacts patients after their appointment and send customizable aftercare surveys to help you measure patient satisfaction, staff operating levels, and areas of strengths and weakness. Then, it presents the results as online tables, spreadsheets, and graphs.
Telehealth Appointments: DoctorConnect's telemedicine software allows healthcare providers to connect with their patients from anywhere, at any time. The software is HIPAA compliant and offers easy-to-use video and audio sharing capabilities.
Pricing
Contact for a quote.
11. athenaOne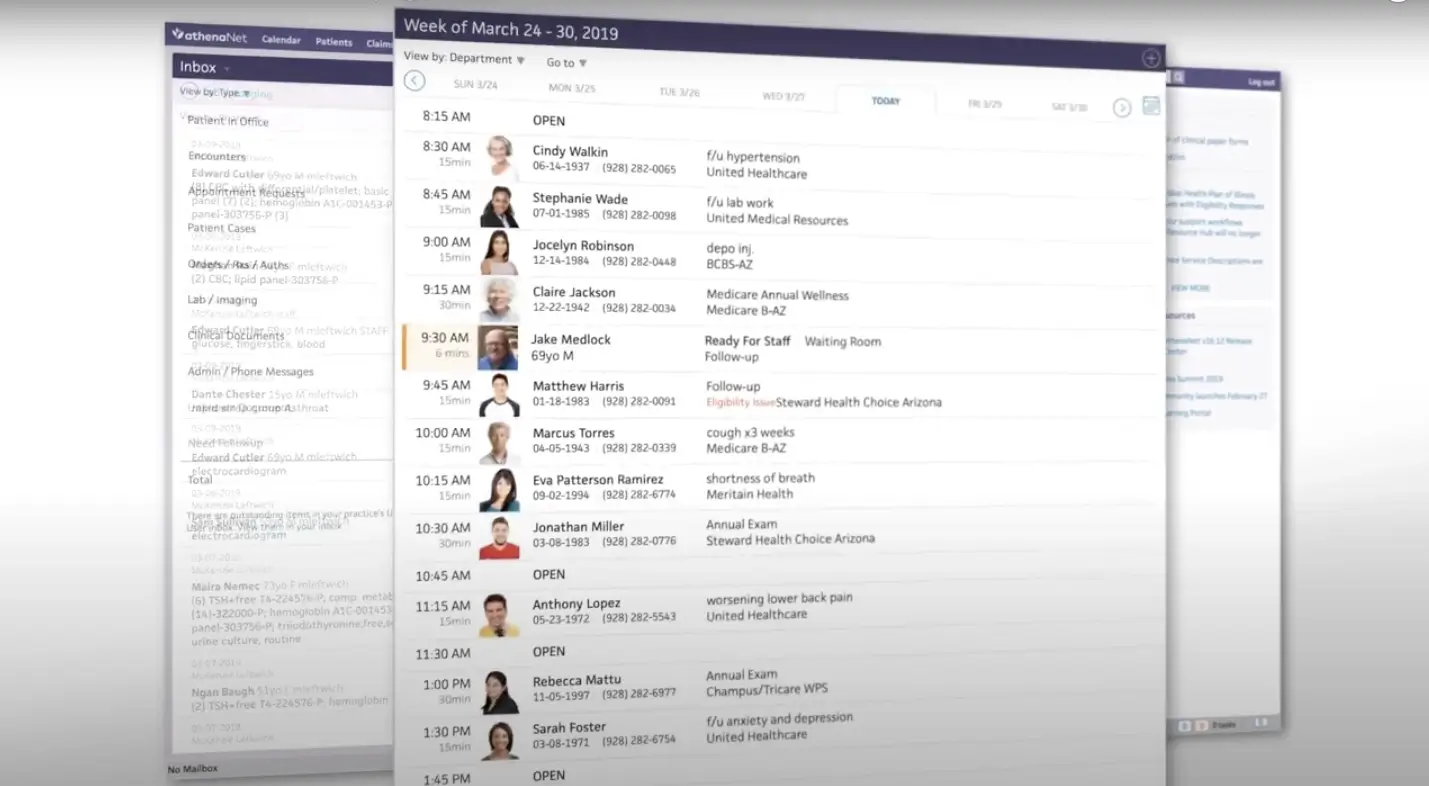 Image Credits: athenaOne
athenaOne is an Electronic Health Records (EHR) software that aids doctors in providing quality care. It streamlines clinical productivity, handles administrative tasks, ensures full payment, and tracks all physician orders for comprehensive patient care.
Key Features and Benefits
Comprehensive Medical Record: The medical record feature is comprehensive and easy to use, efficiently managing patient data.
Streamlined Payment Capabilities: The software offers streamlined payment capabilities, simplifying the billing and invoicing process.
Clinical Network Integration: athenaOne integrates with a clinical network, providing access to additional resources and enhancing collaborative care.
Complex Claim Support: athenaOne simplifies the process of handling complex claims. It diligently addresses claim denials to completion, saving your organization time, effort, and expense.
Pricing
Contact for quote
12. eClinicWorks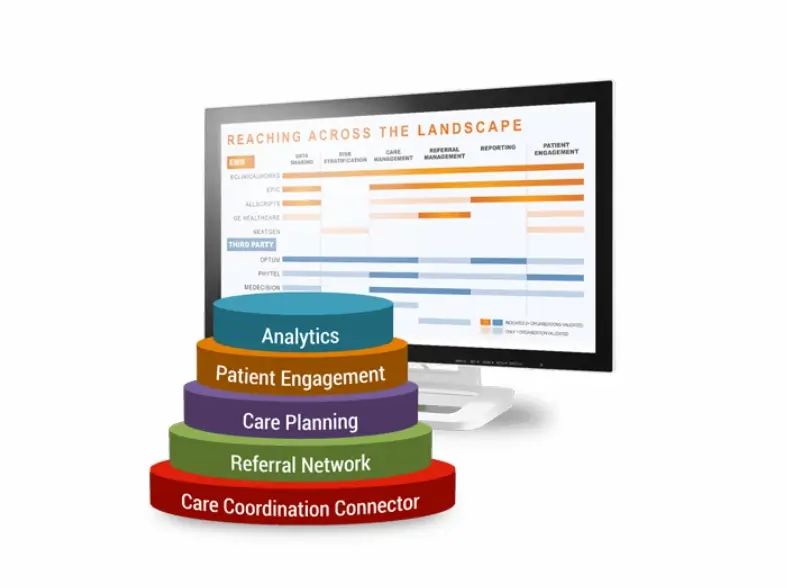 Image Credits: eClinicWorks
eClinicalWorks is a robust electronic health record (EHR) and patient experience software. It offers several features and capabilities to streamline workflows, enhance patient care and engagement, and improve practice efficiency.
Key Features and Benefits
Comprehensive Solution: eClinicalWorks provides an all-in-one solution that combines EHR and practice management functionalities. This integrated approach allows for seamless data sharing and improved workflow efficiency.
Interoperability: The software supports interoperability with other systems, allowing for the exchange of patient data with laboratories, pharmacies, and other healthcare providers. This promotes better coordination of care and improves communication between different stakeholders.
Patient Portal: eClinicalWorks offers a patient portal to enhance engagement and convenience. It allows patients to view medical records, schedule appointments, and communicate with providers, promoting active involvement and seamless communication.
eClinicalMessenger: This feature allows healthcare staff to send patient appointment reminders automatically. It also enables customized campaigns for targeted health reminders, such as wellness checks or lab result reviews.
Pricing
$449 - $599/month
13. Identalsoft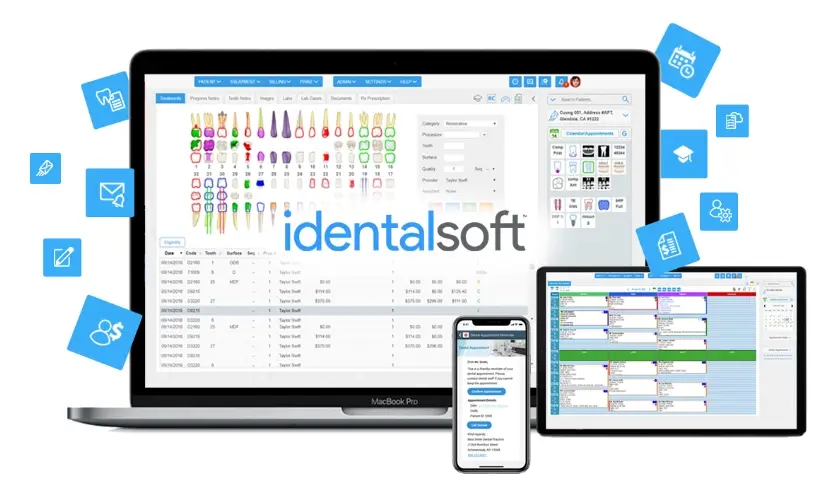 Image Credits: Identalsoft
Identalsoft is a cloud-based dental practice management software. It offers tools to help dental practices run efficiently and paperlessly. Identalsoft is a powerful solution for dental practices looking to attract and retain patients while streamlining their operations.
Key Features and Benefits
Patient Self-Check-In: Identalsoft allows patients to self-checkin from outside the office using a QR code with the patient's mobile device and receive text messages from staff when the office is ready. This reduces wait times and improves the overall patient experience.
Convenient Payment Plans: Offer patients the option of monthly subscription plans for treatments, allowing them to receive care now and pay over time. You can choose to collect interest or not based on your preferences.
Patient Attraction and Retention: The software includes electronic communications to help dental practices attract and retain patients, improving patient loyalty and practice growth. Send automated text and email reminders for appointments and recare. For international offices, WhatsApp is available as an alternative to SMS.
Pricing
Contact for a quote
14. OperaDDS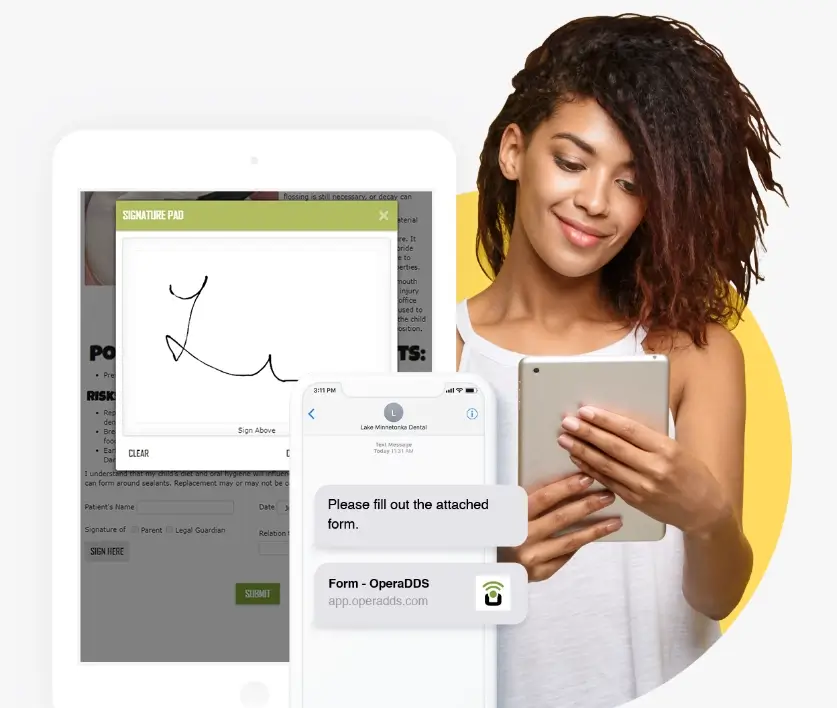 Image Credits: OperaDDS
OperaDDS is a paperless solution for dental practices. It streamlines front-office workflows by reducing data entry tasks. With seamless integration into most major practice management systems, OperaDDS ensures a smooth installation process and offers dedicated support for the quick onboarding of your dental team.
Key Features and Benefits
Reminders & Confirmations: OperaDDS offers an automated reminder system with 2-way texting, voice reminders, emails, and more to keep your schedule full. If a patient replies that they can't make it, you can suggest another time and reschedule immediately.
Reviews: OperaDDS offers an automated, intelligent system for managing your online reputation. It pushes positive reviews to social media platforms while flagging issues and bringing them to your attention so your team can resolve them privately.
Team Chat: OperaDDS Chat allows you to easily message securely and instantly from any device with patient updates and handoff checklists. This gives you all the necessary information, creating better case acceptance and patient experiences.
Secure Email: OperaDDS Secure Email is a HIPAA-compliant email solution that handles CT scans, secure patient information, etc. It also offers easy email retraction if you send the wrong email to the wrong person.
Pricing
$99 - $249/mo
15. Intiveo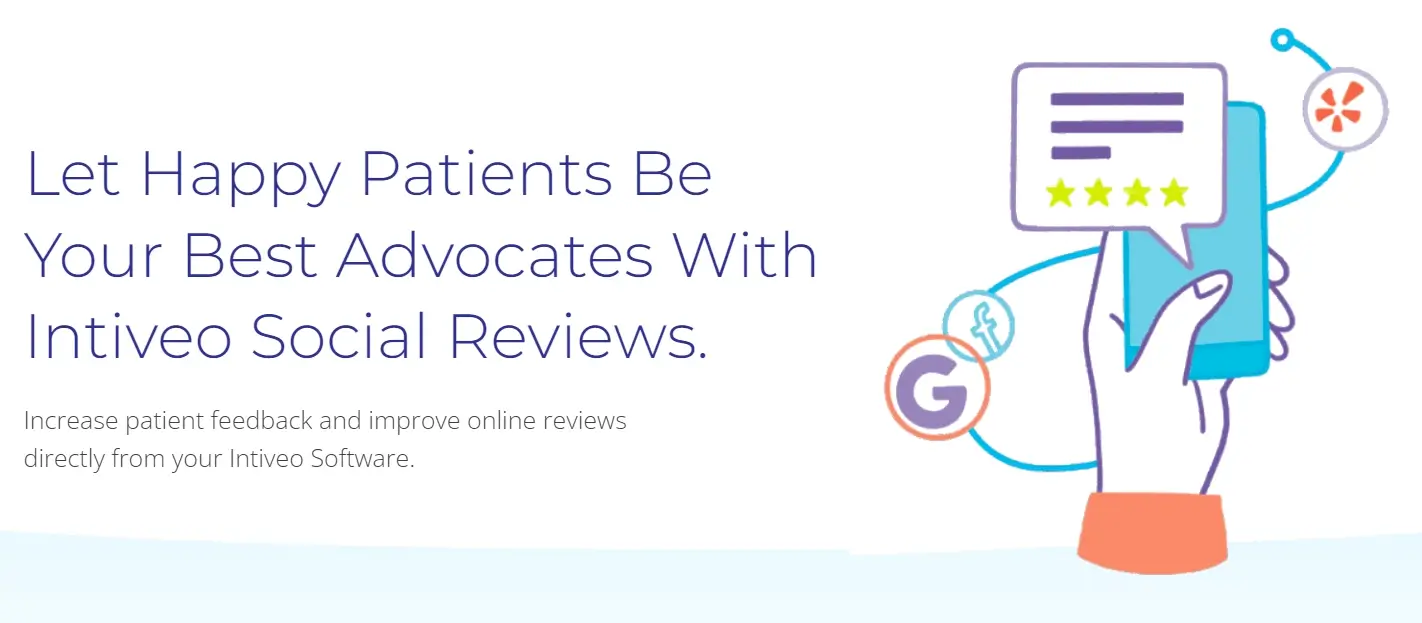 Image credits: Intiveo
Intiveo is a patient communication platform. It automates and customizes patient communication, helping healthcare practices improve patient engagement, reduce no-shows, and enhance patient experience.
Key Features and Benefits
Automated Reminders: Intiveo allows practices to automate appointment reminders, reducing the risk of no-shows and last-minute cancellations.
Feedback Collection: Intiveo provides tools for collecting patient feedback, helping practices understand patient needs, and improving the quality of care.
Specialized Solutions: Intiveo offers specialized solutions for various branches of dentistry, including orthodontics, periodontics, and pediatric dentistry, ensuring that the communication tools are tailored to the specific needs of each practice.
Reporting and Analytics: Intiveo provides reporting and analytics tools to help practices track the effectiveness of their communication efforts and make data-driven decisions.
Pricing
Contact for quote
How to Choose the Right Patient Experience Software for Your Facility?
The right patient experience software for your facility can significantly impact the overall patient experience. Here are some key considerations to help you make an informed choice:
Determine Your Goals and Objectives
Start by identifying your specific needs and goals for patient experience management. Are you looking to improve patient satisfaction, enhance engagement, or increase patient loyalty and retention?
Understanding your specific needs and goals will help you select software that aligns with your objectives.
Then, ensure your selected software aligns with your facility's overall organizational objectives. Consider how the software will support your facility's mission, vision, and strategic goals.
Evaluate the Software's Features and Benefits
Evaluate the features and benefits of different software solutions. Consider how each software solution can help you achieve your goals for patient experience management.
Compare software options based on functionality and value. Consider how each software solution stacks up against your specific needs and goals, and weigh the pros and cons of each option.
Consider Your Budget and Resources
Consider the cost and resource requirements of different software options. Evaluate each software solution's cost, and consider the resources required for implementation, training, and ongoing maintenance.
Research the Vendor's Reputation and Support
Research the reputation and credibility of software vendors. Consider factors such as the vendor's track record, customer reviews, and industry recognition.
Moreover, evaluate the quality of customer support and after-sales service offered by software vendors. Consider factors such as the availability of support, response times, and the quality of assistance provided.
How to Implement Patient Experience Software for Optimal Results?
Effective implementation of patient experience software is crucial for achieving optimal results. Here are some key steps to help you successfully implement the software and maximize its impact:
1. Develop an Implementation Plan
Create a detailed plan for software implementation. Outline the steps and tasks required for successful implementation, and identify the resources needed for each step. Set realistic deadlines for each milestone, and track your progress against these timelines to ensure the implementation stays on track.
2. Train Your Staff
Train your staff on how to use the software effectively. Ensure staff members understand the software's features and functionalities and how to use them to enhance the patient experience. Provide ongoing support and guidance to help staff use the software effectively.
3. Monitor and Evaluate the Software's Performance
Continuously monitor the software's performance and impact on the patient experience. Use metrics and analytics to track its effectiveness and identify areas for improvement.
Gather feedback from staff and patients on the software's impact. Use this feedback to identify areas for improvement and make adjustments as needed. Continuously refine and optimize the software to maximize its effect on the patient experience.
The Future of Patient Experience Management
Emerging trends and developments in the healthcare industry are transforming how care providers interact with their patients. Technology will play a pivotal role in shaping the future of patient care, with innovations such as artificial intelligence, machine learning, and big data analytics set to transform the healthcare landscape.
One of the key trends in patient experience management is the increasing use of data analytics to gain insights into patient preferences, needs, and behaviors. Healthcare providers are leveraging data to personalize patient interactions, tailor treatment plans, and improve patient outcomes.
Predictive analytics is also rising, enabling healthcare providers to anticipate and proactively address patient needs.
Another trend is the growing emphasis on patient engagement and empowerment. Healthcare providers are increasingly recognizing the importance of involving patients in their care and giving them the tools and information they need to take an active role in their health and wellness.
Patient portals, mobile apps, and wearable devices are just a few technologies enabling patients to take control of their health.
As for the evolution of patient experience software, we expect to see more advanced features and functionalities, such as AI-powered chatbots, virtual assistants, and telemedicine capabilities.
These technologies will enable healthcare providers to deliver more personalized, convenient, and efficient care, further enhancing the patient experience.
Conclusion
Prioritizing patient experience in healthcare practices is not just a trend; it's a necessity. By putting patients at the center of care, healthcare providers can better focus on their needs and preferences.
This approach helps build stronger relationships with patients, improving patient outcomes and long-term success for healthcare providers.
Provide the Best Patient Management with DemandHub
The human touch in the patient experience is priceless. But implementing systems that enable you to concentrate on providing exceptional care can significantly enhance the efficiency of your practice.
Practices that have adopted DemandHub have reported revenue growth due to the improved patient experience they can offer.
DemandHub is a patient experience management software that improves healthcare providers' interactions with patients. It streamlines communication, boosts patient engagement, and simplifies review collection and analysis. DemandHub allows providers to focus on delivering quality care by automating these tasks.
Book a demo with DemandHub today and discover how to impress your patients and ensure their continued loyalty!
What are the benefits of using patient experience software?
Patient experience software improves patient satisfaction, engagement, and loyalty by streamlining communication, automating tasks, and providing personalized care.
How can patient experience software improve patient satisfaction?
Patient experience software enhances the overall patient satisfaction by addressing their needs and concerns effectively, personalizing interactions, and improving communication.
What features should I look for in patient experience software?
Look for features like automated appointment reminders, patient feedback collection, secure messaging, telehealth capabilities, and integration with your existing systems.
How much does patient experience software cost?
Costs vary depending on the software's features, the size of your practice, and the vendor. Prices can range from free to several hundred dollars per month.
How do I choose the right patient experience software for my facility?
You can choose the right patient experience software by determining your goals and objectives. Moreover, evaluate the software's features and benefits, consider your budget and resources, and research the vendor's reputation and support.
What is the implementation process for patient experience software?
The process involves developing an implementation plan, training staff on software usage, continuously monitoring software performance, gathering feedback, and making adjustments as needed.