As a dentist, you need a minimum of 20 new monthly patients to achieve practice growth and success. The question remains, how and where can dental practices find new patients?
Attracting new patients to your dental practice is easier than you think—simply by using the right dental marketing strategies. But patients' behavior has changed significantly in recent years.
The days of buying a Yellow Page ad and calling it a day are gone. Patients today don't choose a dentist by flipping through the phone book. They do online research instead. According to Pew Research, 77% of patients look for dentists and dental treatments online.
With more and more people using smartphones nowadays, it's not surprising that 84% of "near me" searches are done on mobile phones.
Your online reputation is the most important factor when growing your practice. But how exactly do you get patients to choose you over all the other practices that pop up with one quick Google search? We'll dive into that in a bit.
But first, what is dental marketing?
What is Dental Marketing?
Dental marketing is creating and executing a plan to reach and engage potential patients, build relationships, and grow your practice.
While some dentists may think that all they need to do is put up a website and wait for new patients to come rolling in, that's not the case.
A successful dental marketing strategy will consider your target market, unique selling points (USP), and the most effective channels to reach your patients.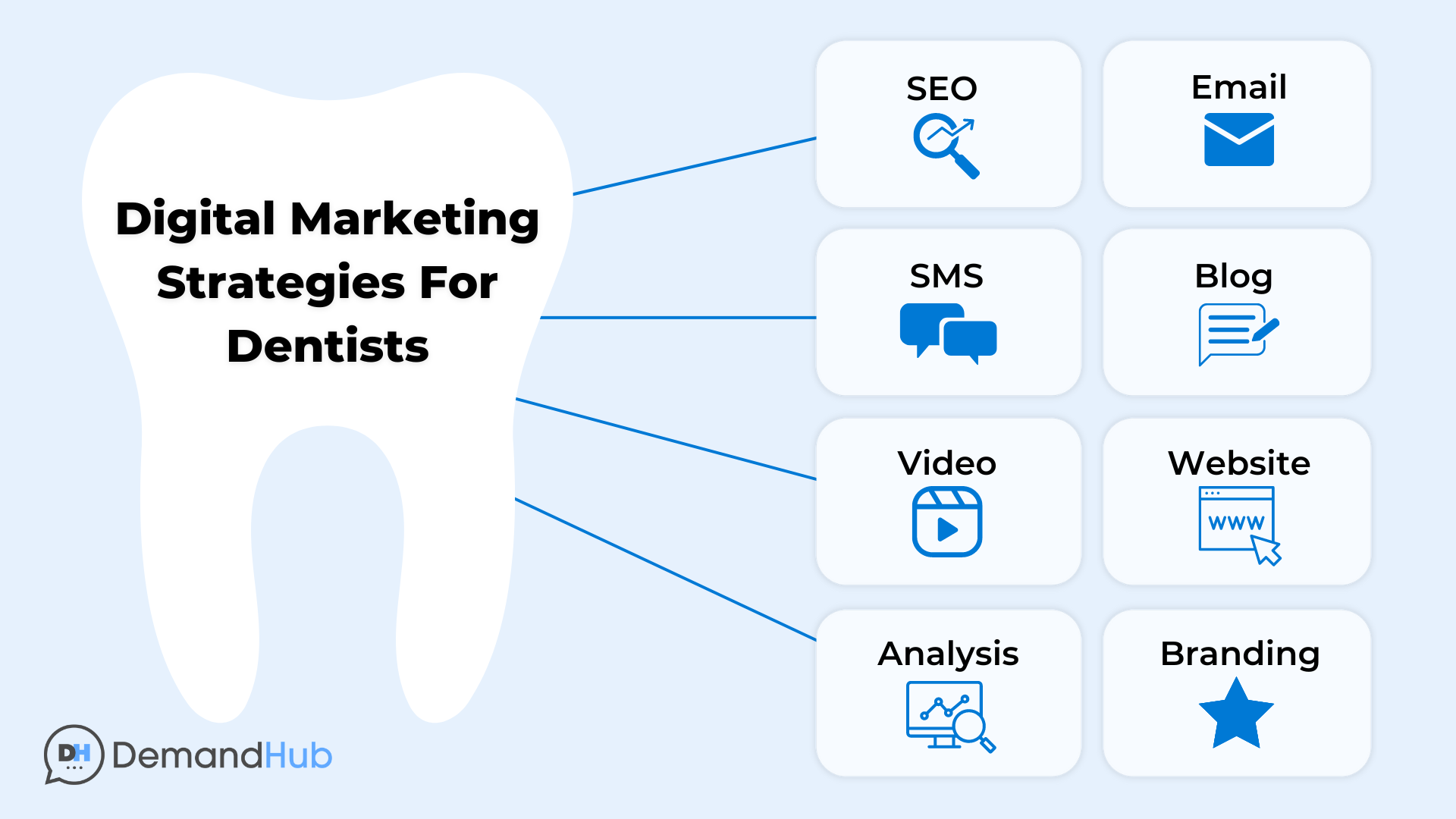 Here are the top 11 dental marketing strategies to boost your practice and attract new patients in 2023.
1. Competitor Research
Before you start working on your dental marketing strategy, take some time to understand what your competitors are doing. Identify their target markets, services, how they attract and interact with patients, and what marketing channels they use.
Check out their website and sign up for their newsletter. Follow your competitors on social media and take note of their marketing strategies. This research will give you ideas on what's working well for your competitors and where opportunities might be to differentiate your practice.
2. Build a Brand
Your brand is not just your logo or the name of your dental practice. It's the promise you make to your patients, and it should reflect the values and culture of your practice.
Your brand will guide everything from your marketing strategy to your website and office design. It should convey a sense of your dental practice.
What feelings do you want your patients to relate to your practice? For example, do you want to be seen as the friendly neighborhood dentist or the high-end, luxury dental experience?
Creating a strong brand will make it easier for patients to remember you and choose you over other dental practices.
Here are a few things to consider when building your brand:
Your target market: Who is your target audience? What are their needs and wants? Understand your patients' needs before you can start creating a brand that resonates with them.
Your unique selling point (USP): What differentiates you from other dental practices? Why should patients choose you over other dentists? Your USP gives you a competitive edge. For example, you could be the only dental practice offering emergency appointments in your area or providing a new procedure that none of your competitors offer.
Your brand voice: How do you want to communicate with your patients? Be consistent with the language you use across all your marketing channels.
Your brand visuals: Your practice's logo and website play a significant role in representing your brand. To ensure they're professional and accurate, all branding elements, such as colors, fonts, office design, and staff uniforms, should be consistent with your brand.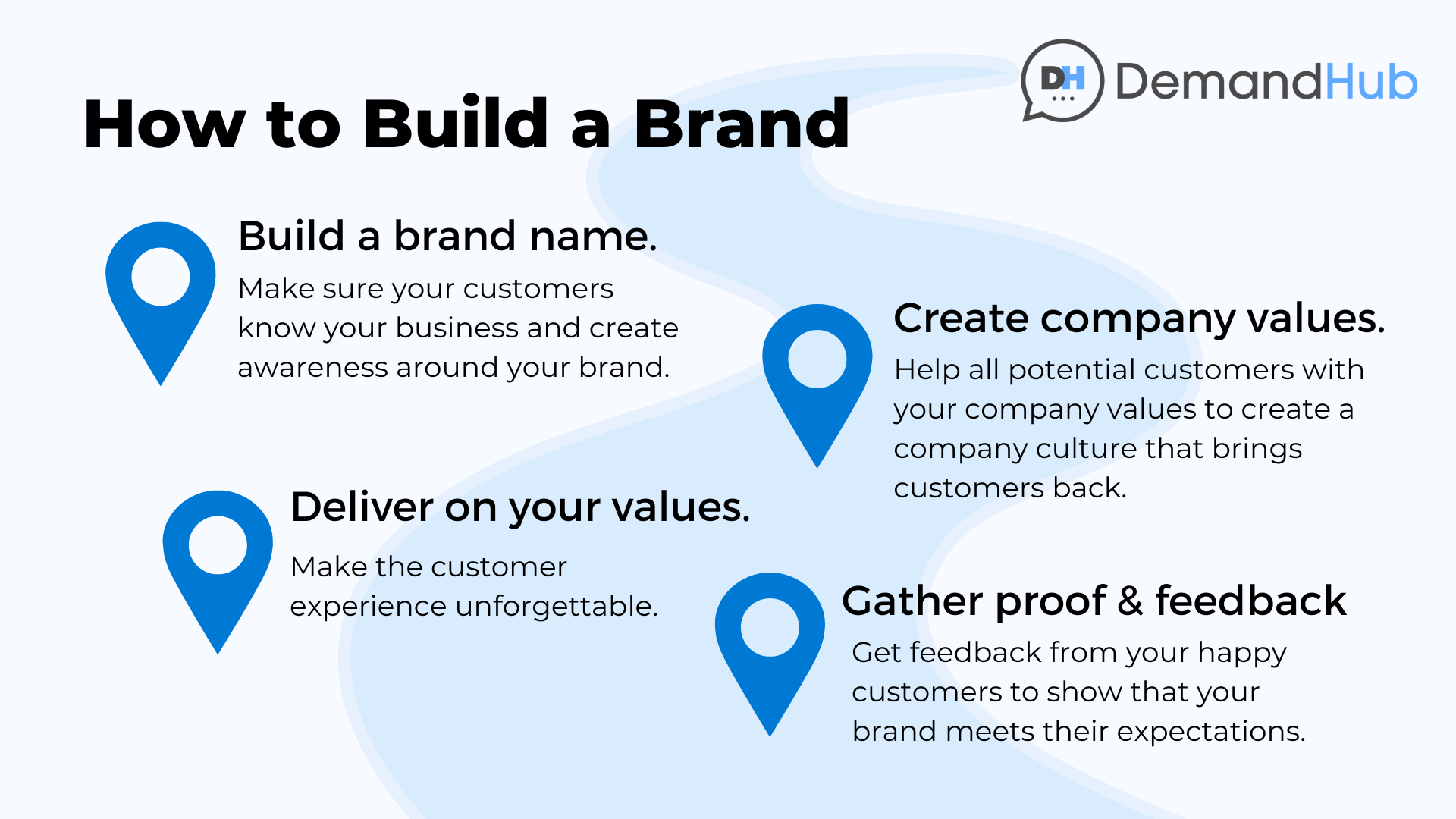 3. Identify the right target market.
The best way to determine your target market is to conduct a market study. It involves surveying your current patients and asking them about their demographics, what they like about your practice, and what brings them in for dental care.
You can also survey people who are not your patients to get a sense of what you're missing.
Once you have identified your target market, develop a marketing strategy that resonates with them. This may involve using different channels such as online advertising, social media, or print media. Tailor your message to appeal to the specific needs of your target market.
4. Create a Dental Marketing Plan
Now that you know your target audience, what message you want to send, and what channels you want to use, it's time to put it together in a dental marketing plan.
Your marketing plan should be a document you can refer to and regularly update as your practice grows.
Here's what should be included in your dental marketing plan:
Your marketing goals: What are your goals for your dental marketing strategies? Make your goals specific and measurable. For example, do you want to increase patient appointments by 10% or attract 100 new patients within the next year?
Your marketing budget: How much will you spend on marketing each month or year? Remember that you don't have to break the bank to be successful. You can do many low-cost or free marketing activities, such as creating a social media profile or starting dental blogging.
Your dental marketing strategies: What marketing activities will you do to achieve your goals? This is where you'll list all the tasks you need to do, such as creating a marketing brochure or setting up an Instagram account.
Timeline: When will you carry out each marketing activity? Create a schedule or calendar to help you stay on track.
Key Metrics: How will you measure the success of your dental marketing efforts? This could be the number of new patients, patient retention rate, or social media followers you gain over time.
Roles and responsibilities: Who will carry out each marketing activity? It is especially important if you have a team working with you.
5. Claim and Optimize Your Google My Business Page
Google My Business (GMB) allows you to manage your online presence and appear in local search results.
Claim your GMB listing so your patients can easily find you. Local businesses receive 94% of calls from their GMB listing, and 88% of potential customers look for online Google reviews before choosing local services. Other benefits of having a GMB profile are:
Allows your practice to show up in all kinds of Google search experiences, such as Google Maps and local listings, as well as to potential customers worldwide.
GMB has a dedicated area for patient reviews that anyone can see, allowing you to show your strengths to potential patients.
It is free and easy to use. Provides real-time data and valuable insights that dentists can use to tweak their marketing strategy. For example, audience insights, the number of views and clicks.
Here's how to set up Google My Business for your dental practice:
Start by creating your Google My Business account using your Gmail ID. Create a separate GMB profile for each location if you have multiple locations.
Once you have created your account, add your business name, address, and phone number. Next, verify your ownership of the business by postcard or phone call. The verification process could take days or weeks.
After verifying your practice, add photos, hours of operation, services offered, and other relevant information. The more detail you provide, the better.
Once your GMB profile is complete, optimize your page by filling out each section. This step is important because all the data from your GMB profile automatically syncs into Google's Local Map Pack.
Google's Local Map Pack is a listing that groups businesses by location, so the dental practices nearest to the patient will rank higher.
The GMB profile is divided into many sections, as shown in the real-time GMB dashboard below. First and foremost, ensure that your basic business information is complete and correct, such as:
Name, address, operating hours
Business category, contact information, description of services, site link
Appointment link
Service area(s)
Pictures of your dental office and staff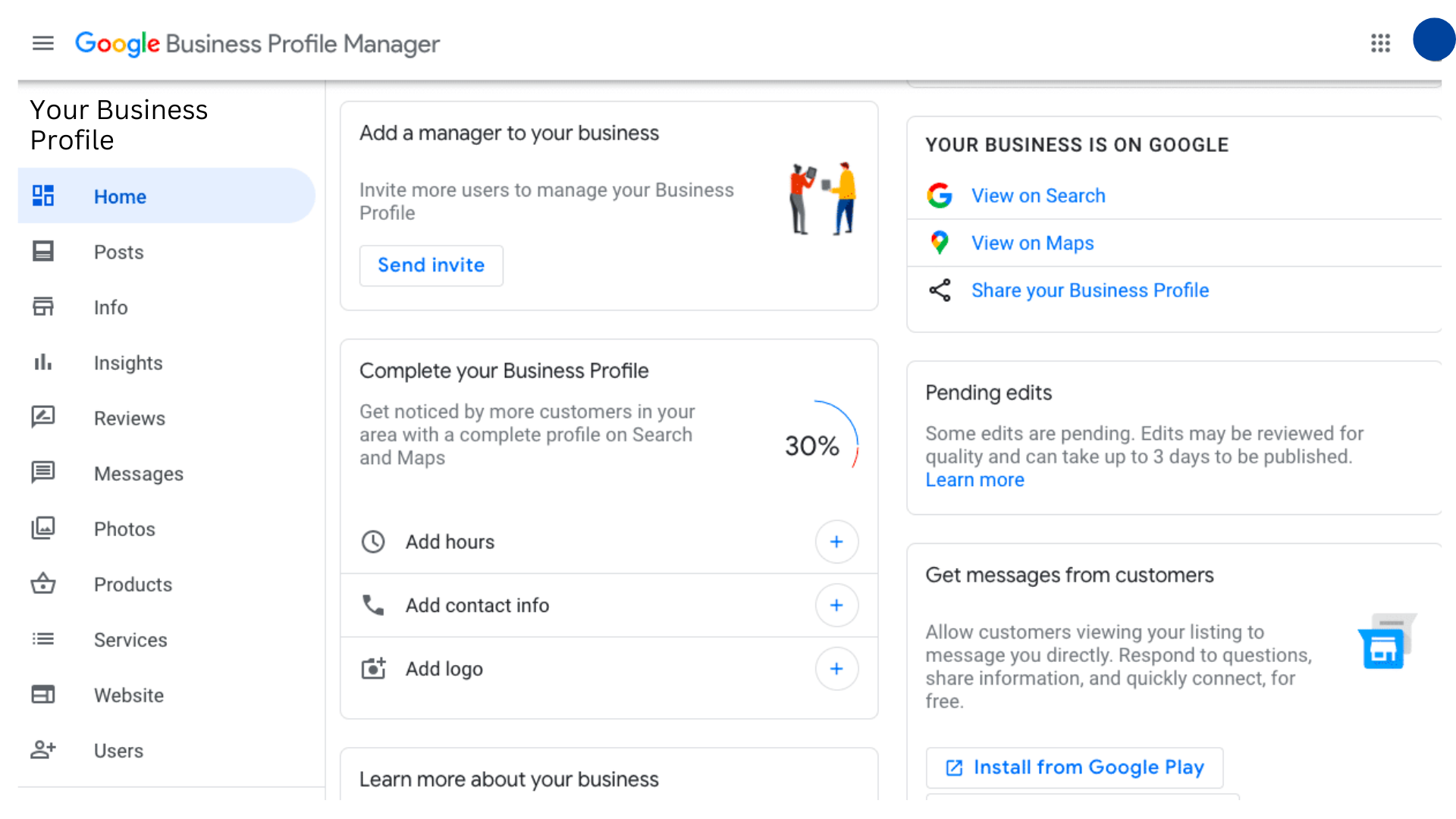 On the left-hand side of your GMB dashboard, you'll find where to input all this information. Once all the information is updated, you can start monitoring and responding to patient reviews.
Get more reviews for your practice by encouraging patients to leave feedback. Also, post regular content such as special offers and discounts.
6. Have a strong optimized website
The most stunning brick-and-mortar dental practice means nothing without a strong website. Your website is the first point of interaction for patients.
Patients judge your practice by the look and performance of your website, as 90% of users evaluate a business based on its website design.
Be sure to design your website with the patient in mind. If your website design is unappealing and difficult to navigate, 38% of people will leave it and never return.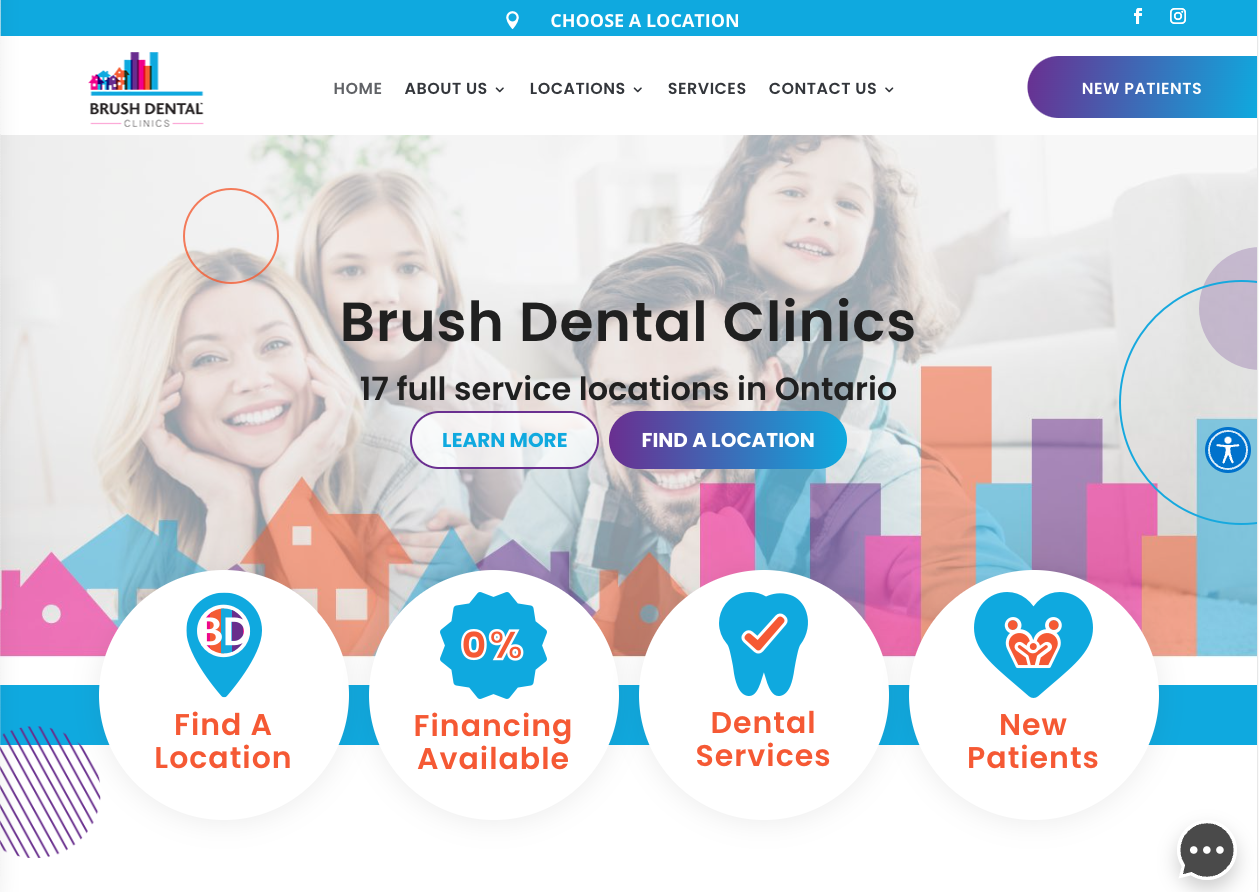 Use easy-to-navigate menus and a clean layout to attract new patients and improve patient retention. Your website should have the following:
An engaging home page that accurately reflects your brand
Responsive design to ensure optimal viewing on all devices
Clear and concise calls-to-action (CTAs)
Authoritative and compelling dental SEO content
High-quality photos and videos of your dentists, staff members, and office environment
Simple and easy online booking system
Social proof, like patient testimonials and reviews
Online chat and other messaging capabilities so patients can easily communicate with their dentist.
7. Invest in a long-term Dental SEO strategy for your website
Apart from the design, optimize your website for search engines. Search Engine Optimization (SEO) means optimizing your website and content to rank higher in organic search results.
Dental SEO is a long-term marketing strategy that helps you get found online by patients actively searching for local dentists. Once you have optimized your website, it will continue to generate leads and new patients even while you sleep!
We have already optimized the GMB listing and website in steps 5 and 6, which are important for developing a successful SEO strategy.
However, there are many other checkboxes you will want to check to get the most out of your dental SEO strategy.
Here are some dental SEO tactics to increase your website traffic:
Simplify your website's page structure, such as parent pages, subpages, and blog posts, to make it more user-friendly. Avoid unorganized or irrelevant content that makes a website look cluttered.
Use Google PageSpeed Insights to check how well your website performs and fix any problems that could slow it down.
Find what keywords patients use to search for dental practices in your area. Use tools like Google Keyword Planner, SEMrush and Ahrefs to find relevant keywords and build content around them.
Generate fresh and unique content regularly, such as blog posts, infographics, case studies, and e-books. This will keep patients engaged and help your website rank higher in search results.
Create long-form content and pillar pages for each of your major services. It may contain videos, FAQs, and any other necessary details.
Optimize your meta tags, titles, and descriptions. These elements are crucial in on-page SEO. They should be well-written and keyword-rich.
Build quality backlinks from high-authority websites and include internal links to the related content on your dental website. Be careful not to link to low-quality or spammy websites, as this could harm your website's reputation.
Monitor your progress with Google Analytics to track your website's traffic, conversion rate, and other key metrics.
SEO is an ongoing process, so it's important to regularly monitor your website and make necessary changes to ensure it is always performing at its best. You can use this Dental Practice SEO checklist here by SEMrush here to ensure your website is SEO friendly.
8. Build a content calendar and publish consistent content for your dental blog
The most important dental marketing strategy is regularly publishing fresh, unique, relevant content on your website. Remember, consistency is the key. It will help you attract new patients and keep existing patients engaged with your practice.
Create a content calendar to plan and organize your blog posts in advance. It will make you consistent with your publishing schedule.
97% of people favor dentists who use social media. That's because patients view dental professionals who use social media as caring and innovative. So, having an active presence on social media is an asset for dentists looking to stay ahead of the competition.
Social media should be a significant part of your dental marketing strategy. It's a great way to connect with existing and potential patients, build relationships, and increase brand awareness.
According to a study, 69.3% of dentists agreed that social media improved their knowledge and communication skills with patients.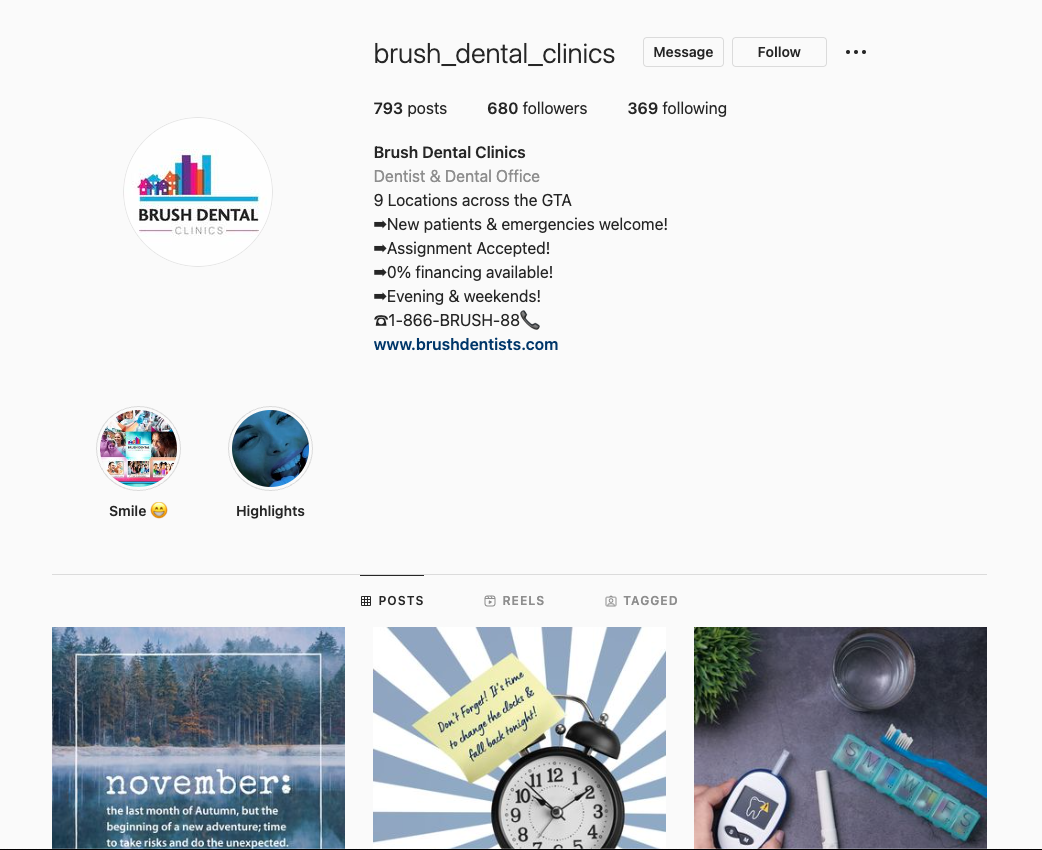 Remember, quality matters more than quantity when it comes to social media. Rather than spreading yourself thin trying to be active on every social media site, focus on a few your target audience is actively using.
For example, if your target audience is millennials, you should focus on platforms like Snapchat and Instagram. If your target audience is Gen X, Facebook and Twitter may be more appropriate.
Once you've identified the right platforms for your practice, ensure you regularly share fresh, relevant, and engaging content. Also, respond quickly to any questions, comments or feedback from patients or potential patients.
10. Video Marketing
Video is one of the most powerful dental marketing tools available. It's the best way to connect with potential patients and give them a taste of your practice.
According to HubSpot, 67% of marketers say sharing marketing videos on social media (YouTube, Instagram, TikTok) has the biggest ROI. According to Wyzowl, 87% of businesses say video has effectively generated leads. And 81% of marketers feel that video has a direct and positive impact on sales.
Here is an example of a marketing video for Dr. Michaels Dental Clinic - Dubai.
Dental practices can use video in several ways, such as:
Introduce new patients to your practice
Show off your work (before-and-after videos, testimonials)
Patient testimonial or review videos.
Answer frequently asked questions
Provide educational dental tips and advice
Dental office tour to minimize anxiety
11. Ask Dental Patients for Reviews
Patient reviews serve as social proof. It is one of the most powerful psychological factors when it comes to influencing people's purchasing decisions.
A study shows that 93% of consumers say online reviews will affect their shopping preferences. According to BrightLocal, 98% of people read online reviews for local businesses.
If you want to win new patients, it's important to focus on getting positive reviews from your existing patients. The ideal way to do this is to ask them.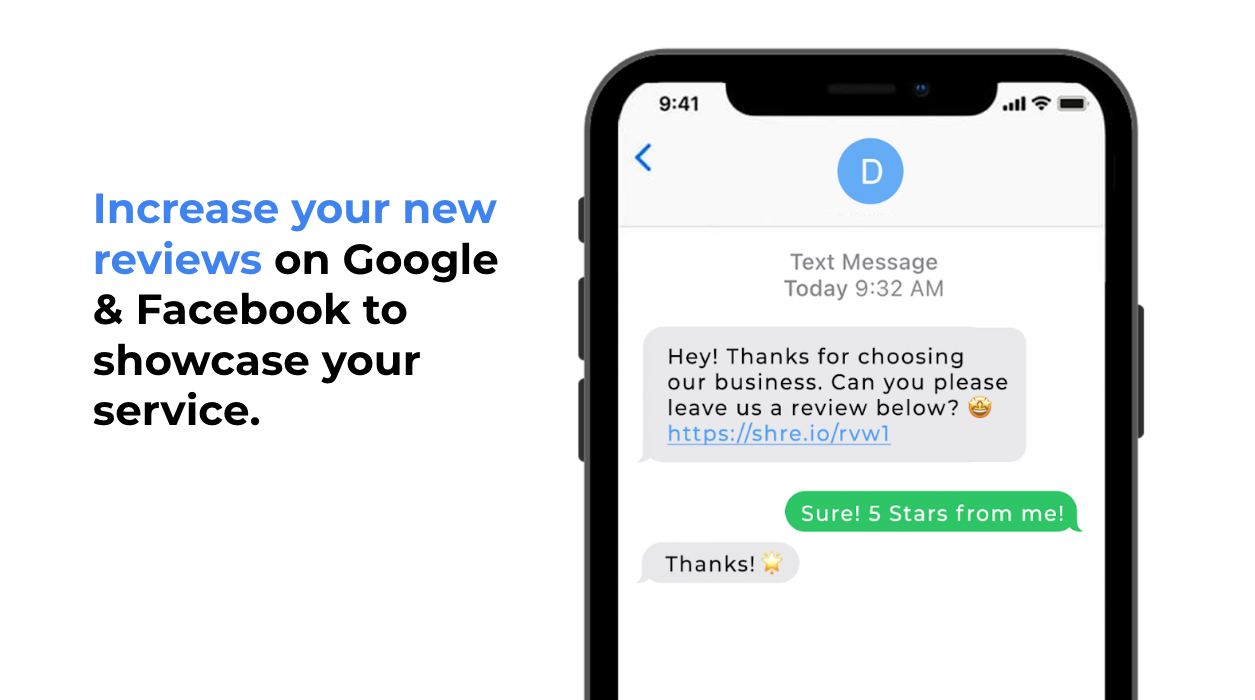 After a patient has completed treatment, take a few minutes to ask them how their experience was and if they would be willing to leave a review on Google, Yelp, or another platform. You can also include review links on your website, business cards, email signatures, or text messages.
How can DemandHub help you grow your practice by 10X?
If you want to take your dental marketing to the next level, a customer experience platform like DemandHub can help.
DemandHub is a powerful, all-in-one customer satisfaction platform that helps you manage your reputation, get more reviews, attract new patients, and grow your practice 10X.
DemandHub is the solution to your dental marketing problems. It will improve your digital footprint and ensure that potential patients always see the best side of your practice.
With our benchmarking feature, you will see how you stack up against other dental practices in your area. We also offer dental marketing tools and resources to help you improve your ratings and get more positive reviews.
With DemandHub's modern messaging capabilities, you can start a two-way conversation with your patients. Send messages with review links directly to patients and enable them to post a review in 30 seconds or less — all with just a few clicks.
Book a free demo today if you're looking for an easy and effective way to market your dental practice and grow your business 10X.
Frequently Asked Questions (FAQs) about Dental Marketing Strategies
What are dental marketing strategies?
Dental marketing strategies are plans and actions taken to attract, engage, and retain patients for a dental practice. They can include various tactics, from traditional advertising and community outreach to digital marketing efforts such as SEO, content marketing, social media, and email marketing.
Why are dental marketing strategies important?
Dental marketing strategies are essential for attracting new patients and retaining existing ones. They also position your practice competitively in the market. Strategic dental marketing can help raise awareness of your services, build trust and rapport with patients, and ultimately drive practice growth.
What are some effective dental marketing strategies?
Effective dental marketing strategies include:
Search Engine Optimization (SEO): Optimizing your website to rank higher in search engine results.
Content Marketing: Creating valuable content that addresses patient questions and concerns.
Social Media: Engaging with your audience on various platforms in a personal and direct way.
Email or Text Marketing: Nurturing relationships with patients through regular updates and offers.
Traditional Advertising: Using direct mail or local advertising to reach your target audience.
How can I measure the success of my dental marketing strategies?
Success can be measured through:
New patient acquisition numbers.
Patient retention rates.
Increases in web traffic.
Social media engagement levels.
Email campaign metrics like open and click-through rates.
ROI for advertising campaigns.
To promote dental products:
Online Presence: Create a strong website with SEO to increase visibility.
Social Media: Engage with your audience and utilize influencer partnerships.
Email Marketing: Send updates and offers to customers.
Traditional Marketing: Leverage print advertising, direct mail, and dental trade shows.
What is dental marketing?
Dental marketing involves the promotion of a dental practice's services through strategies aimed at attracting and retaining patients, highlighting the practice's unique strengths, and building long-term relationships.
What is dental SEO marketing?
Dental SEO marketing focuses on enhancing a dental practice's online presence to improve search engine rankings and increase visibility to potential patients. This includes website optimization and valuable content creation.
What are the rules for dental marketing?
The rules for dental marketing can depend on the specific regulations in your location. However, in general, all marketing should be truthful and not misleading. You must respect patient confidentiality and comply with any relevant advertising standards or guidelines. Some jurisdictions may also require specific disclaimers or disclosures in dental advertising. Always ensure you are familiar with the specific regulations applicable to your practice.