Looking for alternatives to NexHealth's practice management platform? Whether you're dissatisfied with their services or simply exploring your options for growth, this article will provide you with 12 NexHealth alternatives to consider.
The healthcare industry has recently seen a surge in practice management software use. These tools streamline administrative tasks, improve patient care, and enhance efficiency.
NexHealth is one of them. However, every practice has unique needs, and NexHealth may not always be the best fit. This brings us to the question, why consider NexHealth alternatives?
Table of Contents
Why Consider NexHealth Alternatives?
While NexHealth offers a comprehensive suite of features, it may not be the perfect fit for all healthcare providers. Some may find it too complex or expensive, while others may need features that NexHealth doesn't offer.
Exploring alternatives can help you find a solution that fits your practice's needs better. But before diving in, let's first explore why patient acquisition is important for practice growth.
Patient Acquisition For Practice Growth
In today's healthcare landscape, survival demands constant growth and expansion. However, expanding your practice doesn't have to mean taking on additional overheads and resources. Instead, it can mean bringing in more patients who can help you grow organically.
One of the key benefits of patient acquisition is that you can build a larger patient base, leading to increased revenue and profitability. Additionally, acquiring new patients can help you diversify your patient mix, which can be beneficial from a risk management perspective.
But acquiring patients is a different ball game altogether. As more and more healthcare practices turn to online platforms, acquiring patients through traditional means is becoming increasingly challenging. This is where digital softwares can enable growth.
Digital tools have emerged as game-changers in the healthcare industry. It allows providers to streamline their services, automate processes and expand their patient bases. With these tools, practices can reach out to new patients, keep their existing ones engaged, and improve their overall experience with the practice.
Some of the most popular digital tools healthcare practices use include patient portals, appointment scheduling software, EHR systems, and telemedicine platforms. As a result, these tools facilitate patient access to healthcare and help providers manage their practices more efficiently.
Key Factors to Consider When Choosing a Patient Acquisition Platform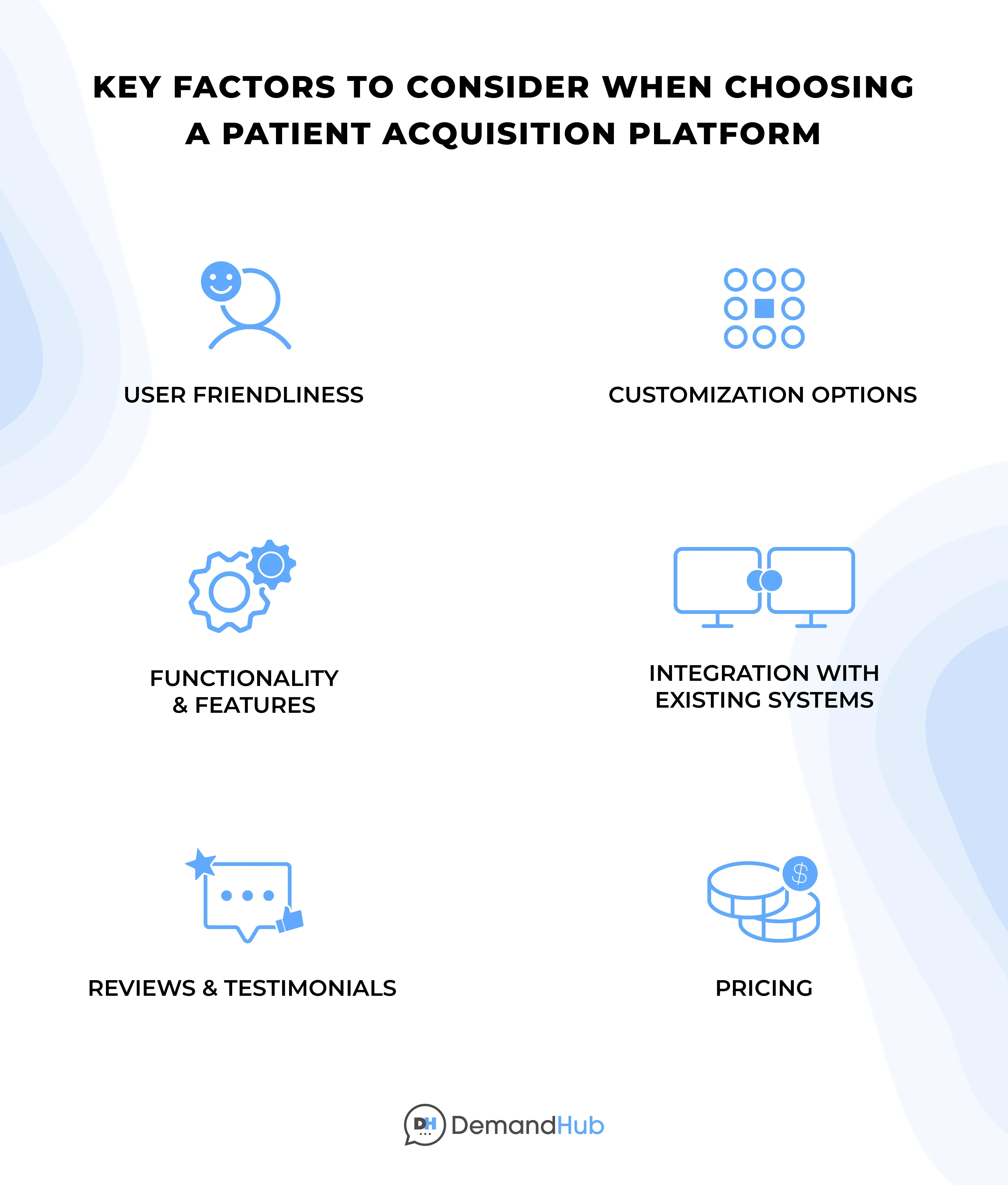 Before we delve into NexHealth alternatives, let's review key factors when choosing a patient acquisition and growth platform. These include:
User-friendliness: A patient acquisition platform must be easy for healthcare providers and patients to use and navigate.
Customization options: The platform should allow customization based on your practice's specific needs.
Integration with existing systems: The platform should integrate seamlessly with your current systems, such as your electronic health record (EHR) system.
Functionality and features: The platform should have the necessary features and functionality to meet your practice's specific needs.
Pricing: The platform should be affordable and provide good value for money.
Reviews and testimonials: It's important to read reviews and testimonials from other healthcare providers who have used the platform to understand its effectiveness and reliability.
Keeping these factors in mind, let's now explore the top 10 NexHealth alternatives for patient acquisition and practice growth.
Top 12 Nexhealth Alternatives For Practice Growth and Patient Acquisition
As a healthcare provider, acquiring new patients is an important part of growing your practice. While NexHealth is a popular patient acquisition platform, there are several options available that provide similar functionalities: Here are the top 12 alternatives to NexHealth:
1. DemandHub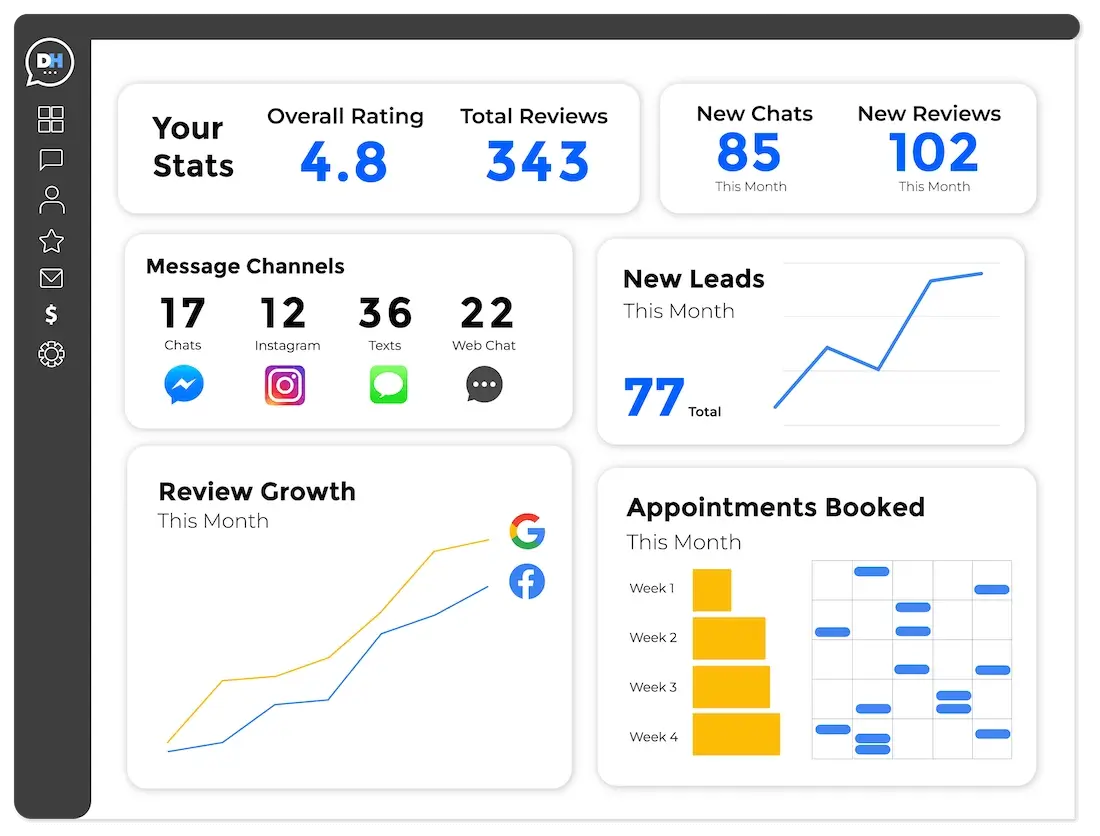 DemandHub is a cloud-based patient engagement platform that offers multiple services, including online scheduling, patient appointment reminders, surveys, web chat, text marketing, and reputation management tools. With its easy-to-use interface and customizable options, DemandHub can help you save time and engage patients better.
One of the key benefits of DemandHub is its ability to automate patient communication. By using automated appointment reminders and follow-up messages, you can reduce no-shows and improve patient satisfaction.
DemandHub's HIPAA-compliant platform integrates with existing systems to streamline processes and reduce manual work. It also allows businesses to track and manage leads, helping to improve conversion rates and customer acquisition.
DemandHub's unified inbox is a game-changer for your practice. It consolidates all patient communications into a single view. This allows practices to manage and respond to patient interactions across multiple channels from one centralized location, improving efficiency and ensuring no message goes unnoticed.
Demandhub's payment processing capabilities are particularly useful for practices that want to simplify their billing processes. By allowing patients to pay online or via text, you can reduce the time and resources required to manage payments.
2. Luma Health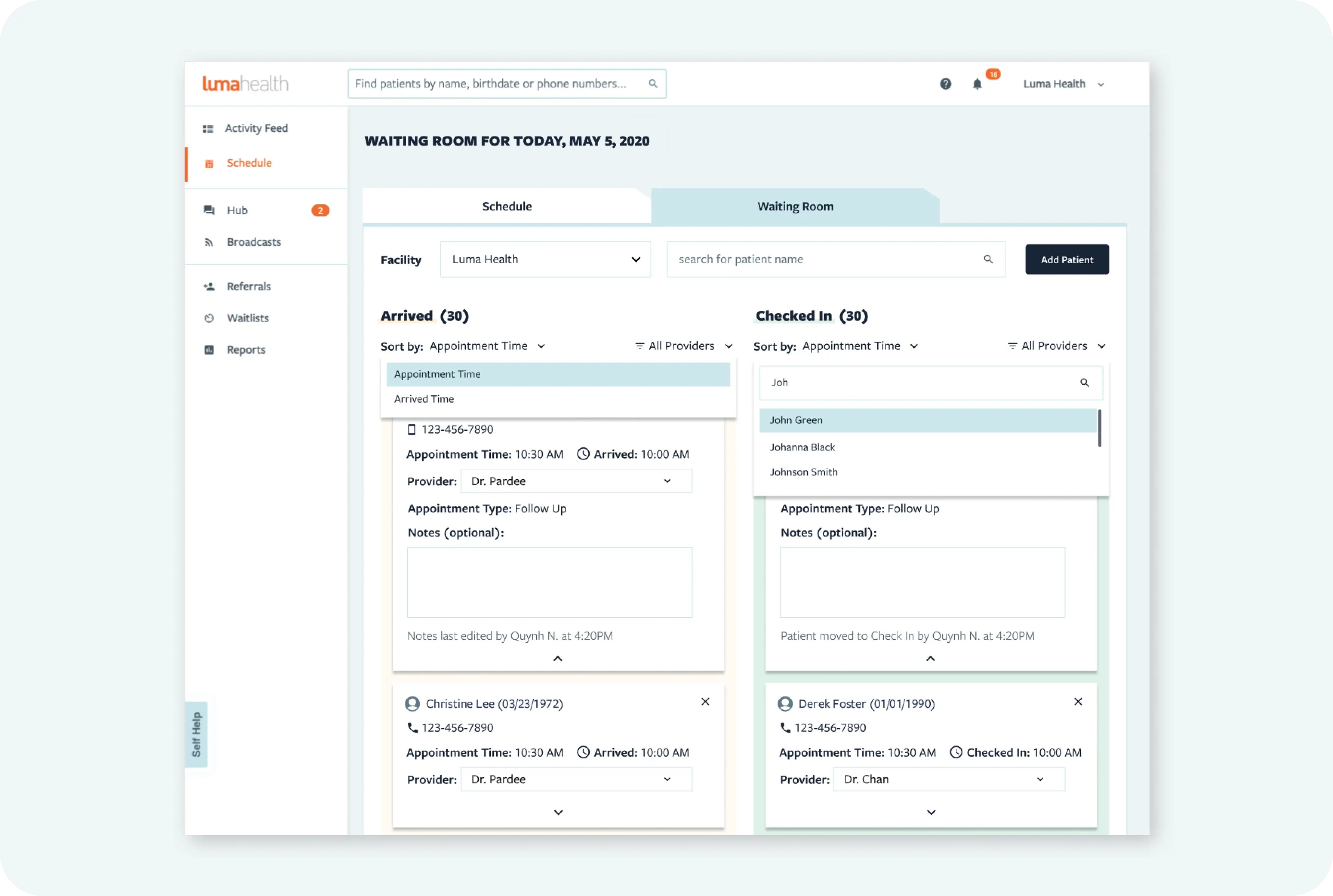 Image Source: LumaHealth
With Luma Health, healthcare practices can automate processes, reduce wait times, and streamline patient appointments. It offers appointment scheduling functionalities, waitlist management tools, and real-time patient feedback capabilities.
Luma Health's real-time patient feedback capabilities allow you to resolve any concerns or issues your patients may have quickly.
3. Weave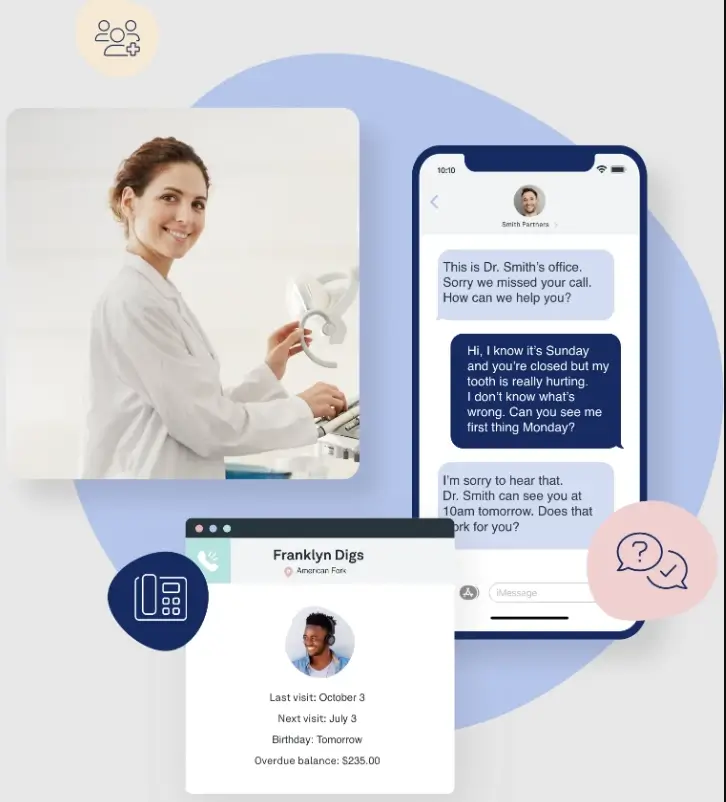 Image source: GetWeave
Weave is a patient communication platform that integrates with your existing practice management software. It offers features like automated appointment reminders, two-way texting, and online review management.
4. Solutionreach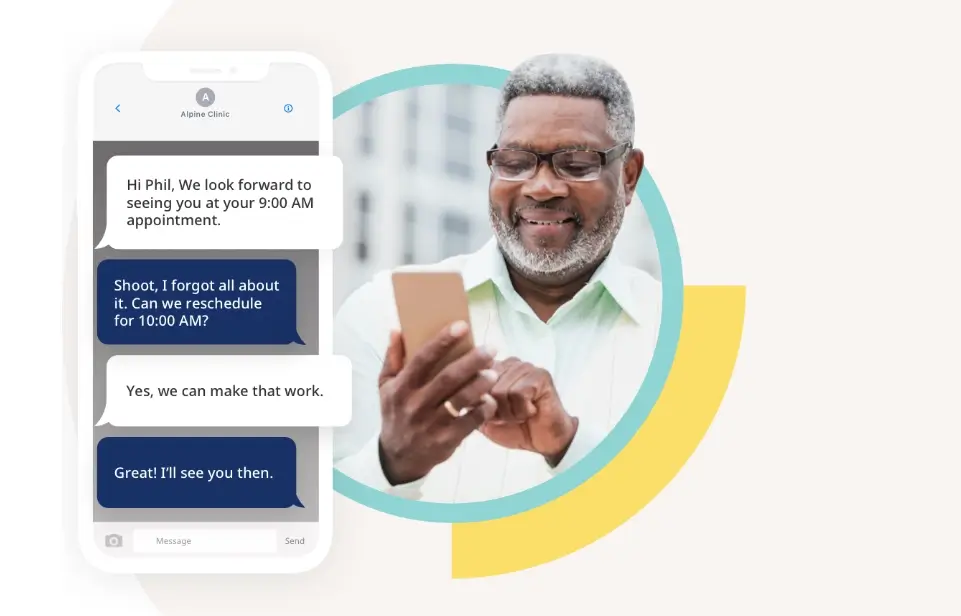 Image Source: Solutionreach
Solutionreach is a cloud-based patient relationship management platform that improves provider and patient communication. It aims to improve patient engagement, reduce no-shows, and increase patient satisfaction through automated reminders, patient surveys, and a patient portal.
5. Demandforce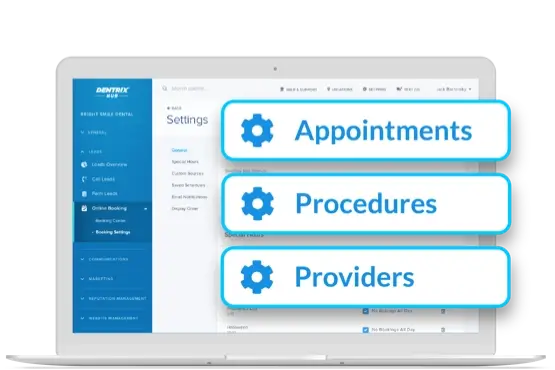 Image Source: Demandforce
Demandforce is an all-in-one marketing and communication platform that can help healthcare practices acquire and retain patients. Its automated messaging system and appointment reminders can help improve engagement and reduce no-shows.
The platform also offers reputation management and marketing tools to help you improve your practice's online presence. Demandforce's marketing tools can also help you reach new patients through targeted email and social media campaigns.
6. RevenueWell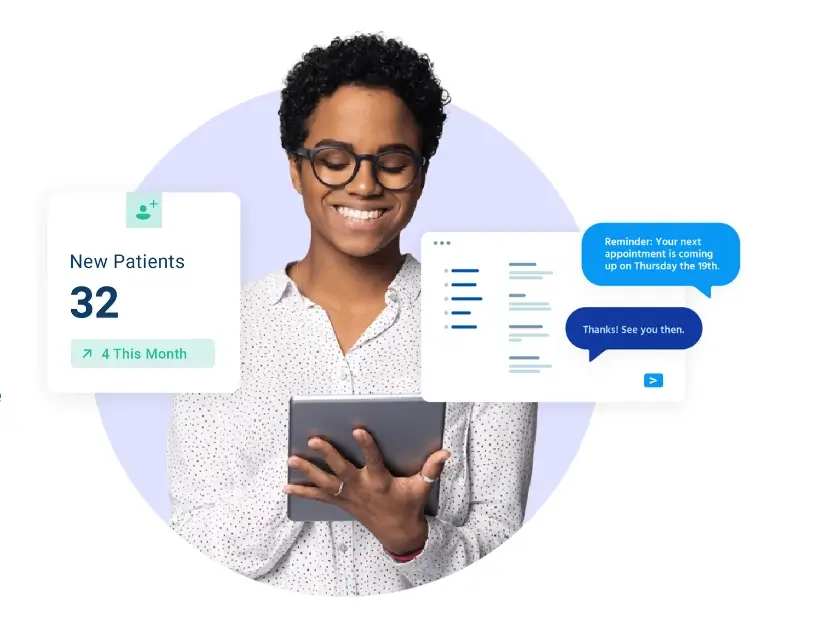 Image Source: RevenueWell
RevenueWell offers multiple automated marketing and communication tools for dental practices to help acquire and retain patients. With an emphasis on patient engagement and satisfaction, RevenueWell can help dental practices grow their patient base and improve their online reputation.
7. Modento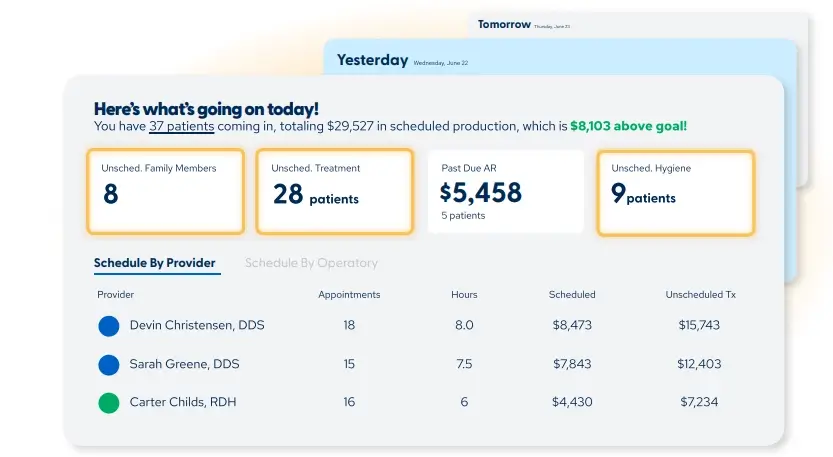 Image Source: Modento.io
Modento, now Dental Intelligence, offers a comprehensive suite of tools to help modern dental practices thrive. With patient communication functionalities, appointment scheduling tools, and even virtual consultations, Modento can help dental practices improve patient satisfaction and grow their practice.
8. Doctible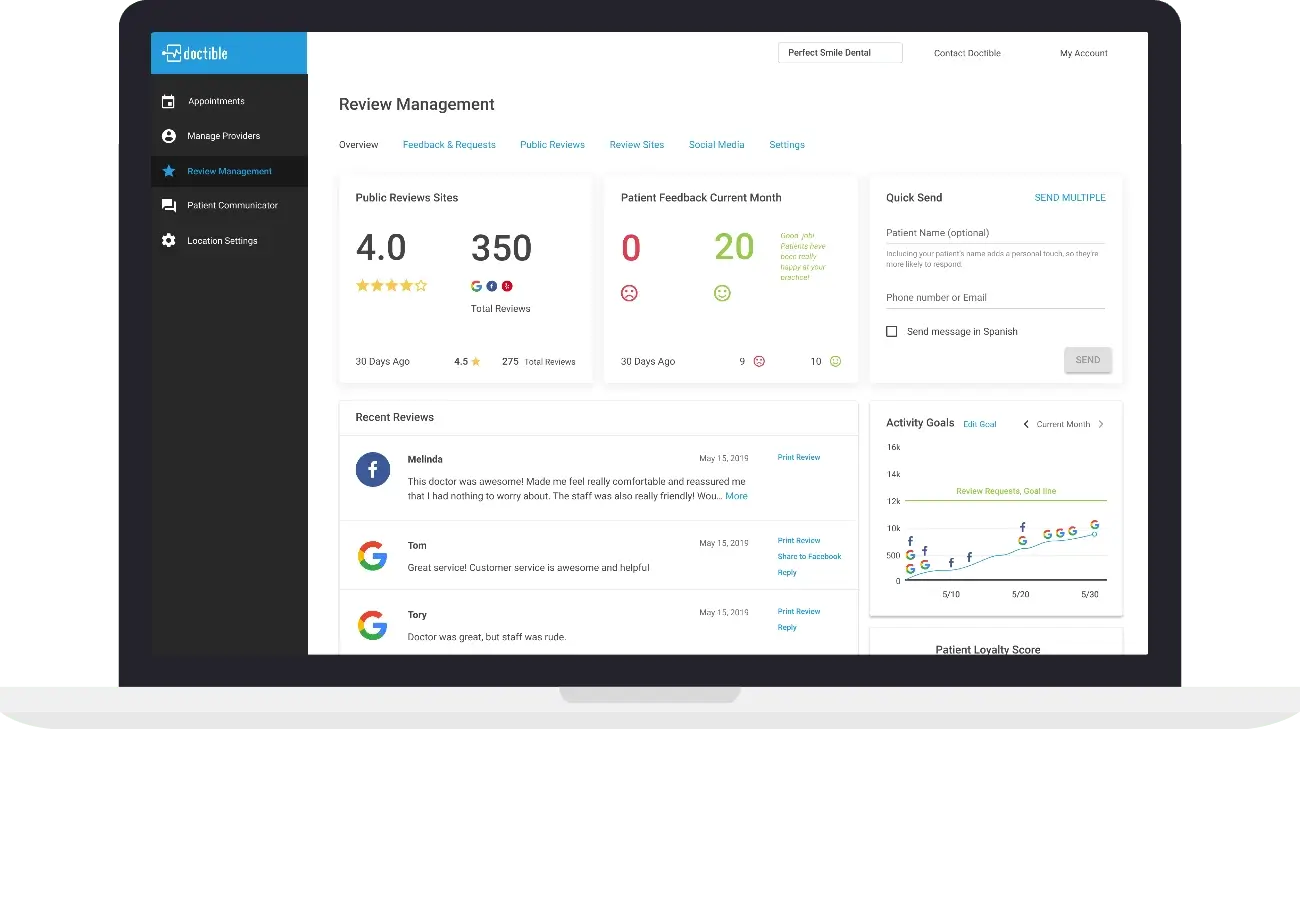 Image Source: Doctible
Doctible is a comprehensive patient acquisition platform. It offers automated messaging tools, appointment scheduling options, and reputation management features. With its easy-to-use interface and multiple customization options, Doctible can help healthcare practices attract new patients and retain existing ones.
9. SimplePractice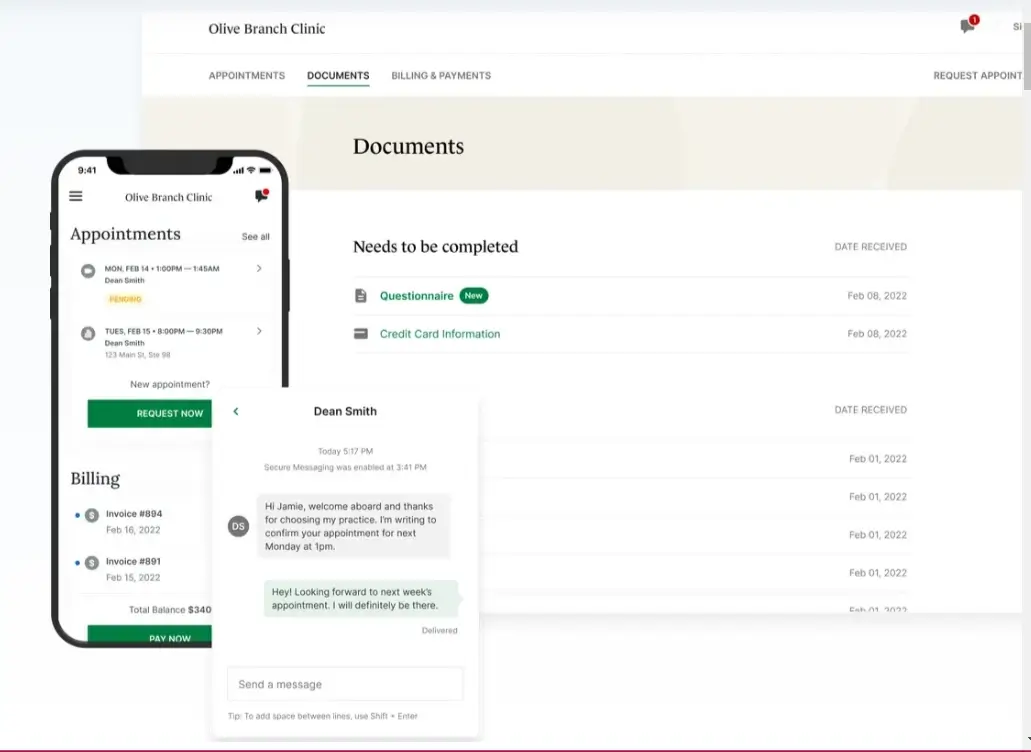 Image Source: SimplePractice
SimplePractice offers an easy-to-use platform to help providers manage their practices more efficiently. With automated messaging and payment processing options, SimplePractice can streamline workflows and enhance the patient experience.
10. Kareo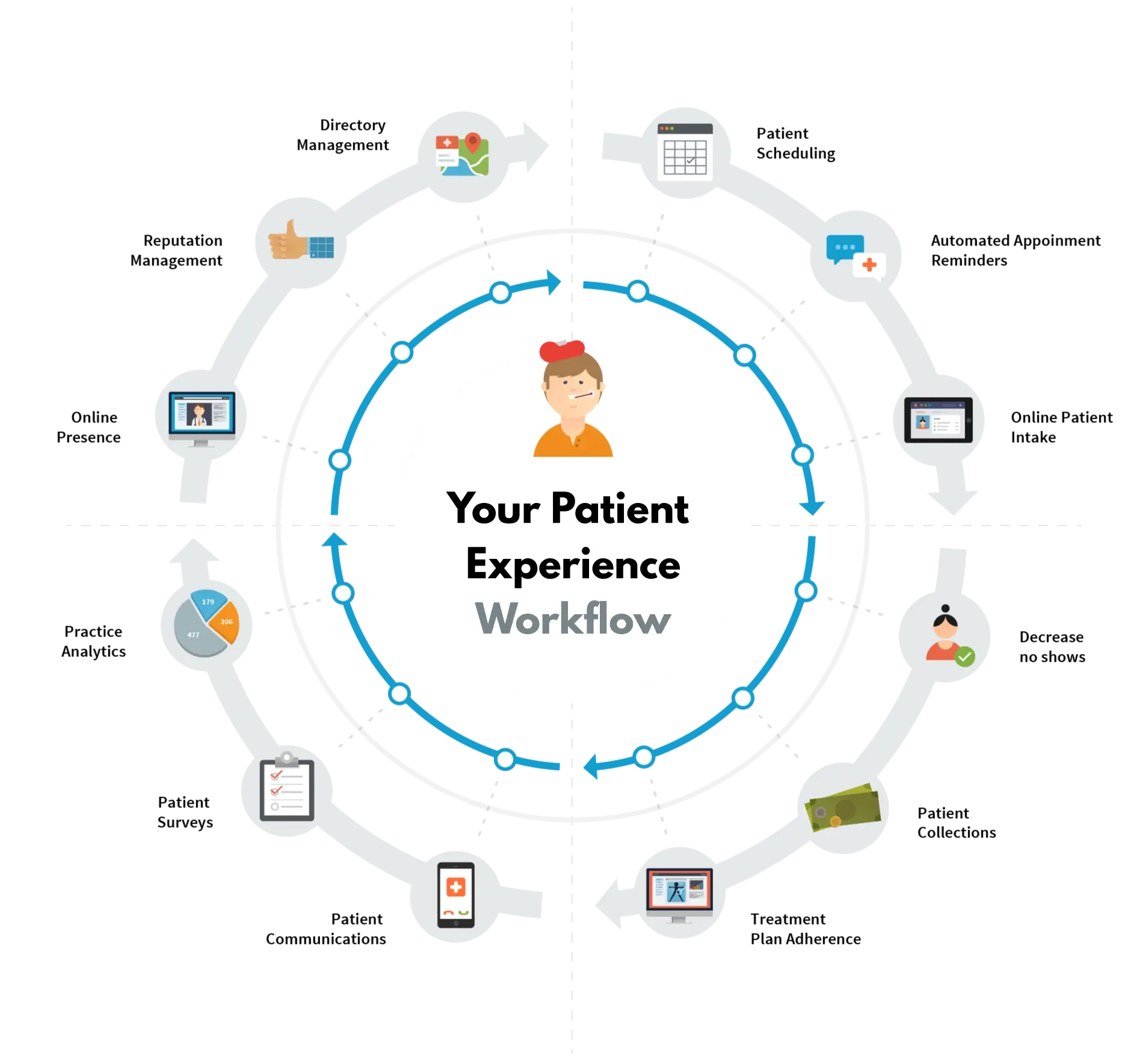 Image Source: Kareo
Kareo offers a comprehensive platform that includes billing, scheduling, and patient management functionalities. With its user-friendly interface and customizable options, Kareo can help healthcare practices improve efficiency and acquire new patients.
Kareo's patient management functionalities are particularly useful for practices that want to improve patient engagement. You can boost satisfaction by allowing patients to access their health records and communicate with providers through a patient portal.
11. RecallMax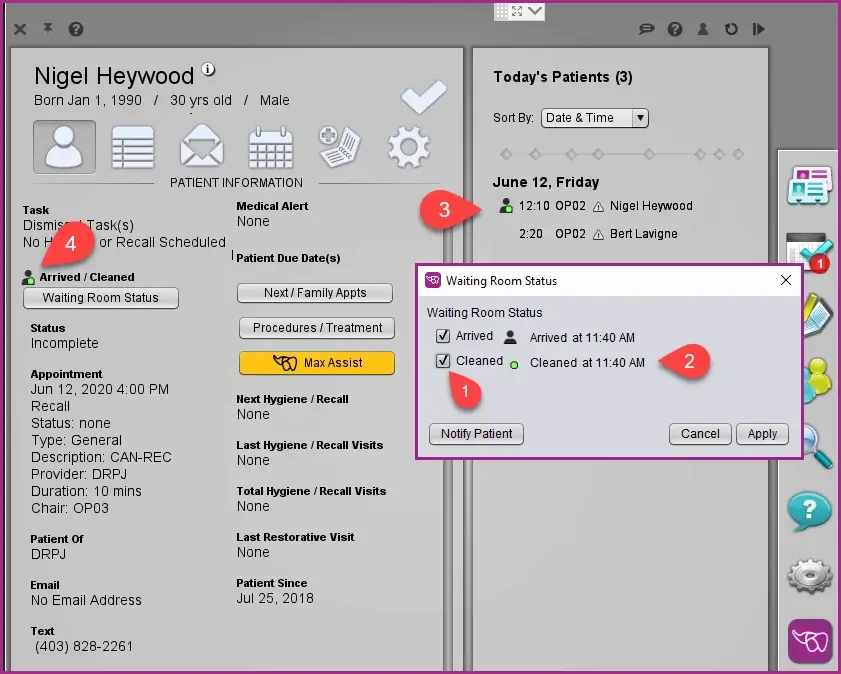 Image Source: RecallMax
RecallMax help dental offices maximize patient retention and revenue. It does this primarily through automated recall reminders, which prompt patients to schedule and keep appointments for regular check-ups, cleanings, or follow-up treatments.
The software aims to streamline the recall process, which is often time-consuming and inefficient when done manually. RecallMax helps practices improve productivity, reduce no-shows, and increase patient engagement by automating this process.
12. Updox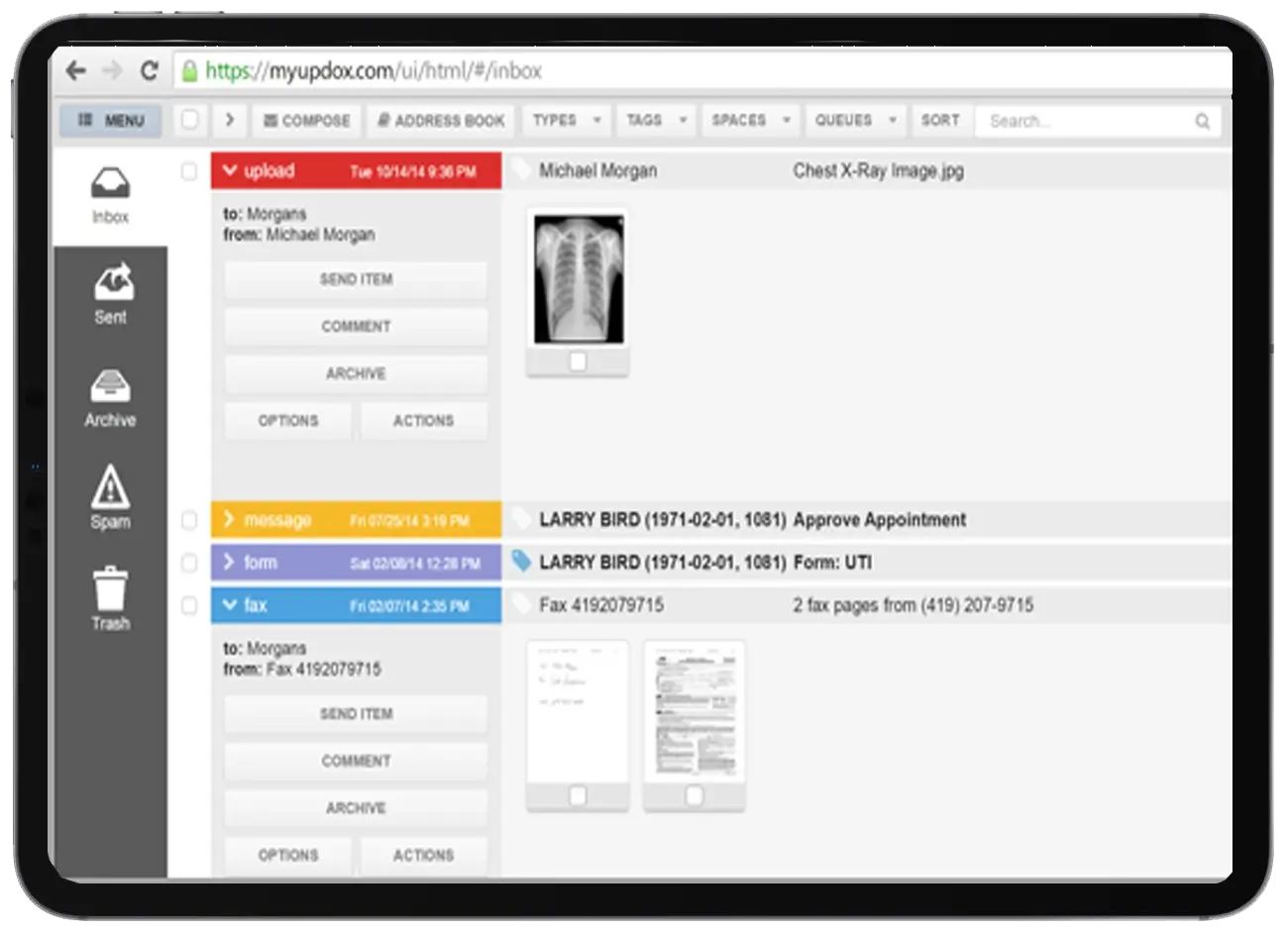 Image Source: Updox
Updox is a comprehensive platform designed to help healthcare practices manage appointment scheduling, messaging, and prescription management tasks. With its user-friendly interface and multiple customization options, Updox can help practitioners save time and focus on their core strength, which is delivering high-quality care to their patients.
Why We Recommend DemandHub
When it comes to finding the best overall NexHealth alternative, DemandHub stands out from the crowd. This comprehensive customer relationship management platform offers features that significantly enhance your practice's efficiency and patient engagement.
With DemandHub, you can effectively manage leads, streamline customer communications, and monitor online reviews. One of its standout features is the unified inbox, which consolidates all customer communications into a single view. It ensures no message or review goes unnoticed and allows timely and efficient responses.
But don't just take our word for it. Experience the benefits of DemandHub firsthand by trying it out for your practice. Whether you're looking to attract new patients, improve communication, or manage your online reputation, DemandHub has got you covered.
Book a free demo with DemandHub today and discover how to offer your patients a comprehensive digital journey that attracts, engages, and converts more patients.
Every practice is different
Choosing the right practice management software is crucial for the success of your healthcare practice. While NexHealth is a strong contender, it's important to consider other alternatives that better suit your specific needs.
Whether you're looking for a less expensive alternative, a different set of features, or software that specializes in your area of healthcare, there's a wide range of NexHealth alternatives to choose from our list above.
Remember, the best software is the one that fits your practice like a glove, enhancing your efficiency and improving patient care. So take your time, research, and make an informed decision.
With the right platform, you can provide better care to your patients and expand your practice and take it to new heights.
Frequently Asked Questions about NexHealth
Why Are Users Looking For NexHealth Software Competitors?
Users might consider NexHealth competitors for a variety of reasons. They might be looking for a more affordable solution, a platform with different features, or software specializing in their healthcare area.
What are the Drawbacks of Using NexHealth?
While NexHealth offers robust features, some users find it too complex, expensive, or not user-friendly. Some feel that it lacks certain features they need for their practice.
How to cancel the NexHealth subscription?
NexHealth operates on a month-to-month basis. You have the flexibility to cancel anytime. Contact their customer service directly to cancel your NexHealth subscription. They can guide you through the entire process and guarantee that your data is handled correctly.