Did you know that 67% of people prefer to book online when scheduling an appointment? And 59% of people are frustrated when put on hold, or an office is closed when they call to make an appointment.
That means having no dental scheduling software, or an inefficient and unreliable booking system can cost you many potential patients.
Good news is, you no longer have to rely on an outdated appointment book or manually manage patient appointments.
With the right solution, you can boost patient inflow and save time for your staff by eliminating manual appointment management tasks.
What is dental scheduling software?
Dental scheduling software is a web-based or cloud-based system that allows dental practices to manage their patients' appointments online.
Automation is the name of the game with this software; it streamlines everything from appointment booking to customer service. With just a few clicks, patients can book appointments directly from your website - no more waiting!
With dental scheduling software, you can quickly set up appointments for your patients, reschedule them, track waitlists, manage cancellations and no-shows, set text reminders for patients to show up on time for their appointment, and more.
Additionally, many dental scheduling software programs integrate with other practice management applications to provide an even higher level of organization and efficiency.
Why do dentists need online appointment scheduling software?
Managing a busy practice and ensuring a smooth patient inflow can be extremely arduous.
Nowadays, a reliable dental scheduling system is non-negotiable for any dentist or dental practice. Automating the patient's appointment process lightens the load significantly.
You can focus on delivering top-notch patient care by leveraging dental scheduling software while optimizing your practice operations. You can easily automate the tedious manual data entry and make patient management a breeze!
Finding the right dental scheduling software that fits your needs, budget, and workflow is key to a successful dental practice.
Here are some of the best dental scheduling software available in 2023:
5 Best dental scheduling software to get more online patients
DemandHub
Denticon
Flexbooker
Booksteam
SimplePractice
1. DemandHub: Best overall dental scheduling software to convert more patients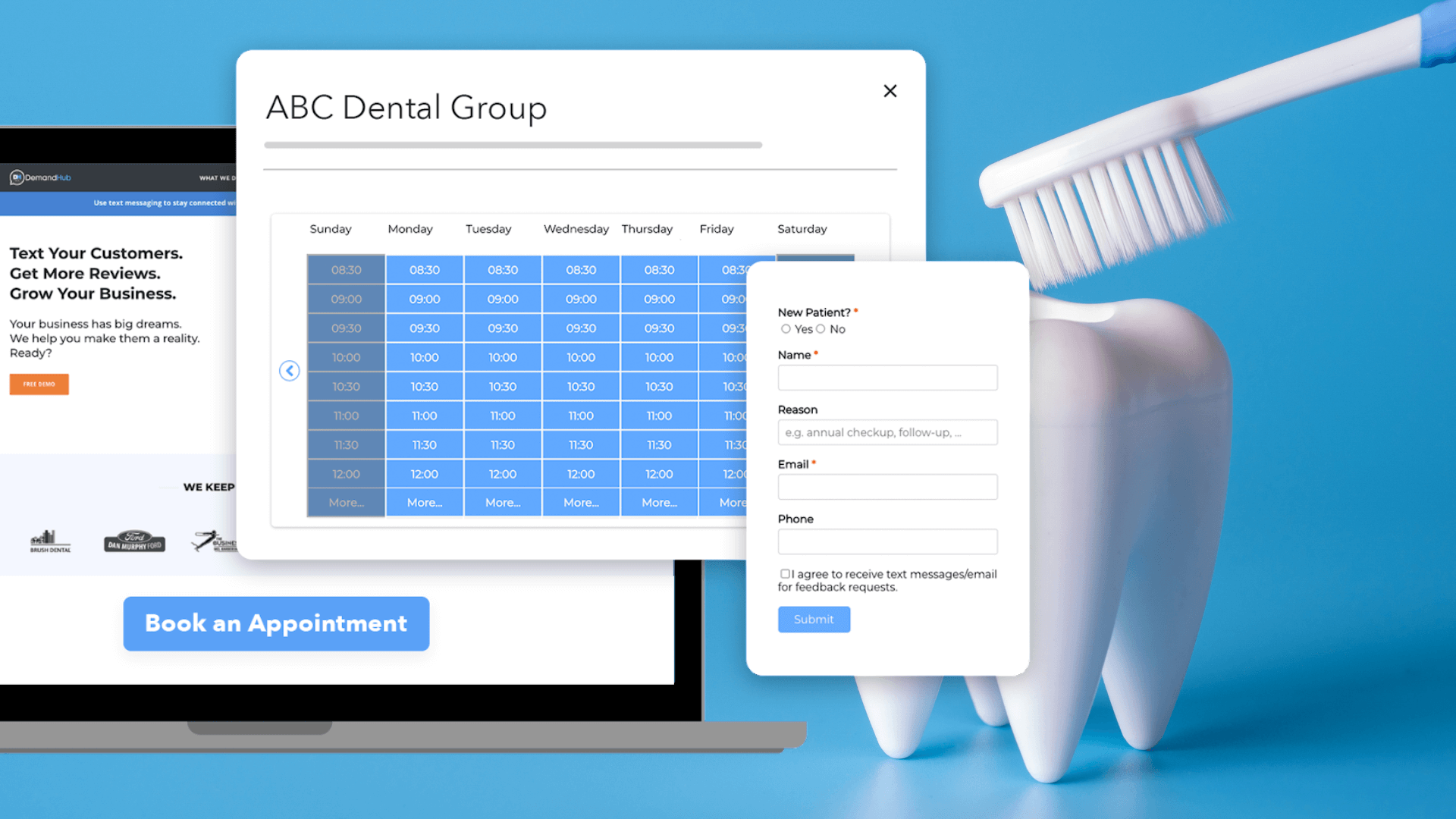 DemandHub is the cloud-based software that makes dental scheduling easy for patients and practices. With DemandHub, your practice can manage appointment scheduling, marketing, and patient communication - all in one place. Plus, it comes with a risk-free trial so that you can experience its many benefits firsthand.
Features
Online scheduling to convert more patients online
Send automatic reminders to reduce no-shows
Collect payments with a 3-step checkout system
Send online forms and surveys via text
Web chat allows site visitors to text your business on the go
Get reviews by sending automated review links via SMS
Dental text messaging to build strong relationships
Seamless integration with other apps
Central appointment manager helps you keep track of all appointments
Benchmarking to evaluate your practice growth through NPS insights
Convert more patients online
DemandHub's simple integration with your website can turn visitors into paying patients, so you never lose an appointment opportunity!
Send automatic reminders to reduce no-shows
DemandHub's notification system keeps you updated on cancellations and no-shows so that you can fill those spots quickly. Send appointment reminders and follow-ups via text message to your patients to boost your patient inflow and satisfaction.
Collect payments with a 3-step checkout system
Looking to provide a contactless checkout experience for your patients? DemandHub makes receiving payments easy as sending a text message. There's no need for line-ups or missed invoices, and you won't have to chase after anyone for payments.
Send online forms and survey links via text
Get more insight into your patients' experience by sending forms and surveys via SMS! With DemandHub, you can send a direct link to their devices and receive instant feedback from your clients. This approach is efficient and easy for you and your patients - making it an ideal way to gather valuable insights in real-time!
Web chat allows website visitors to text your practice on the go
DemandHub's web chat feature lets you turn each conversation into a text message. So, you can answer questions and close sales no matter where your website visitors land.
Get reviews by sending automated review links via SMS
DemandHub allows practices to send automated review links via text message. So your patients can easily provide feedback and share their experiences instantly. This is a great way to build trust with potential patients and get more positive reviews.
Dental text messaging to build strong relationships
It's never been easier for dentists to communicate with their patients. DemandHub's dental texting capabilities empower you to send out appointment reminders, special offers and discounts, and check-in alerts quickly and easily. Utilizing this feature will ensure that your patients receive timely notifications of their appointments and other important updates!
Provide seamless integration
DemandHub easily integrates with several practice management systems, such as Abeldent, Tracker, Dentrix, and others, to streamline your dental practice operations. This enables you to send automated appointment reminders and review invites after a patient's appointment.
Central appointment manager helps you keep track of all appointments
With DemandHub, your appointment management has never been easier! Easily accept booking requests directly from your website, giving you full authority over your schedule. Never worry about missed calls or messages from patients trying to book appointments again. Streamline the entire process with a central appointment manager that takes care of it all in one place!
Benchmarking to evaluate your practice growth
DemandHub's NPS insights give you an in-depth look at your practice with patient feedback. This way, you can learn how to improve the areas that matter most to them. With DemandHub, you can also access your local competitors' reviews. By learning what patients have to say about you and your competition, you can take steps to make your dental practice even better.
Denticon is a cloud-based dental software that provides practices of all sizes with a modern clinical experience. Denticon helps reduce your IT costs by replacing expensive legacy systems with a more predictable monthly subscription rate.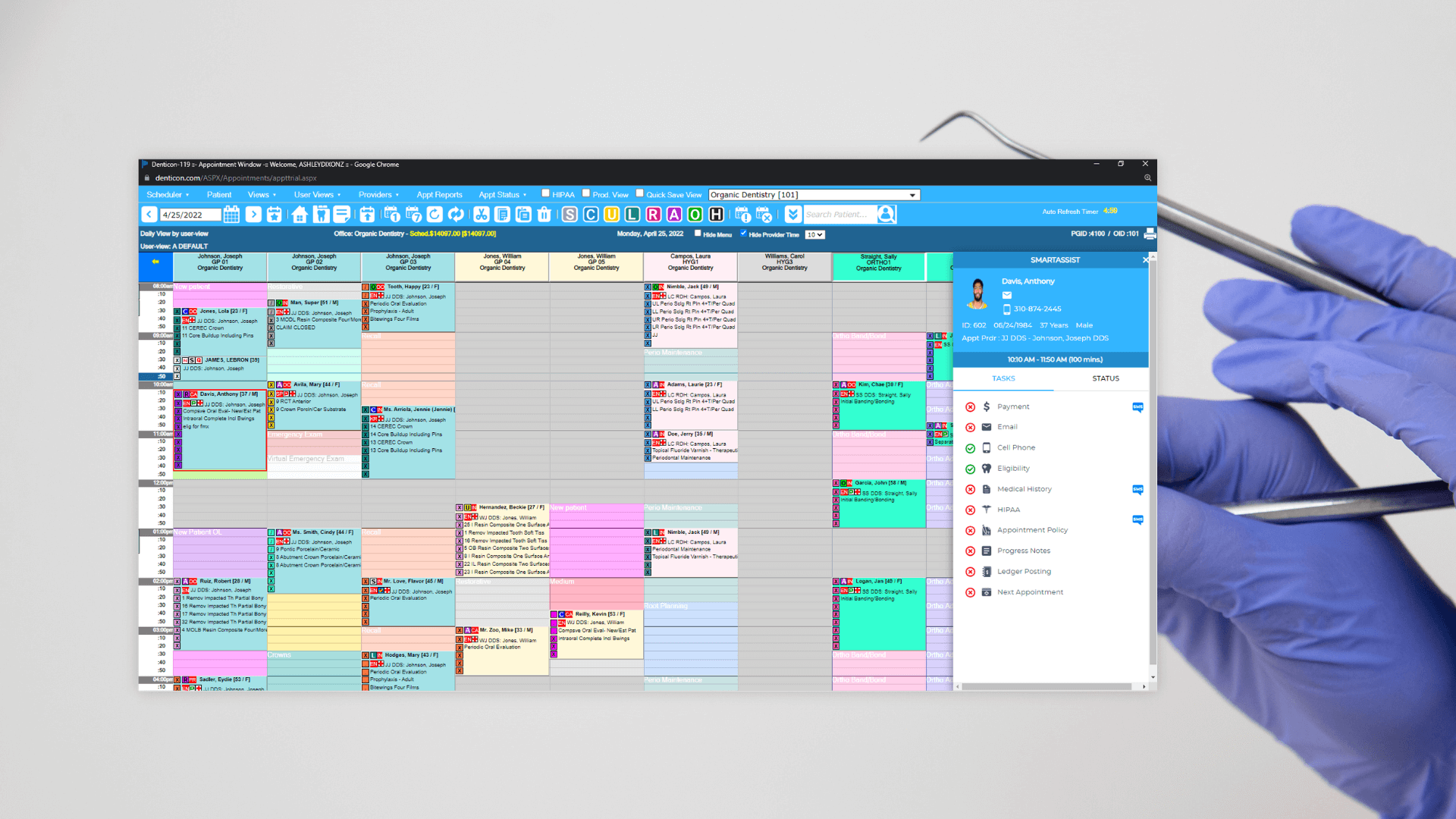 Features
Online appointment booking
Native patient communication
Centralized patient data
Multi-location functionalities
FlexBooker is an online scheduling tool that allows patients to book appointments from any device and automatically receive confirmations. By installing a plugin widget on their site, dental practices can control the design and experience to perfectly match what they want their patients to see. You can even try it for free for 14 days.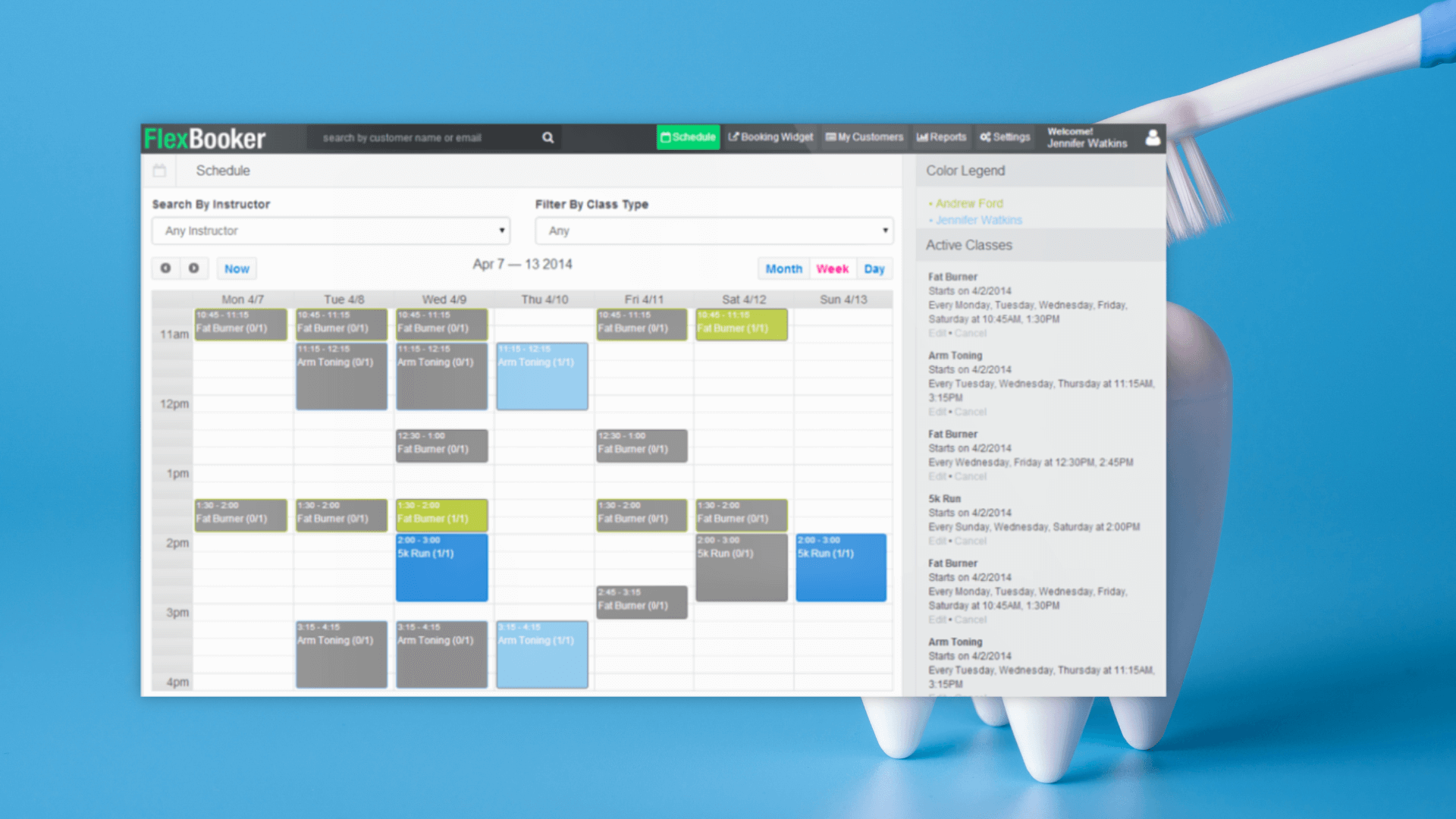 Features
Online payments
Daily recap to see all bookings and cancellations
Automatic reminders
Google Calendar, iCal integration, Microsoft 365, and Outlook
Booksteam is an online scheduling software that helps you to get more patients, automate your appointments, and expand your practice's reach. Its intuitive platform allows practices to personalize the design and interface of their booking page and easily manage their patient database.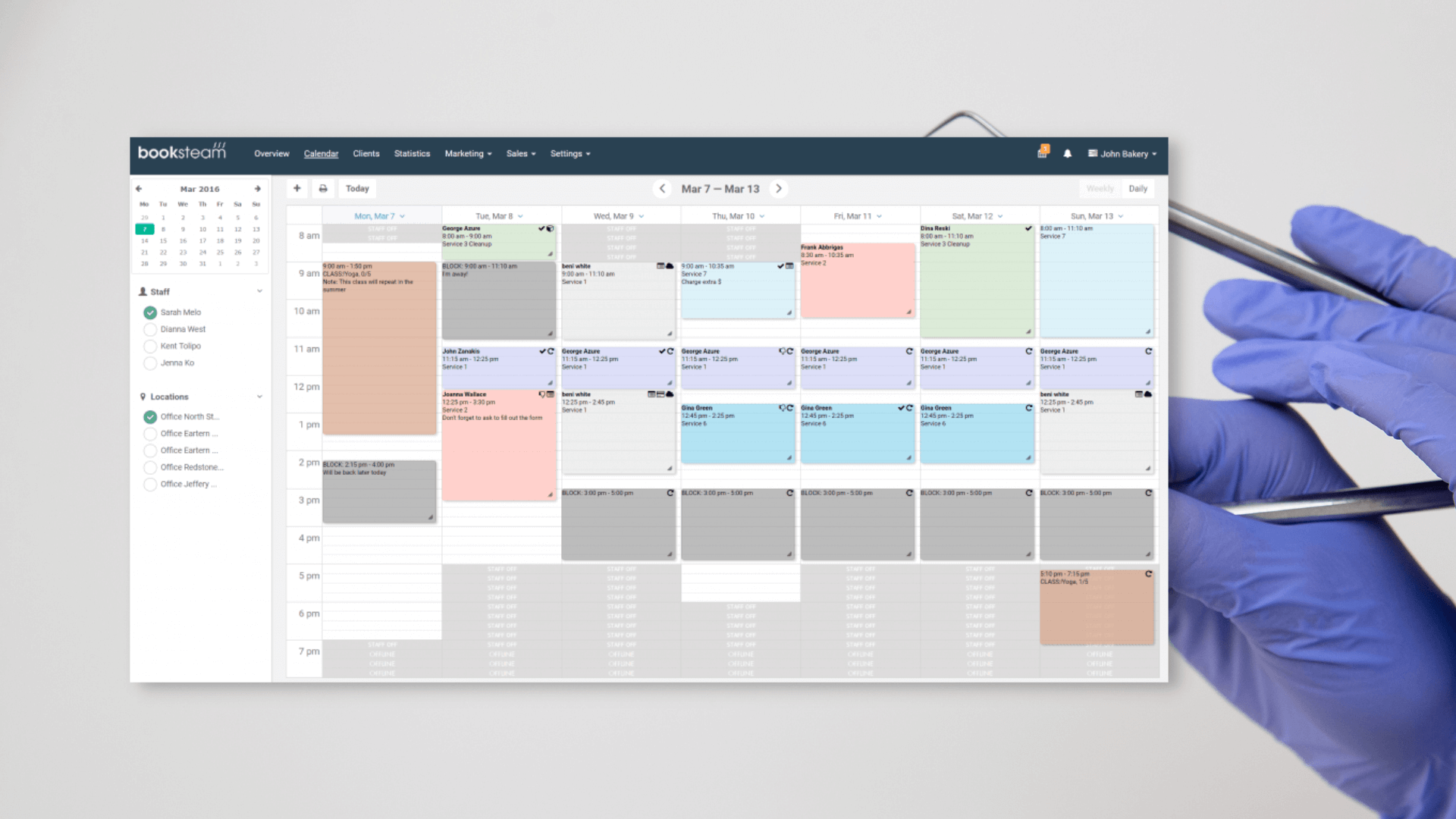 Features
Online booking
Personalize client notifications
Customize your booking page based on your brand
Online payments
Online video scheduling
SimplePractice's scheduling software allows practices to go entirely virtual while still accessing their data from anywhere. This platform allows practices to design and customize their website in minutes, and it can easily integrate with their EHR system. Their platform is also mobile-friendly.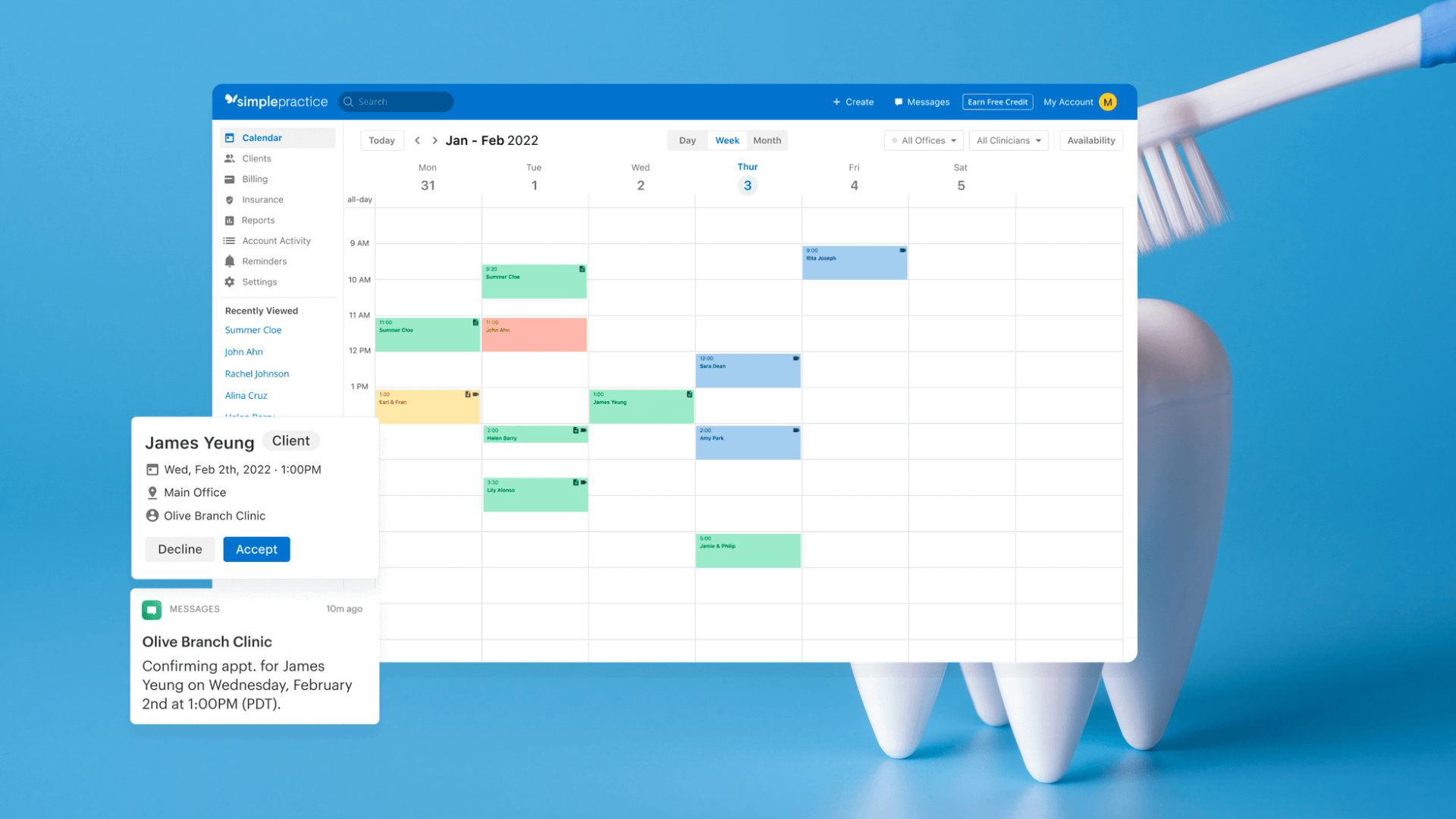 Features
Telehealth
Online booking
Paperless intakes
Health Insurance
How to choose the best dental scheduling software for your practice growth?
Features
The features offered by dental scheduling software will determine what you can and cannot do with the product.
Some products offer basic booking and appointment reminders, while others provide more advanced features like automated patient recalls or online payments.
Carefully examine each product's features to determine which will work best for your practice.
Integration
Integration with existing systems is another important factor when selecting dental scheduling software.
Ensure your product is compatible with existing softwares and systems already in use at your practice, such as EHR platforms.
Further, look for products that can be easily integrated into your existing website or third-party applications such as Google Calendar.
Value of Money
When selecting dental scheduling software, it is important to consider the value of money you would be getting in return. Look for products that offer features and services that are worth the amount being charged.
Some products have additional fees for certain features, so make sure to factor these costs into your total budget before making a purchase decision.
Customer Support
Determine the level of customer support offered by the product you select. Pick a dental scheduling software offering round-the-clock customer support and a helpful knowledge base or FAQs.
Also, check to see if the dental software offers online demos or tutorials so you can easily learn how to use the product.
Finally, don't forget to read customer reviews and feedback to understand how well the product works in real-world scenarios. This will give you valuable insight into what you can expect from the software before investing any money.
Before making your choice, consider each of the factors listed above to make an informed decision that is best for your practice.
Getting Started With DemandHub
Efficient scheduling software for dental practices means better organization and patient care. We have discussed some of the best options available in 2023, such as DemandHub, SimplePractice, PatientPop, NexHealth, etc.
When selecting dental scheduling software for your practice, consider cost, features, integration capabilities, value of money, and customer support. This will help ensure that you pick the best product for your practice's growth and success.
DemandHub is the number one dental scheduling software available. It is the most affordable product on our list and comes with various features to help manage and organize patient appointments. Its modern messaging capabilities make it easier and more efficient to schedule appointments for patients.
DemandHub's unique features make it stand out from the competition. It provides an intuitive user interface with automated appointment reminders, online bookings, and paperless intakes without extra costs. Also, it is compatible with most existing EHR systems, making integration easy.
The customer support team at DemandHub is available 24/7 to help you get started and answer any questions you may have. If you're looking for reliable and efficient dental scheduling software, then DemandHub is the best choice for your practice in 2023.
Try DemandHub today for free and start streamlining your appointment scheduling process!
Frequently Asked Questions (FAQs) about Dental Scheduling Software
What are the benefits of using dental scheduling software?
Dental scheduling software helps streamline the appointment booking process, reduce administrative tasks, and improve the efficiency of your dental practice. It allows patients to book, reschedule, or cancel their appointments online, sends automated reminders to reduce no-shows, and provides an easy way to manage your practice's schedule.
What should I look for in dental scheduling software?
When choosing dental scheduling software, consider its ease of use, features like automated reminders and online booking, integration with other systems you use, customer support, and pricing. It's also important to choose a system that is HIPAA-compliant to protect patient data.
Does dental scheduling software integrate with other dental software?
Yes, many dental scheduling software options integrate with other dental software systems, like practice management systems, billing systems, and electronic health records (EHR). This allows for a more seamless workflow and less duplication of work.
What software do most dental offices use?
Most dental offices use dental practice management software, which typically includes appointment scheduling, billing, electronic dental records, and imaging. Some popular options include Dentrix, Eaglesoft, and Open Dental.
What software is used for appointment scheduling?
There are numerous software options for appointment scheduling in a dental setting, including Zocdoc, Solutionreach, Lighthouse 360, and Demandforce. Many dental practice management systems also include scheduling functionality.
What is dental software used for?
Dental software is used for a variety of purposes, including scheduling appointments, managing patient records, billing and insurance claims, storing and viewing dental images, and analyzing practice performance.
How do I choose the best scheduling software?
When choosing the best scheduling software, consider its features (like online booking and automated reminders), ease of use, integration with other systems, customer support, and pricing. It's also essential to choose software that is secure and complies with healthcare regulations. Reviews and recommendations from other dental professionals can also be useful in making a decision.