The digital landscape has changed dramatically in recent years, and businesses that don't adapt will quickly find themselves left behind.
The same is true for dentists – those who don't embrace the digital age and use modern dental marketing techniques will soon find their practices struggling to compete.
Marketing your dental practice online is vital in today's day and age. And one of the most important aspects of online marketing is Search Engine Optimization (SEO).
In this article, we will discuss what dental SEO is and how it can benefit your practice. We will also provide a step-by-step guide on optimizing your dental website for maximum traffic and patient inflow.
What is SEO?
Search Engine Optimization, or SEO, is optimizing a website to rank higher in search engine results (like Google). The higher your website rank, the more likely people are to find your site and click it, which leads to more organic (free) traffic.
Relevance and authority are the two most important ranking factors for a website on search engines.
Relevance refers to how well your website content matches the patient's search intent.
For example, if you are a local emergency dental clinic, an SEO strategy would be optimizing your website for "emergency dental clinic" or related search terms so that patients needing urgent dental care can easily find you.
Authority refers to how credible and trustworthy your website is. Search engines like Google use over 200 factors to determine the authority of a website, but some of the most important are backlinks, domain age, and social signals.
Backlinks are links from other websites to your website. The more backlinks you have, the stronger your website's authority.
Domain age is how long your website has been active. The longer your domain has been registered, the more credible it is in the minds of search engines.
Social signals measure how often people talk about your website and share your content on social media. It also includes online reviews. The more social signals you have, the more trustworthy your website appears to search engines.
What is Dental SEO?
Dental SEO optimizes your dental practice's website to rank higher in search engine results pages or SERPs.
Optimizing a dental website includes making it more mobile-friendly for potential patients and making it faster and user-friendly.
The Importance of SEO for Dentists
As a dentist, you need a minimum of 20 new monthly patients to achieve practice growth and success. But with so much competition, how can you ensure that potential patients see your website?
The answer is dental SEO.
SEO is the key to getting your website to rank higher in search engine results pages and, ultimately, getting more patients through your door.
A recent study by Hubspot showed that 75% of people never scroll past the first page of Google, which is why you need to rank on the first page.
If your dental website is not optimized for SEO, it will likely be buried on page 2 or 3 or beyond of the search results, which means you're missing out on many potential patients.
Some of the benefits of dental SEO include the following:
Increasing the visibility of your website.
Helping you reach your target audience.
Generating more quality leads and patients.
Building trust and credibility with potential patients.
Attract new patients looking for the exact services you offer.
Dental SEO is a long-term marketing strategy that helps you get found online by patients actively searching for local dentists.
Once you have optimized your website, it will continue to generate leads and new patients even while you sleep!
But remember, SEO starts with the content.
Sharing informative and relevant content proves you're an authority in dentistry. And updating your website more often can show that you are keeping up with the latest updates.
How Can SEO Services Reduce Costs?
Dental SEO is one of the most cost-effective dental marketing strategies available. It can help you save money on marketing and advertising costs.
Traditional marketing techniques like print advertising and television commercials can be too expensive, and there's no guarantee they will actually generate new patients.
With SEO, you only pay for the services of dental digital marketing; there are no additional costs.
Once your website is optimized, and you start ranking higher in search results, you can easily maintain your position.
Of course, you must keep your website up-to-date and regularly publish fresh content. But this is a small price to pay for the continuous flow of new patients that dental SEO can bring.
If you're looking for a cost-effective way to attract new patients and grow your practice, start investing in your dental SEO.
Local SEO for Dental: 4 Effective Strategies For a Dental Practice
As a dentist, you understand the importance of increasing the visibility of your practice to potential patients in your local area.
You may also want to grow your reach and bring in new patients from the neighboring communities.
No matter how long you've been in the game, continuing to grow your dental practice can take time and effort.
So, how does local SEO for dentists work? Here are four effective local SEO strategies for your dental practice that you can implement today.
1. Target Local Keywords
Make sure your dental website is reaching its full potential by targeting local keywords. That means including location-specific words and phrases like "dentist in Los Angeles" or "dental offices in NYC."
Doing this makes you more likely to appear in search results when someone in your area is looking for dental services.
You can use any keyword search tool like Google Keyword Planner, Moz Keyword Explorer, or SEMrush to help you find the right local keywords for your practice.
Not only will targeting local keywords help you reach more potential patients, but it will also help you appear more relevant to search engines.
Relevance is a key ranking factor for SEO, so the more relevant your website is to a searcher's query, the higher you'll rank.
2. Improve Your Local SEO
Local SEO is one of the most effective marketing strategies for small businesses.
If you optimize your dental website for local searches, you're more likely to be found by patients ready to book an appointment.
To do that, you need to ensure your site ranks higher in the search engine results pages (SERPs) for locally-targeted keywords.
As discussed above, to improve your local SEO, identify which keywords you want to rank for.
For example, if you are a dentist practicing in New Jersey, you will want to rank for keywords like "dentist NJ" "dental office NJ," or "emergency dental services in New Jersey."
Create Content Enriched With Location-Based Keywords After compiling a list of your main location-specific keywords, it is time to integrate them into your website copy.
For example, you could write a blog post about dentists titled "Best dentists in New Jersey" or "Teeth whitening Treatment in Toronto"
You can get an idea from google auto suggestions about what people are looking for.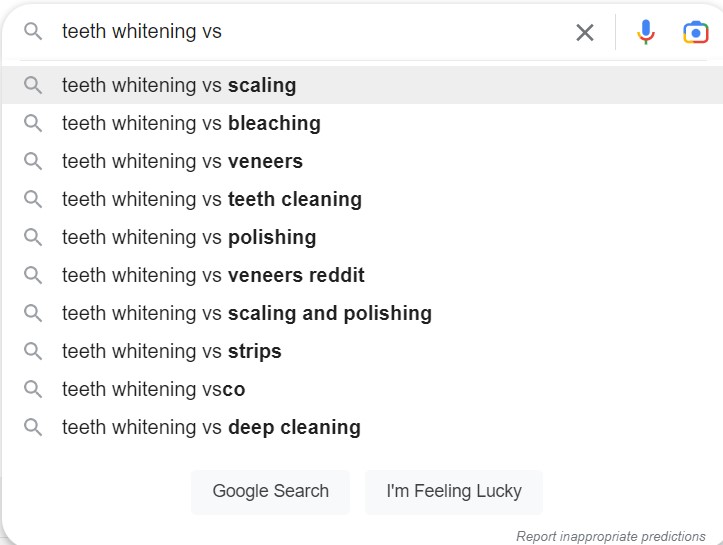 Including these keywords in your titles and web copy will help you rank higher in SERPs for those terms.
Create Local Landing Pages On Your Site Local landing pages are just like other website pages. However, they are designed and optimized to attract visitors from a certain geographic area.
For example, if you want to attract patients from NYC, you could create a web page on your site titled "Dental Services NYC."
On this page, you would include relevant information about your dental practice, such as your location, hours of operation, and contact information.
You would also want to include locally-targeted keywords throughout the landing page copy.
Creating local landing pages is an effective way to improve your local SEO and attract patients from specific geographic areas.
Include Location-Services-Specific Keywords While optimizing your website for local SEO, be sure to include a variety of keywords and phrases that accurately depict all the services you provide.
That means using just dentist or dental services in your website's content and URLs is not enough.
Use keywords like root canal, teeth whitening, porcelain crown, and the names of any treatments or procedures you perform or products you offer.
If we see this from a local SEO perspective, you could target a long-tail keyword, such as: "root canal in NYC" or "Best porcelain crown in UK."
Long-tail keywords are words or phrases that are more specific but often longer than other commonly used keywords.
For example, the keyword "dentist" is the main keyword because it gets 246k searches per month. The keyword "cosmetic dentist Lancaster" is a long-tail keyword because it only gets 50 searches per month.
Although they might have low search volumes, these will give you more relevant and quality leads, resulting in more patients coming through your door.
3. Optimize Your Google My Business profile
Google My Business (GMB) is a powerful tool for local practices, as it allows you to control how your dental office appears in Google Maps and Google Search.
When patients search for dental practices in their area, your GMB profile will appear in the search results. That's why ensuring that your GMB profile is complete and accurate is important.
Here are some tips for optimizing your GMB profile:
Choose the right category for your practice. For dental practices, this would be "Dentist" or "Orthodontist."
Add your business name, address, and phone number (NAP). Use the same NAP information on your website and other online listings to maintain brand consistency.
Create a description of your business that includes relevant keywords.
Add high-quality photos of your office, staff members, and equipment.
Encourage patients to leave reviews on your GMB profile.
4. List Your Practice on Popular Dental Review Sites
In addition to Google, there are other popular dental review sites that potential patients use to find dentists, such as Yelp, Healthgrades, or 1-800 Dentist.
Ensure you're listed on these review sites and ensure your information is accurate and up-to-date. Add high-quality images of your staff, dental office, and equipment to help your listing stand out.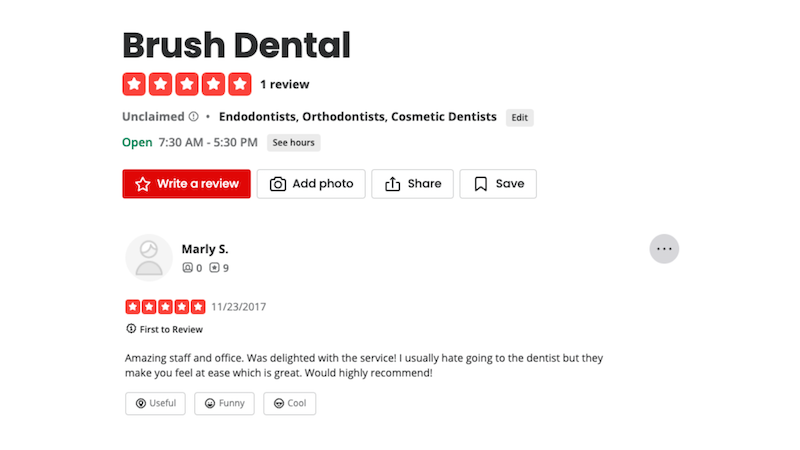 A comprehensive study by Harvard Business School found that a 1-star increase in Yelp rating can lead to a 5% to 9% increase in revenue. That's the power of listing your practice on dental review sites.
Therefore, claim your listings on these review sites and encourage patients to leave reviews there. The more positive reviews you have, the more likely you attract new patients.
5 Steps to Optimize Your Website and Reach More Patients
Step 1: Run a Keyword Research
Keywords are what people type into search engines when they are looking for information. Pick the right keywords for your website; you will soon be able to attract high-quality leads or patients.
The foundation of any SEO strategy is keyword research. It allows you to determine what your patients are searching for and how to attract them with the right language.
Keep in mind the following while doing a keyword search for your dental practice:
Identify keywords you already rank for in search results.
Take inventory of competitors' keyword rankings.
Include keywords your target patients use.
Pick targeted and related keywords that are most relevant to your dental practice.
Keep seasonal trends in mind when researching keywords.
Always determine user intent behind each keyword. In other words, what does the searcher want when they type in a particular keyword?
Are they looking for information? Are they ready to book an appointment?
Understanding user intent will help you target the right keywords and create content that meets the needs of your patients.
Once you have determined the keyword's intent, start developing content for your patients that meets that intent.
Step 2: Have A Robust and Optimized Dental Website
Your website is the first point of interaction between you and your patients. Make it mobile-friendly and easy to navigate, and optimize it for search engines.
Patients judge your practice by the look and performance of your website, as 90% of users evaluate a business based on its website design.
Be sure to design your website with the patient in mind. If your website design is unappealing and difficult to navigate, 38% of people will leave it and never return.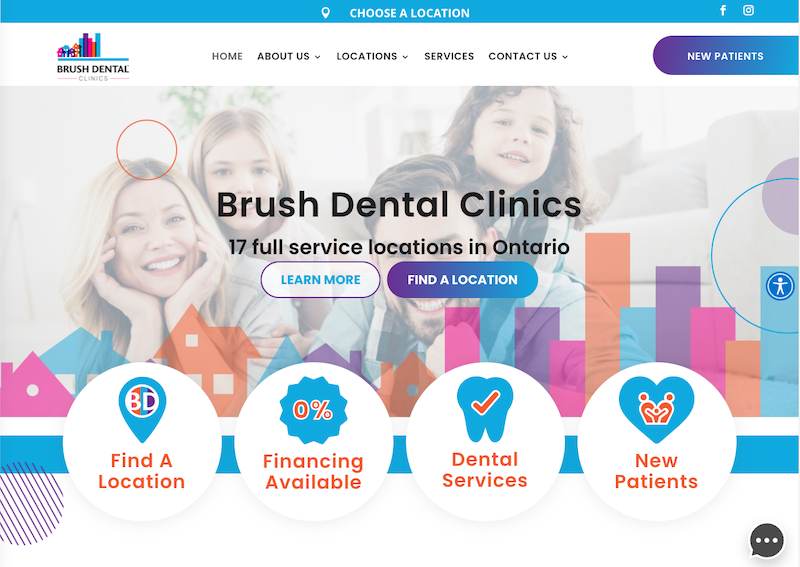 Brush Dentist: Clean And Easy to Navigate Design
Use easy-to-navigate menus and a clean layout to attract new patients and improve patient retention.
Your website should have the following:
An engaging home page that accurately reflects your brand
Responsive design to ensure optimal viewing on all devices
Clear and concise calls-to-action (CTAs)
High-quality photos and videos of your dentists, staff members, and office environment
Simple and easy online booking system
Social proof, like patient testimonials and reviews
Web chat and other messaging capabilities so patients can easily communicate with their dentist.
Apart from the design, optimize your website for search engines. Use the right keywords you collected in step 1.
Then, integrate those keywords throughout the content of your website, including title tags, meta descriptions, header tags, and body copy.
Additionally, the important pages to add relevant keywords are:
Homepage
Services page
Pricing
Areas served
Contact Us
About Us
Step 3: Publish Compelling and Keyword-Driven Dental Content, aka Dental Blogging
No matter how stunning your website's aesthetics are, it means nothing if you don't have content that is both keyword-driven and original.
Start dental blogging. You should aim to create more blog posts than your competitor!
Unfortunately, when you target long-tail keywords, you can't stuff them on one page. Instead, you should focus on 1-2 keywords per blog post or page maximum.
That means you have to create more content than others to rank on the first page of Google.
The more content you generate, the more pages will get indexed by search engines and the more traffic you drive to your dental site.
What does it mean when a page gets indexed?
When a page is indexed, it means that the Google crawler or Googlebot has visited the page, processed its content and stored it in its search index. Indexed pages appear in Google Search results.
Even if you're writing 7-10 posts a month, it's not enough. Your competitors are writing 17+ blog posts per month.
Content is key if you want to rank higher than your competitors. You need to ensure that whatever you're writing is high-quality, and a 500-word blog post written in haste will not suffice.
Here's what the average content length of the top content on Google SERPs looks like: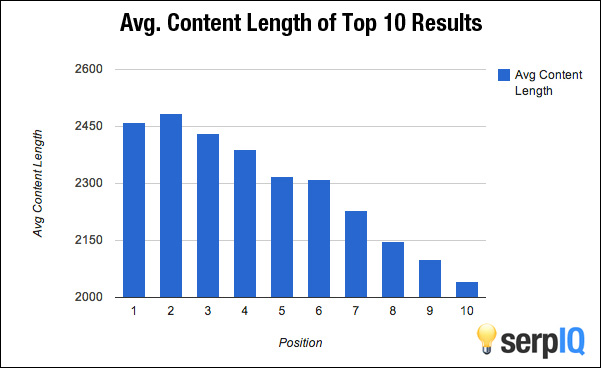 The graph above indicates that every piece of content on the first page of a Google search is over 2,000 words.
As a dentist, you must write more in-depth content that guides your patients step-by-step through solving their problems.
Create content that is actionable and appealing to the eyes. Include images, illustrations, infographics, and step-by-step instructions to make the content easy for readers to digest.
Some other guidelines to follow while developing content for your dental website are:
Write original content. Google penalizes copy-paste content, so write in your own words.
Focus on the user intent. Write content that addresses your patients' questions, concerns, and needs. The StoryBrand approach is a great place to start.
Create keyword-optimized content. To improve your website's ranking, you must conduct extensive keyword research for each page. Then, use those keywords in headlines, meta descriptions, and throughout the body text. But don't overdo it.
Optimize for voice search. With the rise in popularity of digital assistants like Siri, Alexa, and Google Home, more and more people are using voice search to find information online. Make sure your content is optimized for voice search using long-tail keywords and natural language.
Step 4: Get more Dental Reviews
Patient reviews serve as social proof. It is one of the most powerful psychological factors when it comes to influencing people's purchasing decisions.
A study shows that 93% of consumers say online reviews will affect their shopping preferences. According to BrightLocal, 98% of people read online reviews for local businesses.
If you want to win new patients, it's important to focus on getting positive reviews from your existing patients. The ideal way to do this is to ask them.
After a patient has completed treatment, take a few minutes to ask them how their experience was and if they would be willing to leave a review on Google, Yelp, or another platform.
You can also include review links on your website, business cards, email signatures, or text messages.
Step 5: Get Quality Backlinks
As reviews tell other people about your practice's expertise, backlinks tell search engines about your website's authority.
What are backlinks? Backlinks are the links from other websites to your website. Building backlinks is one of the most significant components of any dental SEO strategy.

Links from other high-authority websites show that your practice is trustworthy. They also help boost your website's ranking in search engine results pages (SERPs).
The higher your ranking, the more likely potential patients will find your website when searching for dentists online.
Authentic care providers are often the source of new research in their field. Their content is more likely to attract backlinks, as shown in the example above.
There are many ways to build backlinks:
Submit articles to article directories
Guest post on other healthcare blogs
Participate in forums like quora and answer questions
Leave comments on other related websites
Reach out to other websites and request a link
Why Should You Hire an Agency for Dental SEO?
Dental SEO is complex. It takes a lot of time, effort, and expertise to execute a successful dental SEO strategy.
That's why it's often best to hire an experienced dental SEO company to handle your website's optimization.
A good dental SEO agency will have a team of experts who are well-versed in the latest SEO best practices. They can help your website rank higher in search engine results pages.
Some things to look for when hiring an SEO agency include the following:
a team of experienced professionals with years of experience
a proven track record of success
a transparent pricing model
a customized services plan to fit your needs
When it comes to dental SEO, you need an agency you can trust. Make sure to research and find a SEO agency with a proven track record of success.
Doing so will help ensure that your website is properly optimized and that you're getting the most out of your dental SEO strategy.
At DemandHub, our dental SEO experts use their years of experience to keep your practice ahead of your competition.
We ensure you always get new patients by integrating DemandHub's CX tools into your dental website, such as text messages, Web Chat, Online Scheduling and much more.
With DemandHub's dental marketing software and its modern messaging capabilities, you can start two-way conversation with your patients.
Send messages with review links directly to patients and enable them to post a review in 30 seconds or less — all with just a few clicks.
With a constant flow of positive reviews, your practice ranks higher in search results so potential patients can easily find your practice online.
Book a free demo today if you're looking for an easy and effective way to manage your dental SEO, grow your practice, and get more patients organically.
Frequently Asked Questions (FAQs) about Dental SEO
What is Dental SEO?
Dental SEO, or Search Engine Optimization, is a strategy used by dental practices to increase their visibility on search engines like Google. You can do dental SEO by optimizing your website content and structure with relevant keywords and improving site speed and mobile-friendliness. Create high-quality and useful content that answers potential patients' questions.
How does Dental SEO work?
Dental SEO works by making a dental practice's website more attractive to search engines. This involves optimizing the website's content and meta and title tags with relevant keywords, improving the site's technical performance, and building high-quality backlinks.
What are some Dental SEO best practices?
Dental SEO best practices include finding relevant keywords and creating high-quality content that provides value to patients. It also includes optimizing your website structure, ensuring the site is mobile-friendly, and building high-quality backlinks from reputable sources.
Can Dental SEO help with local visibility?
Yes, Dental SEO can significantly improve a practice's local visibility. You can achieve this through local SEO strategies, such as optimizing for local keywords, creating a Google My Business listing, and collecting positive online reviews.
Why is dental SEO important?
Dental SEO is important because the majority of patients use search engines like Google to find local services, including dentists. By optimizing your website for search engines, you can increase your visibility, attract more website visitors, and ultimately convert more leads into patients.
How much does dental SEO cost?
The cost of dental SEO can vary depending on the complexity of your website, your location, competition, and the specific services you require. It's common for SEO services to cost several hundred to several thousand dollars per month. Remember, SEO is an investment. While it may require upfront costs, the long-term benefits of increased online visibility and patient acquisition can greatly outweigh the initial expenditure.
How do I advertise my dental services?
There are various ways to advertise your dental services, both online and offline. Online methods include SEO, pay-per-click (PPC) advertising, social media marketing, and email marketing. Offline methods include print advertising, direct mail, or local community events. It's important to understand your target audience and choose the advertising methods that will most effectively reach them.