Did you know that 98% of consumers read online reviews before making a purchase decision and that 84% trust the reviews as much as a personal recommendation?
Yes, that's how influential online reviews can be.
A positive online reputation for your dental practice is essential to gain potential patients' trust and book more appointments. That's why gathering patient reviews and staying active on dental review sites is a smart way to attract new patients.
Also, dentist reviews provide social proof of your practice and serve as direct communication between you and your customers. They help dentists to identify areas in need of improvement.
By reading honest patient feedback, dentists can learn what is working well and identify areas that need to be changed to provide the best possible care.
Before diving into the top 10 dental review sites, let's see what great dental reviews should have to impact patients positively.
What Do The Best-Rated Dentists Have In Their Reviews?
While it is true that you need great dental reviews to be a top-rated dentist, don't think for a second that just any review will help potential patients convert.
Smart and successful dentists know that reviews need to have certain elements in order for them to be effective:
Reviews should be detailed and specific
Generic reviews that say, "The staff was friendly, and the services were great", will get lost in the mix. Patients want a real feel for your practice. So, ensure each review covers topics such as the doctor's bedside manner, wait times, and any other information that could be helpful to potential patients.
Reviews should be relevant
The relevance of reviews is another essential element that a great dentist practice must have. A patient's experience and opinions about a specific dental procedure, such as wisdom teeth removal or root canals, are more useful and effective than a generic review.
Reviews should be honest
Patients get turned off by reviews that are fabricated or one-sided. Focus on getting real and honest reviews from patients who have actually used your services, as these will be more valuable to potential patients.
Negative Reviews are Okay
Top-rated dentists usually have a healthy mix of 4 and 5-star reviews. Because let's be honest, patients find all 5-star ratings unbelievable. So, don't get discouraged if you get the occasional negative review. Remember to respond to those reviews professionally and politely, and keep providing the best patient care possible!
Reviews for your Staff
Best-rated dentists typically have one or more reviews that mention not only how professional the dentist is but also how great their office staff is. This is especially important for people looking for a dentist they can trust and rely on.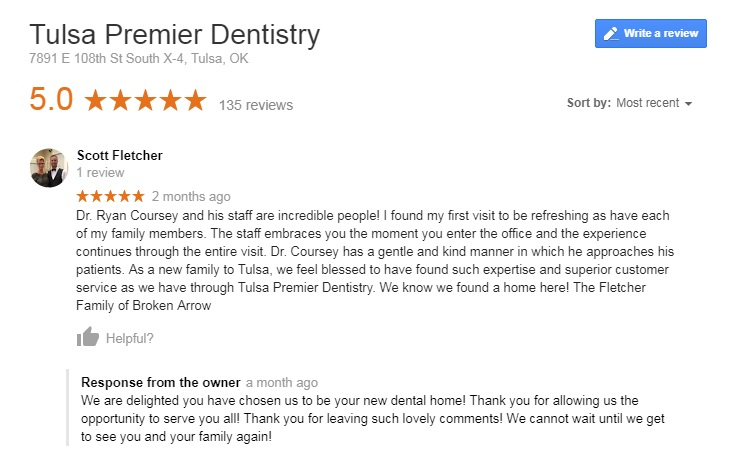 Image Courtesy: Tulsa Premier Dentistry
Respond to reviews
Professional dentists not only provide quality treatments, but they also proactively respond to patients' reviews. This shows potential patients you are concerned about their dental health and satisfaction.
By getting this quality of feedback, you will be able to start getting more dental reviews and build credibility with potential patients. Keep in mind that it takes time, but if you invest your efforts into getting quality reviews, you will start to see your patient base grow.
Take the time to reach out to your patients, ask them for their honest feedback, and thank them for reviewing your practice. Your dental practice will surely reap the rewards in no time!
Now let's have a look at the top 10 dentist review sites that you should follow to get genuine reviews for your practice:
Top 10 Dentist Review Sites That You Should Follow in 2023
1. Google Business
Google is a popular search engine for people looking for healthcare information. In fact, 77% of people use Google to start their patient journey.
Claim your Google Business Profile and set Google reviews for your dental clinic if you want your practice to grow immensely.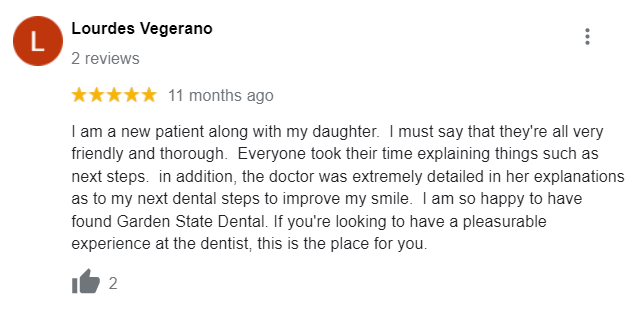 Google reviews appear in both Google Maps and Google Search, making it a powerful tool for increasing your visibility and attracting new patients.
2. Facebook Ratings
Facebook is another powerful platform for promoting dental practices, with over 2 billion monthly active users. The 5-star dentist reviews of your dental office place you at the top of the list when patients search for local dentists on Facebook.
High ratings on Facebook are a sure way to become a reputable and successful dentist. Encourage your patients to leave detailed reviews of your dental services on Facebook, as each review matters.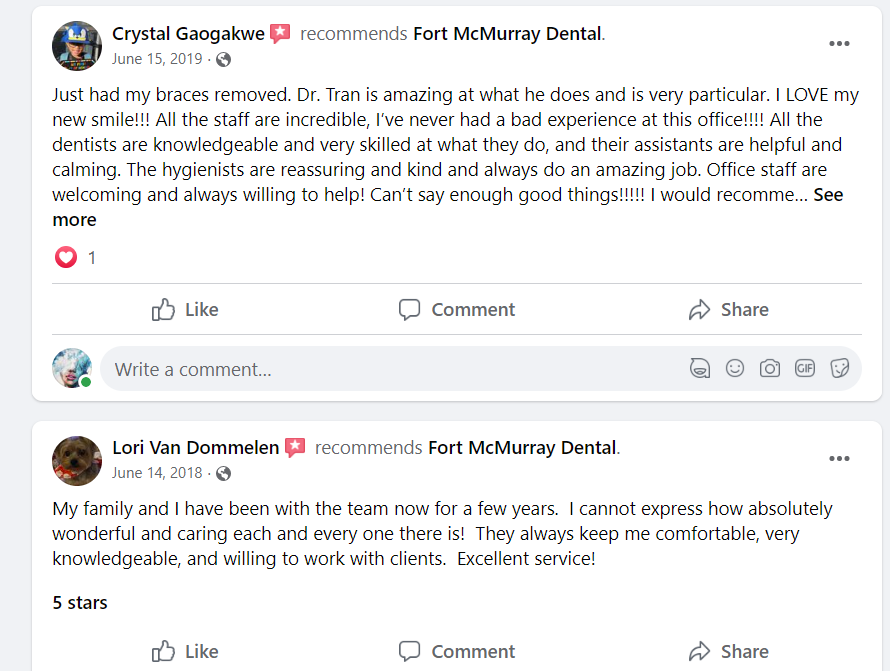 3. Yelp Reviews
Yelp is another popular review site, with over 140 million reviews of businesses in more than 30 countries.
Yelp allows patients to search for practices by location and speciality. Dental practices can create a free business listing on Yelp and encourage patients to leave reviews there.
Getting reviews on Yelp is great because, according to the HBD study, a one-star increase in Yelp rating leads to a 5-9% increase in revenue.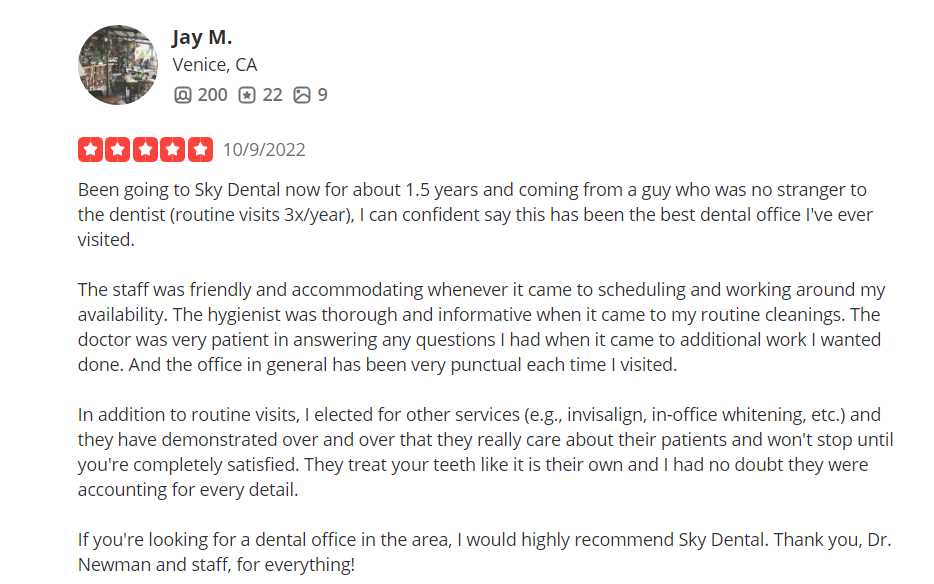 4. Healthgrades
Healthgrades is a leading source of reliable information about healthcare providers. It offers detailed profiles of dentists, millions of dental care reviews and an online appointment booking system.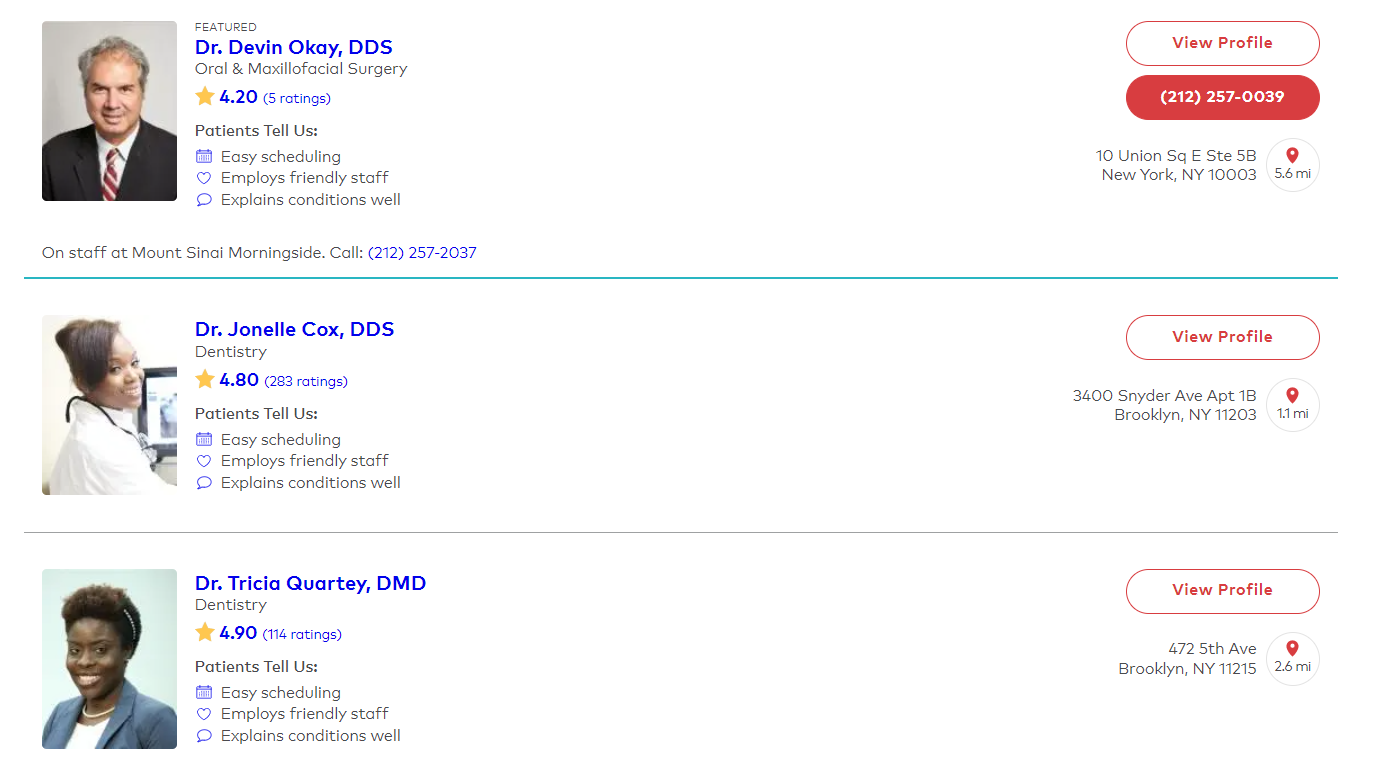 Earning positive reviews here means you are destined to be successful as a dentist. By creating a profile on this site, dentists can attract more patients.
Every positive dental review patients leave there will immensely boost your dental practice.
5. 1-800 Dentist Review
1-800 Dentist 1-800 Dentist is a popular dental referral site. They offer a suite of products and services for dentists to market their practice, connecting them with patients and helping them communicate with them.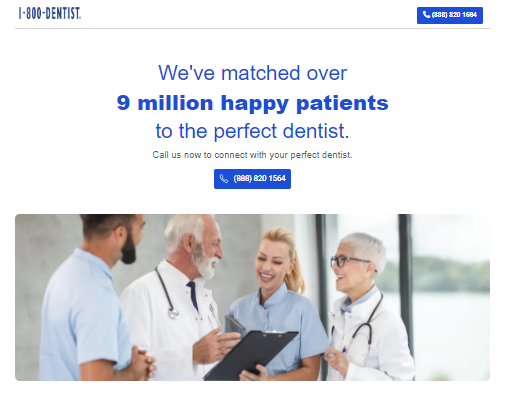 Moreover, the site matches each patient with a suitable dentist based on the five questions they ask. After a dental visit, patients review their experience and services from the dentist.
6. Dentistry
Dentistry is another great site where you can list your practice and increase visibility and patient base.
Plus, you can interact with other community members, patients, and dental professionals. You can answer questions about dentistry, write dental-related articles, and encourage patients to book appointments and leave reviews through this site.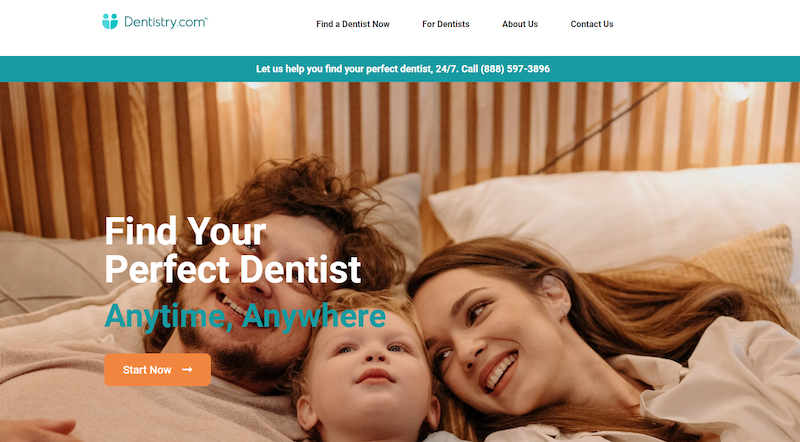 7. Vitals
Vitals is the largest online source of information about dentists and other healthcare professionals. It helps potential patients get detailed reviews about the practice, making it easier for them to choose a dentist.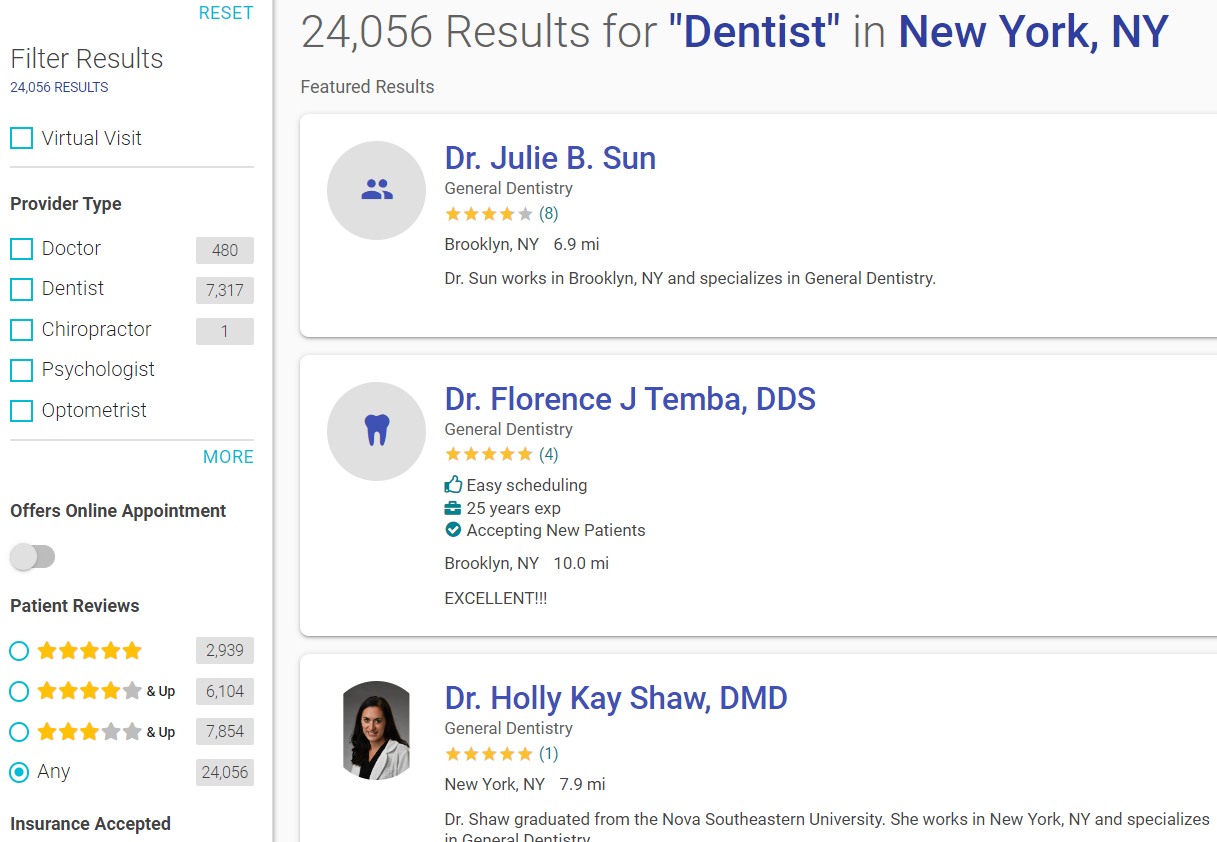 Vitals provide patients with a list of local dentists and encourage them to schedule appointments. Once the patient visits the practice, it sends review reminders to the patients so they can rate their experience on Vitals.
8. RateMDs
RateMDs provides ratings and reviews for healthcare professionals, including dentists. It allows patients to get detailed information on the services offered by different dentists in a particular location.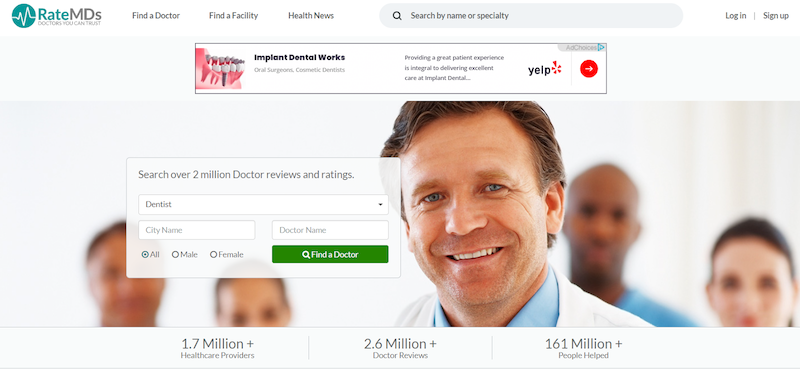 Patients can also leave comments regarding their experience with a dental practice. This helps potential patients get an in-depth understanding of dental practices.
9. Caredash
Caredash hit a major milestone in 2019 when it reached one million users, and since then, its database of patients has only grown larger. It is a transparent review platform with reviews and ratings for dental practices from real patients who follow their review guidelines.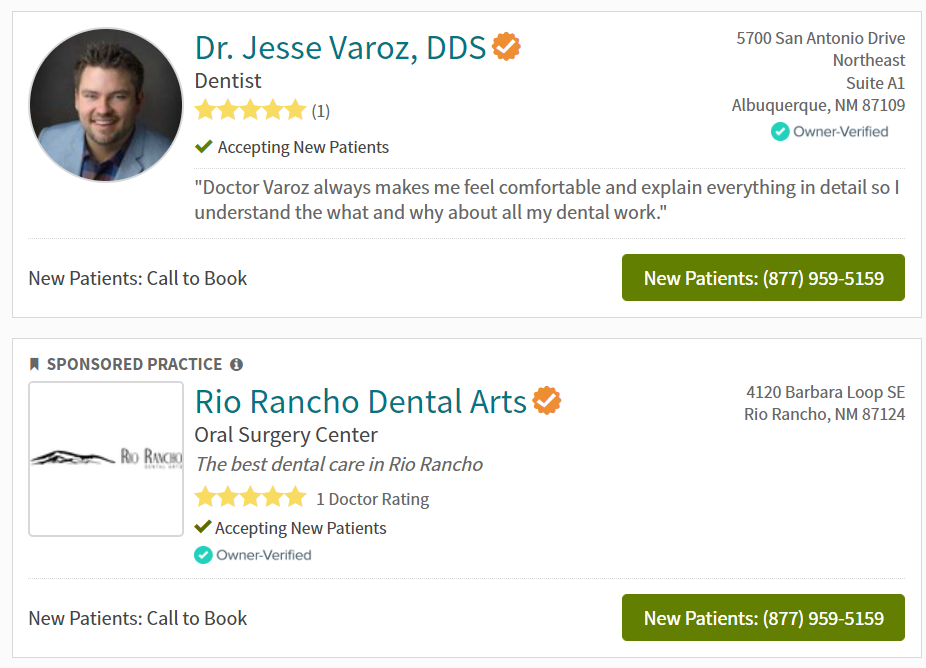 Caredash makes it easy for patients to find reputable dentists in their area. Patients can then share their experiences and leave reviews and ratings.
10. Yahoo Local
Yahoo Local is a great platform for dental practices to get feedback from patients. It allows dentists to create their own listings on the site and add details about their services and contact information.
Moreover, it helps potential patients easily find dentists in their area by providing them with reviews left by current and past patients. This will help them make an informed decision regarding which dentist to choose.
Although it may be simple to only focus on getting reviews from one site, it's crucial that you cast a wider net and get dental reviews from various platforms. It will increase your visibility and build trust with potential patients.
What's important: Real Reviews
Patients' reviews and ratings on dental review sites can help dentists build trust and credibility with potential customers, leading to more appointments.
However, it is important to remember that you should always be honest and swift when responding to reviews. This will help you build a good reputation with current and potential patients.
All of the review sites mentioned above will improve any dental practice. But you can expand your patient base by growing your online reviews ten times with DemandHub.
Book a free demo with DemandHub today.
Frequently Asked Questions (FAQs) about Dental Review Websites
What are dental review sites?
Dental review sites are online platforms where patients can share their experiences and rate dental practitioners and clinics. These sites provide valuable insight into the quality of care and services provided by different dental practices, making it easier for potential patients to make informed choices.
How do dental review sites help patients?
Dental review sites can guide patients in choosing the right dentist based on feedback and ratings from other patients. They provide a platform for patients to share their experiences and help others make informed decisions about their dental care.
Why are dental review sites important for dentists?
Dental review sites are crucial for dentists as they help build their online reputation. Positive reviews can attract new patients and boost the overall image of the dental practice. Additionally, they can provide feedback to help dentists improve their services.
How can dentists encourage patients to leave reviews on these sites?
Dentists can encourage patients to leave reviews by requesting them directly after an appointment or sending follow-up emails. It's important to make the review process easy and accessible, such as providing a direct link to the review platform.
Which are some of the most popular dental review sites?
Some of the popular dental review sites include Google Business (Google My Business or GMB), Yelp, Healthgrades, ZocDoc, and RateMDs.
What is the purpose of a dental website?
The primary purpose of a dental website is to offer a virtual platform where potential and existing patients can learn more about your dental practice. It serves as a medium to provide necessary information about your services, operating hours, and location. Furthermore, it plays a vital role in attracting new patients and retaining existing ones by offering an easy way to book appointments, showcase reviews and testimonials, and provide valuable content.
What should a dental website include?
An effective dental website should include the following:
Professional Branding: Your logo, color scheme, and other branding elements should be consistent across your website to create a professional and cohesive look.
About Us Page: This page should provide information about your dental team, your practice's mission, and values.
Services Page: List all the dental services you offer. Detailed descriptions of each service can help patients understand what to expect.
Contact Information: Clearly display your phone number, email address, and physical location.
Appointment Booking: An online appointment booking system can make it easy for patients to schedule appointments at their convenience.
Patient Testimonials and Reviews: Sharing positive experiences from existing patients can build trust with potential patients.
Blog or Resources: Regularly updated educational content can help your site rank better in search engines and establish your practice as a leader in the dental field.
Social Media Links: If your practice is active on social media, include links to those profiles to help visitors connect with you on those platforms.
Responsive Design: Your site should be mobile-friendly, as many people use their smartphones for online browsing.