Imagine this: business is booming and you didn't pay for traditional marketing campaigns and ads on social media channels like Facebook, Linkedin, Twitter, or Google. The raving reviews keep coming in, and the marketing is seemingly taking care of itself.

Sounds like an impossible marketing strategy, right?

What if we told you that there are real-world techniques that you can use to make this dream into a reality?

You can do this by turning your customers into the best source of marketing without overspending on social media marketing.

This type of marketing is also known as "word-of-mouth" marketing, and it's the gold nugget of success that many companies struggle to utilize.

With the tips below, you can take advantage of the power of word of mouth to attract new customers, promote brand awareness, and increase brand loyalty.
Connecting vs. "Collecting"
Companies that engage with customers on an emotional level outperform their competitors by 85%. When you treat your customers in ways that make them feel personally connected to your business, it will build a level of trust and increase their personal recommendations. By reframing your customer relationships as "connections" rather than "collections", you are more likely to develop long-term relationships with your customers. This is at the heart of word-of-mouth marketing. A good rule of thumb to consider when trying to change the way you and your staff see your relationships with customers is to apply the "golden rule" - treat your customers the way you would like to be treated as a customer yourself. You can also make sure your customers feel heard by responding to your online reviews with accountability and genuine care.
So, what is word-of-mouth marketing?
Word-of-Mouth (WoM) marketing is the "oral or written recommendation by a satisfied customer to potential customers of a good or service." Word-of-Mouth marketing strategies are the most influential and effective form of promotion because 92% of consumers base their purchase decisions on the peer recommendations of friends and family members. The American Marketing Association (AMA) did a study on WoM and found out that 64% of marketing executives indicated that they believe WoM is the most cost-effective form of marketing, yet only 6% say they have mastered it.

There are 2 kinds of WoM marketing:
Reactive WoM - When your customers mention your product/service after being prompted in a topically related conversation.
Proactive WoM - When your customer introduces or inserts your product/service into a topically unrelated conversation.

Proactive WoM is more valuable than reactive because it means that your customer was so happy with your service or product that they were compelled to make a recommendation without being prompted to do so. This referral marketing strategy helps you create ambassadors for your business just based on your customer experiences. Telling the story of their experience with your company without being asked requires passion and conviction, making their recommendation all the more convincing. This is where the golden opportunity for marketing lies, but it requires you to create the best experience possible for your customers. An effective way to do this will require you to create "talk triggers" to prompt your satisfied customers to talk about your service outside conventional conversations. In order to make sure the word of mouth recommendation about you is proactive, your talk trigger needs to be unique from anything that has been done before, and it needs to be irresistible to the consumer. We will discuss in further detail how you can create talk triggers for your customers below.
How to Use Word-of-Mouth Marketing
In order to utilize proactive word-of-mouth marketing strategies to your advantage, you need to be able to differentiate yourself from anyone else in the market and make your service or product hard to say no to. We've compiled a list of important steps your business needs to take to create effective buzz marketing to keep the customers coming in, and the marketing budget low.
1. Pick your tone of voice.
Your company needs to have a cohesive tone of voice that is a) true to your brand and b) consistent throughout the entire organization. This is important because establishing your brand voice gives your customers the right framework to talk about your company in the way that you want them to. You and your staff can implement a tone through training sessions or a walk-through of customer service steps that fits your image. One way to do this is to create scripts for your staff for when they help a customer, so they know what to say and how to say it. You can also keep this tone of voice consistent through online reputation management (i.e. using the same tone of voice for all your social media, or using pre-written responses when a customer leaves a review on Google). There are many classic archetypes that you can choose from to fit your brand, ranging from nurturing to comical. Here's a link to 12 different ones to give an idea of the kind of wording to use when conveying your company image: Brand Tone

Take, for example, this local Toronto Bike Shop called Revelo. Throughout their website and blog, they use language similar to the archetype "the Hero" (as mentioned in the link above), as they pose their company as an "innovator" in their field. They use key phrases such as "transformative", "the power of thin" and "exceptional design, solid performance" to signify their brand tone. This language is also consistent with their social media, as their profile description says "the new era of personal transportation..." This company has decided to choose a heroic tone of voice, and their consistency on their social media allows them to dictate the type of language they want their audience to use when speaking about them.
2. Create communication opportunities.
In order to create a community of loyal customers, you have to be the helping hand that your customers need by engaging with them and listening to their wants. You can be an active part of the conversation about your brand by constantly communicating with them in ways that are most convenient to your customer. By doing this, you will be able to communicate with them at the right times and secure your place in their lives. Texting your customer is a great way to do so because of its ease of use and accessibility. 9 out of 10 customers want to text businesses, but less than 50% of businesses are equipped to communicate that way. Texting your customers allows you to keep them in the know about your company, and also gives them a sense of community that many other companies fail to do.

Not only this, but by being able to text your customers, you can keep in touch with them in a more personalized way. They'll be able to rave about how quick and easy it is to communicate all their needs with you. Take a look at this example of Tamiami Ford Inc and their thousands of raving reviews. This customer was so pleased with Tamiami's constant text communication that they left a 5 star review to rate their experience.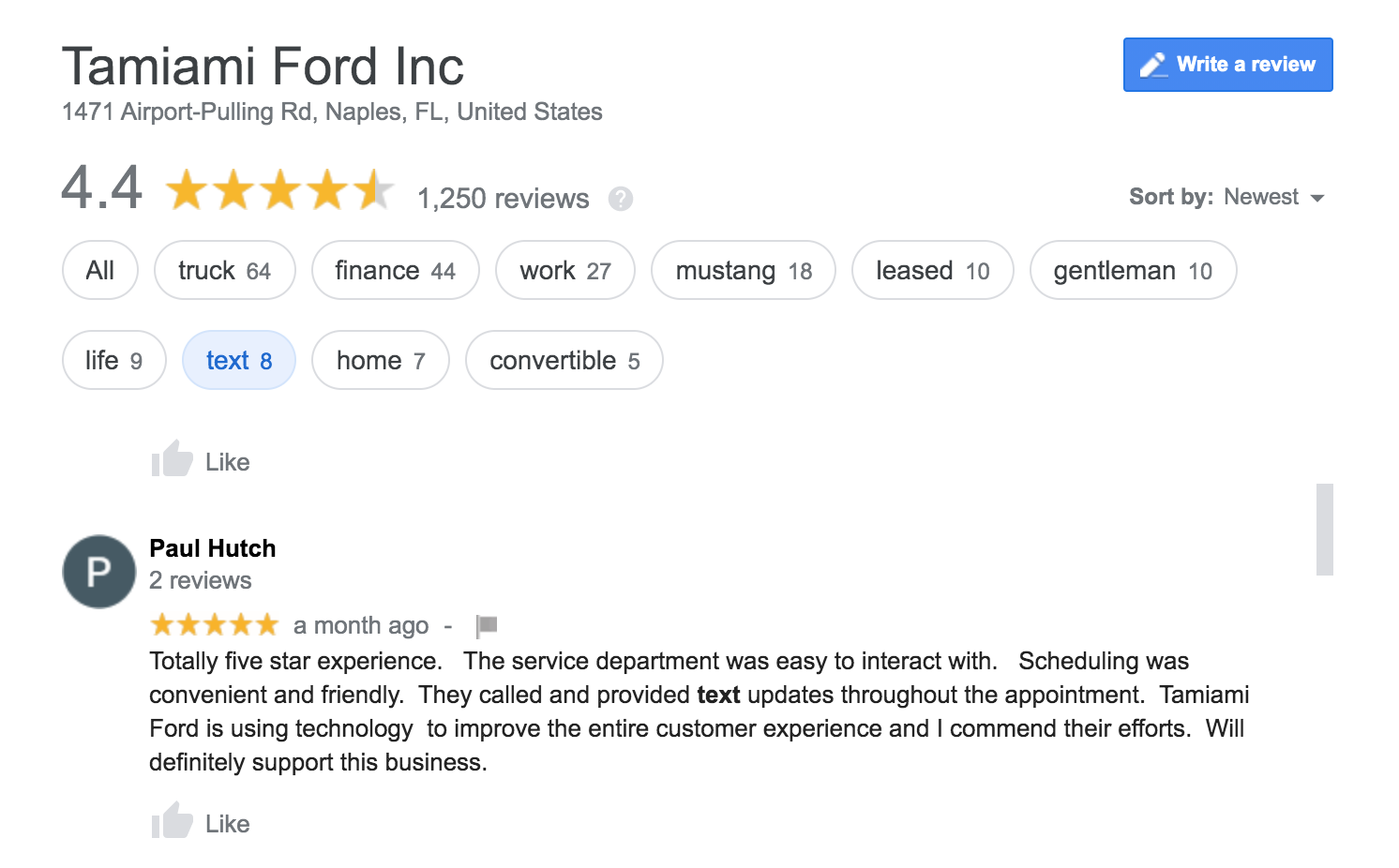 3. Surprise your customers.
Surprising your customers by going the extra mile gives them more incentive to talk. Depending on your customer and what they like about you, you can tailor your surprise tactics to fit your image. This "surprise" is a great way to give your customers a "trigger talk" to market to other future customers. Remember that "trigger talks" are conversation starters to get your customer to rave about you outside of your place of business. Surprises can include: referral programs, insider knowledge and deals, incredible stories, extra products/samples, baked goods, giveaways, the list could go on! Don't be afraid to get creative; the more original you are, the better.

An example of this is DoubleTree's free gift of chocolate chip cookies. DoubleTree hotels give a free, warm, chocolate chip cookie to each of their customers upon check-in, and many people stay at these hotels just to get one. By incentivising their customers with cookies upon their stay, they are able to garner thousands of raving reviews and fans of the cookies. These cookies have proven to be an incredibly effective marketing strategy for this hotel chain, as people travel far and wide just to get a taste of these delicious treats.

Another great example of this is Kawartha Care's "above and beyond" customer service. Their highly personable care from all the staff really shines through for their customers as a point of reference to keep doing business with them.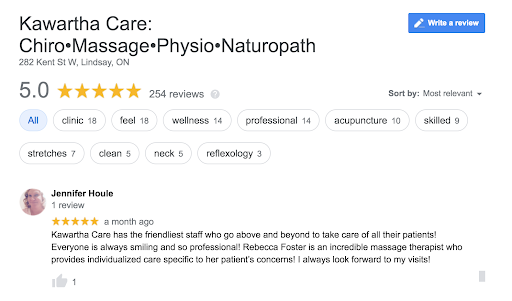 4. Be consistent.
By consistent, we mean consistent quality. Surprising your customers is important in giving them talk triggers, but maintaining your quality of service and products is an integral part of retaining your customers for life.

By doing so, not only are they enticed by your amazing service or product, but they will have nothing to complain about and will want to keep doing business with you. Retaining customers you already have is more cost-effective than trying to get new ones, and by being consistent, it gives your company the credibility it needs to sustain its long-term business goals.

An example of this can be shown in this great review left for Brush Dental. This patient begins the review by highlighting their loyalty to the clinic over the years, and the reasons why they decided to stay so long. Even after being with them for 3 years, they continue to show their commitment to keeping their customers safe and satisfied when they express their concerns over safety protocols.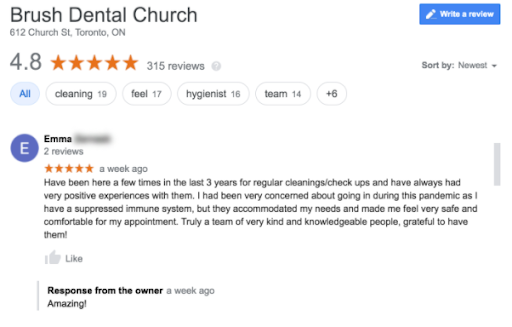 5. Be authentic and transparent.
Much like staying consistent, being authentic and honest is at the core of a great business strategy. Consumers can tell when a brand is being dishonest. A good WoM Marketing strategy is sourced in credible, social, consistent, measurable and respectful ways.

Not only will your brand have the reputation of being authentic, but your customers will also have the most accurate information about you when sharing their experiences with others. This will help strengthen your brand image, and will increase your credibility as a professional business.

Especially during the uncertainty of COVID-19, most customers value quality of service over price. Practicing proper COVID protocols is vital for providing customer service safely, and customers truly value when you put their health first. Take, for example, this review of The Business Barbershop.

This customer specifically left their last barber due to the fact that they were not honest about their COVID protocols, and found an even better shop with more ethical practices. From this one positive experience, they were able to turn a first-time customer into a regular.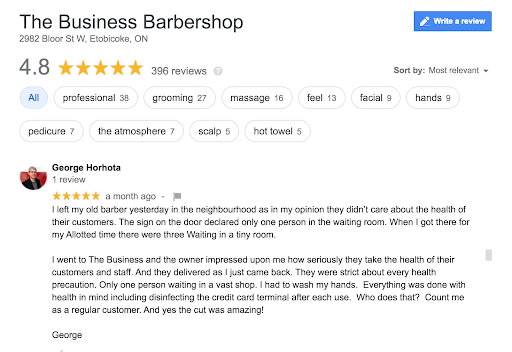 6. Empower your customers.
You can empower your customers by giving them a voice to share their opinions with you and letting them know they are valued. Consumers become more emotionally bonded to a company when they feel they are being listened to.

You can give them different ways to talk and share their opinions by facilitating conversation about your business with campaigns such as speaking to them personally for feedback or promotional events.

High Touch Moving took customer empowerment further by demonstrating through their service that the "customer comes first". They performed beyond expectations by listening to their customer's directions exactly, empowering their voice, and by handling their personal belongings with great care and effort.

This compelled the customer to write an outstanding review of this company online. The company also responded in a short, but professional manner, also reinforcing the relationship they have with their customers.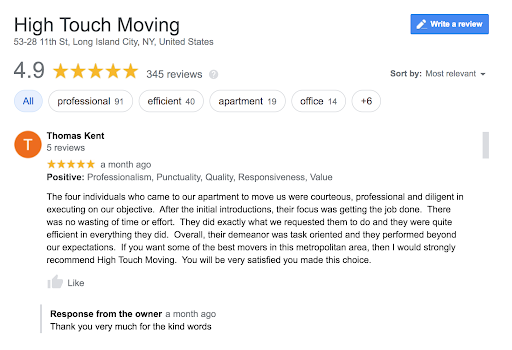 We're here to help
Digital technology and social media has made it easier than ever for your consumers to do the marketing for you. Online reviews are at the core of word-of-mouth marketing in modern businesses, and at DemandHub, we are here to help you fulfill your business dreams. With our integrated communications, connecting with your customers is simple and hassle-free. Book a demo today to see how DemandHub can help you increase your WoM marketing and get the reviews you need to accelerate your business.

Learn More