Tamiami Auto Group Increases Reviews 155% to Stand Out from the Competition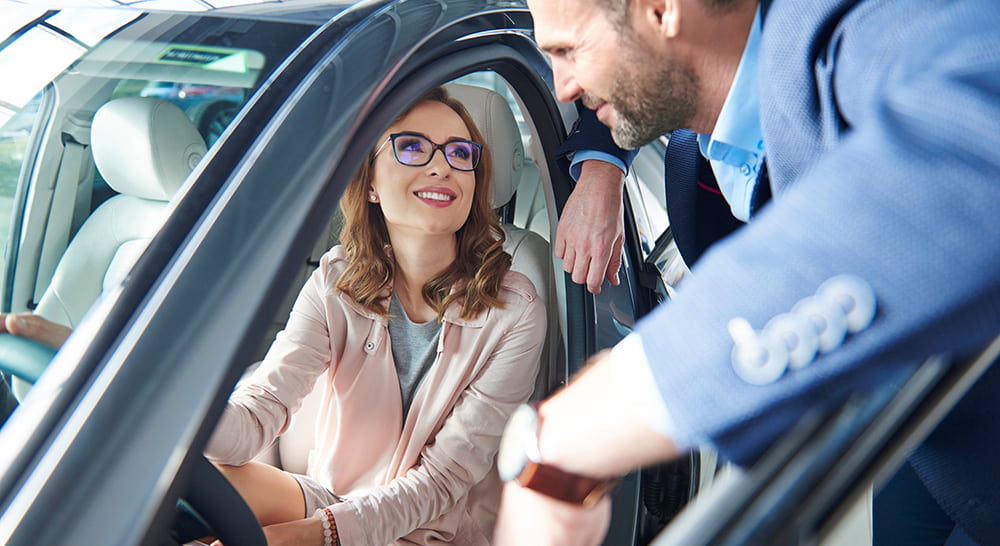 Using DemandHub Reviews, Messenger, and Web Chat, This automotive dealership group supercharges reviews with DemandHub to make a good first impression on the customer.
5,627

+

new reviews across
two locations
4.6
Increased rating from
4.0 to 4.6 stars
155

%

increase in online
reviews in 7 months
About Tamiami Auto Group
Tamiami Auto Group consists of multiple dealerships, including Tamiami Ford and Tamiami Hyundai. Their mission is to take care of all of their customers' automotive needs under one roof.
"The first thing a customer sees when they look up your business on Google are the reviews. It's your chance to make a good first impression."
Joy Zellers-Rautenkranz -
Manager, Tamiami Auto Group
The Challenge
Tamiami Auto Group operates in a highly competitive market. In order to capture the attention of consumers, dealerships need to start at the very beginning. Most car buyers begin their customer journey by researching online. If a dealership has a lot of positive reviews, it's a good chance the customer will take notice. communication easier for her customers. This was the challenge she was trying to solve when she started using DemandHub.

According to Martech Zone, customers spend 31% more on a business with great reviews.

Joy Zellers-Rautenkranz, Manager at Tamiami Auto Group, understands the importance of positive reviews online. Before working with DemandHub, the dealership was using a manual process of sending out emails asking customers to leave a review. However, the process wasn't working as well as they had hoped and the business wasn't garnering as many reviews as they liked.

"The first thing a customer sees when they look up your business on Google are the reviews," says Zellers-Rautenkranz. "It's your chance to make a good first impression." Zellers-Rautenkranz did some digging and saw that Tamiami Auto Group's competitors had a larger quantity of reviews than they did. In order to stand out, she knew the dealership had to supercharge their reviews to get on a level playing field.
The Solution
Tamiami Auto Group consists of several high-performing dealerships. Zellers-Rautenkranz was looking for a solution that could match the level of reviews with their high sales volume. "It's a really neat platform," Zellers-Rautenkranz says of DemandHub.

Far more efficient than their previous manual process, DemandHub Reviews automatically sends out a text to customers after their last engagement with the dealership. The text contains a link to Google where customers can post their review. All they have to do is click on the link, pick a star rating, and write their review. "It takes just 30 seconds," says Zellers-Rautenkranz.

Altering their approach from manually emailing customers to sending out automated texts changed Tamiami Auto Group's conversion rate for getting reviews.

Consumers respond to texts within 90 seconds, while legitimate emails have a much slower response time of 90 minutes, according to CTIA.

The influx of new positive reviews affects Tamiami Auto Group's search ranking on Google. "We have definitely seen an increase in our web traffic," shares Zellers-Rautenkranz. The more frequent reviews the business gets, the better the company's position in search results.

With a higher search results ranking, there is more chance that a customer will visit the website and click on the call-to-action.

According to BrightLocal, positive reviews encourage 68% of consumers to use a local business.


The Results
Tamiami Auto Group has seen a boost both to their web traffic and to their sales since using DemandHub. "Negative reviews can sway your customers to go to your competition," explains Zellers-Rautenkranz. "But positive reviews have a powerful effect on whether a customer visits your business."

Take a look at the numbers:
Tamiami Auto Group gained over 2200 new reviews since using DemandHub across two locations.
Tamiami Hyundai went from a 4.0 to a 4.7 star rating, while Tamiami Ford rose from a 4.0 to a 4.3 star rating.
In just 7 months, the Tamiami Auto Group saw a 155% increase in online reviews, and a 700% increase in total reviews since joining.
With DemandHub, Tamiami Auto Group has made headway against the competition, both online and in person. "It's critical to have lots of positive reviews when a customer Googles us," Zellers-Rautenkranz says. "We now have thousands of proof-points to show our new customers."

In a highly aggressive market, rising above the competition happens when customers share their positive experiences about the business. "Now new customers can see the level of service and customer experience they're going to get at Tamiami Auto Group even before they set foot through the door," explains Zellers-Rautenkranz.
Ready to Grow Your Business?
Our mission is to help local businesses grow by making it easier to communicate with customers. With modern messaging technology, your business can text review invitations to your customers, enabling them to post a review with just a few clicks in under 30 seconds.

If you're looking to boost your revenue, the best place to start is with the online reviews of your business.