Are you looking to stay up-to-date on the latest news and trends in dentistry? If so, following some of the best dental blogs is essential for aspiring dental professionals and students alike.
This article contains a list of 6 fantastic dental blogs that are sure to keep you informed and inspired. We've also included 5 great examples of dental student blogs for aspirants who want to stay ahead of the curve.
Whether learning about new treatments or exploring common dental procedures or innovative technologies, these top dental blogs will have something for everyone interested in dentistry!
So, if your goal is to become a successful dentist in 2023, check out our list of best dental blogs!
6 Best Dental Blogs for Dentist Professionals to Follow in 2023
Dental Economics
T-bone Speaks
Dentistry IQ
Ask Dr. Spindel
Off the Cusp
DemandHub Blog
1. Dental Economics
Dental Economics is a practice management blog for dentists offering print and digital content. It has more than 100,000 subscribers to its print publication. The website alone has an active reader base of 170,000 per month, making it one of the best dental blogs to follow.
Dental Economics is one of the most-read publications in the dental industry. It has 110+ years of history of helping dentists in treating their patients effectively and helping dental practice owners expand.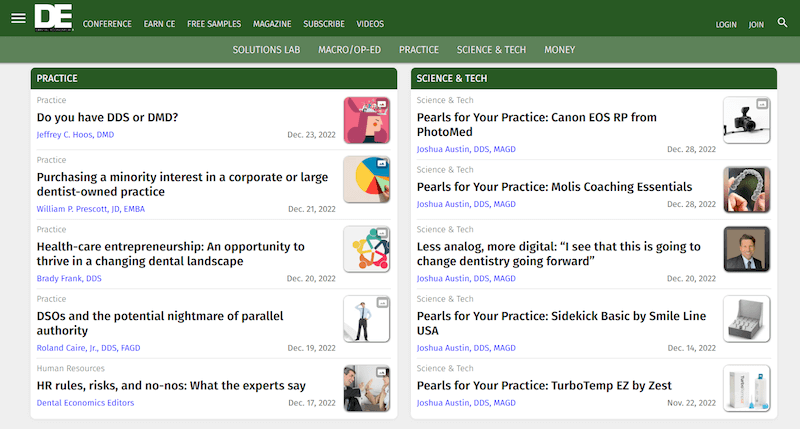 The content covers practice management, new products, and a wide range of techniques for providing quality patient care while growing your dental practice. Dental Economics is also active on social media, with pages on both Facebook and Twitter and private Facebook groups.
2. T-Bone Speaks
Dr. Tarun Agarwal, DDS, also known as T-Bone, is a dental coach and consultant. He started his blog in 2011 to support dentists with their businesses. He offers practical advice from the perspective of an experienced dental professional – something that sets him apart from
T-Bone Speaks is an inspirational and versatile dental blog that dives deep into the details of clinical setups and office design inspiration with real-world lessons.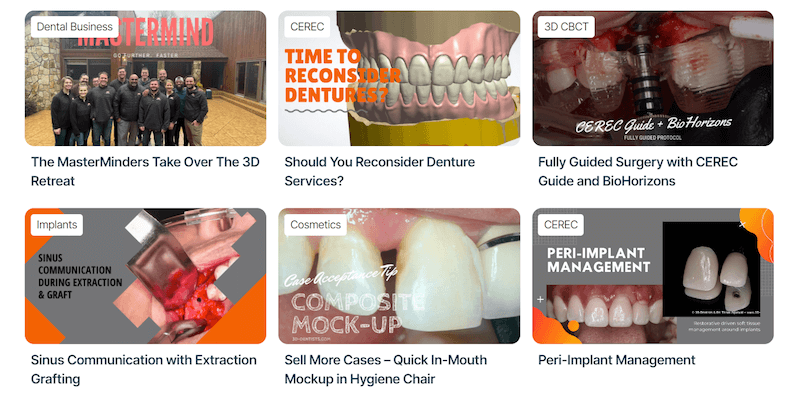 3. Dentistry IQ
Dentistry IQ is a trusted and comprehensive resource for all dental professionals, ensuring that no one in the field gets left behind. With a strong focus on education, this blog covers everything from patient education to staff development and equipment expos.
It provides a range of content for dentists looking to stay informed about advancements in dentistry, including podcasts, webinars, and blog posts. It also covers industry news, product updates, clinical practice advice, and professional development tips.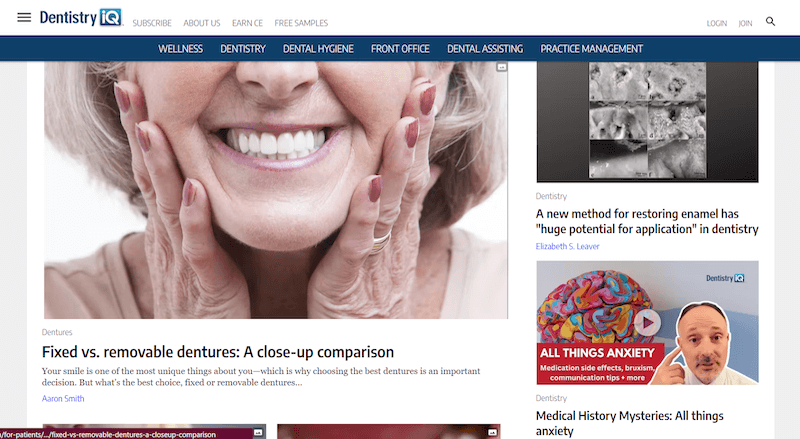 4. Ask Dr. Spindel
Lawrence Spindel, DDS' blog, Ask Dr. Spindel, is a top-ranked website praised by renowned outlets such as The Washington Post and Value Penguin, which named it one of the top dental blogs in 2019. The blog offers helpful advice with an approach that's both conversational and professional.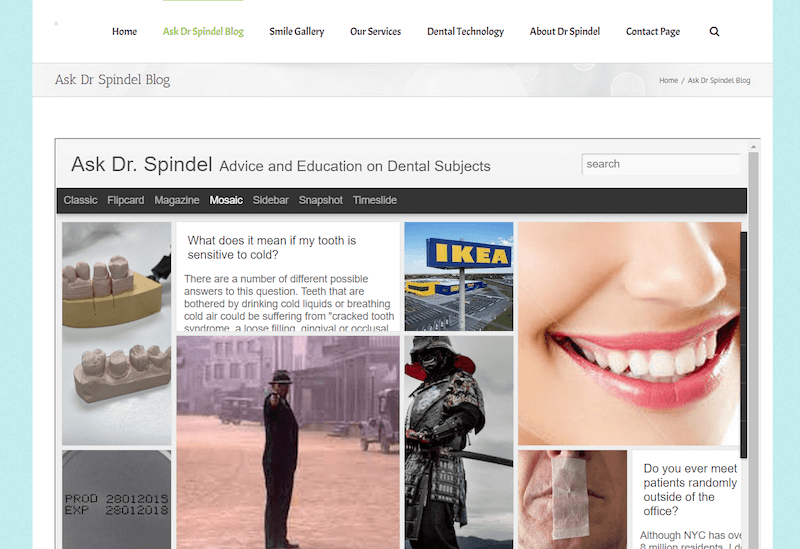 5. Off the Cusp
Off the Cusp was created in 2011 by Patterson Dental as an educational resource for all dental professionals. This blog provides resources on the latest dental topics, trends, and best practices across the industry.
Off the Cusp is a dynamic dental blog that ensures dentists stay up-to-date with the industry's progress. With topics covering everything from office design to human resources and dental equipment, it is a go-to source for all things related to the dental industry.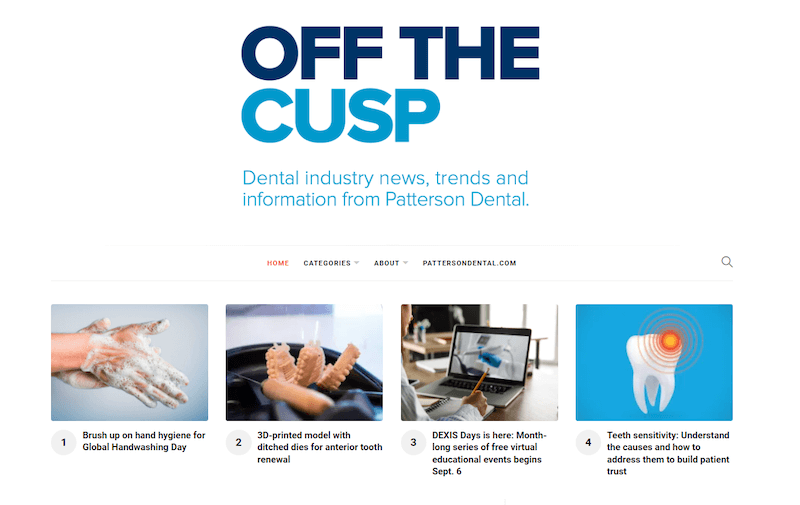 6. DemandHub Blog
We may be tooting our own horn, but we have put a great effort into DemandHub's blog. It is packed with tips and resources on how to run a successful dental practice. We cover everything from practice management to dental marketing and patient experience.
At DemandHub, we are passionate about helping dentists, and dental professionals succeed by getting more positive reviews. We go above and beyond to get our readers the best advice from top industry experts so that you can stay up-to-date on the latest news and trends. Our blog is filled with actionable tips you can implement in your practice today!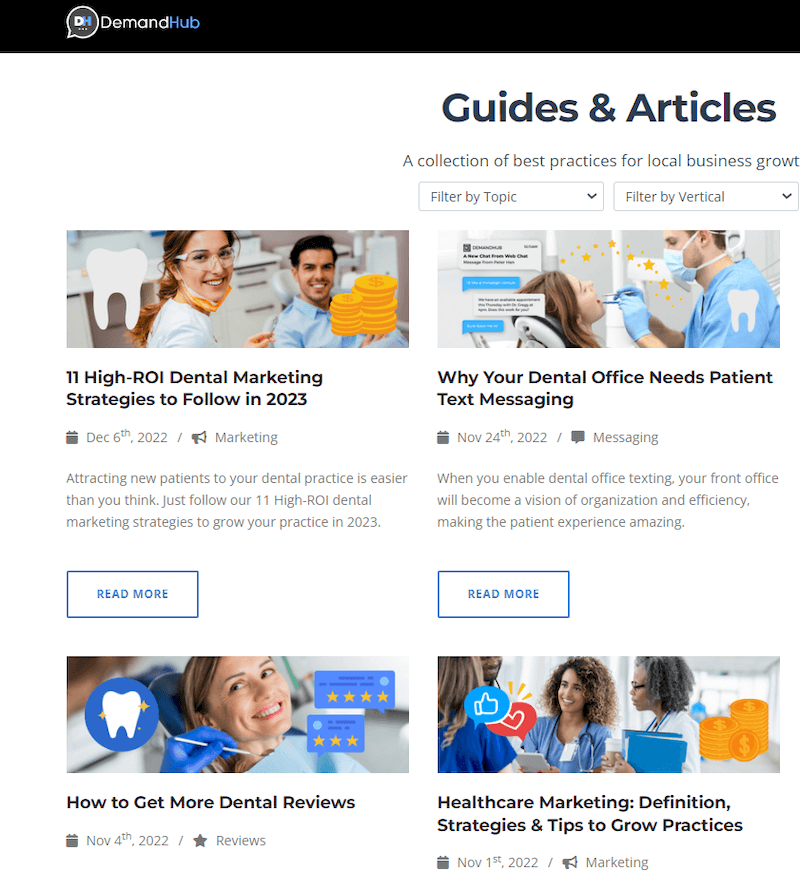 Frequently Asked Questions (FAQs) about Dental Blogs
Why should dentists consider blogging?
Blogging is a powerful tool for dentists. It allows them to share helpful information with patients, showcase their services, and position themselves as industry experts. Updating a dental blog can boost a practice's online visibility, drawing in more potential patients.
What topics can a dental blog cover?
A dental blog can cover various topics, including oral health tips, explanations of dental procedures, dental news, patient testimonials, and behind-the-scenes stories from the practice. Ensuring the content is engaging, relevant, and valuable to readers is essential.
How can dentists promote their blogs?
Dentists can promote their blogs by sharing posts on social media, sending them to patients via email newsletters, and optimizing posts for search engines (SEO). Guest blogging on other reputable dental blogs can also help attract new readers.
How do I write a dental blog?
To write a dental blog, choose an engaging and relevant topic. Make sure to research your topic well and present your information clearly and clearly. Add keywords naturally for SEO, and include visuals like images and infographics to make your content more engaging. Be consistent with your blogging schedule to keep your audience engaged and returning for more.
How do I brand myself as a dentist?
Branding yourself as a dentist involves creating a unique and positive image that differentiates you from others in the field. Here are some steps to help you build your brand:
Identify Your Unique Selling Proposition (USP): What differentiates you from other dentists? It could be your specialization, your approach to patient care, or even your personality. This USP should be the core of your brand.
Create a Professional Website: Your website is often the first impression potential patients have of you. Ensure it's professionally designed, easy to navigate, and includes information about your services, qualifications, and patient testimonials.
Develop a Consistent Visual Brand: This includes your logo, color scheme, and any other visual elements associated with your brand. Consistency helps increase recognition and trust among potential patients.
Engage on Social Media: Platforms like Facebook, Instagram, and LinkedIn are great places to interact with patients and share valuable content. This can help establish you as an expert in your field.
Start a Blog or Vlog: Share your knowledge and experiences. This not only helps patients but also boosts your visibility on search engines.
Ask for Reviews and Testimonials: Positive reviews from satisfied patients can significantly enhance your reputation. Encourage your patients to leave reviews on platforms like Google and Yelp.
Network: Attend industry conferences and local community events or join professional organizations. Networking can help you meet potential patients and other professionals who can refer patients to you.