Every second counts in healthcare. As more and more healthcare providers transition to digital solutions for appointment scheduling, the stakes have never been higher. 60% of healthcare breaches in the past year were linked to inadequate data protection measures.
In this rapidly digitizing industry, the importance of HIPAA compliance cannot be overstated. It's not just about convenience—it's about safeguarding the trust and confidentiality of every patient who walks through your doors.
In this guide, we'll delve deep into the world of HIPAA-compliant scheduling software, helping you make informed choices that protect both your practice and your patients.
Table of Contents
What is HIPAA-compliant scheduling software?
HIPAA-compliant scheduling software is a specialized digital platform tailored for healthcare providers. Its primary function is to streamline booking and managing patient appointments.
But what sets it apart is its adherence to the stringent Health Insurance Portability and Accountability Act (HIPAA) guidelines. This compliance ensures that all patient information—medical history, contact details, or appointment specifics—is handled with the utmost confidentiality and security.
This software is a fusion of convenience and compliance, allowing healthcare professionals to optimize their operations without compromising on the sacred trust patients place in them.
Why Is HIPAA Compliance Important for Scheduling Software?
In healthcare, the sanctity of patient data is paramount. Protecting the security and confidentiality of sensitive information is not just a best practice. It's a legal and ethical obligation. This is where the significance of HIPAA compliance in scheduling software comes into play.
Dealing Directly with Patient Data
At its core, scheduling software is a repository of sensitive patient information. From personal details to medical histories, these platforms handle a plethora of data that, if mishandled, can have dire consequences.
Recent Data Breach Statistics
The first half of 2023 saw 327 healthcare data breaches, a 104% increase from last year.
In June 2023, HIPAA-regulated entities reported 66 breaches, exposing over 5 million healthcare records. These breaches exposed the records of over 40 million patients.
The figures for July 2023 brought the running breach total for 2023 up to 395 incidents, across which the records of 59,569,604 individuals were exposed or impermissibly disclosed.

The most common cause of these breaches?
Hacking incidents account for over 77% of the month's data breaches and over 96% of the breached records.
Legal Repercussions
The legal landscape surrounding patient data is stringent. HIPAA regulations ensure that patient information is treated with the utmost care. Any deviation or violation of these standards can lead to severe legal actions.
For instance, the Office for Civil Rights announced three enforcement actions in June 2023, with penalties ranging from $30,000 to $240,000 for various HIPAA violations.
Loss of Trust
Beyond the legal implications, there's an even more valuable asset at stake: trust. Patients entrust healthcare providers with their most intimate details, expecting them to be safeguarded.
A single breach can shatter this trust, tarnishing a provider's reputation. This can be a debilitating blow in an industry where reputation is everything.
Financial Implications
The financial toll of a data breach goes beyond just legal fines. The aftermath of a breach often involves damage control, which can include public relations campaigns, compensation for affected patients, and potential lawsuits.
Moreover, a tarnished reputation can lead to a decline in patient numbers, significantly losing business and revenue.
While digital transformation in healthcare offers numerous benefits, it also comes with challenges. Ensuring HIPAA compliance in scheduling software is not just about adhering to regulations—it's about upholding patients' trust in healthcare providers and ensuring their peace of mind.
Features to Look for in HIPAA-Compliant Scheduling Software
Navigating the world of healthcare software can be daunting, especially when the stakes are as high as protecting patient data. But fear not!
We are here to guide you through the essential features you should be looking for in HIPAA-compliant scheduling software.
Let's dive in:
1. End-to-End Encryption
Imagine sending a secret message in a locked box, and the only person with the key to that box is the intended recipient. That's essentially what end-to-end encryption does for your patient data.
It ensures that the information remains encrypted (locked) while it's being transmitted and even when it's just sitting there, waiting to be accessed. This means that even if cybercriminals intercept the data, they won't be able to decipher it without the unique key.
Always ask the software provider about their encryption standards and ensure they align with industry best practices.
2. Multi-Factor Authentication (MFA)
Remember the days when a simple password was enough? Well, those days are long gone.
With MFA, users are required to provide two or more verification methods to access the system. This could be something they know (password), something they have (a phone or hardware token), or something they are (fingerprint or facial recognition).
Multi-factor authentication (MFA) is a lifesaver. It adds an extra layer of security and can be a backup when human memory fails.
3. Audit Trails
Think of this as the CCTV footage for your software. Audit trails keep a detailed record of who did what and when within the system. So, if something seems amiss, administrators can trace back the steps and identify any unauthorized or suspicious activity.
Reviewing audit trails can help spot potential issues before they become major problems. It's like having a security guard who never sleeps!
4. Data Backup and Recovery
Accidents happen. Systems crash, data gets deleted, and sometimes, disasters strike. But with a robust data backup and recovery feature, you can rest easy knowing your patient data is safe and can be restored quickly.
5. Regular Updates and Patches
Just like you'd regularly service your car to keep it running smoothly, your scheduling software needs regular maintenance, too. Software providers should proactively identify and fix potential security vulnerabilities, ensuring your system remains impervious to the latest threats.
Set reminders to check for software updates or, better yet, opt for a solution that offers automatic updates. It's one less thing to worry about!
Choosing the right HIPAA-compliant scheduling software is a crucial decision that requires careful consideration of its features. By focusing on these essentials, you'll be well on your way to ensuring the safety and security of your patient data. And remember, always trust your instincts and do your research!
1. DemandHub: Transforming Patient Scheduling with Compliance at its Core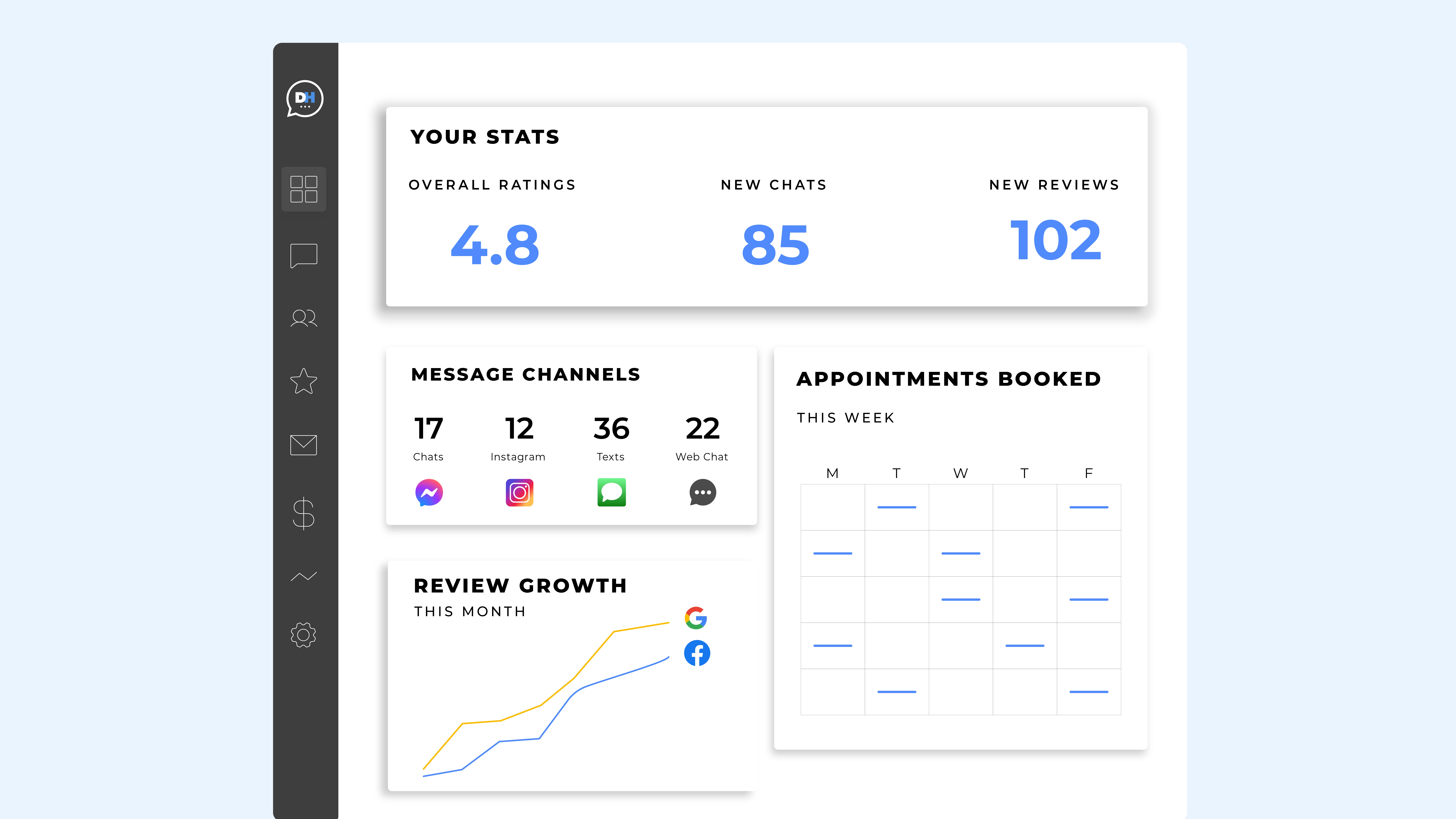 DemandHub is a complete 360-degree patient engagement solution! With self-scheduling and many other features, it streamlines your practice like never before. It offers many digital patient engagement tools to grow your practice.
Cost: Contact for Quote
Best for: Enjoy automatic text message reminders, web chats, Facebook, and SMS messaging – all managed from a user-friendly unified inbox. Effortlessly request reviews and enable contactless payments for a seamless experience. DemandHub truly has it all – don't wait; explore DemandHub now!
DemandHub offers several powerful features:
Seamless Integration with EHR Systems
DemandHub effortlessly integrates with Electronic Health Record systems. This ensures a smooth flow of patient data without the need for manual transfers or redundant entries.
Automated Appointment Reminders
Gone are the days of missed appointments and scheduling mishaps. With DemandHub's automatic reminders, patients are always in the loop, leading to improved appointment adherence.
User-Friendly Interface
A platform is only as good as its usability. DemandHub has an intuitive interface, making it easy for healthcare providers and patients to navigate and use.
Benefits of DemandHub:
Reduction in No-Show Rates
With automated reminders and efficient scheduling, DemandHub significantly reduces the rate of missed appointments, ensuring providers can maximize their operational efficiency.
Enhanced Patient Satisfaction
A seamless scheduling experience translates to happier patients. The ease of booking, rescheduling, and receiving timely reminders enhances overall patient satisfaction.
Complete Data Protection
In the healthcare industry, data protection is non-negotiable. DemandHub ensures that patient data is not only compliant with HIPAA standards but is also safeguarded against potential breaches and vulnerabilities.
Dynamic Synchronization
DemandHub's system is designed to sync in real-time, ensuring that appointment schedules are always up-to-date, reducing overlaps or double bookings.
Integrated Calendar Sync
DemandHub integrates with major calendar platforms like Google Calendar, Microsoft 365, Outlook, and Apple Calendar. This ensures that appointment schedules are always synchronized, reducing the chances of overlaps or scheduling conflicts.
Flexible Online Scheduling
DemandHub is a secure scheduling software. Patients can choose their preferred appointment time windows, offering them convenience while optimizing the provider's schedule.
Secure Online Payments
Put your payment collection on autopilot. Follow up with outstanding invoices with automated text reminders and easily collect payments with DemandHub's three-step check-out system. Rest easy and assure your customer's safety with PCI compliance.
Maintain Control Over Scheduling
While DemandHub offers flexibility, it allows the practice to maintain control. Providers can set exact slots, ensuring they have a say in their daily schedule and can manage patient flow effectively.
2. FlexBooker: Streamlining Appointments with Efficiency and Customization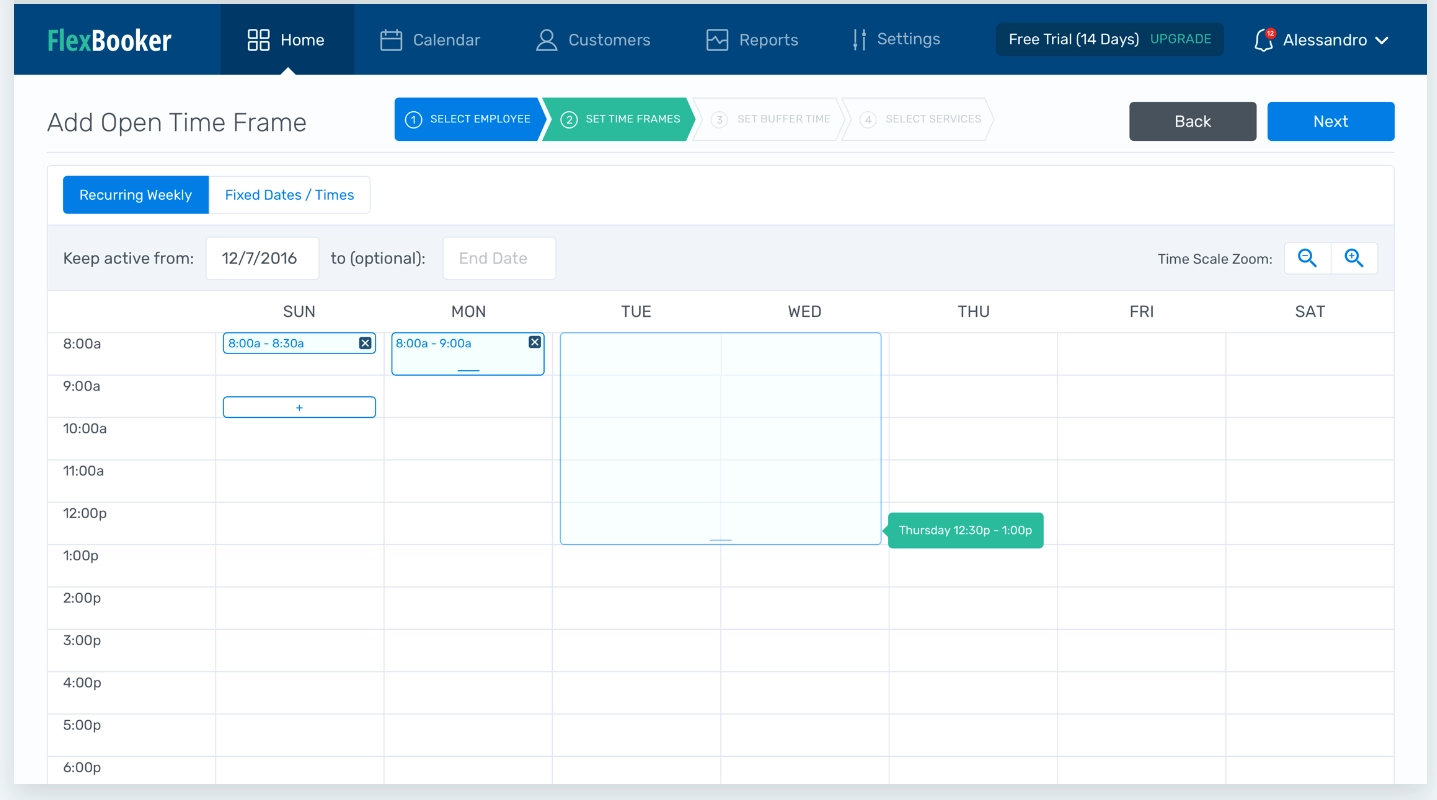 Image Source: FlexBooker.com
FlexBooker emerges as a robust online appointment scheduling software. It offers a blend of user-friendly features and integrations that cater to modern healthcare providers.
Cost: $39 to $79 per month.
Best for: FlexBooker provides a daily recap every morning, allowing users to view all bookings and cancellations from the previous 24 hours. This feature keeps healthcare providers updated and plan their day efficiently.
It provides the following features:
Website Integration
FlexBooker can be effortlessly installed on your website, ensuring a seamless experience for patients looking to book appointments.
Payment and No-Show Fee Authorization
Beyond just scheduling, FlexBooker offers the ability to process online credit card payments during booking. Additionally, it can authorize credit cards for potential no-show fees, ensuring healthcare providers can safeguard against missed appointments.
Client Management Metrics
This feature provides a comprehensive view of critical data concerning both employees and clients. It's a valuable tool for healthcare providers to monitor, analyze, and optimize their operations.
Online Video Meeting Capabilities
These days, telehealth is gaining prominence. FlexBooker's online video meeting integrations ensure that healthcare providers can easily offer virtual consultations.
3. Acuity Scheduling: Your All-In-One Scheduling Solution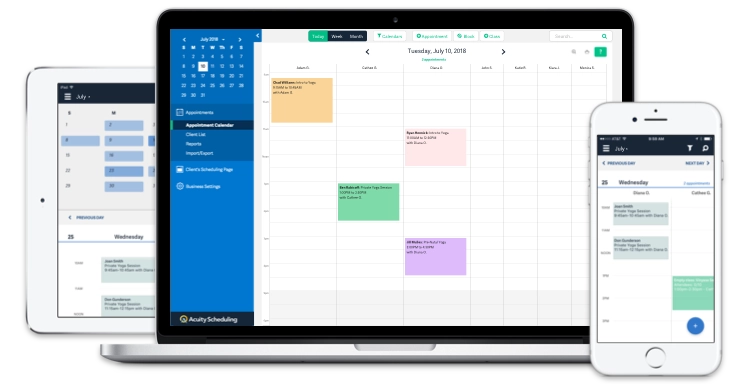 Image Source: Acuity Scheduling
Acuity Scheduling is a comprehensive platform tailored to meet the diverse scheduling needs of various industries, ensuring appointments are efficient, seamless, and meaningful.
Cost: $20 - $60 per month
Best for: Acuity Scheduling stands out as a holistic solution for appointment management. From offering virtual appointments and integrating with third-party apps to providing a cohesive, user-friendly experience, Acuity supports users every step of the way.
It provides the following features:
Branded Scheduling Page
Acuity offers a customizable scheduling page that displays your services and real-time availability, allowing clients to easily self-schedule appointments.
Dynamic Online Payments
Accept online payments effortlessly using trusted payment processors. With options like invoices, tips, and deposits, Acuity ensures a smooth financial transaction during the booking process.
Comprehensive Client Management
Acuity goes beyond just scheduling. With custom intake forms and detailed client information storage, it offers a personalized client experience, ensuring every interaction is meaningful.
Streamlined Operations
Manage multiple locations, allow clients to reschedule, and send automated notifications throughout the scheduling process, ensuring operational efficiency.
HIPAA Compliance
Acuity prioritizes data protection, offering built-in HIPAA compliance to ensure client information remains confidential and secure.
4. Cliniko: Streamlined Practice Management for Modern Health Practitioners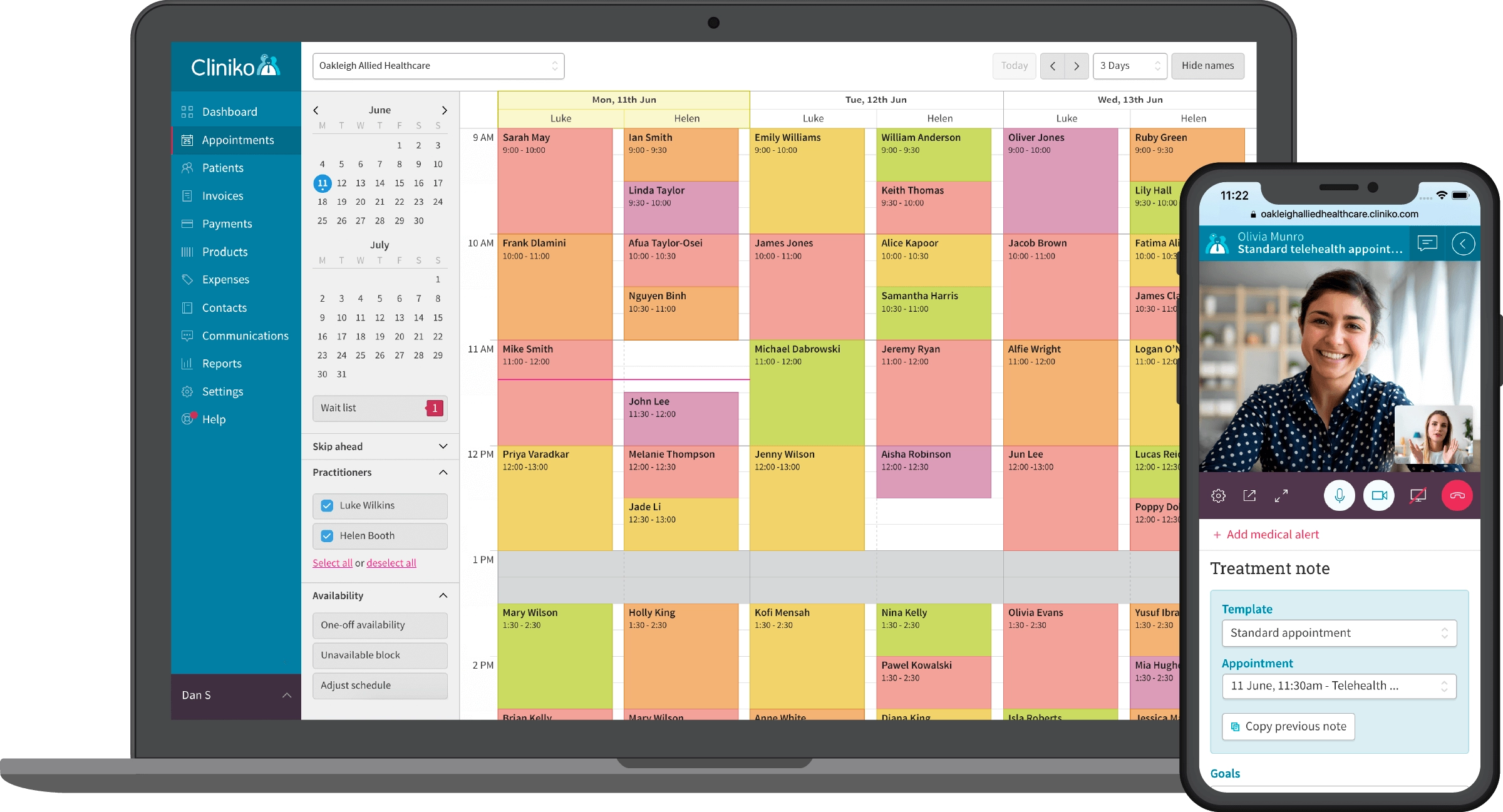 Source Image: Clinko.com
Cliniko is a holistic practice management system tailored to the unique needs of clinics and health practitioners. With its features and integrations, Cliniko ensures that managing a healthcare practice is efficient, organized, and impactful.
Cost: $49 to $399 per month Best for: Cliniko stands out with its ability to connect with 32 other apps, enhancing customer feedback, bookings, and exercise functionalities.
It provides the following features:
Organized Appointments Calendar
Cliniko offers a clean and intuitive calendar interface, ensuring that scheduling and managing appointments is a breeze.
Custom-Built Templates
Store treatment notes and health records seamlessly using Cliniko's custom-built templates. Accessible from any device, these templates ensure that patient data is organized and easily retrievable.
Comprehensive Business Performance Tracking
With Cliniko, you can generate reports and track the performance of your business, ensuring that you're always informed about your practice's health and growth.
Effective Client Communication
With the ability to send clients SMS messages, Cliniko ensures timely communication, reducing no-shows and enhancing patient satisfaction.
5. Simplybook.me: Streamlined Online Booking for Service-Based Industries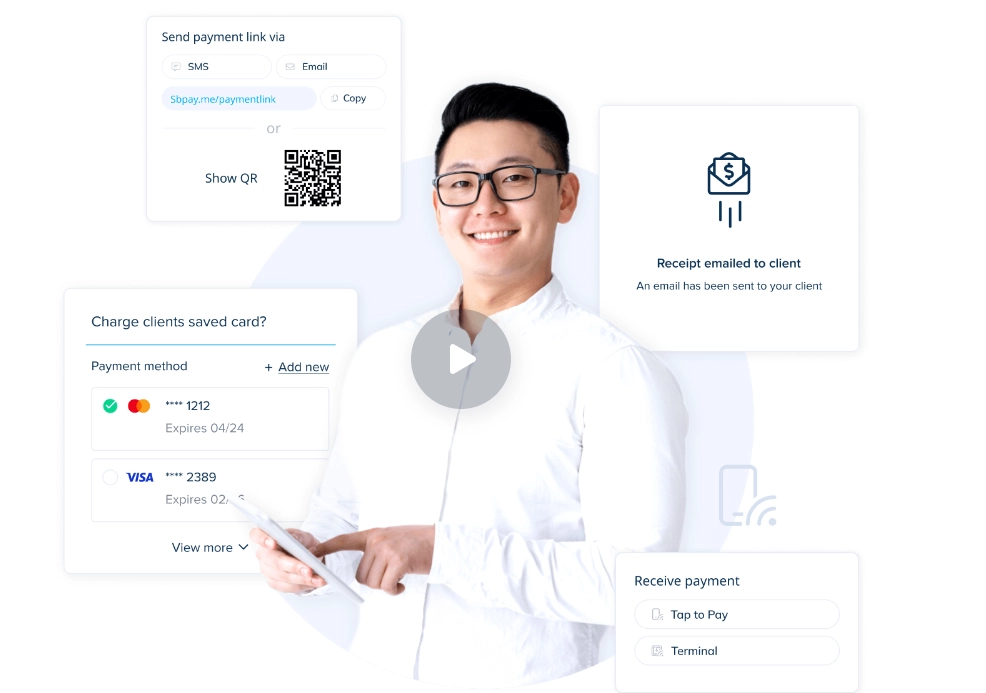 Image Source: SimplyBook.me
SimplyBook.me is a premier online booking system for businesses across various service-based industries. With its comprehensive features and user-centric design, SimplyBook.me ensures businesses can manage their bookings efficiently while offering a seamless experience for their clients.
Cost: $10-$100 per month
Best for: SimplyBook.me is best known for its mobile-optimized online booking system that integrates seamlessly with platforms like websites, Facebook, and Instagram.
It has the following features:
Mobile-Optimized Booking
Whether it's through your website, Facebook, Instagram, or Google, SimplyBook.me offers a mobile-optimized booking experience, ensuring patients can self-schedule appointments with ease.
Notifications via SMS/Email
Stay updated with automated reminders via text messaging for both staff and clients whenever appointments are booked, rescheduled, or canceled.
Integration & API
From native integrations with platforms like Facebook, Instagram, and Google Business Profile to custom integrations using their API, SimplyBook.me ensures your booking system can seamlessly fit within your existing digital ecosystem.
Enhanced Client Engagement
With a personalized business-branded app, clients can easily book services, view their booking history, and more, improving their overall experience.
Efficient Payment Processing
Accept online payments through various processors, authorize credit cards for no-show fees, and even offer on-site QR codes for direct mobile payments, streamlining the payment process.
The Best HIPAA-Compliant Appointment Scheduling Software
Adhering to HIPAA compliance standards is imperative to protect patients' health records. Use the provided checklist to verify if your practice needs to adhere to HIPAA, and then familiarize yourself with the necessary guidelines.
For a solution tailored specifically for healthcare professionals, explore DemandHub's patient experience platform. It's entirely HIPAA compliant and offers seamless integration with EHR systems, real-time online scheduling, patient communications, digital paperwork, and more.
Offer your patients the convenience of booking appointments online without jeopardizing the safety and confidentiality of their data!
Learn how DemandHub can help by booking a demo today.
Frequently Asked Questions about HIPAA-Compliant Scheduling Software
Why is it essential for healthcare providers to use HIPAA-compliant scheduling software?
For healthcare providers, using HIPAA-compliant scheduling software is crucial to ensure the protection and confidentiality of patient data. Non-compliance can lead to legal repercussions, hefty fines, and a loss of patient trust, potentially damaging the healthcare provider's reputation.
What features should I look for in HIPAA-compliant scheduling software?
When selecting HIPAA-compliant scheduling software, you must consider critical elements such as end-to-end encryption, multi-factor authentication, audit trails, data backup and recovery, and regular software updates to address potential security vulnerabilities.
How can I ensure that the scheduling software I use is HIPAA-compliant?
To ensure your scheduling software is HIPAA compliant, verify the software provider has undergone third-party audits and has certifications confirming their compliance.
Additionally, regularly review the software's security features and updates. Also, ensure that the provider offers training on HIPAA-related best practices.
Can I use non-HIPAA-compliant scheduling software in my healthcare practice?
Using non-HIPAA-compliant scheduling software in a healthcare practice is highly discouraged. Doing so puts patient data at risk and exposes the practice to potential legal consequences, fines, and reputational damage. It's essential to prioritize patient data protection by only using software that meets HIPAA compliance standards.