If you're in the car business, you know how important it is to have a strong online presence. Getting your car dealership listed on popular car review sites is one of the smartest ways to achieve this.
Before making any new car purchase - whether an electric vehicle, truck, SUV, or small car - today's consumers will scour the internet for information about your dealership. They need to know that they can trust you.
In other words, if you want your dealership to succeed, you need to rake in some online reviews. There are a lot of car review websites out there, but which ones should you be listed on?
In this article, we'll take a look at some of the best car review websites that you can list your dealership on in 2022.
But first, let's look at why auto review websites are important for your automotive business to thrive.
Why Car Reviews Matter?
There are many reasons why car reviews matter, such as:
Build trust and credibility
Customers are willing to spend 31% more on a business with excellent reviews because they trust it more. It also shows that your dealership is an authority in the car industry.
Getting positive reviews of your dealership on various car review sites will create a sense of trustworthiness with potential customers. Showing that previous buyers have had great experiences with you strengthens the argument for why someone should buy from you over your competitors.
Improve your dealership ranking on Google
Online customer reviews have more weightage (6.47%) in local organic searches. That's because reviews can improve your search engine optimization (SEO). Google and other search engines use reviews as a metric for trustworthiness and authority, so the more quality car reviews you have, the higher you will rank.
Generate leads for your car business
Reviews are a powerful way to generate leads for your car business. 93% of consumers say that online reviews influenced their purchase decisions.
Customers often visit car review sites to help them decide when looking for a car dealership. Thus, you increase your chances of getting new customers by listing your dealership on popular car review websites.
Good reviews will encourage these potential car buyers to contact you or visit your dealership. 72% of customers say that positive reviews make them trust a local business more. This, in turn, will drive your auto business' growth by yielding more leads and conversions.
So, now that we've looked at why car reviews matter, let's take a look at some of the best car review websites that you can list your dealership on in 2022.
What are the Best Car Review Websites in 2022?
There are a lot of different car review websites out there, but not all of them are created equal. Here are some factors to look for when choosing a car review site:
It should have a large audience.
The website should be well-established and have a good reputation.
The reviews on the website should be from real people.
The website should be easy to use and navigate.
With that in mind, here are some of the best car review websites to list your dealership on in 2022:
General Car Review Sites
Here's a list of general review sites where you can find business profiles from different industries.
1. Google
While Google may seem a no-brainer, 76% of consumers say they trust the reviews they read online as much as personal recommendations.
Your Google Business Profile (GBP) is what potential customers will see when looking for a dealership in your area. By keeping it up to date, you increase the chance of them doing business with you when they see all your positive reviews.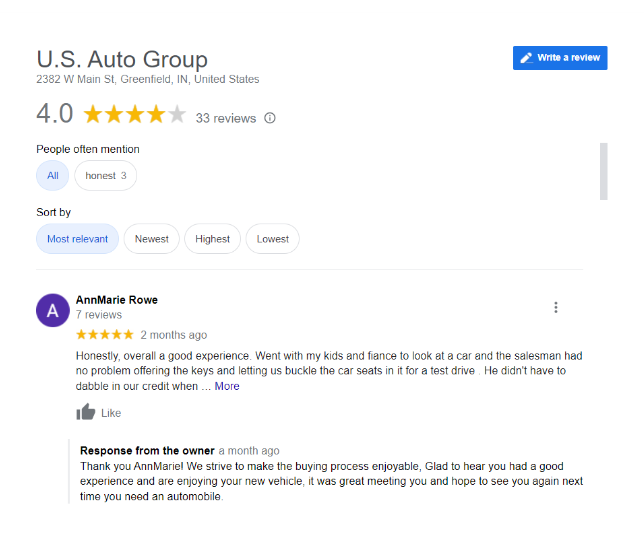 On the more technical side, GBP influences your dealership's local SEO - the algorithm factors in your relevancy, local area, your photos, and prominence to determine your search engine ranking. Your dealership will appear at the top of local "near me" Google map search results when customers search for car dealers in your local area. Therefore, it is crucial to claim and maintain your GBP.
2. Facebook
Over 74% of Americans have an active Facebook account, making it a highly popular platform to gather reviews for your dealership.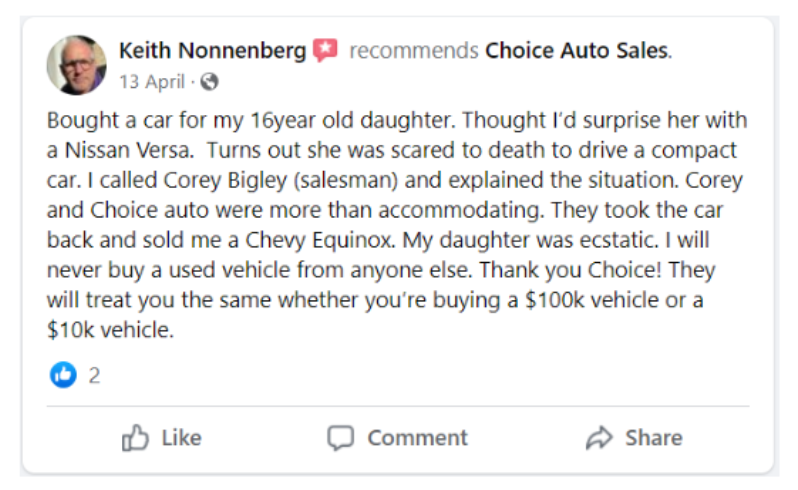 Anyone with a Facebook account can sign in and leave a review on your auto dealership business page. Potential customers can view your reviews easily while looking for local car dealerships.
Facebook's online marketplace is great for auto dealers to post their car listings. Customers can check out your reviews on Facebook while browsing these listings. This makes it easy for them to get more information about your business before making a purchase decision.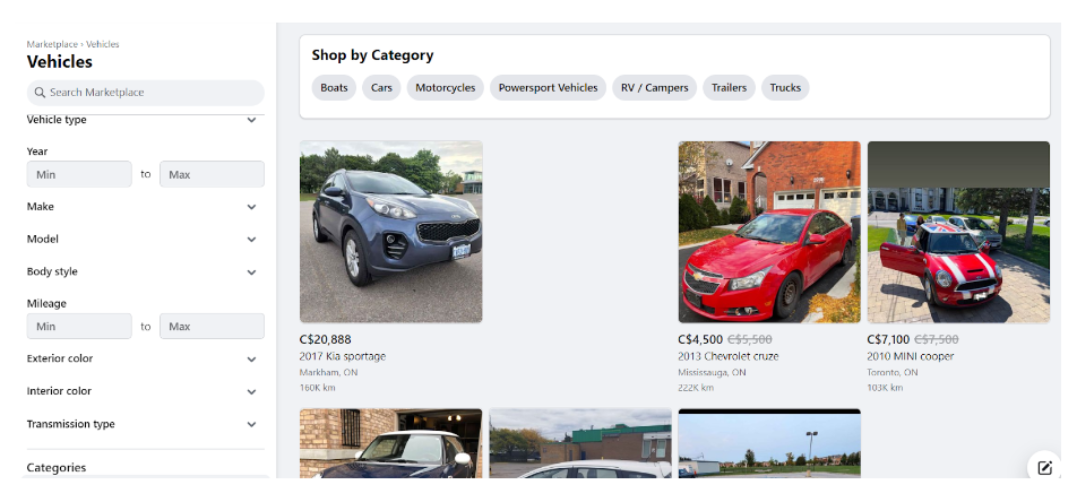 3. Yelp
Yelp is a popular review site with more than 178 million unique visitors monthly across mobile, desktop and app platforms.
Yelp is one of the first places people go when looking for a new business, so it's important to make sure your dealership is listed.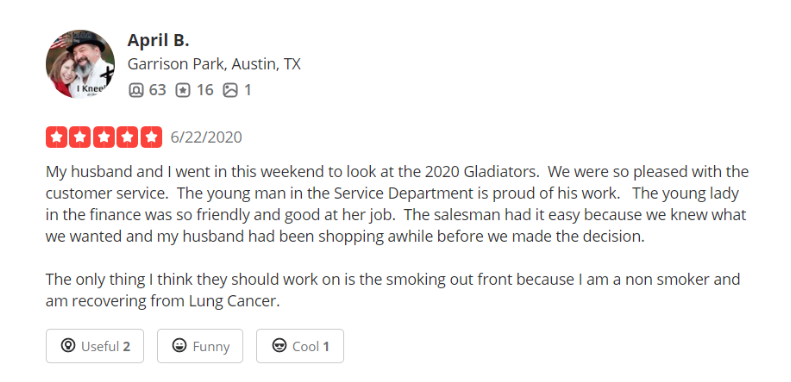 Customers can easily leave you a review by going to your dealership listing. These reviews will be visible to anyone who searches for your business on Yelp. For every new star earned on Yelp, you could see an increase of up to 9% in revenue. So, it's worth investing time in getting Yelp reviews.
Even though Yelp explicitly warns businesses from asking for reviews, there are still ways to improve your online reputation on Yelp. By engaging with customers, responding to reviews, and expressing gratitude for their business, you show that you care about their feedback and value customer satisfaction.
Car Review Websites
The three general review sites mentioned above are the most common ones you must consider listing your dealership on, but there are also several dealership-specific and car review sites where customers can leave you a review.
1. Edmunds.com
Edmunds is one of the more popular car review websites, with an average of 16 million unique visitors per month. Edmunds offers in-depth reviews from professional car reviewers as well as everyday drivers.
This car review site also includes an extensive database of dealerships and car sellers, tips for buying a new car, and dealer reviews.
2. Cars.com
Cars.com is one of the largest online automotive listing sites, with over 30 million monthly visitors. Not only can customers find vehicle listings and side-by-side model comparisons on this site, but they can also leave reviews for your dealership.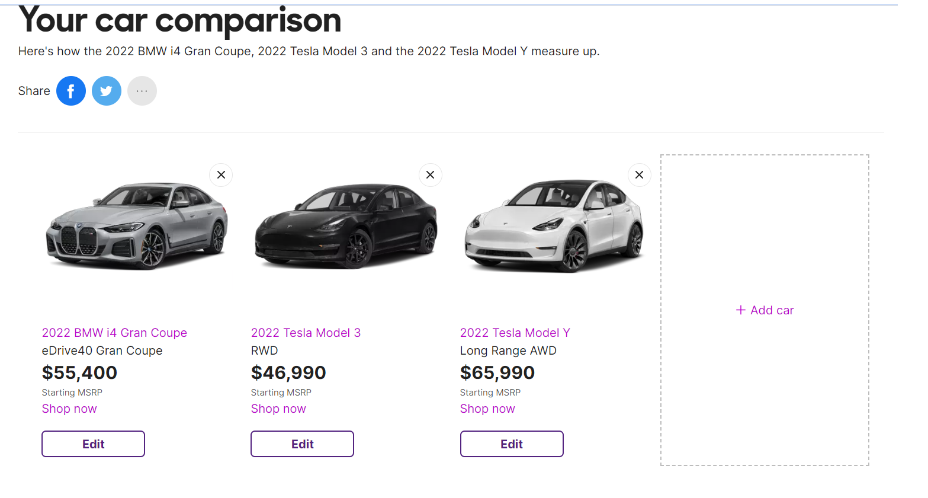 3. DealerRater
DealerRater.com is one of the most popular car review sites in the automotive industry, boasting 34 million monthly consumer exposure with about 7 million consumer reviews from 2002 to 2022.
Customers can leave detailed reviews about their experience with your dealership, which can help you improve your business and better serve future customers.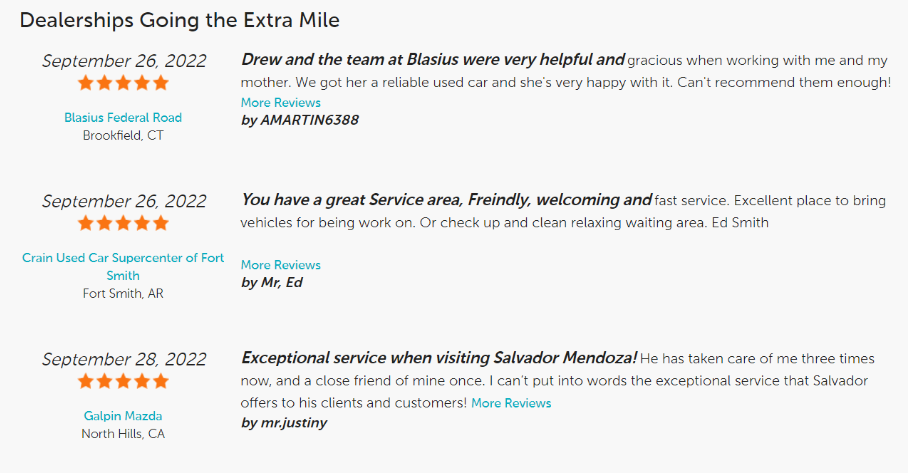 A benefit of DealerRater is their dealer-certified memberships. While you don't have to pay for reviews on DealerRater, being a certified dealership gives you a badge of honor to display on your profile, increasing customer satisfaction and trust.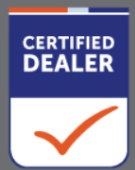 It also allows you to manage your online reputation more effectively with review requests, customer responses, highlighting your top employees, and much more. Being a certified dealer at DealerRater, you get an opportunity to win the "Dealer of the Year" award, which helps you stand out amongst the competition and strengthen your reputation.
4. AutoTrader
There are 2.5 million website visitors on AutoTrader per month, making it an ideal platform to list your dealership and increase your car sales immensely.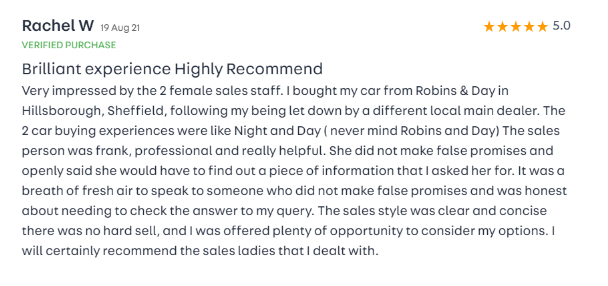 By listing your dealership on this car review site, you can connect with more potential buyers who might not have otherwise found your business.
5. Carfax
Although Carfax is not a conventional car review website, it's a valuable resource for dealerships and consumers.
This site offers CARFAX vehicle history reports that show potential buyers information about the car's history, such as accident history, maintenance records, number of previous owners and mileage history.
Being transparent about your vehicles' histories can build trust with potential customers and helps them feel more confident about their purchase.
6. CarGurus
CarGurus is a dealer and car review site that allows users to find the best deals on cars by analyzing data and giving accurate reviews. By doing this, buyers can feel confident they're getting a fair price.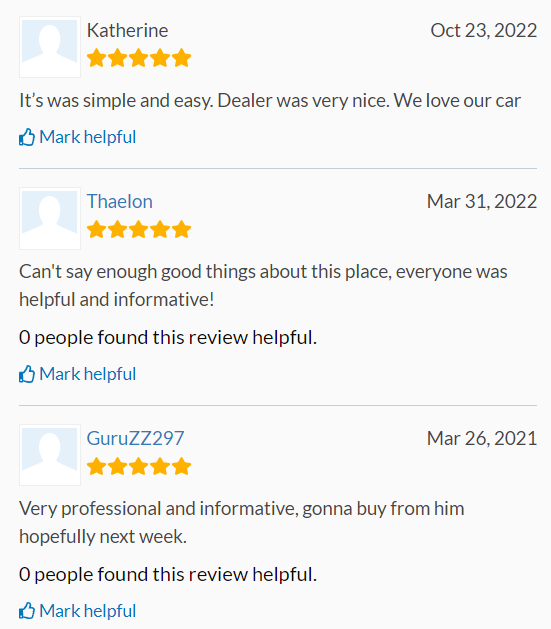 This data factors in a vehicle's history report and a dealership's online reputation. Therefore, it is essential to have an active presence on this website for success.
7. SureCritic
SureCritic is one of the best car review sites that promote "real customer experiences". This website is meant for businesses of all types, but its most popular function is helping car owners find and review auto repair shops.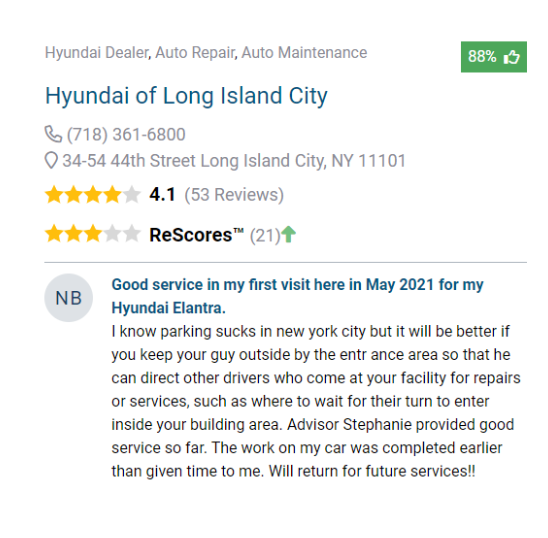 8. Carwise
If you're looking for a car review site to list your dealership on in 2022, Carwise should be high up (if not at the top) of your list.
Not only does it offer reviews from real customers but also accurate repair estimates. You can also find reliable auto shops near you and schedule appointments with them on Carwise.
The customer journey to your automotive business starts with car review sites, as customers now rely heavily on the internet to make purchase decisions. Being active on these websites is key to monitoring feedback, responding to reviews, and increasing traffic to your dealership's website.
Managing your dealership's online presence on all these car review sites can be a daunting task for one person, but some platforms can help you collect and respond to reviews. These review management platforms could improve your dealership's overall online reputation.
Ready to Grow Your Automotive Business?
All factors such as safety, pricing, comfort and model year are important for car shoppers when purchasing a car. However, what will ultimately make them choose your business is the ease of experience.
With DemandHub, your dealership will be better equipped to not only improve your online presence but also manage your leads efficiently. With our all-in-one lead manager and customer communication platform, you can use Web Chat, Text marketing, reviews and more to turn more leads into customers.
Are you ready to scale up? Book your Free Demo with DemandHub Today!
Frequently Asked Questions (FAQs) about Car Review Websites
What are car review sites?
Car review sites are online platforms where experts and consumers share their opinions, experiences, and ratings of various car models and auto dealerships. These sites typically provide information on vehicle performance, comfort, safety, and value. Dealership reviews help potential buyers decide which car to buy and from whom.
Why should I read car reviews?
Reading car reviews can give you a clear idea about a vehicle's strengths and weaknesses, as per the real-world experiences of owners and experts. Reviews can provide insights into aspects such as performance, reliability, fuel efficiency, and comfort. These insights can be helpful when you're considering buying a car.
How reliable are car review sites?
Car review sites can be reliable sources of information. But their reliability often depends on the site's reputation, the expertise of the reviewers, and the comprehensiveness of the reviews. Sites like Edmunds, Kelley Blue Book, and Consumer Reports are generally considered reliable due to their thorough testing processes and expert reviewers.
However, it's always a good idea to cross-reference information from multiple sources to get a well-rounded view of a vehicle. User reviews can also be helpful but may be more subjective and less consistent.
Can I trust consumer reviews on car review sites?
While consumer reviews can provide valuable insights, it's important to read them critically and consider them as part of the bigger picture. Look for patterns in the reviews, and consider the overall score and individual ratings for specific aspects like performance and reliability.
Which website is best for car reviews?
Websites such as Kelley Blue Book, Edmunds, Car and Driver, and MotorTrend are known for their in-depth car reviews. These sites offer a combination of professional reviews, consumer ratings, and other car-related resources. The "best" site can depend on your specific needs and the type of information you're looking for.
Which is the biggest website about cars?
Some of the biggest websites about cars include AutoTrader, Kelley Blue Book, and Edmunds. These sites offer a wealth of information, including car reviews, buying and selling resources, comparison tools, and more. They are known for their extensive coverage of various car models, large auto dealership listings, and user base.
Where can I find reliable car reviews?
You can find reliable car reviews on websites that offer expert assessments, such as Edmunds, Kelley Blue Book, Car and Driver, and MotorTrend. Additionally, consumer reviews on platforms like AutoTrader and Cars.com can provide valuable insights. Always consider multiple sources to comprehensively understand a car's performance and reputation.