Blue Mountain Chrysler Increases Website Traffic 28% with Customer Reviews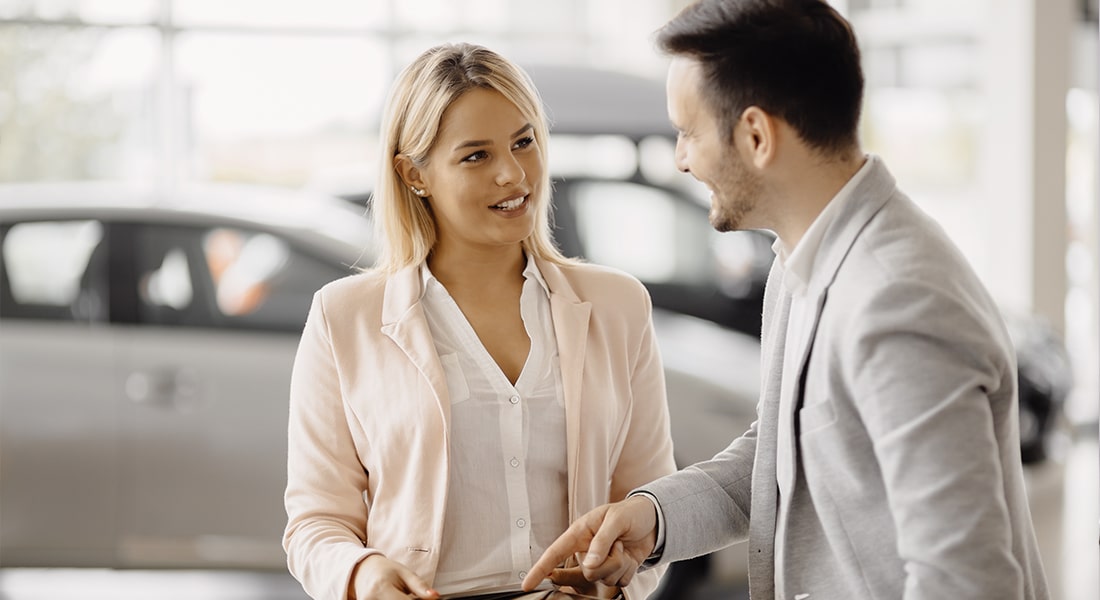 With DemandHub, this dealership boosts their online reputation to gain a competitive edge in the marketplace, and raises awareness of their new Service First program.
28

%

increase in website traffic
4.4
Improved Google Rating
from 3.7 to 4.4 stars
563

%

increase in Reviews since using DemandHub
About Blue Mountain Chrysler
At Blue Mountain Chrysler, the goal is to offer customers stress-free shopping. Serving the Collingwood and Blue Mountain areas, this dealership prides itself on providing honest and efficient service to their customers.
The Challenge
Blue Mountain Chrysler is surrounded by other dealerships in their area. In order to successfully compete, they need to stand out — both in person and online. "We used to be ranked quite low on Google. We needed to be in a position where we could actually rival the competition," says Lisa Hardisty, Digital Marketing Coordinator at Blue Mountain Chrysler.

Hardisty knew the value of online reviews to a local business. "Especially in a small town, reviews are important," explains Hardisty. "People like reading reviews here because they may know who wrote it. It's just like a personal recommendation."

Blue Mountain Chrysler had tried to implement a program to increase their reviews online. However, the process was manual and wasn't captivating all of their happy customers. "We usually only got a review if someone had an exceptional — good or bad — experience," says Hardisty. The negative reviews were harming their business, and there just weren't enough positive reviews.

The dealership had tried to manually ask customers for online reviews, but the process just wasn't working effectively. "It was slow and difficult for our customers because we didn't have a simple way to request the review," Clayton explains. They were looking for astreamlined process to increase their online reviews.

According to Martech Zone, more than four negative reviews about a company or product may decrease sales by 70%. That wasn't an option for Hardisty. She needed a way to improve Blue Mountain Chrysler's online reputation so they could stand out in a cut-throat market.

"Our Service Centre ratings went from 2.1 to 4.2 on DealerRater. It's all the DemandHub effect."
Lisa Hardisty -
Digital Marketing Coordinator, Blue Mountain Chrysler
The Solution
Blue Mountain Chrysler implemented the DemandHub Reviews feature, automating the process entirely. "Everything is really easy. I just let it do it's thing and I monitor it," says Hardisty. DemandHub sends a text to every completed sales or service customer. All the customer has to do is click on the embedded link in the text and post their review — which takes less than 30 seconds.

Google isn't the only option, either. In the automotive industry, DealerRater is a popular choice for reviews, where customers flock to do their online research. "We have DemandHub set up so customers can easily review us on DealerRater, plus Facebook and Google too," explains Hardisty. While their online reputation has improved all around, their ratings on DealerRater have notably sky-rocketed. "Our Service Centre numbers went from 2.1 to 4.2 on DealerRater," says Hardisty. "It's all the DemandHub effect." Customers pay attention to ratings. According to BrightLocal, more than half of consumers won't use a business if it has less than a 4.0-star rating.

Blue Mountain Chrysler recently launched a new program, Service First, which is geared towards providing customers with worry-free, exceptional service. Service First includes upgraded offerings for how vehicles are serviced at the dealership. Through their online reviews, the dealership is able to see how much customers are enjoying the new program. "We get a ton of feedback that mentions specific new services the customers love," shares Hardisty. "The reviews are not only a great way to improve our online reputation, but they are a great way to ensure we continue to deliver on our promises."

Every week at their team meeting, Hardisty shares specific reviews customers have left online. Many of them mention the names of employees that have helped them. "It's a great morale booster," says Hardisty. "Our team loves getting feedback and it pushes them to offer even better service."
The Results
DemandHub has completely changed the trajectory of Blue Mountain Chrysler's online reputation. "Our website traffic went up 28% year over year, and as a result, we've seen an increase in foot traffic into the dealership too," explains Hardisty. "People tell us all the time that they've heard about us from a friend or read a review and want to experience our new Service First initiative." The increase in reviews has made Blue Mountain Chrysler a competitive rival in the area.

Take a look at the numbers:
Blue Mountain Chrysler increased their website traffic by 28% year over year.
The dealership improved their Google star rating from 3.7 to 4.4 in 5 months, and increased it to a 4.4 during their time with DemandHub.
Within 5 months of using DemandHub, the dealership gained over 200 reviews from happy customers, and a total of 756 reviews since joining.
Their success was almost instant. "I was really surprised at how quickly we started seeing reviews," says Hardisty. "Within just six weeks we had reached a 4.0 rating and then we just went up from there."

With their improved online reputation, Blue Mountain Chrysler gains traction online and in person. The increase in web traffic translates to an increase in new customers walking through their doors — giving them a competitive edge.
Ready to Grow Your Business?
Our mission is to help local businesses grow by making it easier to communicate with customers. With modern messaging technology, your business can text review invitations to your customers, enabling them to post a review with just a few clicks in under 30 seconds.

If you're looking to boost your revenue, the best place to start is with the online reviews of your business.